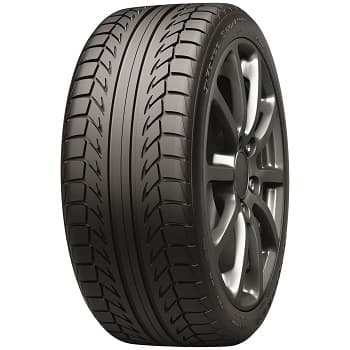 Performance cars are an aspiring purchase for many enthusiasts, and that won't stop anytime soon.
People simply love speed, and there is no better way to experience high velocities in a car. Yeah, some would argue that motorcycles are even better, but we strive more toward four wheels.
Regardless, the single most important thing on a performance car is the tires. You can have the quickest car in the world, but won't be able to extract the maximum if you don't have the best tires.
See, the tires put the power to the ground, meaning they are crucial for quick acceleration. They also provide you with grip in the corners, another important thing for enjoying performance cars.
Finally, they are vital for braking, even more so than new brake pads.
If you want to maximize all those things, you'll need ultra-high-performance summer tires. These tires are designed to provide higher levels of grip and traction, shorter braking distances, and better high-speed stability.
Recently, manufacturers also focus on delivering an excellent steering feel, which is very important for enjoying any performance car.
One such tire is the BFGoodrich G-Force Sport Comp-2. It's a very popular option among sports car owners, especially in the US. However, that's mostly due to its age – the Comp-2 is almost nine years on the market.
When it arrived in 2012, it immediately caught the enthusiasts' attention with its abilities, and especially the grip-to-price ratio.
BFGoodrich's ultra-high-performance summer tire was less expensive than products from Michelin, Bridgestone, Continental, and Pirelli, yet it offered largely comparable performance.
However, today things are different. Many of BFGoodrich's competitors, like Falken and General Tire, launched newer models, which promise to be even better. Besides, they are much cheaper than the BFGoodrich G-Force Sport Comp-2 in most sizes, even after discounts.
But promises are one thing, and real-world performance is another. Hence, in our BFGoodrich G-Force Sport Comp-2 review, we'll focus on every aspect of the tire we deem important for its buyers. Let's dig in!
Specifications and Maintenance Indicators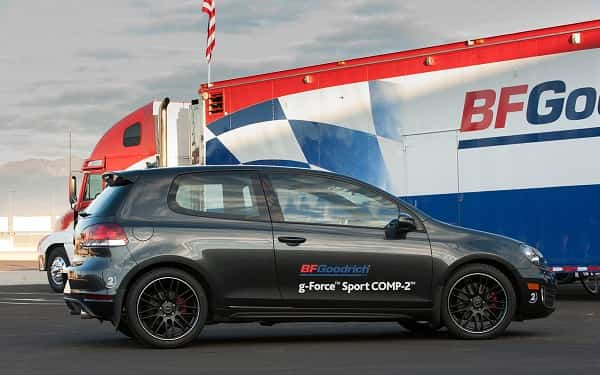 The G-Force Sport Comp-2 is an ultra-high-performance tire with a dynamic-looking directional tread pattern.
It comes in sizes ranging from 15-inch to 20-inch wheel diameter, thus covering most passenger cars on the road today. In that sense, it's better than its closest competitors, which usually start with a 17-inch wheel diameter.
Hence, if you have an older sports car, like a Mazda Miata, the G-Force Sport Comp-2 is one of the few tires available in your wheel's dimensions.
BFGoodrich doesn't provide any treadwear warranty on the tire, but that's not unusual – most products in this category don't have one.
Nonetheless, the American tiremaker focused on delivering better treadlife, and owners of the tire report a higher-than-average durability.
Owners can track the remaining tread of the G-Force Sport Comp-2 using the built-in Tread Wear Indicators (TWIs). These are narrow rubber bars that sit recessed into the circumferential grooves of the tire, which are protruding 2/32 inches from the bottom.
When the tread reaches 2/32-inch depth, the TWIs will be flush with the surface. At that point, you should replace the tires, since there won't be enough tread left for safe traction in rainy conditions.
Features and Performance of the BFGoodrich G-Force Sport Comp-2
According to BFGoodrich, the G-Force Sport Comp-2 is a tire designed to provide higher levels of grip and traction on dry and wet roads.
The tire maker used hi-tech materials and even developed the tire in conjunction with Ford Racing. Let's have a look at all the features and how they translate into the real world.
1. Handling, Steering Feel, and Responsiveness
There are a few factors that decide if an ultra-high-performance tire is good, like grip and stability, but the one that you'll mostly appreciate is the steering feel.
How a tire handles the road is very important, especially for performance tires, since it gives you the confidence to push more in the corners and learn the limits of your car.
And when it comes to that, the BFGoodrich G-Force Sport Comp-2 still manages to compete with the best-in-class tires.
It's not the most responsive tire around, meaning it doesn't react instantly to the driver's input. However, we think that it's responsive enough for most people, especially for driving on public roads.
Besides, many performance tires are responsive, yet don't communicate well with the driver. Fortunately, the BFGoodrich G-Force Sport Comp-2 isn't one of those tires.
It feels natural behind the wheel, with a good on-center feel and almost organic feel when you push it hard.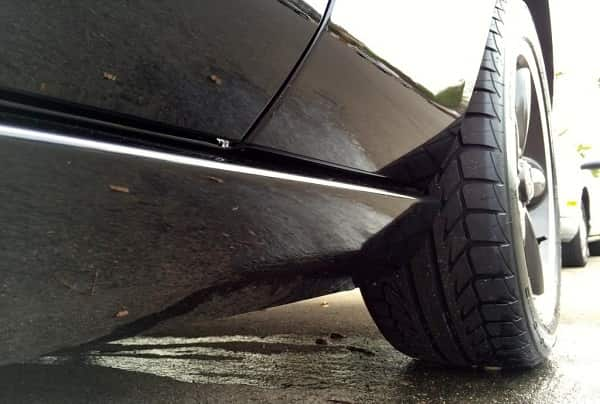 Furthermore, the BFGoodrich G-Force Sport Comp-2 feels agile and light on its feet, another important aspect for an ultra-high-performance summer tire.
Ultimately, the tire communicates the loss of traction well with the driver, so you can confidently attack any corner.
Overall, the G-Force Sport Comp-2 can't compete with the best performance summer tires in terms of responsiveness, namely the Goodyear Eagle F1 GS and Bridgestone Potenza S005.
Still, it's good enough for most people, especially for the price.
2. Dry Cornering Grip, Traction, and Braking
Acceleration traction, cornering grip, and braking are super important in an ultra-high-performance tire, especially if you plan on taking your car on the track.
To provide higher levels of grip when compared to regular summer tires, BFGoodrich utilized a silica-infused tread compound, which it developed with Ford Racing and used at the High Performance Driving School at Miller Motorsports Park and Skip Barber Racing race series.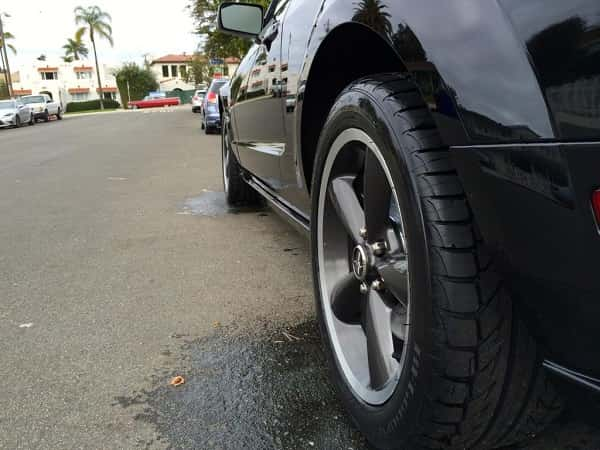 But how does that translate into the real world? Well, when BFGoodrich first introduced the tire, it was comparable to the best in terms of cornering grip.
Nine years later, though, many competitors have come up with newer products, which perform even better.
And we are not talking only about the premium competition. For instance, the Falken Azenis FK510 has a much higher cornering grip, accelerates with less traction loss, and stops better. The same is true for the General G-Max RS.
You'll still get more grip than from a regular summer tire – no question about it.
Nonetheless, if you want the best possible ultra-high-performance tire for dry grip and traction, you should look elsewhere.
3. Is It Suitable for Track, Autocross, and Drifting?
The good steering feel and natural handling certainly help on track days, but the G-Force Sport Comp-2 simply lacks a cornering grip for serious drivers.
In other words, you'll have fun, but the lap times will be seriously behind.
Besides, if you are really into track days, autocross, or drifting competitions, you should go for max-performance summer tires.
These offer even higher levels of grip and traction, and feel even better behind the wheel.
Popular max-performance tires are the Bridgestone Potenza S-04 Pole Position, Michelin Pilot Sport 4S, and Continental SportContact 6.
4. Wet Cornering Grip, Traction, and Braking
Although most people think that ultra-high-performance tires lack wet traction due to the less prominent tread pattern, the reality is the opposite.
Thanks to the sticky compound, these tires actually perform better in the rain, especially when it doesn't rain much.
So, how does the G-Force Sport Comp-2 handle wet surfaces? Well, it's pretty good in isolation. Behind the wheel, it feels like you are in complete control.
The handling feels agile and natural, and you can easily control the tire at the limit, which is very important in the rain.
However, the issue is that the limit comes sooner than in some of G-Force Sport Comp-2's more modern competitors.
The longitudinal traction is lower, meaning there will be more wheel spin during acceleration, and there is not much grip through the corners.
Overall, the G-Force Sport Comp-2 is safe in rainy conditions, but don't expect to attack the corners at very high speeds.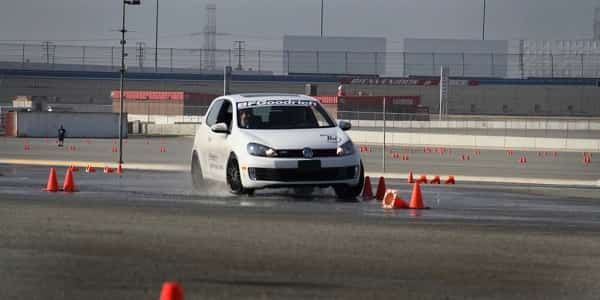 5. How does it work on snowy roads? (Grip at Lower Temperatures)
The G-Force Sport Comp-2 is a summer tire, meaning you shouldn't use it at near-freezing temperatures. Not only will you experience a loss of grip, but you risk damaging the tread of the tire.
And, don't think about driving in snow, since there will be no traction or grip at all.
Ultra-high-performance summer tires shouldn't be your first choice for comfort, but newer models are pretty good in this area.
That's because owners of modern performance cars seek a quieter and smoother experience when for daily driving.
Sadly, the G-Force Sport Comp-2 isn't the most comfortable tire around. The ride quality is stiffer than its modern competitors, and there is a noticeable thump when the wheel hits a pothole.
Moreover, the tread growl is easily noticeable at speed, especially on rough patches.
Overall, this model shouldn't be your first choice if you seek maximum comfort, especially as many newer performance summer tires fare better in this regard.
You can see more BFGoodrich G-Force Sport Comp-2 review here: Video created by GTChannel
If we wrote this review five years ago, we would've wholeheartedly recommended the G-Force Sport Comp-2.
However, things are quickly changing in the tire industry, and the BFGoodrich model starts to show its age.
Although it feels good to drive, the G-Force Sport Comp-2 lacks in many important areas, especially grip and traction on dry and wet surfaces.
Besides, it's not the most comfortable or quiet tire around.
Hence, we would only recommend it to drivers of sports cars with smaller wheels – the Comp-2 is available in 15-inch and 16-inch sizes. Also, it might be a good buy if you find it at a good discount.
List of the BFGoodrich Tire Reviews

I'm Ivo Gievski, the content writer for Tireer. We built our website with over 15 years of experience and extensive research in the automotive and technology sectors. My dedication to delivering high-quality content is unwavering, and I strive to continuously hone my skills to stay ahead of industry trends and provide readers with informative, engaging, and valuable insights.