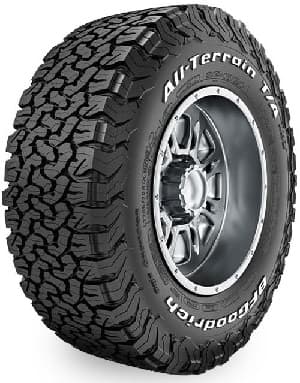 There is something alluring about adventures. Going into the unknown has always fascinated people – it's the reason why we took over the world.
With the pandemic, that feeling seems stronger than ever. After months of lockdown, people want to experience the wilderness even more, and as a result, camping and Overlanding are all the rage today.
The thing is, though, not everybody is prepared for a quality camping or overlanding trip. You'll need a proper SUV for that, and, of course, all the camping equipment you can get.
However, there is one thing that is more important than any other, and that's good tires. See, if your SUV doesn't have all-terrain or off-road tires, you might get stuck on some slippery terrain.
Even worse, you'll be stranded miles away from civilization, which can make your experience a nightmare.
Fortunately, today we'll talk about one of the best Overlanding tires on the market, the BFGoodrich All-Terrain T/A KO2.
BFGoodrich's mega-popular all-terrain tire has precisely the qualities you'd need to explore the world, regardless of the surface.
The BFGoodrich All-Terrain T/A KO2 is a tire that you can rely on to provide you with safe and reliable traction, even in some difficult conditions.
Since it's an all-terrain tire, the KO2 combines raised off-road traction with a civilized on-road ride, which sounds like a perfect combination for adventurers.
However, no product is perfect, and the same holds true for the KO2. The good thing is, the compromises are really small, and most drivers won't even notice them.
With that said, let's dig into the review and find out if the BFGoodrich All-Terrain T/A KO2 is the right all-terrain tire for you.
The BFGoodrich All-Terrain T/A KO2 is an all-terrain all-season tire, available in sizes ranging from 15-inch to 22-inch wheel diameter.
Moreover, the company offers LT-metric sizes and off-road-focused 32-inch, 33-inch, and 35-inch tires.
However, no P-metric sizes are available, meaning you won't be able to fit the KO2 on light crossovers without modifications.
BFGoodrich provides a 50,000-mile treadwear warranty, an outstanding number for an LT-metric all-terrain tire. The KO2 also comes with TWIs (tread wear indicators), which let you closely monitor the remaining tread on your tires.
For this category, the minimum tread depth is 2/32 inches, at which point the TWIs will be flush with the surface of the tire.
However, we still recommend replacing the tires sooner, especially if you need superb off-road and snow traction.
Features and Performance of the BFGoodrich All-Terrain T/A KO2
All-terrain tires usually belong to two categories. The first one is mild all-terrain tires, which offer slightly better off-road traction than highway tires but are still more geared towards on-road driving.
The second is aggressive all-terrain tires, which sacrifice on-road comfort for off-road traction. The BFGoodrich All-Terrain T/A KO2 belongs to the latter – here is why: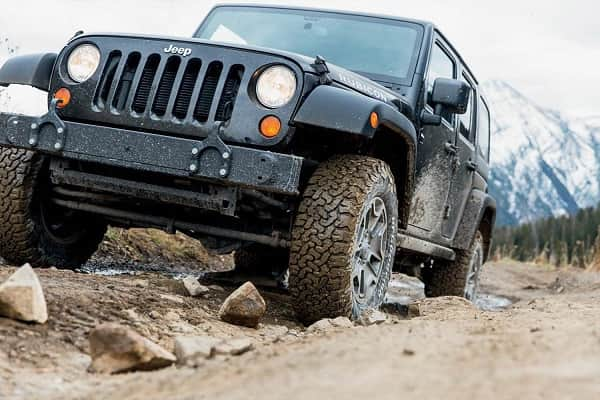 For starters, BFGoodrich employed a racing-derived cut-and-chip-resistant casing and thicker and tougher sidewalls.
The sidewall also brings the CoreGuard Technology with split & bruise-resistant sidewall rubber. As a result, the KO2 the toughest all-terrain tire out there.
What this means is that sharp rocks will have a hard time penetrating the casing, and you'll experience fewer punctures. This is crucial for people that want to explore the wilderness.
A flat tire in the middle of nowhere can be a real bummer, sure, but more importantly, it can be dangerous. Fortunately, the KO2 has you covered in those circumstances.
Furthermore, BFGoodrich also employed a computer-optimized tread compound with a serrated shoulder design and an aggressive inner tread pattern with large interlocking blocks.
So, how does the aggressive tread pattern handle off-roading? In one word – excellently. Now, sure, you will still get better traction from dedicated off-road or mud-terrain tires, which have even more aggressive tread patterns.
However, the KO2 is as good as an all-terrain tire gets while also remaining civilized on the road. Hence, it's a great option for campers and overlanders, but not for the hardcore off-road enthusiasts.
For instance, the BFGoodrich All-Terrain T/A KO2 is outstanding on hardpacked surfaces. Traction is excellent, and the tires handle the corners very well, too.
Besides, the tough casing and loose object rejection design bring you peace of mind that you won't get a puncture.
Moreover, the KO2 works in mud, unlike many other all-terrain tires.
Thus, when you are somewhere in the wild, and it starts raining, you'll know that the tires can get you home safely. You wouldn't want to push it too far since it will lose traction in very deep mud, but it's still better than most of its competitors.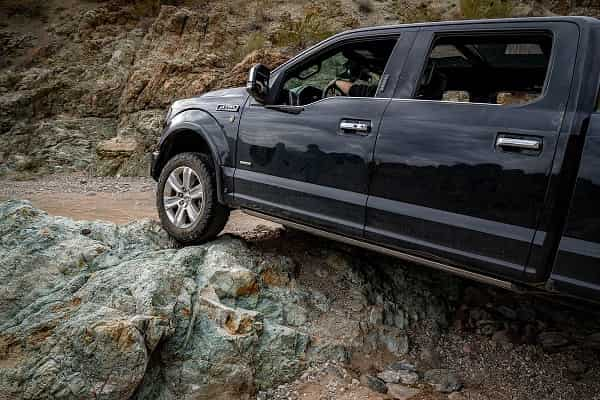 There is another category where the KO2 is very good at, and that's large rocks. Most all-terrain tires struggle in rock-crawling scenarios, but not BFGoodrich's product.
Again, you shouldn't push it too hard, but for overcoming small to mid-sized rocks, you should be completely fine.
More importantly, you can rely on the TriGard 3-ply polyester cord and twin steel belts reinforced with spirally wrapped nylon inside the tire, which provide outstanding toughness and durability.
As a result, you can use these tires at very low pressures (psi's), which is crucial for driving over rocks but also sand.
So, there you have it – if you need a reliable solution for your next camping or overlanding trip, the BFGoodrich All-Terrain T/A KO2 is still the king.
However, the question remains – how does it handle on-road situations?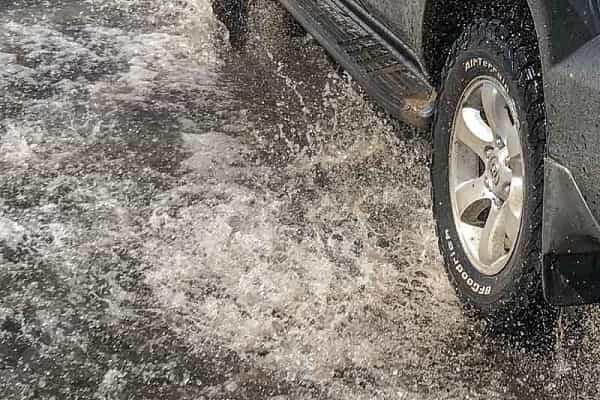 BFGoodrich utilized interlocking tread blocks, which provide better stability and grip on the road without sacrificing off-road traction. But did that work? Well, mostly.
See, the KO2 isn't as dynamic as the Continental TerrainContact A/T or the Michelin LTX A/T2 and doesn't provide the same grip in the corners. However, it's still a sufficiently good tire for daily driving – we are really splitting hairs here.
In other words, you can still drive fast without worrying about losing traction – it really takes a very aggressive driver to do that.
Besides, thanks to the high-void design with multiple 3D sipes, the KO2 is pretty good at handling rainy conditions, especially in puddles of water.
Braking is also excellent, almost on-par with the road-focused competitors, and both on dry and wet roads.
Meanwhile, the KO2 remains stable when you tow a large trailer or haul heavy cargo, which is very important for campers and overlanders.
So, overall, the All-Terrain T/A KO2 is a very safe on-road tire. It won't provide you with fun-to-drive handling, sure, but it's good enough to get you back home safe and sound.
BFGoodrich also injected some winter-tire features in the KO2, like if the excellent off-road traction and safe on-road dynamics weren't enough.
The KO2 is 3PMSF-rated (Three-Peak Mountain Snowflake), meaning it's tested for higher longitudinal traction on snow than regular M+S tires (Mud + Snow).
How does that work in the real world? Very good, actually. The snow traction is among the best in the category – you won't get stuck anywhere.
The stopping distances are also sufficiently short, and you can turn into a corner at normal speeds without worrying about losing traction.
However, the KO2 is not a winter tire – the tread compound still carries the all-season moniker.
As a result, it doesn't provide enough traction on icy surfaces, and it also won't turn or stop properly. In these circumstances, I recommend going for a proper winter tire.
Most aggressive all-terrain or off-road tires struggle in the comfort department, and there are two reasons for that.
First, the tire has a tougher casing and rubber compound, which hurts the ride quality, and second, the aggressive tread pattern produces more noise and "tread growl."
Now, there are some ways to mitigate these things using careful design, and BFGoodrich tried to do precisely that with the KO2. Did it succeed, though? Well, the answer is really two-sided.
Namely, the KO2 rides reasonably well over bumps and produces a tread growl that most people can live with.
However, it is still not as comfortable or quiet as its competitors, especially those from Continental, Michelin, and Bridgestone.
The thing is, though, we are comparing it to mild all-season tires here, which also have worse off-road traction.
Hence, if you want better traction on uneven terrains, you should be prepared for slightly more noise and busier ride quality. Currently, there is no tire that does both things excellently.
You can see more BFGoodrich All-Terrain T/A KO2 review here: Video created by Dirt Lifestyle
Should you buy the BFGoodrich All-Terrain T/A KO2? Now that you've read the whole BFGoodrich All-Terrain T/A KO2 review, you probably ask yourself if the BFGoodrich All-Terrain T/A KO2 is the perfect tire for you.
The answer is simpler than you'd think since this is one of the best all-terrain tires on the market.
Our take is that if you go on camping or overlanding trips frequently, there is perhaps no better tire than this one.
It provides very good traction on all surfaces, is tough and puncture-resistant, and should last for several years of driving. What more do you need, anyway?
List of the BFGoodrich Tire Reviews

I'm Ivo Gievski, the content writer for Tireer. We built our website with over 15 years of experience and extensive research in the automotive and technology sectors. My dedication to delivering high-quality content is unwavering, and I strive to continuously hone my skills to stay ahead of industry trends and provide readers with informative, engaging, and valuable insights.