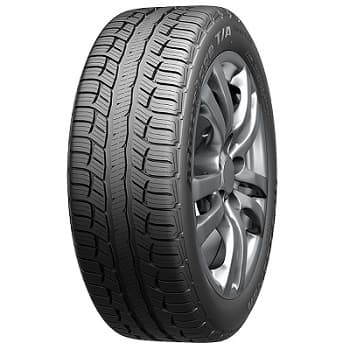 BFGoodrich is one of the oldest tire manufacturers in the world – even the first vehicle in the US carried tires from the American company.
Today, though, BFGoodrich operates under Michelin, which is far from a bad thing. The French tiremaker is by far the most innovative on the market, and BFGoodrich gets to use its technologies when developing new tires.
However, the American brand also develops its own tires, and one such product is the BFGoodrich Advantage T/A Sport LT.
The Advantage Sport LT is an all-season touring tire designed to appeal to SUV and truck owners.
Hence, it competes with a plethora of premium and budget tires, including the Michelin Premier LTX, Bridgestone Dueler H/L Alenza Plus, and Continental CrossContact LX25.
However, unlike most of its competitors, the Advantage T/A Sport LT also comes with the 3PMSF symbol (Three-Peak Mountain Snowflake), meaning it's tested for higher longitudinal traction on snow.
Now, most of the time, the symbol means that you should get better performance in wintry conditions, but in some cases, it doesn't bring any improvements.
Still, the 3PMSF symbol is the reason why BFGoodrich actually markets the Advantage T/A Sport LT as an all-weather tire, a relatively new category of all-season tires that perform better in wintry conditions.
Besides, there is more to a tire than snow traction. For instance, this product has a "Sport" in the name, implying that the experience and traction it provides are somehow sporty. We aren't sure what the BFGoodrich marketing department was thinking with the name since there is nothing really sporty about this tire.
With that out of the water, let's see if the Advantage T/A Sport LT deserves your attention and, crucially, to be mated to your wheels.
Check out the details of the BFGoodrich Advantage T/A Sport LT review below.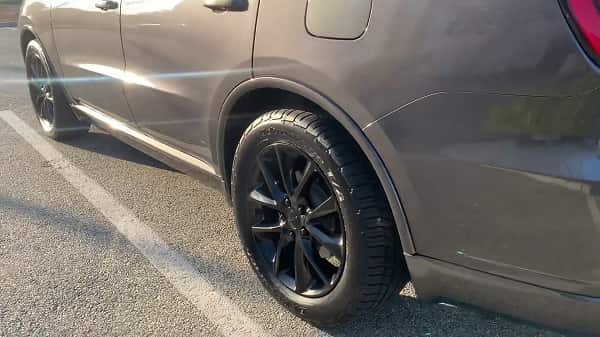 The BFGoodrich Advantage T/A Sport LT is a crossover/SUV touring all-season tire, meaning it's aimed at owners of modern crossovers and SUVs that want a dependable year-round solution.
Size-wise, it comes in 15-inch to 22-inch wheel diameter and multiple width and height options.
Hence, it will fit a plethora of different models, including subcompact and compact crossovers/SUVs, mid-size crossovers/SUVs, and full-size trucks and SUVs.
BFGoodrich employed the usual TWIs (tread wear indicators), which are narrow rubber bars that sit recessed into the tread grooves.
As the tire wears down, the TWIs will become more visible, and when the tread depth reaches 2/32 inches, they will be completely flush with the surface.
For all-season touring tires, that's the minimum legal tread depth, meaning you should immediately replace the tires. However, we recommend doing that sooner since the tire will lose its snow abilities much sooner.
Fortunately, the Advantage T/A Sport LT is one of the longest-lasting tires in its category, and especially in its price range.
BFGoodrich also provides a 65,000-mile treadwear warranty for T-speed rated and H-speed rated models and a 60,000-mile warranty for V-speed rated models, both excellent for the price.
Features and Performance of the BFGoodrich Advantage T/A Sport LT
According to BFGoodrich, the Advantage T/A Sport LT is an all-weather tire designed for year-round grip and precision steering.
Moreover, the company claims elevated wet and snow traction. To achieve those things, BFGoodrich employed an advanced all-weather compound and optimized tread design, both helping the tire with handling on dry, wet, and snowy roads.
But how much of that is true? We've tested many tires in the past that don't perform as advertised, and we won't be surprised if the same is true for the Advantage T/A Sport LT.
After all, BFGoodrich promises too many good things. Let's dig in the BFGoodrich Advantage T/A Sport LT review and find out how this tire performs in the real world.
1. Handling and Steering Feel
Curiously, BFGoodrich says that the Advantage T/A Sport LT provides precision steering, a quality that's not usually associated with all-season touring tires.
See, these tires are designed for a comfortable ride and have softer sidewalls, which always hurts steering precision and feel.
And, in this case, we can't agree with the manufacturer. The steering isn't particularly quick or direct, and you won't have too much feel of the road.
Specifically, you won't have too much fun behind the wheel. Besides, the tire doesn't feel very agile or light on its feet.
For the demographic BFGoodrich aims, that isn't a bad thing. The regular daily driver will never notice things like steering precision.
However, it's definitely annoying that the tiremaker markets it as a sporty tire.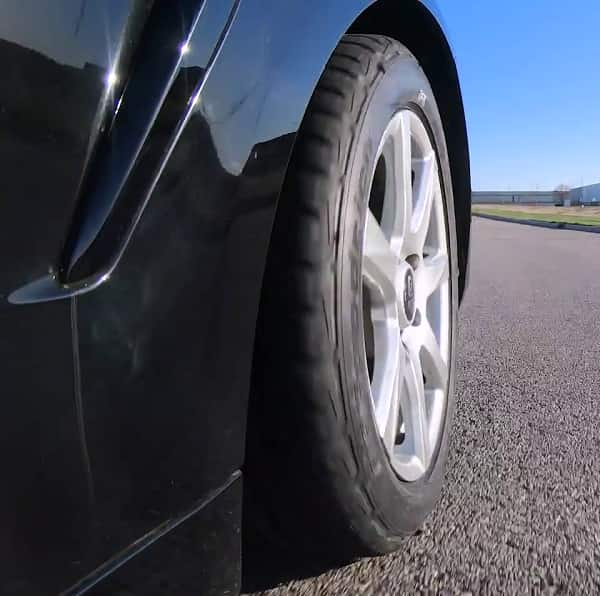 Okay, but what about the way it grips the road? Well, it's still not a performance tire, if that was your question.
There is sufficient grip for driving on public roads, but push your SUV more aggressively through the corners, and the Advantage T/A Sport LT will immediately start to understeer.
Not that we expected more from an all-season/all-weather tire – for proper performance driving, you'd need to go for high-performance all-season, or even better, summer tires.
Fortunately, the tire is predictable, meaning there is no erratic behavior, as an immediate switch between understeer and oversteer.
As a result, you can easily control your vehicle in the corners, even at the limit.
As for braking, the Advantage T/A Sport LT is again pretty good, but a performance tire it's not. Still, for the average American driver, it performs just fine.
Overall, though, we think that there are better all-season touring tires for fast driving through the corners.
The Michelin Premier LTX is the first that comes to mind – it not only provides higher levels of grip but also feels more responsive.
The same can be said about the Continental CrossContact LX25 and even the Bridgestone Dueler H/L Alenza Plus.
3. Performance in Rainy Weather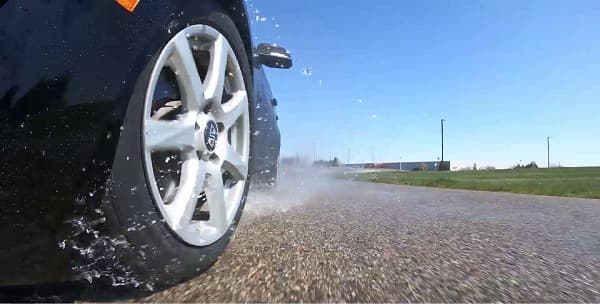 Unfortunately, the Advantage T/A Sport LT lags behind its competition in both handling and braking.
Again, it's not bad – you can do a lot worse if you opt for some cheap all-season tires, but as far as premium tires go, it's far from the top.
You can expect to lose traction earlier through the corners, especially on damp surfaces. The tire performs slightly better during heavy rain, thanks to the excellent hydroplaning resistance, but not enough to dethrone the leading tires in the category.
Moreover, the braking distances on the Advantage T/A Sport LT are longer than the best-in-class tires, which is something you definitely need to have in mind.
This is the category where the Advantage T/A Sport LT completely redeems itself.
Although it doesn't have zig-zag sipes like some other all-weather tires, the 3-D Active Sipe Technology seems to be enough for good snow traction.
Besides, the rubber compound remains pliable in freezing conditions, which further improves the performance.
Overall, it is among the best all-season/all-weather tires for winter driving. Longitudinal traction (acceleration and braking) on snow is very good, and the cornering isn't half-bad.
However, an important thing to note is that a set of winter tires is still a much better option, especially for icy surfaces.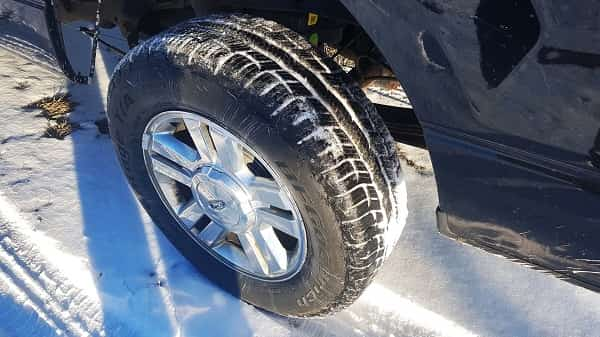 The BFGoodrich Advantage T/A Sport LT is aimed at drivers of SUVs, trucks, and crossovers, so some might think that it's good for off-roading.
However, that's not the case here. For starters, the casing is simply not tough enough, and sharp rocks can easily rip through.
More importantly, there won't be enough traction, especially when the surface is wet.
We recommend using these tires only on paved roads and on dirt and gravel in an emergency.
Although some owners report that the Advantage T/A Sport LT is noisy, we couldn't replicate that in our testing.
Sure, the tire isn't as quiet as some premium offerings, but it's far from bad. Specifically, there is a tread growl at highway speeds, but it's not much noisier than the wind, especially on larger SUVs or trucks.
On the other hand, the ride quality is excellent. The tire eats small imperfections with ease, making each highway drive a breeze.
It also performs very well over larger undulations without transferring vibrations into the cabin.
Overall, the Advantage T/A Sport LT is among the best crossover/SUV touring tires for comfort. We can't think of many tires that soak up bumps that well – BFGoodrich's model is as smooth as it gets in this category.
You can see more BFGoodrich Advantage T/A Sport LT review here: Video created by Distribution Stox
The BFGoodrich Advantage T/A Sport LT won't dethrone the best crossover/SUV all-season touring tires since it lags in some very important areas.
Namely, we expected better wet traction and braking, and more responsive handling, since this is a "Sport" tire after all.
However, that's not to say it's a bad tire. The Advantage T/A Sport LT is supremely comfortable, even on some very rough patches on the road, provides safe traction on snow-covered roads, and has excellent treadlife.
If those qualities look appealing, you should definitely put this tire on your shortlist.
List of the BFGoodrich Tire Reviews

I'm Ivo Gievski, the content writer for Tireer. We built our website with over 15 years of experience and extensive research in the automotive and technology sectors. My dedication to delivering high-quality content is unwavering, and I strive to continuously hone my skills to stay ahead of industry trends and provide readers with informative, engaging, and valuable insights.