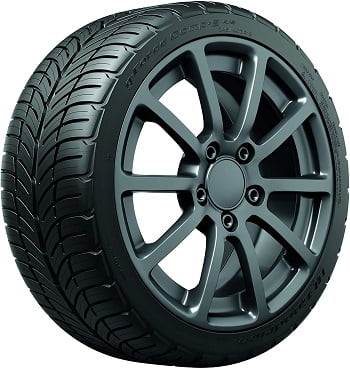 There are some severely divided opinions on ultra-high-performance all-season tires in the automotive world.
Most people that own sports and executive sedans love the versatility of these tires, but real enthusiasts are almost disgusted by the thought of a sporty all-season tire.
But where do we stand? Well, somewhere in the middle. It's true that an all-season tread compound can't compete with a summer one in pure grip, especially for spirited driving and track days.
However, most owners of fast sedans don't need the highest possible grip.
Instead, these drivers value the higher grip, and better responsiveness compared to a comfort-focused touring tire and want a long-lasting solution that will work throughout the year.
And, let's be honest, summer tires don't last very long and don't work in colder temperatures.
The BFGoodrich G-Force Comp-2 A/S promises summer tire dynamics but also an all-season capability and long-lasting treadlife.
Moreover, it competes in an increasingly popular category, where tires like the Michelin Pilot Sport All Season 4, Bridgestone Potenza RE980AS, and Goodyear F1 Asymmetric All Season are almost universally accepted as the class leaders.
From 2020, the BFGoodrich G-Force Comp-2 A/S has another competitor on the market – its successor, which has the additional "Plus" designation.
Usually, when a new tire arrives on the market, it improves on almost every aspect, with the BFGoodrich G-Force Comp-2 A/S Plus focusing on improved wet and snow performance and longer treadlife.
Naturally, since the BFGoodrich G-Force Comp-2 A/S is an old model by now, you should find it at a lower price than its successor, especially if you go for the larger sizes.
This, of course, begs the question: which one should you buy? The answer is never straightforward, but we think that you should go for the newer model since the price difference is tiny.
Let's dig into the matter in the BFGoodrich G-Force Comp-2 A/S review and discover why that's the case.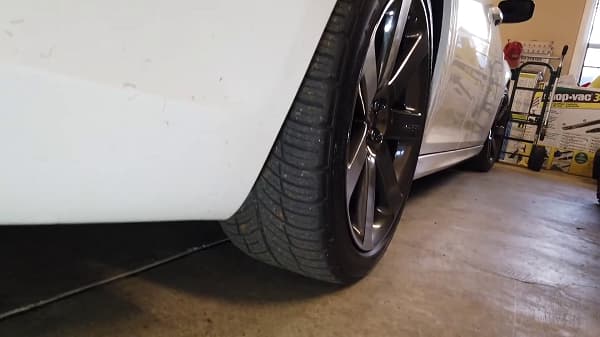 The BFGoodrich G-Force Comp-2 A/S comes in sizes ranging from 16-inches to 20-inches in wheel diameter, meaning it will fit most premium sedans, muscle cars, and sports coupes.
However, drivers of sports SUVs are out of luck, as there are no 22-inch tire options.
Nonetheless, all sizes have the W-speed rating (second highest), meaning the tire suits even some very powerful sports cars.
In other words, if your vehicle has a top speed under 168 mph, this tire will fit.
BFGoodrich provides a 45,000-mile treadwear warranty on all sizes. That's excellent for the price and close to the best-in-class tires, which offer a 50,000-mile treadwear warranty.
The G-Force Comp-2 A/S doesn't have any proprietary maintenance indicators. Instead, BFGoodrich utilized the industry-standard tread wear indicators (TWIs).
These are narrow rubber bars that sit recessed into the tread grooves. As the tire wears down, the TWIs will become more visible, and when the tread depth reaches 2/32 inches, they will be completely flush with the surface.
When the tread depth comes to 2/32 inches, it is highly recommended that you immediately replace the tires, since the wet traction won't be sufficient.
However, we recommend replacing the tire even sooner, especially if you drive in wintry conditions.
Features and Performance of the BFGoodrich G-Force Comp-2 A/S
The BFGoodrich G-Force Comp-2 A/S is an ultra-high-performance tire designed for drivers of sports sedans, coupes, and muscle cars.
As far as design goes, the tire is developed under BFG's ABC mantra, meaning Accelerate faster, Brake shorter, and all-season Control, including light snow.
Let's get into more detail and see how the brand's design translates into the real world.
1. Handling, Steering, and Responsiveness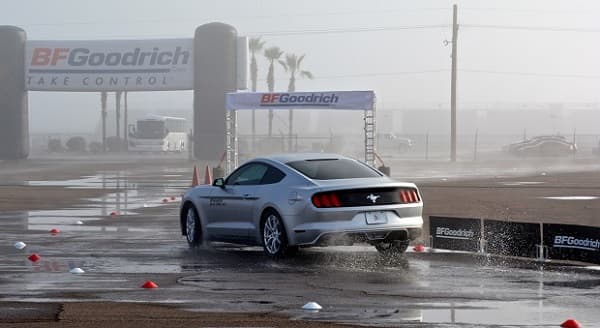 Perhaps the most important aspect of any performance tire, and one that most buyers often don't think about, is the steering feel.
The way the tire communicates with the driver is equally important to the grip it provides. A responsive and natural-feeling tire instills confidence, making you feel like you are in control.
And, when it comes to that, the G-Force Comp-2 A/S performs very well. It's not the most responsive ultra-high-performance all-season tire out there, which real enthusiasts might not like, but it still reacts quickly enough to the steering inputs.
The g-Control sidewall inserts play a big role here, providing improved responsiveness while keeping the ride smooth.
More importantly, the on-center feel is excellent, and the tire accepts the steering input in a linear and natural way. We actually prefer this behavior to tires that react overly fast.
Besides, the BFGoodrich G-Force Comp-2 A/S provides excellent feedback, which further enhances the driving experience.
Now, we'll not go as far as to say that it's best-in-class, but we were still pleased with how this tire handles.
Overall, it provides a good experience behind the wheel and has that fun-to-drive factor.
2. Dry Cornering Grip, Traction, and Braking
Responsiveness and steering feel means nothing if the tire doesn't grip the road well.
Fortunately, at least on dry roads, the BFGoodrich G-Force Comp-2 A/S provides enough grip for a spirited drive down a twisty road.
For that, BFGoodrich employed its UltiGrip Technology, which features high-silica content for better grip and longevity.
The compound is molded into an aggressive V-shaped pattern, with angled lateral and longitudinal grooves, wraparound tread blocks, and squared-off shoulders for higher stability and responsiveness.
So, what's the result of all that? Again, it won't compete with the best ultra-high-performance all-season tires, but the BFGoodrich G-Force Comp-2 A/S is good enough for most people.
It turns into a corner with confidence and keeps gripping the road mid-corner. Then, when you accelerate hard out of the corner, there is enough traction to give you forward thrust, even on some more powerful RWD sports sedans and coupes.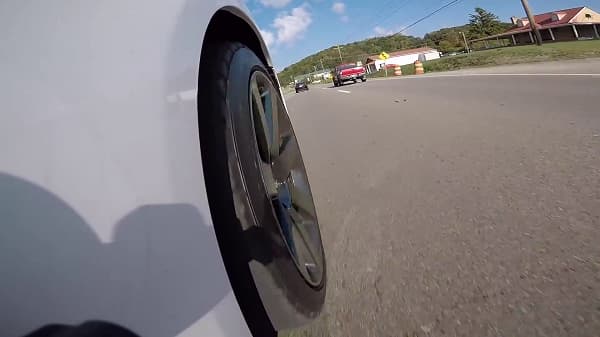 Is it as good as an ultra-high-performance summer tire, though?
Certainly not! Yes, there is enough grip for driving on public roads, but we would advise against using this tire on track days. For daily driving, though, it would suffice.
The stopping distances are also reasonably short; certainly shorter than any grand-touring all-season tire. Hence, not only your drive will be more fun, but also safer.
Oh, and not to forget, the G-Force Comp-2 A/S feels more stable and safer on the highway than even the best grand-touring all-season tires.
3. Wet Cornering Grip, Traction, and Braking
In isolation, the BFGoodrich G-Force Comp-2 A/S is a pretty good tire for rainy conditions.
It still feels very lively and natural, while also providing high levels of longitudinal traction and cornering grip.
The hydroplaning resistance is also excellent, even when you drive through some deep puddles of water.
The thing is, newer ultra-high-performance all-season tires provide even more grip and traction.
Even this tire's successor, the "Plus" model, brings appreciably better drivability in wet conditions.
The difference is not night and day, but still detectable in our testing, especially when it comes to braking.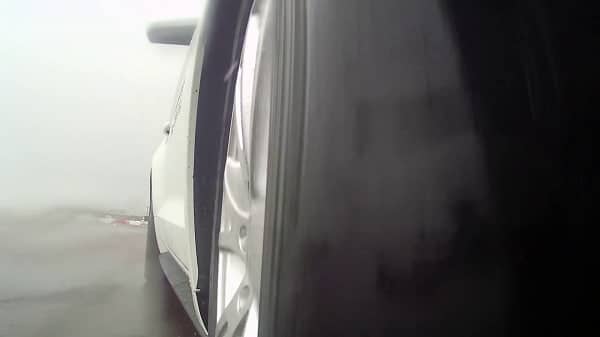 Ultra-high-performance all-season tires are definitely better on snow than their summer counterparts, and the same is the case with the BFGoodrich G-Force Comp-2 A/S.
However, while there is usable traction on light snow, you should tread very carefully.
A winter tire will still provide you with much better traction overall, especially when there is ice on the road.
Hence, we recommend against using the BFGoodrich G-Force Comp-2 A/S in the winter if you live in areas where it snows frequently.
Nonetheless, if you live in areas where it almost never snows in the winter, you should be fine.
It's also important to note here that the newer BFGoodrich G-Force Comp-2 A/S Plus model handles a bit better on snow-covered roads.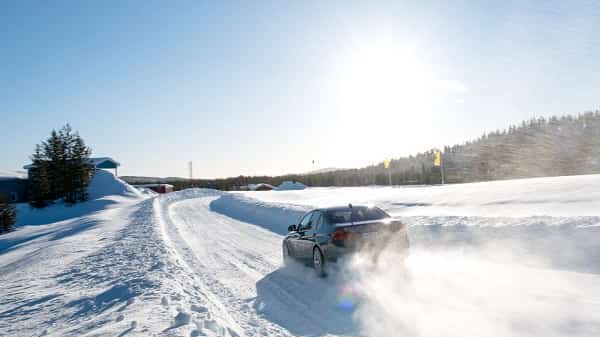 When it comes to overall comfort, ultra-high-performance all-season tires perform better than their summer counterparts, albeit not on the level of grand-touring tires.
Hence, the G-Force Comp-2 A/S is better than a summer tire but not class-leading by any stretch of the imagination.
In terms of ride quality, it's good; the ride is smooth on the highway, and there is only a slight thump when you drive over larger potholes.
However, the real problem here is the road noise, which is higher than on most modern ultra-high-performance all-season tires.
The tread growl is constantly present and especially audible at highway speeds or rough patches on the road.
You can see more BFGoodrich G-Force Comp-2 A/S review here: Video created by DSPORT
The BFGoodrich G-Force Comp-2 A/S is a fine ultra-high-performance tire in isolation. It provides you with a good steering feel, high grip levels, and excellent stability.
Besides, it works in rainy and snowy conditions and should last you for a few seasons.
However, it's a pretty old model by now, and newer alternatives are better in almost every way.
For instance, the successor, which bears "Plus" in the name, is better in every aspect, especially on wet and snow-covered roads. More importantly, it does all that without costing much more.
Hence, we only recommend purchasing these tires if you really come across a great deal.
Otherwise, go for the latest BFGoodrich G-Force Comp-2 A/S Plus model or some of its premium competitors, like the Bridgestone Potenza RE980AS, Michelin Pilot Sport All Season 4, or the Continental ExtremeContact DWS06 Plus.
List of the BFGoodrich Tire Reviews

I'm Ivo Gievski, the content writer for Tireer. We built our website with over 15 years of experience and extensive research in the automotive and technology sectors. My dedication to delivering high-quality content is unwavering, and I strive to continuously hone my skills to stay ahead of industry trends and provide readers with informative, engaging, and valuable insights.