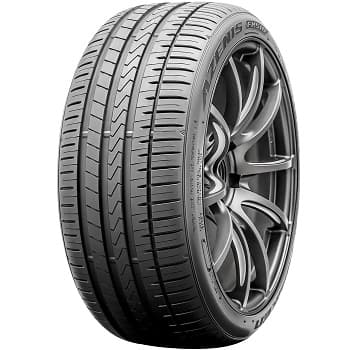 Summertime means beachgoing, surfing, and generally enjoying life for most people. However, there is another delight that hot weather brings to the table, and that's higher levels of grip and traction, which adds more fun to our drives.
Of course, to experience all of that, you'll need special tires – all-season, all-weather, and winter models are simply out of the question.
What you need to enjoy your everyday drive, instead, is a set of ultra-high-performance rubber. These tires provide much higher levels of grip than touring or grand touring tires, but also any all-season or all-weather tire.
Besides, they are much more responsive and feel better behind the wheel than their comfort-oriented counterparts.
The thing is, ultra-high-performance summer tires tend to cost a lot of money, especially if you opt for a premium model. Fortunately, we have tire brands like Falken, which provide premium-level performance at slightly lower price points.
The latest product from the revered Japanese manufacturer is the Azenis FK510, an ultra-high-performance summer tire designed for higher cornering grip and precise handling.
Falken usually never disappoints, but the competition nowadays is fiercer than ever, meaning the Azenis FK510 should be stellar in order to compete.
So, how does Falken's latest driver's tire perform? Let's find out in our detailed Falken Azenis FK510 review, which will cover every important aspect of the tire.
What are the Specifications and Maintenance Indicators?
The Falken Azenis FK510 is an ultra-high-performance summer tire designed for drivers of hot hatches, premium sports sedans, sports coupes, muscle cars, and even some sporty crossovers.
It comes in various sizes, ranging from 17-inch to 22-inch wheel diameter, enough to cover most performance cars on public roads today.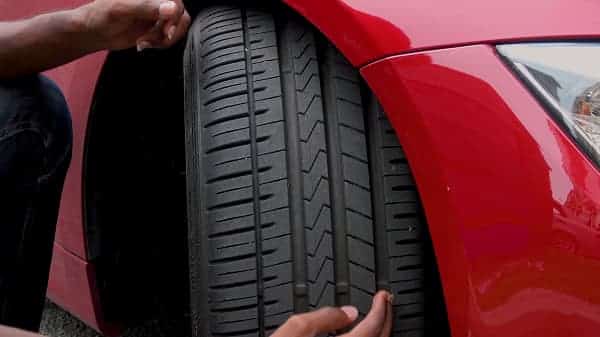 The tire features the industry-standard tread wear indicators (TWIs), showing you when the tread depth isn't safe for rainy conditions anymore.
Specifically, the TWIs are narrow rubber bars that sit suspended in the grooves of the tire, which become more visible as the tread wears down.
When the tread reaches 2/32-inch, the TWIs will be completely flush with the surface. That is the lowest legal tread depth for a summer tire in most places, but crucially, it means the tire won't be able to evacuate water as fast.
As a result, the tire will hydroplane more quickly, which is a safety hazard.
As far as treadlife goes, the Azenis FK510 is among the best ultra-high-performance tires. However, you need to remember that performance tires don't last very long since the tread compound is more geared toward grip than durability.
Still, you should be able to extract around 20,000 miles before reaching the minimum legal tread depth.
As is the case with most ultra-high-performance tires, Falken doesn't provide any treadwear warranty.
Features and Performance of the Falken Azenis FK510
The Azenis FK510 is one of Falken's most important tires. The brand is popular among the enthusiast community, and having an excellent ultra-high-performance summer tire in the portfolio is crucial.
Hence, Falken employed everything it learned on the racing courses in the Azenis FK510, including the rubber compound and the tread design.
But was that enough to dethrone the class-leading premium tires from Michelin, Pirelli, Continental, and Bridgestone? Let's go through each feature and find out how it makes a difference in the real world, after our tests.
1. Responsiveness and Steering Feel
Falken is a trendy choice among drivers that want a good experience behind the steering wheel.
The Japanese tire maker employed a hybrid undertread cap ply, along with aramid and nylon materials, to improve the tire's rigidity and high-speed stability, which in theory should give the Azenis FK510 excellent steering precision and response.
The real-world results are a mixed bag, though. When I tested this on sizes with slightly larger sidewalls, the responsiveness isn't very impressive, even when you compare the Azenis FK510 to its direct rivals.
Specifically, the tire has a soft feel to it that's unusual for an ultra-high-performance summer tire and also doesn't communicate with the driver very well.
However, things change for the better when I try a size with a smaller sidewall, such as 225/35ZR19. In these sizes, the Azenis FK510 immediately comes to life, providing outstanding responsiveness and steering feel.
In that size, Falken's ultra-high-performance tire is among the best in its category for drivers that want an engaging experience.
Hence, if you value the driving experience, the Azenis FK510 will entertain you only in sizes with very small sidewalls.
Otherwise, you might want to check other options, such as the Pirelli P Zero PZ4, which is responsive in every dimension.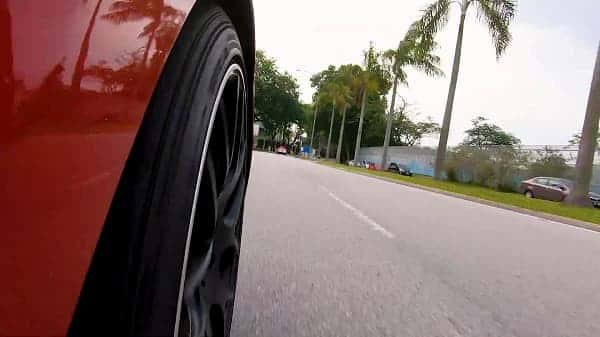 Test drive on dry pavement
The main attraction of ultra-high-performance summer tires is the higher level of grip and traction when compared to touring and grand-touring tires.
Falken utilized several technologies to provide you with excellent cornering grip and high-speed stability.
These include an optimized void ratio and variable sipe depth for higher block rigidity, along with wide shoulder blocks.
Moreover, the Advanced 4D Nano Design adapts to a dry or a wet surface, enhancing traction and grip in both scenarios, while the tread pattern packs Falken's Adaptive Constant Pressure (ACP) design.
But does that make a difference in the real world? Well, I did get a chance to test it on dry surfaces in Newark, New Jersey, and as far as cornering goes, the Azenis FK510 is among the best tires in its price range.
The tire has an excellent initial bite and an excellent mid-corner grip when you dry at 8/10. Hence, it will be an excellent companion on twisty public roads, where you'll probably never break the maximum grip level.
The acceleration traction is also very good, even when I hit the gas pedal hard out of a corner. However, the stopping distances are surprisingly longer than the premium competition, although still much better than any touring or grand-touring tire.
Overall, the Azenis FK510 won't dethrone the best-in-class tires on dry tarmac. Still, it's a capable performer nonetheless, particularly for people that use their performance cars mostly on public roads.
Inevitably, some owners of sports cars also use them for track days, autocross events, or drifting.
However, although serious enthusiasts have two sets of tires – one for the road and the other for the track, some prefer to use only one set.
However, if you opt for just one set, the Azenis FK510 isn't the best choice around. Sure, it grips the tarmac well, but not enough for serious track use.
Any max-performance summer tire will be better in that regard, such as the Michelin Pilot Sport 4S or the Pirelli P Zero PZ4.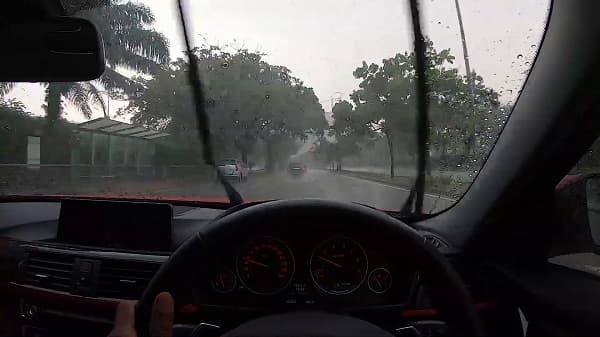 Falken's Advanced 4D Nano Design tread compound was designed at the molecular level to improve traction on wet pavement.
The tire also features Switchback Siping, which optimizes road contact in rainy conditions and improves traction. Finally, there are four circumferential grooves that improve water evacuation.
These technologies prove worthy in rainy conditions, where the Azenis FK510 is among the best-performing tires in its category.
And that showed in my testing, the hydroplaning resistance is particularly good – the tire remains in contact with the road even when I run through a deep puddle of water.
The overall traction is also impressive. Hard acceleration is not an issue for the tire, and the stopping distances are among the shortest in the category.
Crucially, though, the cornering grip is excellent, even if heavy rain comes suddenly, an area where most ultra-high-performance summer tires suffer, but these tires still retain stability and grip when cornering very well. I don't have any complaints about this.
Therefore, if you live in areas with many rainy days, the Azenis FK510 is among the best tires out there.
It grips the road like the best models in its category but adds much better hydroplaning resistance, making it an excellent performer overall.
Ultra-high-performance tires aren't usually associated with comfort; however, the modern driver expects the tire to have those qualities as well, especially those driving premium sedans.
Hence, Falken employed its proprietary Tension Control Technology, which utilizes a flexible middle sidewall area that absorbs road imperfections.
According to our on-road test, ride quality is excellent for the category, even on sizes with very small sidewalls.
The Azenis FK510 absorbs smaller and larger imperfections without too much harshness and only a few vibrations on my steering wheel.
I can't say the same about the tread noise, though, which is among the worst in the category.
The growl is noticeable even at lower speeds but can become particularly tiring on the highway.
You can see more Falken Azenis FK510 review here: Video created by Falken Tire

Should I Buy the Falken Azenis FK510?
The Falken Azenis FK510 is a very good performer overall, with a solid grip in dry conditions, excellent wet traction, comfortable ride, and long treadlife.
However, only the models with smaller sidewalls provide an engaging driving experience – those with larger sidewalls seem a bit soft.
Still, that's easy to overlook when you consider the price of the Azenis FK510, which is lower than every premium competitor. I'd say you should consider this tire, provided you know its limitations.
List of the Falken Tire Reviews

I'm Ivo Gievski, the content writer for Tireer. We built our website with over 15 years of experience and extensive research in the automotive and technology sectors. My dedication to delivering high-quality content is unwavering, and I strive to continuously hone my skills to stay ahead of industry trends and provide readers with informative, engaging, and valuable insights.