Off-roading is re-emerging in popularity lately, particularly among owners of capable trucks and SUVs. The ongoing pandemic certainly helped here – people want to go off the beaten track as a way to escape the rough reality.
As a result, off-road tires are surging in popularity, among other popular upgrades, like lifting kits. However, good off-road tires are usually expensive, making them approachable only for those with deep pockets.
Fortunately, Milestar came to the rescue with the Patagonia M/T – an aggressive mud-terrain off-road tire that won't break a bank.
However, in my eyes, at least, cheap tires are often not worth it, as they cut quite a few corners to deliver the performance they are designed for; in the case of mud-terrain tires, that would be lowering on-road traction to deliver higher off-road traction.
So, how does the Patagonia M/T fare in that regard? And, more importantly, should you buy it? You can learn everything in my in-depth Milestar Patagonia MT review. Enjoy!
What are the Specifications and Maintenance Indicators?
The Milestar Patagonia M/T is a maximum-traction off-road tire; it is available in multiple sizes, ranging from 15-inch to 22-inch wheel diameter.
Notably, Milestar offers LT-metric sizes for owners of full-size and heavy-duty trucks and flotation sizes for off-road enthusiasts, which include 31-inch, 33-inch, 35-inch, 37-inch, and even 40-inch models!
Much like every other mud-terrain tire, the Patagonia M/T comes with the industry-standard TWIs (tread wear indicators), which can show the driver when it's time to change the tires.
However, the TWIs only show when the tread depth reaches 2/32-inch, which is frankly already too low for an off-road tire; in my experience, you should replace such tires when they reach 5/32-inch.
Since the Patagonia M/T has 19/32-inch of tread depth when new, it will take quite a bit of time to reach that point.
Still, competing mud-terrain tires usually provide longer treadlife, especially if you pay a bit more.
Features and Performance of the Milestar Patagonia M/T
Right from the bat, it's clear that the Patagonia M/T is all business – the tread pattern looks very aggressive, and crucially, quite different from most mud tires.
Milestar's sidewall lettering is also very attractive, joined by the elaborate side lugs. Does that translate into great off-road traction, though? Let's go through each feature and find out!
1. Off-Road Traction and Durability
The Milestar Patagonia M/T features a high-void tread pattern engineered to provide aggressive biting edges for higher off-road traction while also having self-cleaning qualities.
Inside those large voids, Milestar incorporated stone ejectors, protecting against stone retention and drilling, while the angled biting edges provide the necessary mud traction.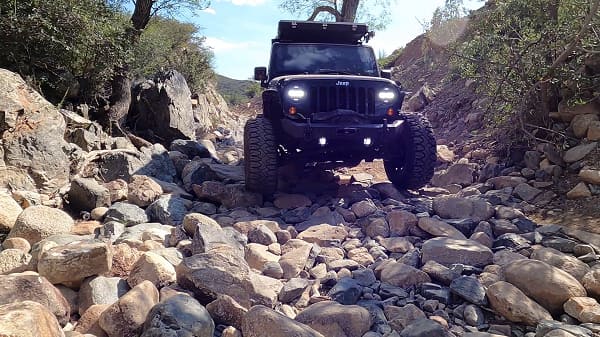 But what's the result of this design? Well, according to our off-road test on the Jeep, the Patagonia M/T is a supremely capable tire on most off-road terrains.
Particularly, there is a ton of traction on hardpacked surfaces and deep mud, and you can even attack some sand dunes.
However, large rocks aren't its forte, although Milestar promotes it as a rock-crawling tire. This is especially true on wet rocks, where the cheaper tread compound loses traction quite easily.
Meanwhile, the stone ejectors work quite well, and a few miles on the highway are enough to clean the tread from mud.
However, although still very durable, the Patagonia M/T isn't as tough as its premium rivals, so expect more chipping, cuts, and bruises.
Most maximum-traction off-road tires have a tread pattern primarily designed to offer higher traction on challenging terrains.
However, Milestar also thought about the on-road manners of the Patagonia M/T.
Notably, the tire features center tread blocks that create a continuous center rib, working together to improve on-road stability and traction.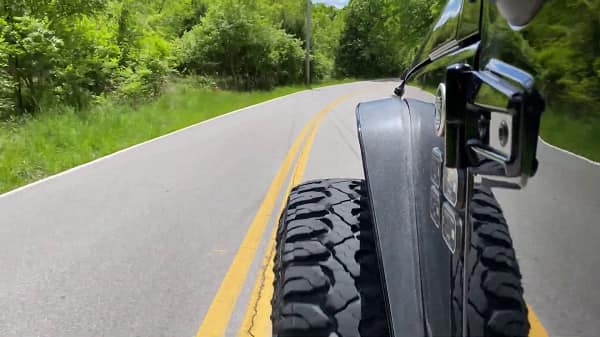 Now, make no mistake, this is not a performance tire, so you really should drive more carefully on public roads.
That said, the Patagonia M/T is excellent relative to its category – it's even better than some all-terrain tires!
Particularly, there is ample acceleration traction, meaning the tires won't slip, even when you don't utilize the 4WD system.
Furthermore, according to our on-road test, the handling is pretty good – the tires provide solid cornering grip and, giving you much more confidence than comparable off-road tires.
The Patagonia M/T also provides good stability on the highway, even if you drive with a trailer attached or a lot of cargo in the bed.
Overall, I was impressed with how the Patagonia M/T handled daily duties; it's not fun to drive, that's for sure, but crucially, it is safe, which is not something I can say for most mud-terrain tires.
3. Handling and Steering Feel
The same continuous center rib that provides higher stability also improves overall responsiveness.
Again, this is not a sharp tire that will make your daily drive more enjoyable, but relative to its category, it's very good.
In particular, the straight-line tracking is among the best I've felt in a mud tire, with a good on-center feel.
Moreover, the tire doesn't feel cumbersome like other off-road tires and responds to the driver's input quickly and fluidly.
There is almost no steering feel, but that's to be expected in a tire with such a large sidewall. Overall, though, not a lot to complain about.
4. Wet Grip, Traction, and Braking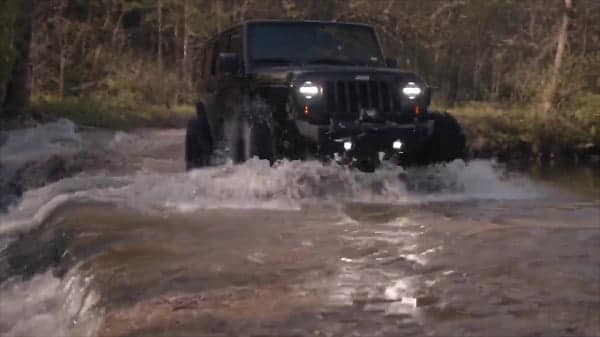 Unlike some of its competitors, the Patagonia M/T has quite a lot of sipes on the tread blocks, aiming to improve water evacuation.
Indeed, Milestar's off-road tire is excellent at reducing hydroplaning – those large grooves and multiple sipes really do their job quite well.
However, a high-quality "stickier" tread compound is actually more important for overall wet traction and grip, and that's where the Patagonia M/T falls to pieces.
Put simply, the rubber this tire is made of doesn't stick to wet pavement well, which limits the overall performance.
Notably, it's easy to experience wheel slip when accelerating hard, and the stopping distances will be longer than what you'd experience in the premium competition.
And the handling seems to be even worse – not only does the Patagonia M/T lack enough grip, but it also behaves erratically when it loses it, making it hard to correct from the driver's seat.
All in all, this is where Milestar has cut corners; the Patagonia M/T isn't a good wet tire – there is no other way to cut it.
This also creates a problem when rock-crawling in wet conditions, something I already covered in the off-road section.
5. Is it Good for Winter?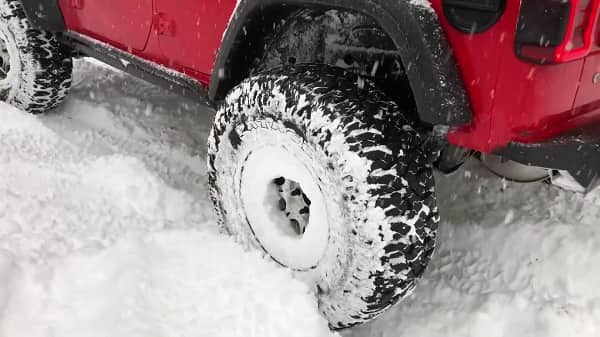 Mud-terrain tires are usually great on unpacked snow, the type you'll encounter on terrains that weren't previously touched by other vehicles.
According to our snow road test, the Patagonia M/T doesn't disappoint here, providing you with ample traction and good drivability on unpacked snow.
However, the tire doesn't perform as well on packed snow, the variety you encounter on public roads. Notably, the longitudinal traction is much lower, and the tire doesn't handle corners as well.
Still, the Patagonia M/T performs better than most off-road tires on packed snow, though I still wouldn't recommend it to people living in areas with harsh wintry conditions. Likewise, the ice traction isn't stellar, but it's actually better than most mud tires.
Thanks to the continuous center rib that I already mentioned twice in this review, the Patagonia M/T rides quite smoothly on the highway, without the usual vibrations other mud-terrain tires produce.
However, the sidewalls aren't quite as sophisticated, meaning the ride quality worsens significantly on broken surfaces, where you'll feel quite a lot of the bumps.
Meanwhile, despite the aggressive tread pattern, the Patagonia M/T is actually very quiet for an off-road tire. There is a noticeable tread growl, that's for sure, but it's not overly intrusive and certainly quieter than most.
I'd go as far as to say that even some all-terrain and hybrid tires are noisier than the Patagonia M/T.
You can see more Milestar Patagonia MT review here: Video created by 4XTRAIL

Should I Buy the Milestar Patagonia M/T?
The Milestar Patagonia M/T is a cheap entrance into mud-terrain tires, giving owners of older trucks and SUVs a way to improve their off-road abilities.
And, when it comes to off-roading, the tire is certainly more than capable; it provides excellent traction on hardpacked surfaces, mud, and sand and seems durable enough.
Still, Milestar definitely needed to cut a few corners to make this tire as affordable as it is, particularly in the tread compound.
Namely, the Patagonia M/T loses traction on wet pavement and rocks more quickly than in competing tires, which is something that you definitely keep in mind.
Nonetheless, if you can live with the compromises, the Patagonia M/T is a pretty good off-road tire for the money!
List of the Milestar Tires Review

I'm Ivo Gievski, the content writer for Tireer. We built our website with over 15 years of experience and extensive research in the automotive and technology sectors. My dedication to delivering high-quality content is unwavering, and I strive to continuously hone my skills to stay ahead of industry trends and provide readers with informative, engaging, and valuable insights.