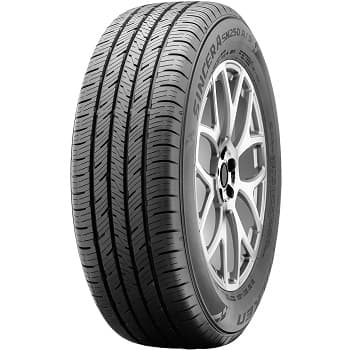 Made for SUVs and passengers car, The Falken Sincera SN250 A/S is an all-season tire that delivers exceptional performance. What makes it even better is the fact that it is also a touring tire. Do you know what that means? It means that while it can function effectively in all weather conditions as dry, wet, and snowy, you can drive it on many terrains.
Okay, it's great to have one tire functioning in all weather and almost anywhere. Even I am stunned by this. But that is not the only thing one needs to consider in choosing a tire for car replacement. To me, and a majority of you out there, there are certain features a tire must possess that will make it sell and at the same time satisfy users.
For me, an all-season tire that delivers great traction in all weather shouldn't have to compromise comfort or cost-saving. And that is the big hook the Falken Sincera threw. They met all these qualities.
This tire doesn't just give you comfort; it gives you confidence on the wheel and saves cost. Let me explain in this review. No matter how a tire performs, if you need to change them too quickly, then the purpose of buying is defeated even if it's cheap.
That said, this tire is made with durable materials that make it last longer before it wears out. So how does this tire get to give you such value? It's simple; it all boils down to design and manufacturing material. We will take a look at them on the exciting features. Read on to find out in our in-detail Falken Sincera SN250 A/S review.
Falken Sincera SN250 A/S is available in different sizes ranging from 14, 15, 16, 17, and 18-inch sizes. These sizes also have many tire options under them. While you have many tire options to choose from, make sure you get the one that fits your car. I would advise you to provide all necessary information about your vehicle to the seller before progressing with a purchase.
The Falken Sincera SN250 A/S comes with a wear indicator placed strategically around the tread's main grooves. They function to tell you the health of your tires. So when you see this indicator, know it is time to replace your tire.
Falken also guarantees a 75,000 – 80,000 tread mileage, depending on your speed rating. Meaning it is a multiple-speed-rated tire. For H and V speed rated sizes, 75,000 miles is guaranteed. While the T speed rated sizes guarantees 80,000 miles of tread wear. However, some users still complain of tread wearing out just after 25,000 miles.
I am not sure why it happened. But it could be buying the wrong size for a car or due to a suspension issue. That is why I always advise buyers to make necessary inquiries before opting for a particular tire brand or size. Ask yourself, can this tire manage my needs and car's strength?
Contrary to that review, the majority of the Falken Sincera SN250 review cites this as an exceptional tire.
Another thing that tops this tire in the game is the 2-year tire protection policy for all buyers. If the tread wears out and cannot be repaired, you get a replacement free of cost. However, you must ensure the tread wear is not below 3/32. Anything below that won't qualify you for this.
Additionally, Falken also provides 24/7 roadside assistance, including a 30-day trial test to all buyers. This is rare, I must say.
Features and Performance of the Falken Sincera SN250 A/S
What are the features of Falken Sincera SN250 A/S? This tire provides excellent traction on snow and icy roads, all thanks to the multiple sipes on the tire's tread. The sipes come built with a 3D Canyon Technology allowing numerous gripping edges on the tread's face. These edges enable the tire to grip well on snowy, icy roads. The angle tread placed on each tire tread provides extra grip on light snow. Because of this, it performs greatly on light snow. What makes me pay more attention to this tire?
More fascinating is the ability of the tire to perform greatly under low temperature without compromising comfort and tread life. This is due to the awesomeness of Falken's Dynamic Range Technology that uses a silica tread compound—ensuring that the rubber remains supple.
What makes it amazing on wet and slushy roads is the big circumferential grooves. These groves help remove water from the tire as you drive to give a firm grip on wet roads.
The handling and steering response is top-notch and will keep you amazed; all praise to the strong center rib with Falken's proprietary Tension Control Technology. It ensures it keeps the car in steady contact with the road, providing balance. Since this rib makes steering quickly responds to the driver's order, it makes the driver keep the vehicle under control.
Falken knows a noisy ride is an annoying ride. This is why the tire is built with tread blocks spread evenly to reduce noise at high speeds.
The symmetric rib design is a wonder to behold. With it, 75,000 – 80,000 tread miles are guaranteed. It also comes with a wear indicator that informs you about how your tires are doing. These features are mouth-watering, I must say.
1. Handling and Steering Feel
Falken Sincera provides an above-average handling and excellent steering feel. On dry and wet roads, they provide better handling when compared to tires in the same class. But for fast driving, it won't meet your expectations.
Many Falken Sincera SN250 review points to excellent steering feel, which is one of the major highlights of this tire. So while the handling might be a bit above average, the steering feel is fantastic. Steering responsiveness is swift, thus giving you total control over the car. This way you can have a safe trip.
Falken Sincera SN250 doesn't have much grip or traction on dry roads. This is because it is built as a touring tire. That is not to say it doesn't do well at all. In fact, it is better than many less expensive tires out there. If you want excellent dry grip and traction, try to drive on low or medium speed.
In terms of its cornering strength, you must be an experienced driver for you to scale through tough bends. This is true, especially when at high speeds. For aggressive drivers or people with fast cars, this might not be what you need. I will suggest you look into something else or, better still, get the Falken Azenis.
The Falken Sincera SN250 A/S provides better wet traction than dry traction. As you drive, this tire design ensures that water leaves the tires, preventing hydroplaning. And as such, it provides great grip and traction as it moves on wet or slushy roads. The big circumferential grooves on the tire's tread make this possible.
However, ensure you drive within the required speed limit on wet roads. You might get a ticket driving at full speed on a wet road, so why even risk it? Even if you decide to damn getting a ticket, your tire will roar driving on wet surfaces at full speed. This is not necessary, or is it? That said, this tire will serve you well in daily driving.
One powerful highlight of this tire is the snow traction. The sipes and angle tread groove make it possible to get the appropriate amount of grip to sail through slippery terrains.
However, while it provides excellent traction on light snow, it doesn't do too well on deep snow. So if you always drive in deep snow, I will advise you to get winter or all-terrain tires.
Happily, just like it performs excellently on light snow, it provides fantastic traction on ice. In summary, this tire does better on slippery terrains than many in the same category.
5. Is it suitable for off-road driving?
For off-road driving, the Sincera SN250 will blow your mind away. It maintains a comfortable, smooth, and noiseless ride all through. However, try not to drive it on extremely hard packs off-road. Because, while it can give you the comfort you want, but you will damage the tire when using it for off-road driving.
Let me whisper this into your ear, come near. If you are that person obsessed with comfort on the go, then this is the right tire for you. As far as I can recall, Falken Sincera is comfortable both on high and low speeds.
Even if you drive on the street or highways, this tire gives you that comfort you want. For most tires in the same category, Falken Sincera is one among many that can provide such comfort considering the price.
Falken has really impressed many with the almost noiseless journey they experience using this tire. At low speed, they are totally quiet. But tend to whisper faintly when on high speed. But for its price, is it surprising to make a little noise at high speeds? I guess no.
I will like you also to note that the noise you hear sometimes might not really be the tire. It could be a result of your car's NVH characteristics. Always have that in mind before you give a terrible review yourself.
You can see more Falken Sincera SN250 A/S review here: Video created by Legacy

Should I Buy the Falken Sincera SN250 A/S?
The Falken Sincera SN250 A/S is one among many that top tires of this class. While it promises world-class performance and durability, but it doesn't tell much for your pocket. For a tire that can be used all seasons and in many terrains, this is quite a catch.
It might not give your that exceptional traction or grip on aggressive and fast drives, but it ensures comfort. For that tread mileage and performance all seasons, it is worth your penny. Buying it is definitely not a mistake. Just ensure it can serve your needs and car's strength, and you're good to go.
List of the Falken Tire Reviews