The pandemic brought many sad moments, but the lockdowns also made us fall in love with nature again. Hence, camping and overlanding became increasingly popular, increasing the demand for off-road vehicles, such as SUVs and trucks.
This, in turn, increased the demand for all-terrain tires, which promise safe on-road traction and enhanced off-road traction when compared to touring or highway tires.
One such product is the Falken Wildpeak AT3W, an all-terrain tire with an aggressive tread pattern, hi-tech features, and fair price.
But is Falken's all-terrain tires offering any good? Let's find out in our Falken Wildpeak AT3W review, where we'll cover the off-road and on-road aspects of the tire, the durability, and comfort.
According to Falken, the Wildpeak A/T3W is a tire with all-terrain and all-weather capability engineered for adventure. The manufacturer's aim was to provide aggressive off-road ability without sacrificing on-road safety and dynamics.
The Wildpeak A/T3W also comes with the 3PMSF (Three Peak Mountain Snow Flake) symbol, which signifies elevated longitudinal traction on snow.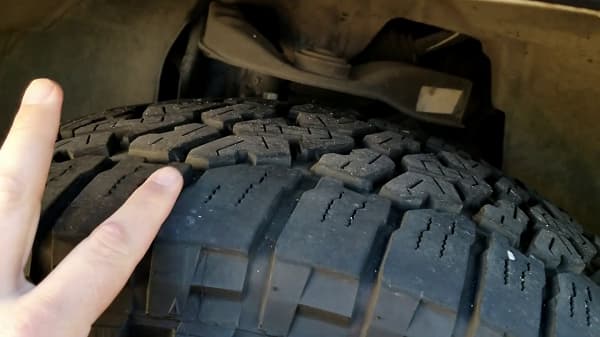 The tire is available in regular and LT-metric sizes, ranging from 15-inch to 22-inch wheel diameter. Hence, it covers a large portion of trucks and SUVs on the road today, including compact, mid-size, and large SUVs, and light-duty and heavy-duty pickup trucks.
As for maintenance indicators, Falken used the industry-standard TWIs, which are thin rubber bars that sit suspended in the grooves of the tire, which become more visible as the tread wears down.
When the tread depth reaches 2/32-inches, the TWIs will be flush with the surface of the tire. That's the minimum legal tread depth for an all-season tire in the USA, meaning you should immediately replace it.
Fortunately, the Falken Wildpeak AT3W is a very durable tire, and the manufacturer offers a 55,000-mile treadwear warranty, which is excellent for the category.
Features and Performance of the Falken Wildpeak AT3W
You are wondering, what are the features of Falken Wildpeak AT3W? Well, the Falken Wildpeak A/T3W packs some advanced features, aiming to make it suitable both for on-road and off-road driving.
Particularly, Falken utilized very deep grooves; in fact, the tire has the deepest tread of any other all-terrain tire, which should help with traction on uneven and slippery terrain, but also snow.
However, that's not the only feature of the Wildpeak A/T3W – it has numerous other technologies packed inside. Let's have a look at each of them and find out how it makes a difference in the real world, after our tests on the Toyota 4runner.
1. Off-Road Traction and Durability
The all-terrain category isn't as straightforward as other tire categories. Namely, some manufacturers enter with a mild all-terrain tire, which is more focused on on-road driving (Bridgestone, Continental, Michelin), while others enter with full-on off-road monsters (BF Goodrich).
The Wildpeak A/T3W appears to be somewhere in the middle, albeit slightly more focused on off-road traction. That's mainly because Falken utilized the deepest tread in the category, which helps with off-road traction.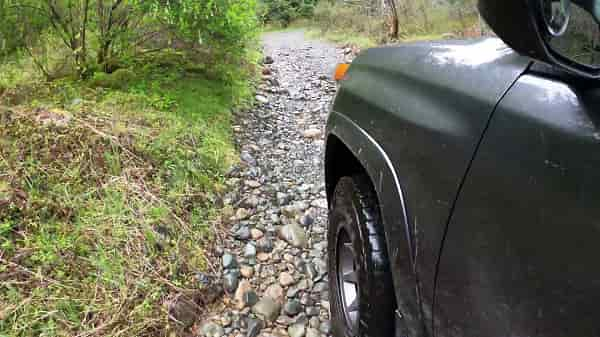 Test drive on wet gravel and shallow mud
However, the Wildpeak A/T3W also packs rugged and rigid tread blocks with support ramps and step-down features, which help with stone ejection and stabilize the tread pattern.
It also has rugged sidewall protection with offset shoulder blocks for additional off-road traction at lower pressures, important when you drive on sand and for rock crawling.
But how do these technologies and design choices affect off-roading? Well, overall, the Wildpeak A/T3W is among the best all-terrain tires for driving on uneven terrains.
And that showed in my testing when I drive through a gravel road. It's particularly good on hardpacked surfaces such as gravel and dirt, where it provides ample traction and excellent stability.
I didn't see any scratches on the tire surface after driving through that gravel road. It can be seen that the tire's durability is very good on hardpacked surfaces, providing you with a few seasons of exploring the wilderness.
However, large rocks also won't be an obstacle, especially when I air down the tires to 18 psi, then the offset shoulder blocks provide additional traction.
The Wildpeak A/T3W also provides reasonable mud-terrain traction, thanks to the deep tread and high void area. To prove this statement, the big mud puddles are where we go to check, it's the soft mud under a big puddle of water.
I'm really impressed with how they get through the mud here, with grip and traction being excellent and still providing a smooth ride.
Overall, I think that the Wildpeak A/T3W will satisfy most people with its off-road abilities. If you are a camper or overlander, it will take you where you want to, without a lot of fuss, but it will also work for some enthusiasts.
However, if you seek the highest off-road abilities, you still might want to go for a maximum traction off-road or a mud-terrain tire.
2. Handling and Steering Feel
Responsiveness is not something many drivers associate with all-terrain tires, but having a tire that communicates well through the steering wheel is always a nice addition.
When I tested this, I noticed that the Wildpeak A/T3W isn't the most responsive tire out there, even when compared to its direct competitors.
Hence, you won't be enjoying a twisty road too much if you are one of the few truck and SUV drivers that do that.
The Wildpeak A/T3W packs Falken's proprietary powerful high torque support, which includes 3D Canyon Sipes that interlock together for added handling stability but also to resist wear.
Falken also employed internal cooling protection, which dissipates heat from the tire. This helps with improving stability, especially when doing heavy-duty tasks, such as towing large trailers or hauling heavy cargo.
The Japanese tire maker didn't stop there, though, and utilized an outer apex sidewall, which acts as a heat shield and improves stability at higher speeds.
According to our on-road test, this is a very capable on-road tire. Sure, it won't be able to provide you with the traction and grip of a touring tire, but few all-terrain tires can.
More importantly, the Wildpeak A/T3W handles very safely for everyday driving, with a good amount of grip and traction, when I test-drove it in Newark, New Jersey. 
The stopping distances are also reasonably short for the category. With a braking distance of 99.2 feet in my test at 50 mph, the car came to a complete stop.
Overall, the Wildpeak A/T3W is very good for the tread depth it provides. Namely, tires like the Continental TerrainContact A/T and Bridgestone Dueler A/T Revo 3 will give you much better grip and traction on the tarmac, but at the expense of off-road traction.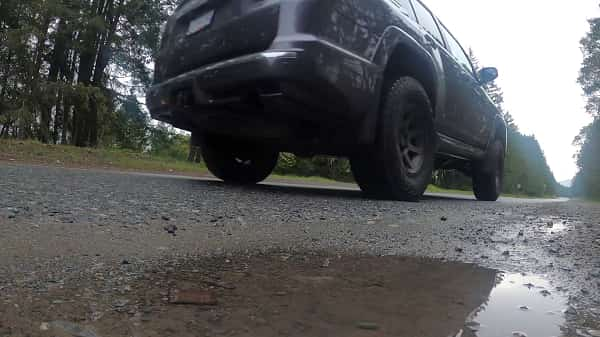 The deepest tread in the category doesn't only help with off-road traction – it also improves hydroplaning resistance.
When I drive on the highway, it's no surprise that the Falken Wildpeak AT3W will hardly ever hydroplane, even in very heavy rain and at very high speeds.
I live in Newark, New Jersey, a city that gets a fair amount of rain year-round, especially in April. So a tire that works well in the rain is really important to me.
However, rain traction is not only about hydroplaning resistance. The tread compound is also very important – the stickier it is, the more traction you'll get on slippery surfaces.
Falken's advanced silica rubber compound is fairly good at providing safe wet performance. And that showed in my testing with the longitudinal traction is very good, meaning hard acceleration won't be an issue and they corner very nicely with no slipping on the wet roads.
Besides, the stopping distance is safe for the trip. In my testing, I applied the brakes to stop the car at 50 mph, and the car skidded 134.8 feet before coming to a complete stop. With this distance, you don't have to worry about using your tires in the rain.
Moreover, during hard cornering in rainy conditions in more difficult corners, the Wildpeak A/T3W will lose grip more easily than competitors like the Continental TerrainContact A/T and Bridgestone Dueler A/T Revo 3 that I've tested before.
Crucially, when it does, it exhibits understeer, which is easy to correct.
Overall, you should have no issues during the rainy seasons, provided you don't drive at the limit all of the time.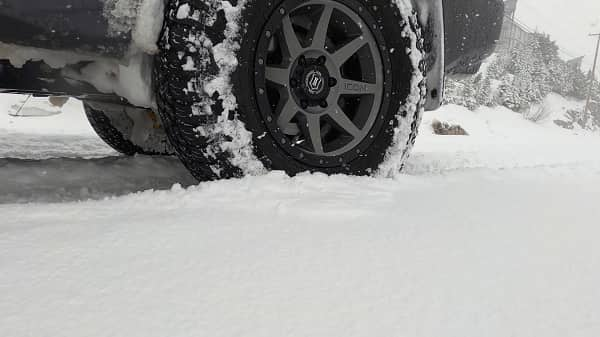 Test drive in snow about 2 to 3 inches deep
The Wildpeak A/T3W comes with the 3PMSF (Three-Peak Mountain Snowflake) symbol, meaning it's tested for higher levels of longitudinal traction on snow.
And my testing has proven just that, it is one of the most capable all-terrain tires in the winter.
It works very well in unpacked snow, where you'll have no issue accelerating, braking, and turning.
In the snow acceleration test, I headed to a section of snow about two to three inches deep. The car accelerated very well with the snow traction control system and it had no trouble navigating in areas with snow about 3 inches deep.
Once I accelerated to 25 mph, I applied the brakes and as a result, I slid a distance of 68.1 feet before the car came to a complete stop. I was impressed with the braking distance of this tire in the snow.
Then I drove back to the city to do the cornering test. And in my opinion, it handles very impressively in difficult corners and offers really good traction.
Besides, packed snow makes things worse, but not by much – the tire still works better than most all-terrain tires.
However, the Wildpeak A/T3W isn't the best choice for driving on ice in my test, where it quickly loses traction and doesn't provide a meaningful cornering grip.
This just shows that for harsh wintry conditions, you'll need a set of proper winter tires.
Falken carefully designed the tread pattern to minimize noise, and that shows in the real world. Despite the aggressive tread pattern, this is one of the quietest all-terrain tires.
When I tested this, there is a noticeable tread growl at higher speeds, but that's to be expected from an all-terrain tire. And, most importantly, it won't ruin your trip.
The ride quality isn't up to the same standards, although it's not bad by any stretch of the imagination.
Namely, there is a noticeable thump when I hit a pothole, but without many vibrations entering the cabin.
Overall, I was pleased with the comfort this tire provides, especially since it works so well for off-roading.
You can see more Falken Wildpeak AT3W review here: Video created by T4R Garage

Should I Buy the Falken Wildpeak AT3W?
After reading this Falken Wildpeak AT3W review, you definitely have the best choice for your car.
The Falken Wildpeak A/T3W is an excellent all-terrain tire for SUV and truck owners that want to explore the wilderness.
It provides very good traction on most terrains, works well on the road, isn't very noisy, and should last you for several seasons without any issue.
It also comes at a fair price, so make sure that you put it on your shortlist.
List of the Falken Tire Reviews

I'm Ivo Gievski, the content writer for Tireer. We built our website with over 15 years of experience and extensive research in the automotive and technology sectors. My dedication to delivering high-quality content is unwavering, and I strive to continuously hone my skills to stay ahead of industry trends and provide readers with informative, engaging, and valuable insights.