Hankook usually flies under the radar, even though it competes directly with premium tire makers like Michelin, Bridgestone, Continental, Goodyear, and Pirelli.
The Kinergy PT H737, its all-season touring tire, is a great example of that; it's not as popular as the Michelin Defender T+H or the Continental TrueContact Tour, yet it has some great features in its arsenal, like a 90,000-mile treadwear warranty and costs less.
However, the main question is – is it any good in the real world? We prepared a detailed Hankook Kinergy PT H737 review to answer all your questions regarding this product, including dry, wet, and snow traction, comfort, and durability. Let's dig in!
What are the Specifications and Maintenance Indicators?
The Hankook Kinergy PT H737 is an all-season touring tire designed to deliver safety in all seasons, along with outstanding treadlife. It is available in numerous sizes, ranging from 14-inch to 18-inch wheel diameter.
Most sizes have a UTQG (Uniform Tire Quality Grading) of 860/A/A, which is the highest of any modern all-season tire. In the rating, 860 signifies the tread wear (best-in-class), while the letters "A" signify superior traction and temperature ratings.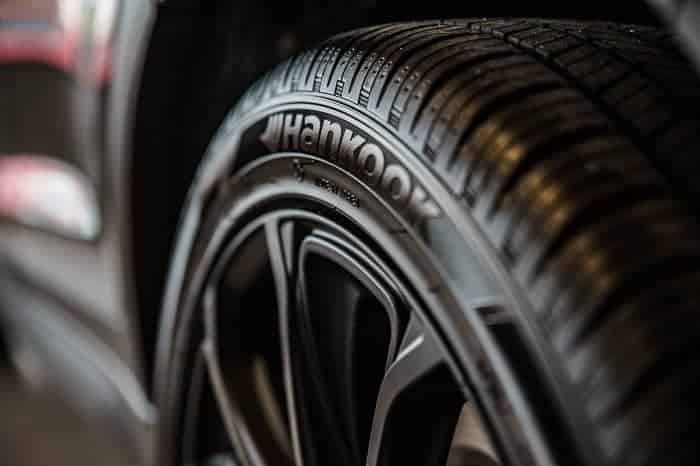 Hankook utilized the industry-standard TWIs (tread wear indicators) in the Kinergy PT H737. These narrow rubber bars sit recessed in the circumferential grooves, which the driver can use to monitor tread depth.
That's crucial for safety – without sufficient depth, the tire won't provide good hydroplaning resistance in wet conditions and almost no traction on snow.
The minimum legal tread depth for an all-season tire in the US is 2/32-inch. At that point, it is considered that the tire won't be able to provide good hydroplaning resistance in rainy conditions.
Fortunately, you can use the TWIs to monitor when the tread reaches 2/32-inch, as the rubber bars will be flush with the tire.
Fortunately, that won't take long on the Hankook Kinergy PT H737. The tire features a tread compound with smaller super abrasion furnace carbon black particles, delivering outstanding treadlife.
Currently, Hankook's all-season touring tire is among the most durable in its category and even comes with a class-leading 90,000-mile treadwear warranty.
Since it's a new model, it's too early to say if the Kinergy PT lasts that long, but considering Hankook's heritage, we are confident it will deliver.
Considering the average US mileage of 13,500 miles annually, that's over six years of driving, which is impressive. Hankook also provides a 30-day free trial of the tires and a road hazard warranty.
Features and Performance of the Hankook Kinergy PT H737
Hankook used several proprietary technologies in the Kinergy PT H737, aiming to improve treadlife without a negative effect on traction and grip.
So did it succeed? Let's go through each feature and find out if it makes a difference in real-world scenarios, after our road tests on the BMW 420i.
The Kinergy PT features a carbon black compound molded into an asymmetric tread compound, featuring enhanced outside stiffness for higher cornering grip and enhanced handling.
The tire also features a tie-bar on the out lateral grooves for enhanced stability and braking and aqua slant sipes that lock together for better rigidity, further improving the cornering grip without having a negative effect on wet traction.
All those small details add up to create one of the best all-season touring tires in terms of dry grip and traction, and that showed in my testing, although the Kinergy PT is no performance tire, it still provides sufficient longitudinal traction for daily driving.
With the stopping distances are also among the shortest in the category. When I tested this, the BMW 420i I was driving skidded a distance of 85,5 feet at 50 mph.
The dry braking distance on the Kinergy PT is shorter than on Pirelli's P4 Four Seasons Plus which I used to drive 6 months ago.
At the same time, the cornering grip impresses the most with me. Since the Kinergy PT is primarily designed for durability, I wasn't expecting it to perform that well in the corners, yet the tire positively surprised me.
Sure, it's not as high as on a performance tire, but still way better than most competitors, including some premium ones.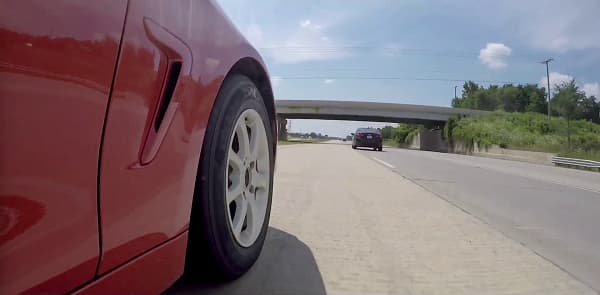 Test drive on dry surface
Overall, the Kinergy PT is among the best all-season touring tires in dry conditions.
It provides ample grip and traction, feels stable on the highway, and stops much sooner than most competitors. What more could you ask from a touring tire, anyway?
2. Handling and Steering Feel
As if the cornering grip wasn't impressive enough, the Kinergy PT is also very responsive for a touring tire. I've never experienced a tire in this category feel so sharp in its reflexes, which is a plus if you are an enthusiast driver.
Hankook achieved this by using a jointless full cover reinforced belt, belt folded edge tape, and two wide steel belts.
However, some drivers might find the responsiveness unsettling at higher speeds. Namely, when I drive on the highway at about 70 mph, the Kinergy PT seems like it reacts overly fast and not in a very linear way, demanding you to grip the steering wheel stronger than usual.
Eventually, though, I got used to how the tire reacts, so the fast reflexes aren't that big of a deal in my eyes.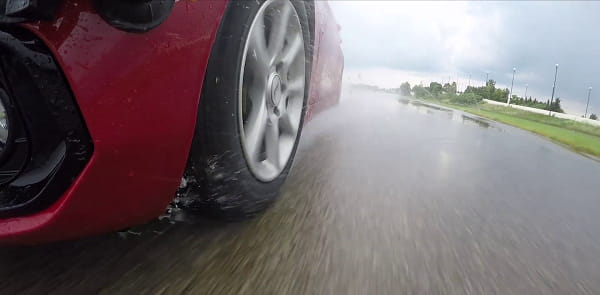 Test drive on wet surface
All-season touring tires that work well on dry pavement and have excellent treadlife usually suffer in rainy conditions, but not the Kinergy PT H737.
Hankook knows that its customers seek high levels of grip and traction on wet pavement and employed larger circumferential grooves than usual for higher water evacuation.
Those connect to wide lateral notches and aqua slant sipes, limiting hydroplaning even further.
I had a chance to test it on wet surface, and the tires did not let me down, the Hankook Kinergy PT provides confident handling in wet conditions.
The tire never surprises with sudden oversteer, only understeering when you really push it too hard. Crucially, the grip is better than most competitors, other than probably the Continental TrueContact Tour.
The longitudinal traction is also impressive, when I tested this, the tires won't slip as easily during acceleration, while the stopping distances are among the shortest of any all-season touring tire.
In my testing, the Kinergy PT's wet braking distance was about 130.5 feet at 50 mph. This distance is still about 30 feet shorter than Pirelli's P4 Four Seasons Plus tires.
This helps you to drive safer on wet roads when you use this type of tire.
Besides, the Kinergy PT finishes things off with outstanding hydroplaning resistance, even in very heavy rain.
Overall, this is one of the best wet performers in its category, which for most drivers is usually enough for a recommendation.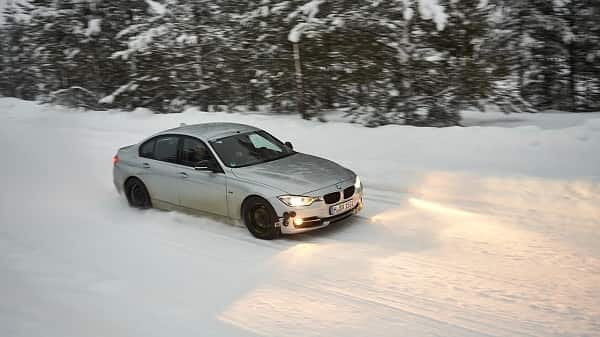 Test drive on the snow surface
Most of the features that Hankook employed for better wet traction should also help in wintry conditions.
However, this is an area where the Kinergy PT doesn't compare favorably, which is not a surprise, given that the tire has a very mild all-season tread pattern.
Hence, you shouldn't expect snow performance like the best all-season touring tires out there.
According to my snow road test, the traction on snow is much better than a summer tire, but also worse than the class leaders; even so, it was still enough to get me through places with light snow.
Besides, the Kinergy PT becomes very unstable on ice, which is why I wouldn't recommend it to people living in areas with harsh wintry conditions.
The Hankook Kinergy PT does work slightly better in slush, primarily because the tread pattern evacuates water very easily.
However, that's not enough to recommend it since even the average Continental TrueContact Tour performs better on snow and ice.
Highly responsive tires are usually not that comfortable over bumps, and the Kinergy PT is no exception to the rule.
Now, in most driving scenarios that I tried, it glides smoothly over the road, absorbing small imperfections with ease.
However, the firmer nature of the tire means that the ride becomes harsh when you hit a larger pothole, and the resonance continues for a few moments.
This might not be a deal-breaker for most people, but it can spoil the experience from time to time.
The Kinergy PT is also not among the quietest all-season touring tires. The tread growl is more noticeable than I would've liked, although I can't say the tire is noisy overall.
You can see more Hankook Kinergy PT H737 review here: Video created by Hankook Tire Global

Should I Buy the Hankook Kinergy PT H737?
The Hankook Kinergy PT H737 is one of the most accomplished all-season touring tires on the market right now.
It is among the class leaders in both wet and dry traction and grip, lasts for a very long time, and doesn't cost a fortune.
Besides, it compares favorably to some premium tires. Notably, the Kinergy PT is less expensive than the best-in-class Continental TrueContact Tour, yet comparable in dry and wet traction and grip.
It's also much cheaper than the Michelin Defender T+H and Pirelli P4 Four Seasons Plus, yet it offers a higher treadwear warranty and overall better performance in dry and wet conditions.
Now, sure, no tire is perfect, and the Kinergy PT has some disadvantages. For instance, the ride is harsh over larger imperfections, and the snow traction is only average.
Still, that shouldn't take away from the fact that Hankook designed an excellent product that will provide you with a safe and durable performance at a lower price than other premium tires. Thus, you should definitely put it on your shortlist!
List of the Hankook Tire Reviews

I'm Ivo Gievski, the content writer for Tireer. We built our website with over 15 years of experience and extensive research in the automotive and technology sectors. My dedication to delivering high-quality content is unwavering, and I strive to continuously hone my skills to stay ahead of industry trends and provide readers with informative, engaging, and valuable insights.