Bridgestone has perhaps the most comprehensive portfolio of run-flat tires, with options ranging from touring to performance models. However, until now, most of the run-flat tires it offered were aimed as a replacement for the OEM run-flats.
With the Bridgestone DriveGuard, that changes – you can put a set of these tires on virtually any vehicle. But should you really do that? To answer that question, we'll cover everything there is to know about the tire in our Bridgestone DriveGuard review, but also have a talk about run-flats. Let's dig in!
What are the Specifications and Maintenance Indicators?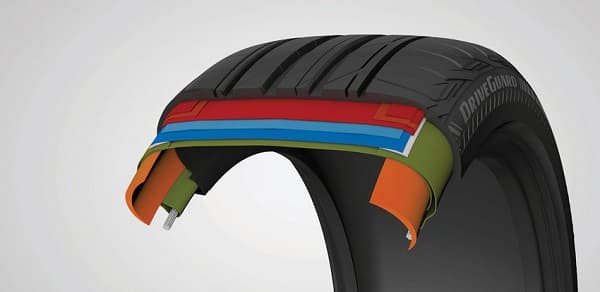 The DriveGuard is the most readily available run-flat tire on the market. It is available in the most popular sizes, meaning it will fit most vehicles running on public roads today. With this move, Bridgestone wanted to make the run-flat technology available for everyone, not just vehicles that come with such tires from the factory.
Specifically, the DriveGuard comes in sizes ranging from 15-inch to 20-inch wheel diameter, hence covering the most popular vehicle types, such as compact cars and crossovers, sedans, minivans, and coupes. Please note, though, the DriveGuard is a grand-touring all-season tire, so it's not made for performance driving. Thus, if you own a performance car, you might want to check the run-flat versions of Bridgestone's Potenza family of tires.
As far as maintenance indicators go, the DriveGuard comes with the usual TWIs (tread wear indicators). These are narrow rubber bars that sit recessed into the tread grooves, which you can use to monitor the tread depth left.
As the tread wears down, the TWIs will become more visible, signifying that you might soon need to replace the tires. When the tread reaches 2/32-inch depth, the indicators will be completely flush with the tire.
At that moment, you should immediately replace the tires since wet traction and grip will be severely worsened. You might even get into trouble in some places since driving with tires with less than 2/32-inch tread depth is not legal. In this case, not even the run-flat technology will save you.
Fortunately, the DriveGuard is the longest-lasting run-flat tire on the market, meaning you won't need to replace it soon. Bridgestone also offers a 60,000-mile treadwear warranty (H-, V-, T-Speed Rated Models), or 50,000-miles (W-Speed Rated Models), both excellent for a run-flat.
How Many Miles Can You Go with a Flat?
The Bridgestone DriveGuard can travel for 50 miles and up to speeds of 50 mph with a complete pressure loss. That should be enough for you to get to the nearest tire service to get it repaired or replaced.
However, we recommend having a tire repair kit on hand, especially if you go on long road trips. These kits don't take a lot of space in your trunk and can be live savers, even if you have run-flat tires. You can use the kit only if you are really stranded and need to drive for more than 50 miles to get to the nearest tire repair service.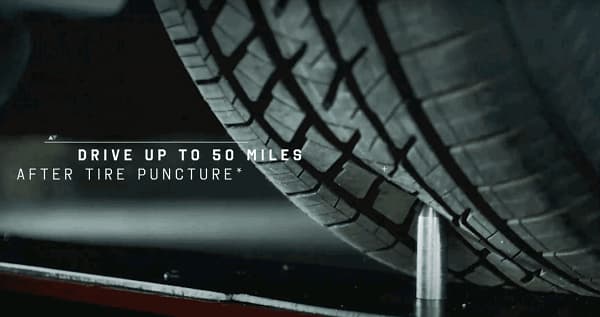 Regardless, the Bridgestone DriveGuard can greatly enhance safety, especially at higher speeds. Since the tire provides stability with no pressure, when a flat happens, your vehicle won't lose grip instantly. Meanwhile, with regular models, many accidents happen when the tire experiences sudden pressure loss due to poor stability.
Are There Disadvantages to Run-Flat Tires?
Run-flat tires can be a life-saver in many situations, but they also possess some serious disadvantages compared to regular tires.
Since run-flat tires have a beefier internal construction, they are heavier than regular tires. And, more importantly, this is unsprung weight, which has a higher effect on performance than sprung weight. Hence, your vehicle might be a tad slower and will also consume more fuel.
Furthermore, because of the stiffer sidewalls, which must support the whole weight of the vehicle when depressurized, the ride quality suffers greatly. Lately, we've seen some run-flat tires that manage to provide a smoother ride quality, but still not on the level of regular tires.
Lastly, the tougher construction puts more stress on the tread. As a result, run-flat tires don't last as long as regular tires, although, again, things have improved greatly lately.
Features and Performance of the Bridgestone Driveguard
Bridgestone used every hi-tech solution it had when designing the DriveGuard run-flat-tire. The main focus was achieving excellent ride comfort, or as Bridgestone says, close to a conventional tire. But there are many other features we need to cover and see if they really do anything. Let's delve into the matter!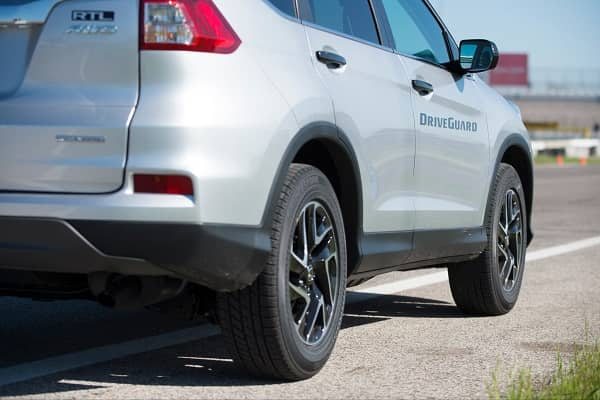 Bridgestone employed a silica-enhanced tire compound on the DriveGuard, which provides better road-sticking properties than non-silica rubber. Moreover, the tire has a Cooling Fin Design on the sidewall, which lowers the overall weight, hence improving performance and handling.
But how does that translate into real-world scenarios? Very well, actually. Overall, the grip and traction are very good for a touring tire, almost comparable with conventional models. Particularly, the DriveGuard drives very safely, with only a hint of understeer when you push it too hard.
You'll also have a ton of traction for acceleration, even on some vehicles with front-wheel-drive configuration and powerful engines. The braking distances are also sufficiently short – no real surprises here.
However, the DriveGuard shouldn't be your first choice if you own a performance car. The grip and traction are fine for daily driving but not enough for attacking corners at high speeds. You also might experience wheel-slip during very hard acceleration.
2. Handling and Steering Feel
Run-flat tires are very responsive in nature, thanks to the stiffer sidewall design. However, in the quest of making it more comfortable, Bridgestone made the DriveGuard slightly less responsive than a spirited driver would like.
And it's not the responsiveness that bothers us – it's the fact that the tire doesn't communicate very well with the driver. There is no fluidity to how it reacts to the steering input and no real directness.
The thing is, though, we are still talking about a grand-touring all-season tire here. Most models in this category feel the same behind the wheel – they are not very responsive or communicative. Besides, this is a tire made for the average driver, who probably won't even notice this.
3. Performance on Wet Pavement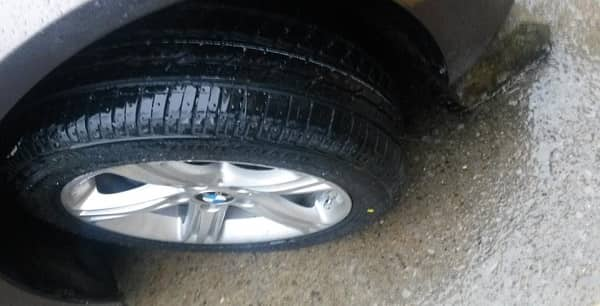 Like most grand-touring all-season tires, the DriveGuard features circumferential grooves for enhanced hydroplaning resistance. However, Bridgestone also employed cross grooves and sipes for further water evacuation.
In combination with the silica-enhanced tread compound, this design should provide good wet traction, and in our testing, it really does. The hydroplaning resistance is excellent, even when you come across a puddle of water. Hence, you won't need to worry about losing traction when it rains heavily.
Furthermore, the DriveGuard feels very predictable on damp and wet tarmac. The traction continues to be high, and the cornering grip is excellent. The tire also drives well at the limit, with natural responses and an easy-to-control manner.
Crucially, the DriveGuard is a very safe performer in the wet. It provides excellent traction overall, and it doesn't surprise the driver in any negative way. A true premium wet tire, if you want.
Much like any other all-season tire out there, the DriveGuard promises elevated traction on snowy surfaces. However, we are yet to test an all-season tire that will be truly confident in harsh wintry conditions, and the Driveguard doesn't change that.
Now, Bridgestone's run-flat touring tire is sufficient for light snow, but only if you drive carefully. Namely, the tire can lose traction if you push harder, and you probably won't be able to stop efficiently because the braking distances are very long.
Overall, the DriveGuard is better than a summer tire but nowhere near a winter tire for driving over snow-covered roads. That's especially true if there is ice on the surface, which can severely impact the tire's ability to provide sufficient grip.
This is a category where most run-flat tires suffer. For that reason, Bridgestone focused most of its efforts on improving comfort, employing lighter-weight rubber side inserts and the Cooling Fin Design, both helping with the ride quality. And fortunately, this time, the technology works.
While you'll still be better served by a regular grand-touring tire, the ride quality is a step above any run-flat tire that we've tested. The DriveGuard produces some thump when you go over larger bumps, but it's nothing serious. Moreover, it is very good at reducing vibration from smaller imperfections, which you often encounter on the highway.
Noise is also not an issue – there is only a slight tread growl that most modern vehicles can easily quiet down thanks to their excellent sound insulation.
You can see more Bridgestone Driveguard review here: Video created by Tyre Reviews

If you really want to put run-flat tires on your vehicle, there is no better option than the Bridgestone DriveGuard. The Japanese tire brand designed a tire that's almost as comfortable as a conventional tire while also offering peace of mind on long journeys.
Besides, the DriveGuard is a very good performer in other categories, providing you with safe traction and grip on dry and wet roads and long treadlife. It might be expensive for some, but in our eyes, the Bridgestone DriveGuard is worth the extra cost.
Hopefully with our Bridgestone DriveGuard review, you were able to make the best choice for your vehicle.
List of the Bridgestone Tire Reviews

I'm Ivo Gievski, the content writer for Tireer. We built our website with over 15 years of experience and extensive research in the automotive and technology sectors. My dedication to delivering high-quality content is unwavering, and I strive to continuously hone my skills to stay ahead of industry trends and provide readers with informative, engaging, and valuable insights.