Bridgestone's Turanza family of tires has always been at the forefront with innovation, quality, performance, and durability. However, in recent years, competition from Michelin, Continental, and Pirelli has not only caught up but overtook Bridgestone, particularly the Turanza Serenity Plus.
The Japanese rubber giant was quick to get back to form with the all-new for 2019 Turanza QuietTrack. The new model continues with the comfort-first mantra but claims further improvements in noise suppression. Moreover, it improves wet traction by 20% and snow traction by a stunning 44%, both areas where the predecessor struggled.
Nonetheless, that's only marketing speech – we are here to see if the tire really lives up to the promise. In our detailed Bridgestone Turanza QuietTrack review, we'll cover every area of the tire, including grip and traction, comfort levels, and durability, and then give our verdict. So, without further ado, let's dig in!
The Bridgestone Turanza QuietTrack is a grand-touring all-season tire, meaning it's aimed at drivers of passenger vehicles, such as compact cars, sedans, crossovers, minivans, and even some coupes. It comes in a variety of sizes, ranging from 15-inch wheel diameter to 20-inch wheel diameter. With that, Bridgestone covers a large portion of the market, so expect it to be a bestseller in the USA and Canada.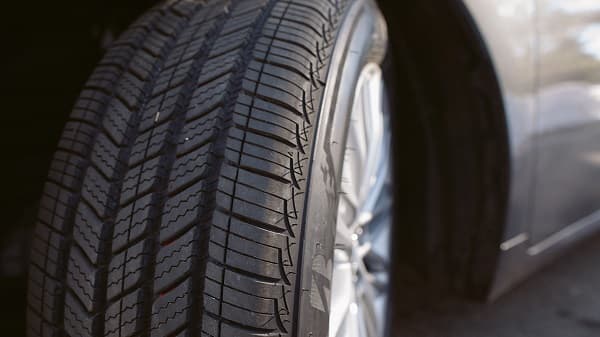 The tire comes with the industry-standard TWIs (tread wear indicators), which are narrow rubber bars that sit recessed into the tread grooves. These are narrow rubber bars that sit recessed in the grooves of the tire, which become more visible as the tread wears down. When the tread depth reaches 2/32 inches, they will be completely flush with the surface. That's the minimum legal tread depth for all-season tires in North America, which means that you should immediately replace the tires.
Fortunately, the Turanza QuietTrack is one of the longest-lasting tires on the market. Bridgestone provides a class-leading treadwear warranty of 80,000-miles, and owners report outstanding treadlife. You won't be replacing these tires soon, that's for sure.
Features and Performance of the Bridgestone Turanza QuietTrack
According to Bridgestone, the Turanza QuietTrack is "engineered to quietly impress," meaning there was a big focus on creating a silent ride. The Japanese tire brand incorporated its latest technologies to achieve that, but not to the detriment of safety – Bridgestone still states that the tire provides control on dry, wet, and snowy roads.
With that said, let's have a look at each feature individually and see how it translates into the real world.
1. Handling and Steering Feel
The Turanza QuietTrack features an all-season compound molded in a pretty standard asymmetric tread pattern. The construction of the tire is also standard for the category – a single-ply polyester casing and two wide steel belts. There is also a single nylon ply for added high-speed durability.
Interestingly, the company didn't focus much on delivering exciting drives – there is no continuous center block in the middle. Fortunately, that doesn't show in the real world. The Turanza QuietTrack is still a reasonably responsive tire, particularly for a grand-touring all-season tire. The steering feels direct enough, and the tires communicate with the driver well.
However, that's not to say that there are no better tires in the segment. The Michelin Premier A/S is significantly better to drive in the corners – it's more direct and feels better behind the wheel.
Then again, the Turanza QuietTrack is a grand-touring tire, meaning it's designed for comfort, quietness, safety, and longevity. Hence, you can't expect it to handle a twisty road like a performance tire. For people that want a more spirited drive, Bridgestone has the award-winning Potenza family of tires.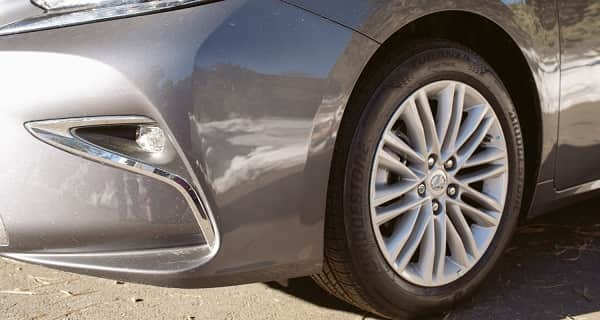 How the tire feels behind the wheel is much less important than how it grips the road, especially in this category. Curiously, Bridgestone doesn't state the ingredients inside the tire compound. However, considering the fact that it's a premium brand, we suspect advanced materials, which would provide both grip and longevity.
The first few miles show that the Turanza QuietTrack does have an excellent rubber compound. It grips the road very well for an all-season tire – much better than expected. In that regard, it competes closely with the best grand-touring all-season tires in the category, such as the Michelin Premier A/S and Continental PureContact LS.
Furthermore, the Turanza QuietTrack also provides excellent traction, even on some more powerful sports sedans, like the BMW 3 Series and Lexus IS. Finally, the stopping distances are very short for a grand-touring all-season tire and among the best in the category.
Overall, it's obvious that Bridgestone created a very safe tire here. It provides high levels of grip and traction and behaves well at the limit.
3. Performance in Rainy Weather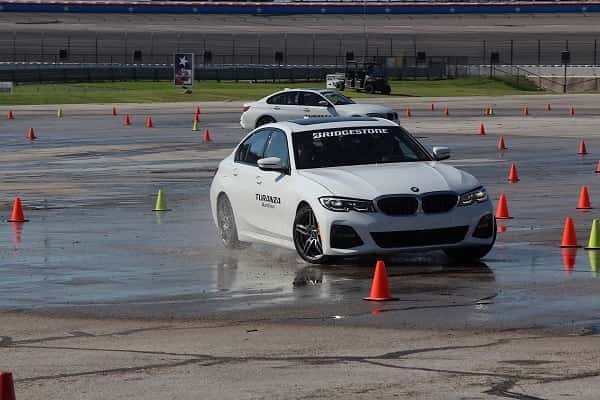 Looking at the specifications and tread pattern, it becomes obvious that Bridgestone focused a lot on improving wet traction.
For instance, the Turanza QuietTrack has a rounded contact patch, which improves hydroplaning resistance, especially in large puddles of water. The tire also features wide circumferential grooves and shoulder slots. Finally, the full-depth tread pattern ensures that the wet traction and grip the tire provides will last for longer.
So, how does that translate into the real world? Well, in terms of handling and steering feel, the Turanza QuietTrack is up there with the best grand-touring all-season tires. Traction levels are very high, both on damp and very wet pavement, and the tire behaves well at the limit, with only little understeer. The hydroplaning resistance is also outstanding, even in very heavy rain.
However, we found that the Turanza QuietTrack doesn't stop as well in the rain as its competitors. Although not by much, the braking distances are longer than the best-in-class tires. The results aren't bad, but we expected more for the price – this is by no means a budget-friendly tire.
Bridgestone made significant improvements in the winter performance in its newest grand-touring tire. This model now features the EdgePerformance Technology, which comes with interlocking grooves that create additional biting edges, which is important when driving on snow-covered roads. The central tread blocks also feature 3D zig-zag sipes, which create even more biting edges.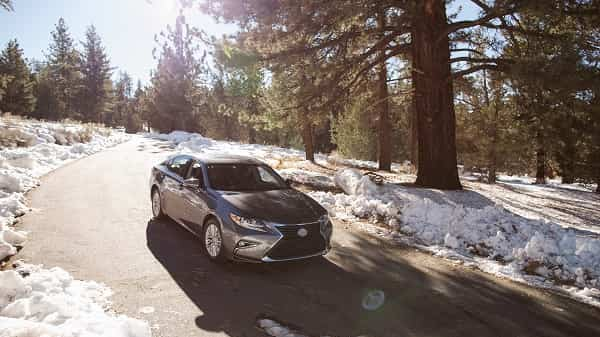 The real question is – is that enough for good snow performance? And the answer is – yes. The Turanza QuietTrack is a very good performer in the winter, comparable to the best all-season tires. There is enough traction to get you out of trouble, and the tire handles well when cornering. The stopping distances aren't too bad, either.
The thing is, this is an all-season tire, meaning it's only suitable for light snow. You'll still get some traction in deep snow, but that's not enough for us to call the tire safe. Besides, the Turanza QuietTrack doesn't perform well on icy roads.
Overall, a set of winter tires will give you much, much better performance on snowy and icy roads. Nonetheless, Bridgestone's all-season offering should suffice for people that don't live in areas with very harsh wintry weather.
Bridgestone wanted to let everyone know that this tire is all about comfort – it's even in the name. And to achieve maximum comfort, the Japanese engineers opted for innovative in-groove quiet tracks, which significantly reduce tread growl. Moreover, the tread pattern features non-chamfered shoulder slots and optimized pitch sequencing, which further contribute to lowering noise levels.
The result of all those technologies is quite astonishing. The Turanza QuietTrack is one of the quietest tires we've ever tested, if not the quietest. At lower speeds, there is simply no tread noise to speak of and only a slight hum at very high velocities. This is a truly quiet tire that improves long road trips by a significant margin. Thus, if noise is a concern, you should definitely go for this one.
But it's not all about quietness – the Turanza QuietTrack is also extremely smooth over bumps. Notably, Bridgestone used proprietary computer modeling software to design the optimal cavity shape and came up with a round contact patch. The same feature that improves hydroplaning resistance helps with reducing vibrations and enhance riding comfort.
The result is a very smooth ride over any surface. The Turanza QuietTrack manages to absorb larger potholes but also smaller vibrations on the highway. A very pleasant drive, for sure.
You can see more Bridgestone Turanza QuietTrack review here: Video created by BusMaster99

If you don't mind paying the premium, the Bridgestone Turanza QuietTrack is one of the best grand-touring all-season tires you can buy. As said in our Bridgestone Turanza QuietTrack review, it's supremely comfortable and quiet, provides a safe drive on dry, wet, and snowy surfaces, and lasts for a very long time. Hence, you should definitely put it on your shortlist when buying a new set of all-season tires.
List of the Bridgestone Tire Reviews

I'm Ivo Gievski, the content writer for Tireer. We built our website with over 15 years of experience and extensive research in the automotive and technology sectors. My dedication to delivering high-quality content is unwavering, and I strive to continuously hone my skills to stay ahead of industry trends and provide readers with informative, engaging, and valuable insights.