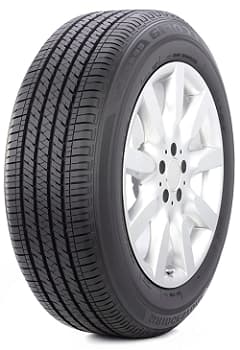 Fuel efficiency has become a big issue lately, primarily because it's intertwined with emissions. The higher the fuel consumption, the higher the CO2 emissions – it's that simple. Car manufacturers have tried different solutions to improve fuel efficiency, with electrification being the most common one.
However, what if we told you that you could improve the MPGs on your vehicle by only replacing the tires? Sure, the differences won't be extreme, but they will add up over time. Specifically, you could save over 10 gallons of fuel over 10,000 miles, which is far from insignificant.
One such tire is the grand-touring all-season Bridgestone Ecopia EP422 Plus. It's a successor to the non-plus model that was beating the competition in low-rolling resistance, which is directly connected to fuel consumption. With the new model, Bridgestone didn't improve the low-rolling-resistance significantly, although it states that the Ecopia EP422 Plus can add 20 miles to a full tank.
However, the new model claims improvements in handling on dry, wet, and snowy surfaces and an even more comfortable ride. But enough of Bridgestone's marketing speech. The real question is – does the Ecopia EP422 Plus perform that well in real-world scenarios? Well, you've arrives just at the right place to find out.
In our Bridgestone Ecopia EP422 Plus review, we'll cover every aspect of the tire, including finding out if it's a truly all-season tire, how comfortable and quiet it is, and how long it would last. Let's dig in!
The Bridgestone Ecopia EP422 Plus is a grand-touring all-season tire designed for drivers of compact cars, sedans, minivans, coupes, and crossovers. It is available in numerous sizes, ranging from 15-inch to 18-inch wheel diameter.
Hence, vehicles like the Toyota Corolla and Camry, Honda Civic and Accord, Ford Focus and Fusion, Nissan Altima and Maxima, and VW Jetta and Passat can all fit this tire. Of course, the Ecopia EP422 Plus will fit other models in the compact and mid-size categories. However, it's always best to check first and purchase later.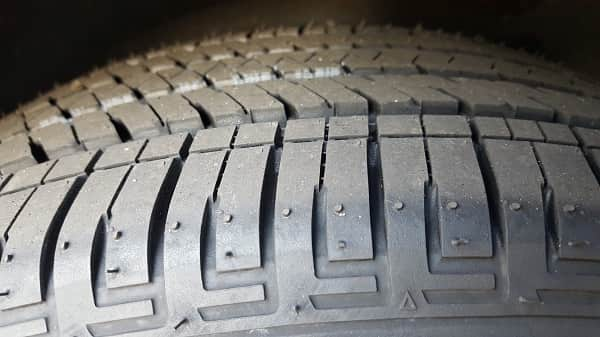 Like in most of its tires, Bridgestone utilized the industry-standard TWIs, or tread wear indicators on the Ecopia EP422 Plus. These are narrow rubber bars sitting inside the circumferential grooves that you can use to monitor the remaining tread depth. This is an important feature since how much tread you have is directly connected to how the tire performs, especially in wet and snowy conditions. Specifically, the less tread the tire has, the less traction it provides on slippery surfaces.
The minimum legal tread depth for a grand-touring all-season tire is 2/32-inch. When that happens, the TWIs will be completely flush with the surface of the tread. At this point, you should immediately replace your tires, or otherwise, you'll risk your safety, but also of other participants in traffic.
Fortunately, you won't need to replace the Ecopia EP422 Plus soon. It's one of the durable tires in the grand-touring category – it should easily last you for 3-4 years. Besides, Bridgestone covers that with a 5-year/70,000-mile treadwear warranty, which is among the longest in the category.
Features and Performance of the Bridgestone Ecopia EP422 Plus
According to Bridgestone's website, the Ecopia EP422 Plus is a tire engineered to get the most out of your fuel tank. Moreover, the company claims dependable all-season performance, confident handling, and a comfortable ride.
The Ecopia EP422 Plus is similar to the H/L model, which is largely the same tire, albeit aimed at owners of crossovers, SUVs, and minivans. In particular, the sizes are slightly different, and there are differences in the internal construction.
Bridgestone incorporated its latest and greatest technologies in the Ecopia EP422 Plus, evident by the NanoPro-Tech (Nanostructure-Oriented Properties Control Technology) compound. According to the tire manufacturer, this compound improves the rolling resistance without sacrificing performance in dry, wet, and snowy conditions.
With that said, let's revisit every other feature of the tire, along with our comment on the real-world performance in this Bridgestone Ecopia EP422 Plus review.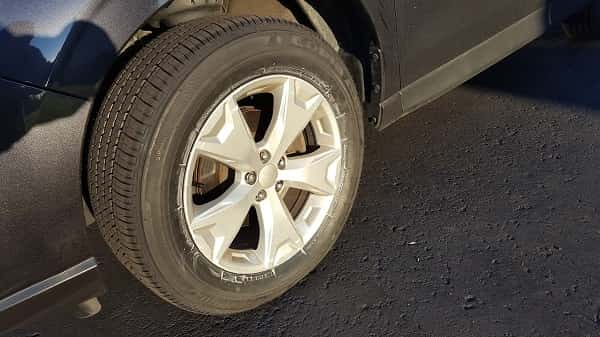 Apart from the advanced rubber compound, the Ecopia EP422 Plus features a symmetric tread pattern with very standard features for the category. Notably, the design combines notched shoulders and intermediate ribs with independent blocks, all working toward improving traction and grip.
Nonetheless, it's evident from looking at the tread pattern that the Ecopia EP422 Plus doesn't have a large contact patch. Since it's a grand-touring all-season tire, there are multiple grooves and notches, which minimize the grip.
The question is, though – does that seriously hinder the Ecopia EP422 Plus's dry performance? Fortunately, it doesn't. As far as grand-touring all-season tires go, this is one of the best in the category. Acceleration traction is sufficient, even on some more powerful vehicles, which is not often the case with low-rolling-resistance tires.
Furthermore, the tire holds itself well in the corners. The grip levels are good for an all-season tire, meaning you can safely drive at medium speeds. The high-speed stability is also very good, and the stopping distances aren't very long.
That said, we say all of these things relative to the category that the Ecopia EP422 Plus is in. Specifically, the tire is very good when compared to its peers but nowhere near a premium summer tire. If you want the best traction, grip, and braking on dry surfaces, especially in warmer weather, almost any summer tire will do better.
2. Handling and Steering Feel
The way a tire feels behind the steering wheel has less to do with grip and traction and more with the construction of the tire. The Ecopia EP422 Plus has a pretty regular internal construction for the category, notably twin steel belts reinforced by spirally wrapped nylon on top of a polyester casing. This type of construction provides two things – better ride comfort and increased responsiveness.
However, the Ecopia EP422 Plus is evidently more focused on comfort rather than responsiveness. It's perfectly fine for a grand-touring all-season tire, meaning most drivers will never even know what we're talking about here. Particularly, Bridgestone's eco tire reacts quickly enough for daily driving and provides a good feel of the road.
Still, there are better options in the grand-touring all-season category if you want a more responsive drive. Tires like the Michelin Premier A/S and Pirelli Cinturato P7 All Season Plus II feel better behind the wheel and provide a more rewarding driving experience. We also think that Bridgestone's own Turanza QuietTrack is better to drive. Suffice to say; if you want an even better experience, you should go with high-performance tires.
3. Performance in Rainy Weather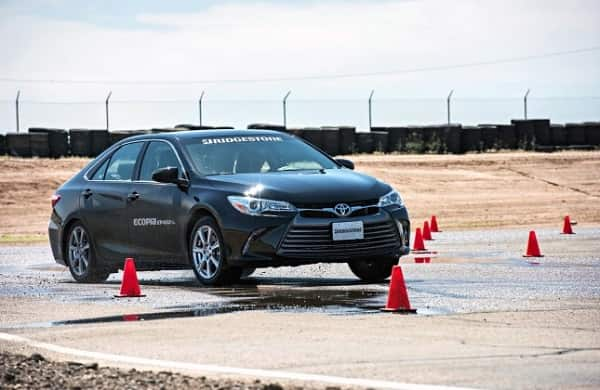 All those grooves and sipes on the tread pattern might hinder the dry performance of the tire, but they significantly improve wet traction, and that shows with the Ecopia EP422 Plus. Notably, the hydroplaning resistance is among the best in the category – you won't lose traction and stability in big puddles of water.
Furthermore, the traction and grip on wet surfaces are also very good, and the tire is very easy to control, even when driven at the limit. Overall, the Ecopia EP422 Plus is a very good performer in the wet. It accelerates, turns, and steers with confidence, just like you would expect from a premium tire.
Bridgestone utilized a large number of sipes and notches to increase the biting edges, which in theory should increase the traction on snow-covered roads. And indeed, they do. Provided you don't drive too aggressively, the Ecopia EP422 Plus can provide you with usable light-snow traction and good braking. It also turns quite well for the category.
However, you should put an accent on "the category" here. This is an all-season tire, meaning it won't work in severe wintry conditions. Specifically, heavy snowfall and ice are a no-go for this tire. If you frequently encounter those conditions, you might be better off with a set of winter tires.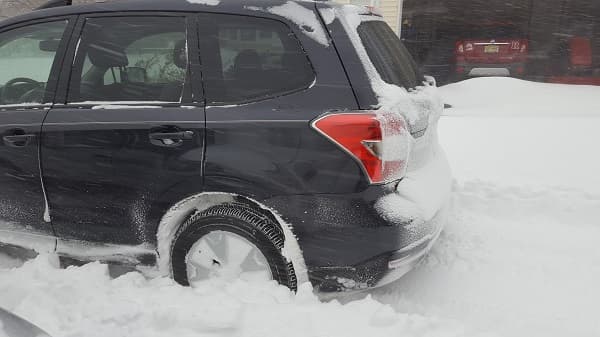 The Ecopia EP422 Plus is a pretty smooth and quiet tire overall. It's not on the level of the class-leading Bridgestone Turanza QuietTrack, but few tires are.
Particularly, the ride quality is excellent. The tire absorbs small imperfections with ease and doesn't produce too many vibrations when you hit a larger bump. In addition, the tread pattern doesn't produce a lot of noise – the tire remains quiet at highway speeds.
Therefore, if you value comfort, this is one of the best options currently on the market.
You can see more Bridgestone Ecopia EP422 Plus review here: Video created by MT

The Bridgestone Ecopia EP422 Plus might be expensive, but you get what you pay for here. Specifically, this is one of the safest and most comfortable grand-touring all-season tires, which is enough to put it among the leaders.
However, this tire also packs a low-rolling-resistance technology and a super-durable tread compound, meaning it will save you a few bucks in the long run. Accordingly, after reading our Bridgestone Ecopia EP422 Plus review, you should definitely put it on your shortlist when shopping for the next set of all-season tires.
List of the Bridgestone Tire Reviews

I'm Ivo Gievski, the content writer for Tireer. We built our website with over 15 years of experience and extensive research in the automotive and technology sectors. My dedication to delivering high-quality content is unwavering, and I strive to continuously hone my skills to stay ahead of industry trends and provide readers with informative, engaging, and valuable insights.