A few decades ago, having a set of tires that provided a rewarding driving experience and year-round traction was impossible.
However, the ultra-high-performance all-season category today has some really great tires, all capable of providing you with fun and safety.
The Bridgestone Potenza RE980AS is the latest such tire, aiming to capture the highest spot in the category. However, many tires aim for best-in-class honors, yet few deliver.
In this Bridgestone Potenza RE980AS review, we'll try to reveal how good of a job Bridgestone has done in delivering a capable year-round performance tire.
We'll focus on the driving experience but also have a word or two about wet and snow performance and comfort. Let's dig in!
The Bridgestone Potenza RE980AS is an ultra-high-performance all-season tire.
Hence, it provides an elevated driving experience and more cornering grip while also delivering year-round traction.
It is available in sizes ranging from 16-inch to 20-inch wheel diameter, thus covering many vehicles, including sporty compact cars, sports sedans and coupes, mid-size sedans, and even some crossovers.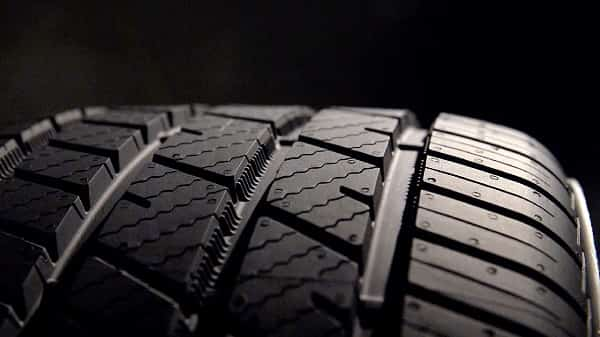 The RE980AS comes with the industry-standard TWIs (tread wear indicators), which are narrow rubber bars that sit recessed into the tread grooves.
These are thin rubber bars that sit suspended in the grooves of the tire, which become more visible as the tread wears down.
The minimum legal tread depth on the RE980AS is 2/32-inch. At that point, the manufacturer deems the tire unusable for driving on wet roads. Besides, it's also not legal in some areas.
Hence, when the tread depth is 2/32-inch, the tread will be completely flush with the TWIs, showing you that you should immediately replace the tires.
Still, we recommend doing that earlier, especially if winter is coming.
Fortunately, since it employs a more durable all-season compound, the RE980AS has an excellent treadlife.
Bridgestone also provides a 50,000-mile treadwear warranty, which is among the best in the category.
Features and Performance of the Bridgestone Potenza RE980AS
The Potenza RE980AS packs Bridgestone's latest technology and design practices to provide traction on dry, wet, and snowy roads.
The Japanese tire maker also used the Potenza team's expertise to provide a more rewarding driving experience, which we'll focus on in detail below.
1. Handling and Steering Feel
Right out of the bat, the Bridgestone Potenza RE980AS feels like a proper sporty tire.
It is supremely responsive, more so than probably any other competitor, even those coming from Michelin and Continental.
Moreover, the steering feels direct and precise, just like you'd want.
On the street, this is one of the sharpest all-season tires I've driven, with only a handful of competitors coming close.
This results from the three polyester sidewall plies and two polyester plies in the tread, both working toward delivering a sharper driving experience.
However, Bridgestone wasn't satisfied and employed an additional high-stiffness sidewall filler, which further improves responsiveness, even when cornering hard.
However, everything I said about the RE980AS's handling and steering on the street doesn't translate on the track.
Namely, when you push the Potenza RE980AS to the limit, it quickly loses its sharp responses and even feels like a comfort tire.
Fortunately, you won't be driving at 100% on the road, except if you don't want to get into some serious trouble, but I still thought that it was necessary to point it out.
Overall, though, I think that most drivers will be delighted with the driving experience. The tire is quick to respond and communicates well with the driver on public roads, just like an actual ultra-high-performance tire.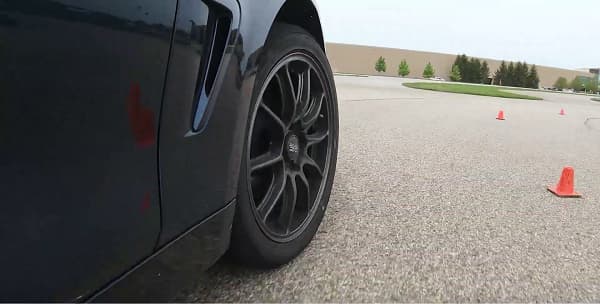 Quick steering response is a nice thing to have, but not if the tires don't grip the road well.
Bridgestone employed chamfered lateral slots, interlocking sipes, and a relatively sticky all-season tread compound to provide the best grip possible.
The result is quite impressive, especially when you consider that the Potenza RE980AS provides a year-round capability.
In particular, the quick response is accompanied by an excellent cornering grip, even when you enter a corner a bit too fast. The tire grips the pavement well when entering a turn, into the turn, and then provides excellent traction when you accelerate out of the bend.
Even more importantly for safety, the braking distances are among the shortest in the category and overall impressive for an all-season tread compound.
Overall, for driving on public roads, the Potenza RE980AS has more grip than most drivers would want, somewhat mitigating the need for a summer tread compound.
3. How Does it Compare to a UHP Summer Tire?
Did I just say that the Potenza RE980AS mitigates the need for an ultra-high-performance summer tire? Yes, I did, but there is a catch – I meant "for most drivers."
We are doing these reviews to appeal to the general audience, and generally, people don't drift through every corner.
However, if you want the most rewarding driving experience, an ultra-high-performance or max-performance summer tire is still the way to go. These tires provide much higher levels of grip and traction during hot summer days and feel much better behind the wheel.
Bridgestone's own Potenza Sport is a great example, delivering an overall experience that's a class or two above the RE980AS.
But that's only natural since the Potenza Sport is designed specifically for delivering the highest possible grip and traction on dry surfaces and good traction on wet surfaces. Meanwhile, snow traction is a no-go for that tire.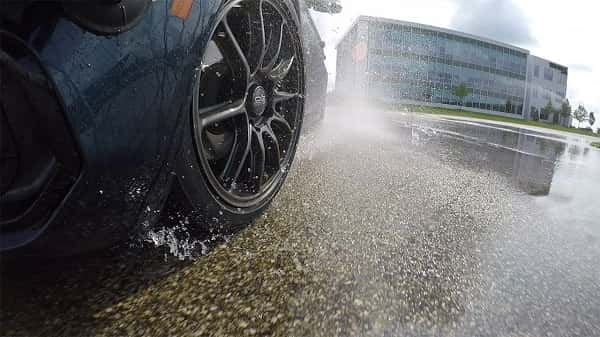 Bridgestone made great strides toward delivering better wet traction compared to the RE970AS.
Specifically, it employed an asymmetric tread pattern with 3D full-depth sipes, interconnected tread pattern slots and grooves, and open shoulder slots with 20% more see-through void.
The result is one of the best performances in rainy weather in the category. The Potenza RE980AS is easy to drive in the wet, never surprising the driver with sudden understeer or oversteer.
The lateral grip is also very good, even when it pours rain. That's because the tire has an outstanding hydroplaning resistance, providing you with stability in foul weather.
Moreover, the stopping distances are again among the shortest in the category, meaning the Potenza RE980AS is among the best ultra-high-performance all-season tires when it comes to safety.
Overall, the Bridgestone Potenza RE980AS might be the best model in its category in rainy weather. It driver well through the corners, provides you with good acceleration and stops quickly.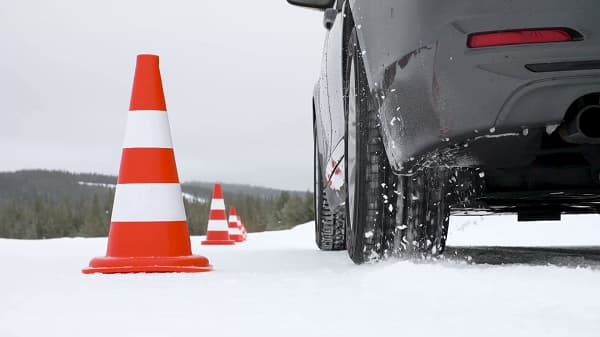 The Potenza RE980AS employs an all-season tread compound that stays pliable at lower temperatures.
It also has many sipes across the tread blocks, which create additional biting edges for driving on snow-covered roads.
In the real world, the Potenza RE980AS does manage to provide good traction over light snow. Acceleration shouldn't be an issue, and the braking distances won't be too long.
Moreover, the tire should provide you with a usable lateral grip in the corners.
However, you should still drive carefully, as the amount of traction is not very high.
A set of all-weather or winter tires will work much better on snow, especially when it's deeper than usual.
Besides, icy roads are a no-go for the tire – the amount of traction and grip falls to dangerous levels.
Overall, the Potenza RE980AS works better than most of its competitors on snow, but I still recommend a proper winter or all-weather tire if you live in areas with harsh wintry conditions.
The Bridgestone Potenza RE980AS is an impressive tire from the driver's aspect, but the passengers won't be as happy.
The Japanese tire maker employed some measures to increase comfort, namely incorporating a noise-optimized tread pattern and a sidewall tuned for a blend of responsiveness and comfort.
However, that obviously wasn't enough, as this is one of the least comfortable UHP all-season tires on the market.
The ride quality is stiff over any surface, and you can especially feel it when you hit a larger pothole. The harshness and vibrations are definitely there, more so than in any other such tire.
There is also a considerable noise on rough patches, or when you drive on the highway. It can become bothersome on longer journeys since the tire roar will necessitate louder music to compensate.
Overall, most of the premium competitors provide a smoother and quieter ride.
Bridgestone definitely aimed at delivering more joy to the driver and not the passengers here.
Let's hope the next "RE990AS" rectifies that issue in the future.
You can see more Bridgestone Potenza RE980AS review here: Video created by Tire Rack

Recommending the Potenza RE980AS is a very straightforward matter.
Namely, if you want a more responsive and sporty driving experience with high levels of grip and traction on dry and wet surfaces, this is perhaps the best tire in its category.
However, if you care about comfort and quietness, any other ultra-high-performance all-season tire will do better.
Overall, with our Bridgestone Potenza RE980AS review, the Potenza RE980AS is a very accomplished tire, although, for best-in-class honors, it should've been a tad smoother and quieter.
Still, if you don't mind that, you'll have a heck of fun behind the wheel!
List of the Bridgestone Tire Reviews

I'm Ivo Gievski, the content writer for Tireer. We built our website with over 15 years of experience and extensive research in the automotive and technology sectors. My dedication to delivering high-quality content is unwavering, and I strive to continuously hone my skills to stay ahead of industry trends and provide readers with informative, engaging, and valuable insights.