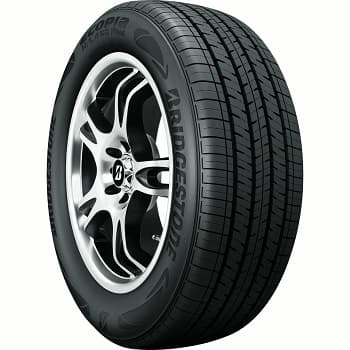 There are many things we can do to keep global warming at bay, and buying an efficient vehicle is certainly one of them. However, what eco-minded people often miss are low-rolling-resistance tires, which can improve fuel efficiency and, therefore, lower CO2 emissions.
These tires can save up to 5% on fuel bills and CO2 emissions and claim no sacrifice in performance. However, in most cases, that's not true – eco-friendly tires are often the subject to ridicule on online car-enthusiast forums, particularly because they lack grip and traction. And, those two things aren't only important for driving fun – they are crucial for safety.
Here, we value green credentials a lot but value safety even more, which brings us to the Bridgestone Ecopia H/L 422 Plus, one of the most popular green all-season tires for crossovers, SUVs, and minivans. This model will undoubtedly make your vehicle more efficient (higher MPGs) and more eco-friendly.
However, the main question is – is it safe? To answer that, we prepared a detailed Bridgestone Ecopia H/L 422 Plus review, where we covered every aspect of the tire. Particularly, we focused on things that interest regular drivers mostly, such as grip and traction in dry and wet conditions, comfort, and durability. Since there is a lot to cover, let's dig into the matter immediately.
The Ecopia H/L 422 Plus is Bridgestone's most popular tire among buyers that want a combination of longevity, comfort, safety, and efficiency. To cover most of the market, the Japanese tire giant offers this model in the most popular crossover and SUV sizes, ranging from 16-inch wheel diameter to 20-inch wheel diameter. As a result, most crossover and SUV owners can fit the Ecopia H/L 422 Plus without any issues.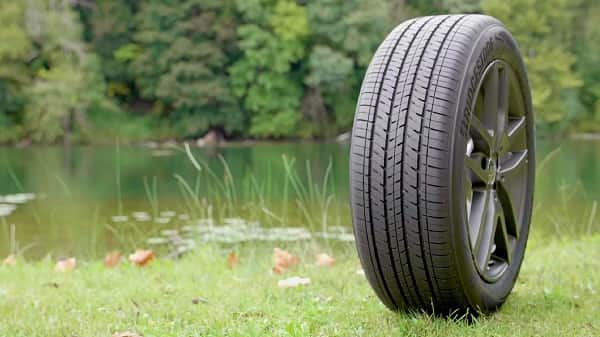 The tire comes with the usual treadwear indicators (TWIs), which are narrow rubber bars that sit recessed into the tread grooves. You can use these indicators to monitor the tread depth left on the tire. When the tire is new, the TWIs will be recessed into the circumferential grooves, although you can see them upon close inspection.
As the tire wears down, the TWIs will become more visible. When the tread reaches 2/32-inch depth, the indicators will be completely flush with the tire. At that moment, you should immediately replace the Ecopia H/L 422 Plus since it won't be safe for use in rainy conditions. Besides, in most places, that's the minimum legal tread depth. In our experience, though, you might want to replace the tires even sooner in the name of safety.
Fortunately, the Ecopia H/L 422 Plus is among the longest-lasting crossover/SUV touring all-season tires on the market, meaning you'll probably change the tires even before the tread goes out. Moreover, Bridgestone provides a 70,000-mile treadwear warranty, which is among the highest in the category.
Features and Performance of the Bridgestone Ecopia H/L 422 Plus
Bridgestone markets the Ecopia H/L 422 Plus as a crossover, SUV, and minivan tire engineered for secure, comfortable, and long-lasting performance.
The biggest draw for this tire is fuel efficiency, though. Currently, it's among the products with the lowest rolling resistance, meaning your vehicle will have higher MPGs with a set of these tires. Another important aspect is the lower CO2 emissions, which we sorely need these days.
Hence, Bridgestone aims mostly at owners of efficient vehicles, such as hybrids, plug-in hybrids, and EVs. Nonetheless, any vehicle owner that wants to save on gasoline bills will be happy with the Ecopia H/L 422 Plus.
Bridgestone Ecopia technology is the one that helps with all that while also focusing on sustainability, primarily on using less raw materials. Overall, this is one of the "greenest" tires on the market today, and if that's something you value, then you should immediately put it on your checklist. If not, read further.
Like most tire makers, Bridgestone claims that the low-rolling-resistance technology doesn't affect performance in any way. However, we've learned by now that this is not the case – every "green" tire that we've tested cuts significantly on grip, traction, and braking.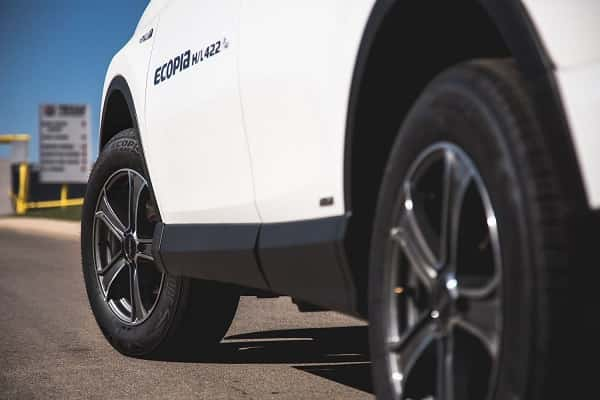 So, how badly does the Ecopia H/L 422 Plus perform? Well, you certainly won't get the same levels of performance when compared to Bridgestone's other offerings, like the Turanza QuietTrack. The thing is, though, that model isn't available in many crossover/SUV sizes, meaning the Ecopia H/L 422 Plus is your only bet.
Despite its shortcomings when compared to some less eco-friendly offerings, the Ecopia H/L 422 Plus still holds its own well compared to similar tires. It's not particularly exciting to drive but gets the job done. Notably, it provides a stressless driving experience, especially if you aren't a very aggressive driver. There is enough dry grip and traction for regular daily driving, and the braking distances are sufficiently short.
What you shouldn't do with this tire is driving very fast through the corners since you will find a lack of grip. For any other driver, it would certainly suffice.
2. Handling and Steering Feel
This is an area that most casual drivers overlook, and perhaps for an understandable reason. The way the tire feels behind the steering wheel is very important if it belongs to the performance segment but not crucial for a comfort-focused passenger tire.
The Ecopia H/L 422 Plus, particularly, belongs to the latter category. Hence, it's far from exciting to drive. It's not very responsive to the driver's input, which quickly spoils the experience. It's also not very direct and doesn't communicate with the driver well.
Should you care? Well, that's on you. If you only want a dependable and safe option, the Ecopia H/L 422 Plus will work great. However, if you want to have fun sometimes, you should look for other options. This is an eco-friendly all-season tire, after all.
3. Performance in Rainy Weather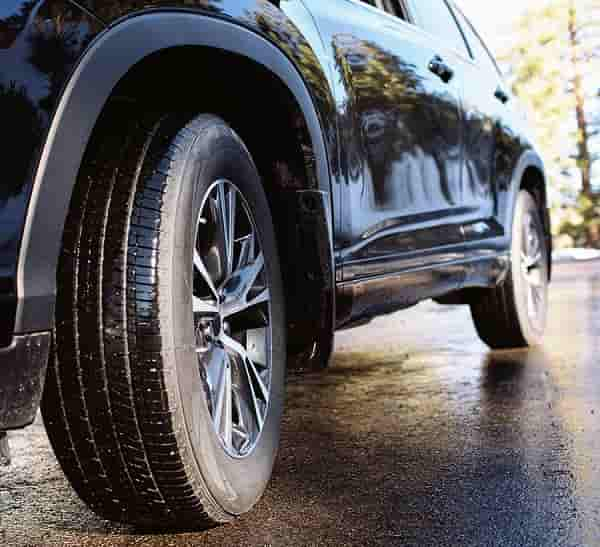 While most eco-friendly tires perform well enough in dry weather, wet pavement is another thing altogether. The low-rolling-resistance tread compound shows its limits in the rain, where it can't compete with stickier rubber compounds.
However, Bridgestone being Bridgestone, somehow managed to make the Ecopia H/L 422 Plus safer in the wet. It's still no champion, sure, but it's better than you'd expect from a low-rolling-resistance tire. The hydroplaning resistance is particularly good, even in puddles of water, courtesy of the tread pattern with full-depth grooves and advanced block design.
The handling is also very safe, even at the limit, while the stopping distances aren't too long. Again, for an eco-friendly tire, very good performance overall.
Bridgestone did everything in its power to make the Ecopia H/L 422 Plus safe in dry and wet conditions. However, the tire shows its limitations when it starts to snow.
Since it's an all-season tire, most people would expect it to work flawlessly on snow, but that shouldn't be the case. All-season tires are only designed for very light snow – not harsh wintry conditions. Nonetheless, there are all-season tires that perform better than the Ecopia H/L 422 Plus.
Namely, Bridgestone's eco-friendly tire does provide some traction on snow, but not enough to recommend it. Simply put, driving on snow with this model requires extra attention, especially on places with ice, where it simply doesn't have enough traction. Hence, if your area has harsh wintry weather, you should go for winter tires or at least all-weather tires.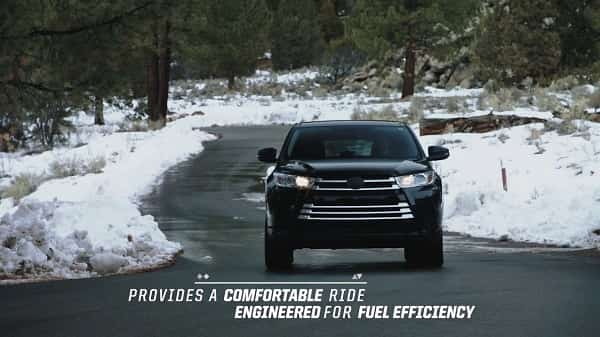 In the last decade, Bridgestone has produced some of the quietest and most comfortable tires on the market, and the Ecopia H/L 422 Plus is no exception. Thanks to the closely-spaced elements on the tread pattern, the tread growl is minimal, even on rough pavement. As a result, long journeys are a much more bearable experience, especially on SUVs and crossovers with larger wheels.
The ride quality is also very smooth, both when driving on the highway and at lower speeds. The Ecopia H/L 422 Plus deals with larger bumps very well while also minimizing vibrations from small imperfections. Overall, it's one of the smoothest and quietest tires around.
You can see more Bridgestone Ecopia H/L 422 Plus review here: Video created by HILLYARD'S RIM LIONS

The Ecopia H/L 422 Plus isn't a tire without drawbacks, although it belongs to the premium category. Nonetheless, with what was said in our Bridgestone Ecopia H/L 422 Plus review, we think that Bridgestone struck a nice balance between delivering low-rolling resistance and safe traction and grip on most surfaces.
Particularly, you won't be excited by this tire in any way, but you and your family will be safe. That is, of course, if you don't trust it in very harsh wintry conditions, where it lacks enough traction for a care-free experience.
On the other hand, the Ecopia H/L 422 Plus is among the cheapest tires in the long run. You'll pay a premium at the beginning, yes, but the outstanding treadlife means you'll save money in the years to come. Add to that lower gas bills, and you have one of the most pocket-friendly tires on the market that also manages to be safe.
List of the Bridgestone Tire Reviews

I'm Ivo Gievski, the content writer for Tireer. We built our website with over 15 years of experience and extensive research in the automotive and technology sectors. My dedication to delivering high-quality content is unwavering, and I strive to continuously hone my skills to stay ahead of industry trends and provide readers with informative, engaging, and valuable insights.