Crossovers and SUVs are more popular than ever, and with them increases the demand for suitable tires. Conveniently named crossover/SUV touring all-season tires, these models aim to provide good year-round traction, high levels of comfort, and long-lasting treadlife.
The Bridgestone Dueler H/L Alenza Plus is currently one of the most popular such tires, often used as an OEM solution. It's also a premium model, meaning it's priced higher than most of its competitors.
But is it any good? Let's dive deeper to answer that question since we prepared the most detailed and honest Bridgestone Dueler H/L Alenza Plus review there is on the internet.
According to Bridgestone, the Dueler H/L Alenza Plus is a crossover/SUV touring all-season tire designed to deliver a quiet and comfortable ride. It also delivers better fuel efficiency, thanks to the low-rolling-resistance tread, higher safety, and longer treadlife.
It is available in many popular sizes, ranging from 16-inch to 22-inch wheel diameter. However, you won't find any LT-metric model in the list, which is why the Dueler H/L Alenza Plus is only branded as a touring and not a highway truck tire. In other words, it's not the best choice for heavy-duty stuff like towing or hauling.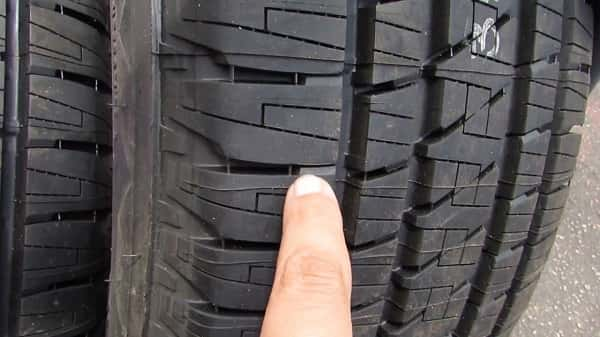 Tire tread after 20,000 miles
Bridgestone utilized the regular TWIs (tread wear indicators), which show you when the tire stops being useful in rainy and snowy conditions. The TWIs are thin rubber bars that sit suspended in the grooves of the tire, which become more visible as the tread wears down.
When the tread reaches 2/32-inch depth, the indicators will be completely flush with the surface of the tread. That's the minimum legal tread depth for an all-season tire, meaning you should immediately replace it.
Fortunately, the Dueler H/L Alenza Plus is among the most durable crossover/SUV touring tires, meaning you won't need to replace it soon.
It also comes with an 80,000-mile treadwear warranty for T- H- & V-speed rated models, and a 55,000-mile warranty for W-speed rated models, both at the top of the category.
Features and Performance of the Bridgestone Dueler H/L Alenza Plus
The Dueler H/L Alenza Plus is perhaps Bridgestone's most important tire in the last few years, or ever since crossovers and SUVs took over the world.
Hence, the Japanese tire maker used everything it learned through its R&D department to produce a tire that will compete with the best. Did it succeed? Let's comb through each feature and find out!
1. Handling and Steering Feel
Bridgestone employed notched shoulder blocks and a continuous center rib with the aim to improve responsiveness. However, most modern all-season tires have these features, and they are usually not stellar when it comes to the steering feel.
In that regard, the Dueler H/L Alenza Plus falls somewhere in between. Namely, it's better than some budget offerings, but not on the level of the best-in-class tires in responsiveness.
For daily driving, though, I think you will be very happy with how the tire responds. It's quick enough to react to your inputs, feels very linear, and has a good on-center feel.
However, for more spirited drivers, there are better solutions on the market, primarily in the performance category. For instance, Bridgestone's own Dueler HP Sport is a much better solution for drivers of more powerful SUVs and trucks, especially when it comes to steering feel and handling.
Nonetheless, since it's a summer tire, you'll lose the ability to drive in wintry conditions, but another set of winter tires will rectify that.
Having a responsive tire is always good, but grip and traction are far more important for regular drivers. That's because these qualities are important for safety and give the driver peace of mind on long road trips.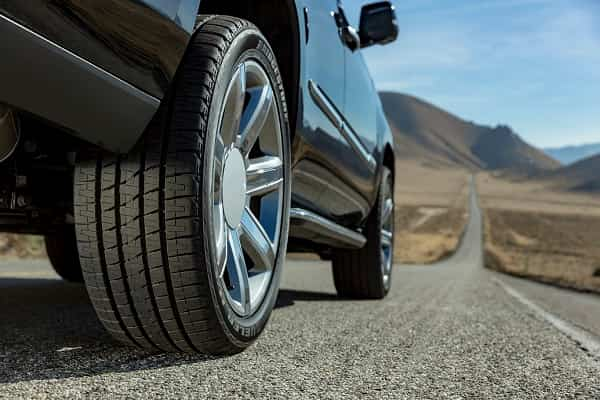 Test drive on dry pavement
Bridgestone utilized its tried and true premium all-season rubber compound, aiming to combine long-lasting treadlife and safe grip and traction.
In my long experience with tires, long treadlife usually equals lower traction levels. It's the reason why all-season tires have such a bad reputation when it comes to cornering grip.
Fortunately, Bridgestone managed to give the Dueler H/L Alenza Plus good driving dynamics, especially for a crossover/SUV touring all-season tire. The longitudinal traction is excellent, meaning your vehicle will accelerate without issues, while the braking distances are among the shortest in the category. The tire is also very good in the corners, again, for an all-season tread compound.
The Dueler H/L Alenza Plus features a symmetric tread pattern, which is primarily tuned for comfort and quietness. However, it also features lateral notches and sipes, both helping the circumferential grooves channel water out of the tread more easily.
Bridgestone's pattern of choice helps greatly with hydroplaning. The tire can easily cut through puddles of water, keeping your vehicle stable, even at higher speeds. With a set of these tires, even heavy rain will feel safe.
Furthermore, the Dueler H/L Alenza Plus is among the best tires in its category when it comes to wet traction. There is ample acceleration traction, and the stopping distances on a wet pavement are up there with the best. Finally, the tire feels surefooted in the corners, with only slight understeer when you enter a corner too fast.
Overall, it's an impressive showing for Bridgestone's crossover/SUV tire in the rain. The tire is among the safest in rainy conditions, which is one of the most important factors you should consider. Rainy conditions equal more accidents, and it's great to see that Bridgestone is doing something to mitigate that.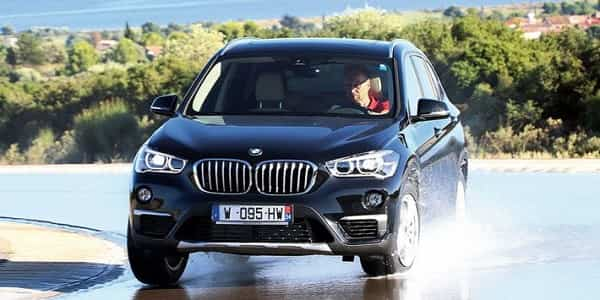 Test drive on wet pavement
Since their inception, all-season tires claimed year-round traction, including over light snow. However, there is only a handful of all-season tires that truly works on snow. Sure, every model is better than a summer tire, but nowhere near as close to a winter tire.
So, where does the Dueler H/L Alenza Plus fall? Well, it's currently among the class leaders in light-snow traction. Notably, it provides good acceleration traction, meaning you won't get stuck anywhere, and short-ish braking distances for the category. It also feels surefooted during cornering, but only if you drive slowly.
However, all those things apply only to light snow or a few inches deep. Anything more than that, and you'll need a proper winter tire. Besides, the Dueler H/L Alenza Plus is dangerous to drive over icy surfaces, so think again before going skiing with a set of these tires on.
In Dueler H/L Alenza Plus' defense, most crossover/SUV touring all-season tires handle harsh wintry conditions poorly, with the exception of some "all-weather" tires, like the Michelin CrossClimate SUV.
5. Off-Road Traction and Durability
Is it suitable for off-road driving? Since the Dueler H/L Alenza Plus fits most modern crossovers and SUVs, owners will inevitably ask if they could go off-roading with these tires on.
Sadly, this is not the product for you if you plan on doing that. Bridgestone designed this tire only for driving on paved roads and perhaps some very light gravel.
Anything more than that is unacceptable, primarily because the tire lacks traction but also because you can easily damage it. Namely, Bridgestone didn't employ any protection on the casing, meaning sharp rocks can easily damage the tread or even puncture the tire.
For people that want to go on adventures, I recommend a set of all-terrain rubber. You'll lose a bit of performance and comfort on the road with those tires but gain in off-road traction and durability.
If you are interested, Bridgestone has the Dueler A/T Revo 3 all-terrain tire, but other manufacturers also offer excellent all-terrain rubber.
Bridgestone has put a lot of emphasis on increasing comfort and minimize noise. This is increasingly important lately since modern crossovers and SUVs are becoming as quiet as ever, and a loud tire can easily be the main culprit of noise.
Fortunately, the Dueler H/L Alenza Plus won't spoil the tranquility in the cabin. The tread noise is almost imperceptible at lower speeds and totally unobtrusive on the highway. The tire is also not loud over rough patches, which is particularly impressive.
Another impressive thing is the ride quality, which glides over smaller imperfections with ease, and swallows larger potholes with a deep and satisfying thump.
You can see more Bridgestone Dueler H/L Alenza Plus review here: Video created by HILLYARD'S RIM LIONS

Should You Buy the Bridgestone Dueler H/L Alenza Plus?
The Dueler H/L Alenza Plus isn't without its faults, but overall, it's one of the most accomplished crossover/SUV touring tires out there.
Notably, it is safe to drive on dry and wet roads, moreover, the tire provides good grip and traction on light snow; provides a very comfortable and quiet ride, and has the longest treadlife in the category. It's also expensive, but you get what you pay for in this case.
List of the Bridgestone Tire Reviews

I'm Ivo Gievski, the content writer for Tireer. We built our website with over 15 years of experience and extensive research in the automotive and technology sectors. My dedication to delivering high-quality content is unwavering, and I strive to continuously hone my skills to stay ahead of industry trends and provide readers with informative, engaging, and valuable insights.