SUVs and crossovers are becoming more popular by the day, overtaking every other vehicle category globally. With the rising sales of these vehicles, there is an increased demand for SUV-specific tires, particularly highway all-season tires in North America.
These tires are designed to provide a comfortable and safe ride and a long tread life.
A very popular highway all-season tire among American and Canadian buyers is the Destination LE3.
Firestone's latest entry into the competitive category brings several improvements over its predecessor, focusing mostly on higher safety in rainy and snowy conditions.
The tire also comes with an excellent treadwear warranty and costs less than the premium competition from Continental and Michelin.
Is it any good, though? After testing the Firestone Destination LE3 for a while on my Lexus RX300, I prepared an in-depth Firestone Destination LE3 review to help you find if this is the right tire for you.
The Firestone Destination LE3 is a highway all-season tire designed for owners of light-duty trucks, SUVs, and crossovers. It comes in numerous sizes, ranging from 15-inch to 22-inch wheel diameter.
However, Firestone only offers regular P-metric and Euro-metric sizes, with no LT-metric sizes on the radar. So, owners of full-size and heavy-duty trucks, you are out of luck.
As for maintenance, the tire comes with the industry-standard TWIs (tread wear indicators), which can show you when you need to replace the tires.
These are narrow rubber bars that sit recessed into the grooves of the tire but protrude 2/32-inch from the bottom. Hence, the tread depth reaches 2/32-inch, the TWIs will be flush with the surface.
The reason why this is important is that 2/32-inch is the minimum legal tread depth in North America, as tires with less tread depth won't provide safe traction in rainy conditions.
Naturally, if you want to use them through the winter, you should have a deeper 5/32-inch tread.
Fortunately, the Destination LE3 is among the longest-lasting highway all-season tires; although I didn't test it for long enough, the tire didn't show any wear after a few months.
Besides, Firestone covers it with a 70,000-mile treadwear warranty, which is outstanding for the price.
Features and Performance of the Firestone Destination LE3
The Firestone Destination LE3 is designed to perform admirably on dry, wet, and snowy surfaces.
To do that, it packs a usual symmetric tread pattern, which Firestone says also brings a quiet and comfortable ride.
Let's have a look at all of the features of the tire in-depth and see if they really make a difference in the real world.
The Destination LE3 features an all-season tread compound designed with longevity, safety, and comfort in mind.
Meanwhile, the tread pattern packs full-depth tread features as part of the TractionTech package, which helps the tire retain consistent grip throughout its lifetime.
Now, all-season tires aren't exactly known for providing a stellar driving experience.
However, owners of light trucks, SUVs, and crossovers almost never push their vehicles to the limit, so dry grip is less important here.
What is important, though, is safety – you still need a good grip to perform evasive maneuvers and solid longitudinal traction to stop in time.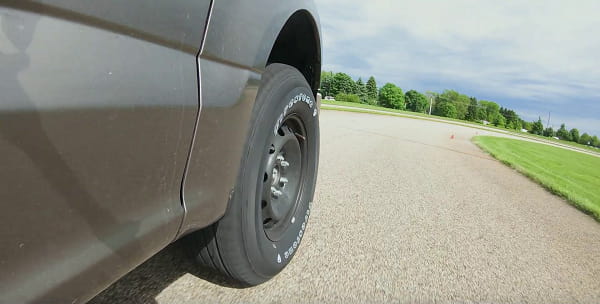 And the Destination LE3 positively surprised me here. It performs consistently and never surprises the driver with a sudden loss of traction or erratic behavior, meaning it's super easy to drive.
The longitudinal traction is also excellent for the category – it competes with the best-in-class premium tires yet costs considerably less.
The cornering is another area where the Destination LE3 excels, at least as far as all-season tires go. The grip is excellent, and even if you push your vehicle too hard and the tire loses traction, the Destination LE3 makes it easy to correct your mistake.
Lastly, the highway stability is excellent.
However, the Destination LE3 isn't available in LT-metric sizes, so if you want to tow larger trailers, this won't be the tire for you.
2. Handling and Steering Feel
Although not a performance tire, the Destination LE3 feels very good behind the wheel. The steering is very linear and fairly responsive, so it's fairly easy to position your vehicle on the road.
There is a precision to how it communicates with the driver that most all-season tires lack, which is a big plus in my eyes.
Besides, the Destination LE3 is also very easy to drive on the highway; keeping your vehicle straight is super easy, and the on-center feel of the tire is excellent.
So, all in all, this tire will be a great companion in the years to come!
3. Wet Grip, Traction, and Braking
Firestone implemented its proprietary Hydro-Grip technology, which includes open shoulder slots and a tread pattern optimized to cut through the water.
As a result, the hydroplaning resistance is outstanding – the tire won't lose traction when you drive through deep puddles of water. In that sense, the tire is super-safe, even at higher speeds.
However, what most people don't know is that the tread compound is more important in rainy conditions than the pattern.
In particular, a stickier compound will stick to the road better, especially when wet. For that reason, summer tires are better than all-season tires in wet conditions, despite having a less aggressive tread pattern.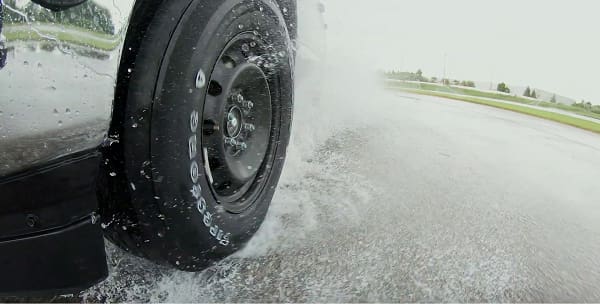 With our wet road tests, the Firestone Destination LE3 is excellent in rainy conditions, both in light and heavy rain.
Actually, the only tire that beats it is the Continental TerrainContact H/T, but the German product is also much more expensive.
For the price, Firestone produced the best highway all-season rain tire, and it's not even close!
For starters, the acceleration traction is excellent, meaning your truck or SUV won't slip during acceleration easily. Then, the stopping distances are very short; again, longer only than the Continental TerrainContact H/T.
What impressed me the most, though, is how the Destination LE3 handles; the grip levels are higher than most all-season tires, but even when you lose grip, the tire behaves predictably, and it's easy to correct.
As a whole, Firestone managed to create an excellent wet tire – the Destination LE3 is super safe, even in the heaviest rain. What about snow, though?
4. Is it Good for Winter?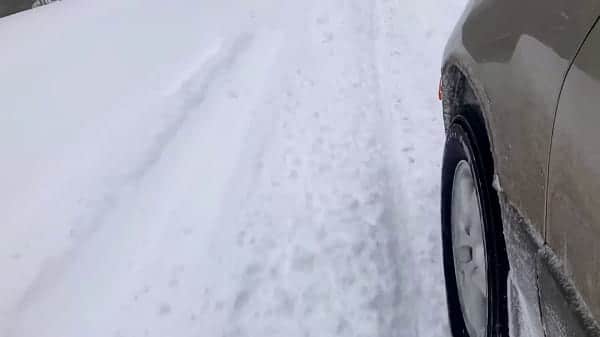 Firestone used full-depth 3D sipes to provide higher traction on snow-covered roads. However, these are not of the zig-zag variety that has become more common lately, making me think that the snow traction wouldn't be as good at first.
I was wrong, though! The Destination LE3 is one of the best all-season tires for winter driving; it provides a very usable longitudinal traction, meaning you won't get stuck in the snow, and the braking distances are also reasonably short.
Furthermore, the tire handles quite well and doesn't surprise the driver with a sudden loss of traction. This behavior surprised me in a positive way, especially after already being impressed with the dry and wet handling over the few months I tested this tire.
Despite all the praise I gave to this tire, though, the Destination LE3 isn't designed for very deep snow and ice.
There is still some traction in those conditions, but I wholeheartedly recommend going for a set of proper winter tires, which will give you a much better overall experience.
Meanwhile, if you don't want to replace tires but want the best overall snow traction, the Continental TerrainContact H/T is still the king in this category.
Firestone clearly spent a lot of time designing the tread pattern so that it produces less noise.
The Destination LE3 is a supremely quiet tire, even when you drive over rough patches – the tread growl is minimal and unobtrusive.
The ride quality is also very smooth on most roads. However, repetitive road imperfections can unsettle the ride quality, creating harshness that is otherwise absent. This is not as big a deal as it sounds, as it doesn't happen often, but still important to note.
You can see more Firestone Destination LE3 review here: Video created by Tire Rack

Should I Buy the Firestone Destination LE3?
The Firestone Destination LE3 is a tire with very few compromises; it performs well on dry, wet, and snow-covered roads, provides a smooth and quiet ride, and has an excellent treadlife.
Overall, it might lose the crown to the Continental TerrainContact H/T, which provides better road holding in all conditions.
However, if you put the price into consideration, it becomes clear that the Destination LE3 is the best buy in the highway all-season category.
Therefore, if you are in the market for an all-season tire for your light truck, SUV, or crossover, I highly recommend the Destination LE3!
List of the Firestone Tires Review

I'm Ivo Gievski, the content writer for Tireer. We built our website with over 15 years of experience and extensive research in the automotive and technology sectors. My dedication to delivering high-quality content is unwavering, and I strive to continuously hone my skills to stay ahead of industry trends and provide readers with informative, engaging, and valuable insights.