Firestone's Destination range is very popular among off-road aficionados, offering excellent overall performance at (slightly) lower prices than other premium competitors.
The Destination X/T is the company's hybrid tire, meaning it's situated between the all-terrain AT2 and the mud-terrain MT2 model. So, it should provide you with high-enough off-road traction for camping or overlanding, and good on-road stability.
Does it deliver, though? You will find all answers in my in-depth Firestone Destination XT review, where I'll discuss all aspects of the tire, including how well it works on paved roads and off the beaten track.
What are the Specifications and Maintenance Indicators?
The Destination X/T comes in multiple LT-metric sizes, ranging from 15-inch to 20-inch wheel diameter. Firestone also offers 30-inch, 31-inch, and 33-inch flotation sizes, so owners of lifted trucks are also covered.
Like most hybrid all-season tires, the Destination X/T comes with the industry-standard TWIs (tread wear indicators).
These can only show you when the tread depth reaches 2/32-inch, meaning they won't be legal to drive due to insufficient hydroplaning resistance.
Naturally, I recommend replacing these tires much sooner if you plan on using them through the winter, with at least 5/32-inch tread depth, and the same holds true for off-roading.
Fortunately, the Destination X/T comes with a 50,000-mile treadwear warranty, which is excellent for the category. Unfortunately, the tire is still pretty new, so real-world treadlife is still unknown.
Features and Performance of the Firestone Destination X/T
The Firestone Destination X/T is a hybrid tire or halfway between an all-terrain and mud-terrain tire. That's clear when looking at the symmetric tread pattern with a fairly high void area, large blocks, and multiple sipes.
However, hybrid tires will still spend the majority of their lifetime on paved roads, so high traction and grip there is also crucial.
With that said, let's get through each feature and see if it makes a difference in the real world!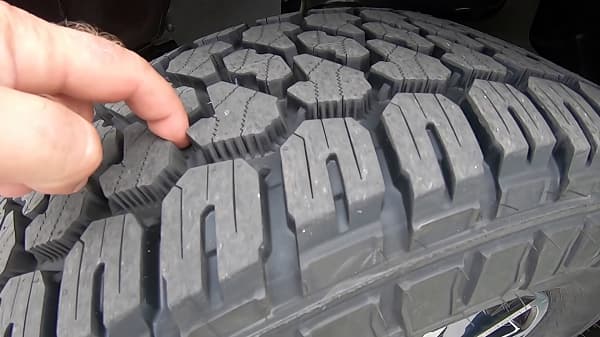 1. Off-Road Traction and Durability
The Destination X/T is equipped with an aggressive off-shoulder tread design, creating the necessary biting edges for driving in loose and varied terrain.
As I already mentioned, the high-void ratio and open shoulders further enhance off-road traction, especially in mud.
According to our off-road test, the Destination X/T is among the best hybrid tires for off-road enthusiasts. Particularly, I was impressed with the versatility – this is a tire that doesn't impress on any surface but works well across the board.
For instance, there is ample traction on hardpacked surfaces, such as dirt and gravel, but there is also a surprisingly high amount of traction in mud. Sure, I wouldn't trust the Destination X/T in very deep mud, but then again, few hybrid tires perform well in those conditions.
Furthermore, the tire also works quite well on surfaces with larger rocks, and when deflated to lower pressures, it can also provide you with good traction.
Lastly, the Destination X/T is among the best hybrid tires for driving on turf, where it provides quite a high amount of traction.
To top it all off, the carcass is pretty strong and seems to resist cuts and chips well.
Firestone equipped the Destination X/T with full-depth interlocking 3D sipes, which provide enhanced traction and grip on dry roads without sacrificing wet and snow traction.
Moreover, the tire has the company's TractionTech Package, featuring independent tread blocks to maintain tread stiffness and increase stability.
Did those technologies work, though? Well, the answer is not quite straightforward. Namely, according to our dry road test, the Destination X/T is more than good enough for a regular truck and SUV drivers.
The longitudinal traction is sufficient, meaning your tires won't slip when accelerating, and the stopping distances will be solid.
In addition, the cornering feels surefooted, provided you don't drive too fast, and the highway stability is top-notch.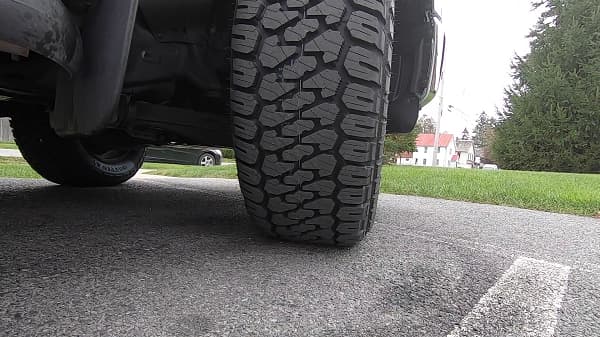 However, Firestone's hybrid tire struggles when compared to its direct peers. Put simply, the braking distances are longer than the Cooper Discoverer A/T3 LT, General Grabber A/TX, and the cornering grip is also slightly worse.
Not something you can feel on the road, but definitely measurable.
Fortunately, the tire's carcass seems very stiff and durable, and all sizes are LT-metric. Hence, the Destination X/T will provide you with good highway stability when towing large trailers and hauling heavy cargo – great news for overlanders and campers!
3. Handling and Steering Feel
All-terrain tires aren't designed to offer razor-sharp handling and quick steering. That said, some tires do it better than others, especially when it comes to how linear they feel behind the wheel.
Sadly, the Destination X/T isn't among those tires – the initial response is quite slow and then catches up after a few seconds; definitely not a behavior I'd like in a tire since it requires a long time to get used to it.
Due to the slow initial response, the straight-line tracking on the highway is somewhat better, so if you mostly cover straight roads, you won't need to worry.
All in all, though, I wouldn't count the slow responses against the Destination X/T – it's an all-terrain tire, after all!
4. Wet Grip, Traction, and Braking
The Destination X/T features a high-void area with deep tread grooves and open shoulders, all helping with water evacuation.
As a result, the hydroplaning resistance is among the best in the category – your truck won't lose contact with the ground, even when you drive through very deep puddles of water.
However, it's how the rubber compound sticks to the road that's more important in wet conditions. To that end, Firestone equipped the Destination X/T with a specially-formulated all-season compound, aiming to improve traction and grip while limiting wear.
The advanced tread compound does work, although it only provides acceptable traction and grip in rainy conditions.
Put differently, there is enough acceleration and braking traction at regular speeds, and the tire handles corners without many issues.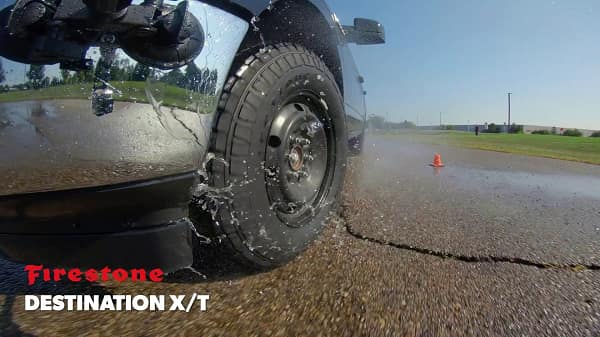 Nonetheless, if you push the Destination X/T harder, the limitations become glaring.
For instance, the tires will easily lose traction during hard acceleration, and the braking distances are longer than its main competitors, the Cooper Discoverer A/T3 LT, and General Grabber A/TX.
In addition, accelerating hard out of turn creates oversteer in rear-wheel-drive trucks and SUVs.
As a whole, though, the Destination X/T is more than safe enough for daily driving in rainy weather.
5. Is it Good for Winter?
This is where the Destination X/T promises to truly shine – it comes with the 3PMSF (Three-Peak Mountain Snowflake) symbol, meaning it comes with additional longitudinal snow traction than regular all-season tires.
Indeed, the high lateral edge density, multiple sipes, and interlocking lug design provide higher snow traction, while the outboard block wall ridges grab onto deeper snow.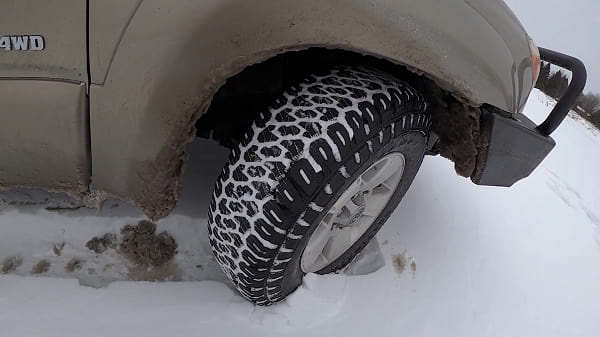 That sounds great on paper, but how does the Destination X/T handle real wintry conditions?
Well, according to our snow test, it really does provide higher longitudinal traction than its non-3PMSF rivals; it accelerates easily on packed snow and provides good braking.
The high-void grooves also help with traction in deeper and unpacked snow, the type you'd often encounter on off-road tracks.
Nonetheless, like most all-season tires, the Destination X/T can't handle ice as well as a winter tire. There is still more traction than with other hybrid tires, but still not enough for safe driving.
Hence, if you live in areas with very harsh wintry conditions, I'd recommend going for a proper winter tire – it will work much better on snow and ice.
You can see that the Firestone Destination X/T has a stiffer sidewall than a usual highway tire, but in this case, that didn't reflect badly on the right quality.
I've driven with this set of tires on both the highway, the street, and some more serious off-road. And so far, they have had little or no vibration like regular mud tires.
Moreover, the tire works equally well on smooth and rough pavement, something that the previous mud tires I've ran have struggle with.
Furthermore, the Destination X/T is a very quiet tire, particularly for the category.
However, I heard a faint noise on the highway, but it isn't worse than on other all-terrain tires or mud tires. Crucially, the tread noise is easily drowned by the engine and wind noise in most trucks.
Like me, turn on a piece of music or the radio and I didn't even know the tire noise existed, meaning you shouldn't have any issue with it.
Overall, the Destination X/T is one of the most comfortable all-terrain tires on sale today, especially for the price.
You can see more Firestone Destination XT review here: Video created by TheTopher

Should I Buy the Firestone Destination X/T?
The Firestone Destination X/T is far from a perfect tire. For instance, it doesn't provide a particularly engaging drive, and the wet traction it delivers is average.
Still, the tire is also impressive in some areas – excellent ride quality and surprisingly quiet, there is ample traction on most off-road terrains, and the snow traction is the best of any all-terrain tires I've run before.
So, if you are in the market for a well-balanced hybrid tire, you should definitely give it a look!
List of the Firestone Tires Review

I'm Ivo Gievski, the content writer for Tireer. We built our website with over 15 years of experience and extensive research in the automotive and technology sectors. My dedication to delivering high-quality content is unwavering, and I strive to continuously hone my skills to stay ahead of industry trends and provide readers with informative, engaging, and valuable insights.