Off-road capable SUVs and trucks are becoming increasingly popular recently, and the pandemic only strengthened their popularity. With all those lockdowns in place, people were looking how to escape into the wild and not spend time between four walls.
However, while a modern SUV like the Jeep Wrangler, Ford Bronco, and Toyota 4Runner can take you far, it won't be unstoppable. That's because automakers equip these vehicles with highway all-season tires or all-terrain all-season tires at best.
If you want to extract the highest possible traction from your SUV or truck, you'll need a set of maximum traction off-road tires, also known as mud-terrains. Enter the Firestone Destination M/T2, the newest such tire in the American brand.
Many tire manufacturers have started producing off-road tires lately, largely due to the increased demand. Still, most of these companies never had experience producing mud-terrain tires, and sometimes, their products are sub-par.
Not Firestone, though; the American company that operates under Bridgestone has been producing high-quality agricultural tires for a long time. And these tires are quite similar to mud-terrain tires, as they are designed to offer maximum traction in the most demanding off-road conditions.
Firestone launched the Destination M/T2 four years ago, citing it as the ultimate tire for adventure seekers, overlanders, and campers. The tire features an all-new design compared to its predecessor, aiming to provide better, stronger power on loose surfaces.
The most important feature, at least according to Firestone, is that the attack angles are set at 23 degrees. Notably, the company says it learned this through experience that farm tires with a 23-degree attack angle produce the highest traction on dirt.
So, does the experience Firestone gathered producing agricultural tires matter, and, crucially, is the Destination M/T2 worth your money?
I'll answer that question in my in-depth Firestone Destination MT2 review, where I'll cover all aspects of the tire but focus mostly on the off-road abilities. Enjoy!
The Firestone Destination M/T2 is a maximum traction off-road tire available in multiple LT-metric and flotation sizes (31-inch, 32-inch, 33-inch, 35-inch, 37-inch), ranging from 15-inch to 22-inch wheel diameter.
Firestone equipped the tire with the industry-standard tread wear indicators, which can show you when the tread depth reaches 2/32-inch.
At that point, your tires won't be legal anymore since it's generally accepted that they won't provide good hydroplaning resistance.
The Destination M/T2 doesn't come with any treadwear warranty, but that's par for the course in the category. Owners of the tire are satisfied with the treadlife and durability, though.
Features and Performance of the Firestone Destination M/T2
Like most maximum traction off-road tires, the Destination M/T2 has a very aggressive tread pattern and features that are designed to deliver the best possible traction and durability on loose terrain.
Let's have a look at each of those features and see if it makes a real difference.
1. Off-Road Traction and Durability
The Destination M/T2 is full of off-road-worthy features, starting with the chip and tear-resistant compound, which is one of the toughest in the business.
As a result, you'll be able to cover vast distances on some very challenging tracks without worrying about damaging the tire or getting stranded somewhere.
Furthermore, Firestone utilized an aggressive, high-void tread pattern, designed to work well on most terrains equally.
Notably, the tread blocks feature a 23-degree attack angle, which the company claims provide optimum pulling power, accompanied by aggressive upper sidewall lugs, providing even more traction.
Lastly, the tire features mud and stone ejectors, crucial for keeping the tire clean and ready to go even further.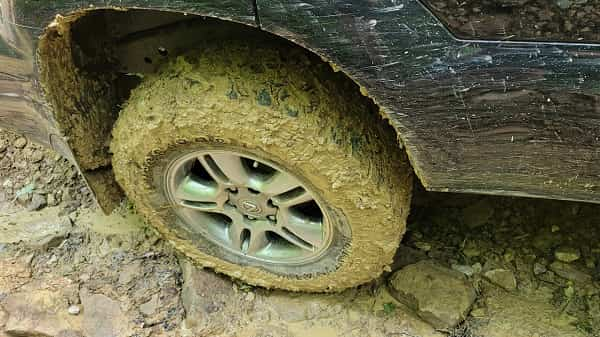 According to our off-road test, the Destination M/T2 is a literal off-road beast. Dirt and gravel are almost too easy for the tire – there is ample traction and grip, and the casing seems more than durable enough.
Turf is another surface where it shines, providing excellent traction, even when wet. It might damage it, though, so be careful where you drive your SUV!
Furthermore, the aggressive tread pattern eats into the mud with ease, even when it's knee-deep. The tread also manages to clean itself quite quickly, so you won't have to worry about reduced traction when returning to a paved road.
Finally, the Destination M/T2 is also capable of providing excellent rock crawling traction, though I recommend those larger sizes.
If it wasn't apparent enough to you, the Destination M/T2 is an outstanding off-road tire. So, if you only care about off-roading, then you should definitely consider buying it.
However, if you want a more balanced tire that also works great on other surfaces, read on!
Firestone focused most of its engineering power on delivering higher off-road traction, evident by the quite low traction and grip on dry roads.
Put simply, Destination M/T2's closest competitors, like the Cooper Discoverer STT Pro, General Grabber X3, and BF Goodrich Mud-Terrain T/A KM3, perform much better in almost every measure.
Notably, the Destination M/T2 has lower acceleration traction than those tires, longer stopping distances, and much lower cornering grip.
Sure, owners of trucks and SUVs aren't really pushing their vehicles hard on paved roads, but high levels of grip and traction are important for safety.
Besides, when you have the choice, you'd always go for the tire that performs better, right?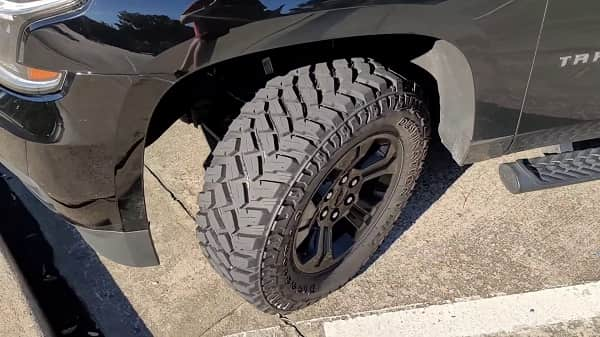 3. Handling and Steering Feel
Maximum traction off-road tires are notorious for their non-direct and unresponsive steering, feeling even cumbersome to drive for longer periods.
So, the Destination M/T2 must be bad in this regard, right? Wrong! Firestone managed to improve the responsiveness of its off-road tire to the point that I'll have no problems covering long distances.
The steering is responsive, linear, and firm, with an excellent on-center feel and good straight-line tracking. Of course, most highway and all-terrain tires will provide an even better steering feel, but relative to other tires in the category, the Destination M/T2 is a beast!
4. Wet Grip, Traction, and Braking
Mud-terrain tires have an outstanding ability to displace water from the tread, thanks to all those wide and deep grooves. As a result, Firestone's off-road tire has excellent hydroplaning resistance, even when you drive through very deep puddles of water.
Sadly, though, the all-season tread compound doesn't seem to stick to the road well.
According to our wet road test, the Destination M/T2 is worse than its competitors in every measurable value, including acceleration, stopping distance, and cornering, but it also feels worse behind the wheel.
Notably, pushing the accelerator pedal too hard when exiting a corner can exhibit oversteer, while the front wheels will wash out if you enter a corner at faster-than-usual speeds. And the tire doesn't lose traction in a linear way, behaving unpredictably.
This might not be an issue if you are a careful driver that respects the speed limits, but it's still important when you need to avoid some obstacle or brake hard.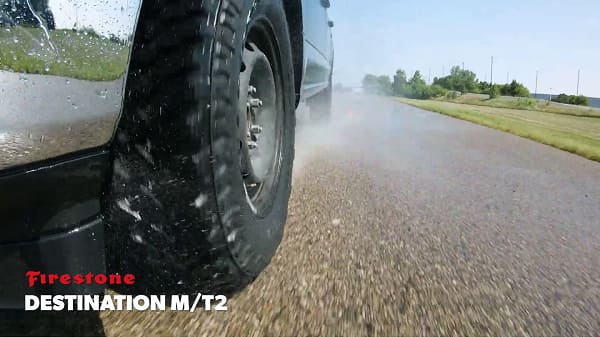 5. Is it Good for Winter?
Thanks to the large tread blocks and deep grooves, the Destination M/T2 performs excellently over unpacked snow, providing high levels of digging power and traction.
This is crucial for the category because you'll mostly find unpacked snow off the beaten track since not many vehicles would've gone there.
Predictably, the traction over packed snow is worse. You'll still be able to drive, thanks to the sipes inside the tread blocks, but you'd still need to be careful because the stopping distances will be quite long.
In this case, a proper winter tire will perform much better, though truck and SUV owners aren't particularly open to the idea of having two sets of tires.
Where the Destination M/T2 really falls short is ice traction, but that's to be expected for such a tire.
The biggest issue people have with maximum traction off-road tires is the noise.
Fortunately, some tire makers recently managed to get around the limitations by optimizing the tread pattern using computer simulations, reducing road noise significantly.
Unfortunately, the Destination M/T2 is not one of those tires. There is a significant tread growl, almost like a white noise containing all frequencies.
It's powerful enough to drown the engine and wind noise and certainly not pleasing on longer journeys.
Fortunately, the ride quality is settled – the tires don't transmit a lot of the smaller imperfections into the cabin and react quite well when you hit a pothole.
You can see more Firestone Destination MT2 review here: Video created by Tire Rack

Should I Buy the Firestone Destination MT2?
Firestone clearly sacrificed on-road performance to deliver the best possible off-road traction and durability with the Destination M/T2.
Most drivers won't have issues with that, especially those interested in the best possible off-road performance, so if you are one of those people, you should consider this tire.
However, I can't give it my wholehearted recommendation, especially since its closest competitors also provide excellent off-road traction while also driving reasonably well on paved roads.
List of the Firestone Tires Review

I'm Ivo Gievski, the content writer for Tireer. We built our website with over 15 years of experience and extensive research in the automotive and technology sectors. My dedication to delivering high-quality content is unwavering, and I strive to continuously hone my skills to stay ahead of industry trends and provide readers with informative, engaging, and valuable insights.