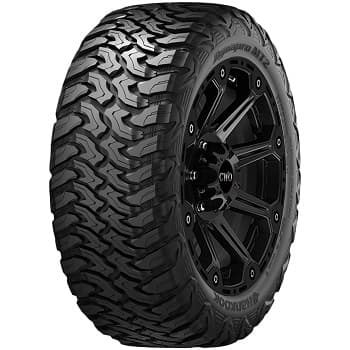 Hankook isn't the first tiremaker off-road enthusiasts usually think of when they need new tires. Brands like BFGoodrich, Cooper, Goodyear, and Nitto are much more usual in that world. However, Hankook has always been very competitive, casing big headaches in almost every popular tire category.
With its latest Dynapro MT2, which launched just before the pandemic hit, the Korean company wants to unsettle the class leaders in the mud-terrain category.
The model couldn't have arrived at a better date. The coronavirus has caused big lockdowns worldwide, and few months in, people wanted only one thing – get as far from home as possible. However, since malls and bars were closed, the only place left was nature.
And while people learned that the wilderness always offers more than any store discount, people without SUVs or trucks couldn't go very far. But even then, you couldn't go far with a set of regular tires; what you'd need is all-terrain or real off-road tires.
The Hankook Dynapro MT2 belongs to the most extreme off-road tire category, called mud-terrain tires. These models are designed to tackle the most demanding terrains, including deep mud and large rocks, albeit at the expense of slightly worse on-road performance.
Still, Hankook promises that its newest entry into the mud-terrain category is much better on the tarmac, without sacrificing the excellent off-road traction of the predecessor. Moreover, the Dynapro MT2 promises better treadlife and an even tougher case – very important for off-roading.
However, the competition in the mud-terrain category is fiercer than ever, so can the Hankook Dynapro MT2 compete? Let's find out in our detailed Hankook Dynapro MT2 review, where we'll focus mostly on its off-road abilities but also cover other aspects of the tire.
The Hankook Dynapro MT2 is a mud-terrain tire designed to offer maximum off-road traction and serviceable on-road performance.
It comes in multiple sizes, ranging from 15-inch wheel diameter to 18-inch wheel diameter.
Moreover, the tire is available in 31-inch, 32-inch, 33-inch, 35-inch, and 37-inch options, making it an excellent choice for serious off-road enthusiasts that lift their trucks or SUVs.
Finally, like any serious mud-terrain tire, the Dynapro MT2 is available in LT-metric sizes, perfect for those heavy-duty trucks.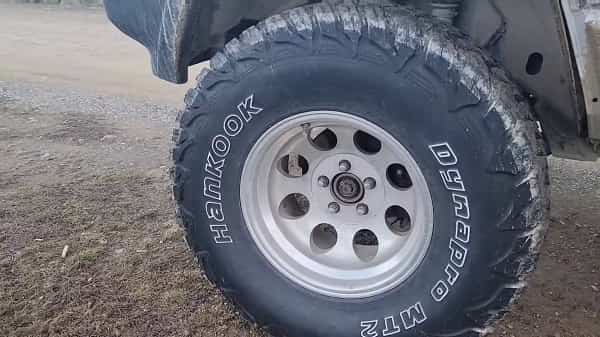 When it comes to monitoring the tread depth, the Dynapro MT2 features the industry-standard TWIs. These narrow rubber ribs sit recessed into the grooves of the tire but are raised by 2/32-inch from the bottom of the surface.
The idea here is that when the ribs become flush with the surface, you should immediately replace the tires.
There are two reasons for that. The first one is that driving with tires with less tread depth than 2/32-inch is illegal in some places.
However, the more important one is that the tire won't be able to channel water out of the tread, making it unsafe in rainy conditions. Since rain is something that often happens in most places globally, tread depth plays a big role in safety.
Fortunately, the Dynapro MT2 already has a very deep tread, meaning it will take time before you need to replace it. Still, that's only true for traction on wet surfaces.
For off-roading, the Dynapro MT2 will lose its traction abilities much sooner, especially for driving in mud.
Hence, if you are a real off-road enthusiast and you want a tire you can trust, it's recommended to replace your mud-terrain tires sooner.
Hankook made some treadlife improvements compared to the previous model, and now you can expect around 30,000-40,000 miles of treadlife.
However, the Korean tiremaker doesn't offer any treadwear warranty; it's not unusual for the category, but it would've been fine for peace of mind.
Features and Performance of the Hankook Dynapro MT2
By looking at the features of the Dynapro MT2, it is clear that Hankook aimed at creating the most capable off-road rubber out there.
The tire has everything you'd expect from such a product and even brings some new technologies into the mix. Let's go through each feature and see if it makes a difference in the real world.
1. Off-Road Traction and Durability
For off-road driving, how good is it? Well, the Dynapro MT2 features an aggressive tread pattern with large siped lugs.
It looks quite good on off-road SUVs, such as the Jeep Wrangler, Ford Bronco, and Toyota Tacoma, but the aggressive design also has a function – to provide maximum off-road traction.
Hankook calls it the "Terrain Strike" pattern, featuring high-void elements with built-in stone ejectors, important for maximizing traction and durability on challenging terrains.
Furthermore, the tire also features the brand's split mold technology, which packs a Wraparound Tread and Sidewall Protection Shields for even higher off-road traction and puncture protection.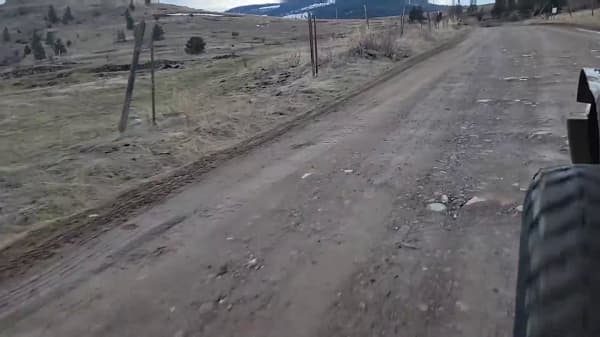 I had a chance to test the tires on a 2000 Jeep Cherokee XJ, which I borrowed from my friend when he installed this new set of tires on the car.
After driving about 3 miles, I noticed that there is ample traction on almost every surface I've tried, including hardpacked surfaces (gravel and dirt), large rocks, turf, and mud.
The Dynapro MT2 is especially good in deep mud, where it provides outstanding traction. With a set of these tires on, you will never get stuck, provided you don't do something silly. Sure, it's currently one of the best off-road tires on the market.
Besides, the construction seems very sturdy, and I didn't find any rock stuck in the tire. As a result, the Dynapro MT2 should withstand prolonged off-road sessions without being damaged. The puncture protection seems on point, too.
As a whole, the Dynapro MT2 is the real deal. It works equally well for overlanders and hardcore off-road enthusiasts; hence, I have no problem recommending it if you need such a tire.
Mud-terrain tires usually suffer on dry roads, primarily due to the smaller contact area.
However, Hankook employed a seamlessly linked tread-to-shoulder design, making the tire more unified as a package and increasing the on-road handling abilities.
This clearly helps and my testing has proven just that, the Dynapro MT2 is among the best mud-terrain tires on the highway.
The tire is fairly responsive and provides good levels of grip and traction. The stopping distances are also not very long, making the Dynapro MT2 an overall safe on-road tire.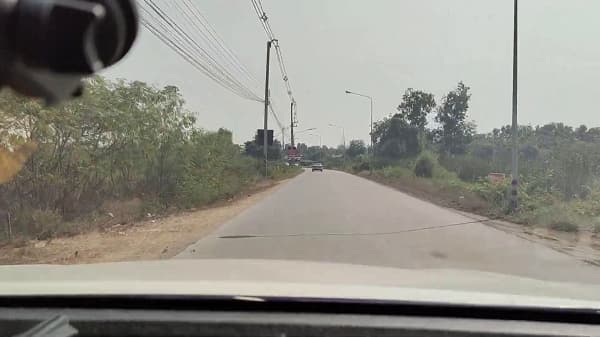 Still, the grip and traction it offers are far below the level of all-terrain tires, like Hankook's own Dynapro AT2.
Thus, if you don't need the highest possible off-road traction, I suggest going with an all-terrain tire.
3. Wet Grip, Traction, and Braking
The high-void pattern and siped tread blocks provide outstanding off-road traction, but they also help with hydroplaning resistance.
Thus, in that regard, the Dynapro MT2 is outstanding – the tread pattern can easily channel a large amount of water, helping with hydroplaning resistance.
This also makes the tire great for driving through shallow rivers, where it would easily keep contact with the bottom.
In the afternoon of the same day, I suddenly encountered rain while on the way back home. It couldn't be better that I was able to test this tire in the rain.
During normal driving in rainy weather, the tire feels safe and planted, but when I push it hard, and it will immediately lose traction.
Besides, the cornering grip isn't very high, either, and the stopping distances are longer than what you'd get with an all-terrain or a highway tire.
Nonetheless, this is something that most mud-terrain tires struggle with and not a disadvantage of the Dynapro MT2.
In all honesty, you should expect worse performance in rainy weather if you opt for aggressive off-road tires.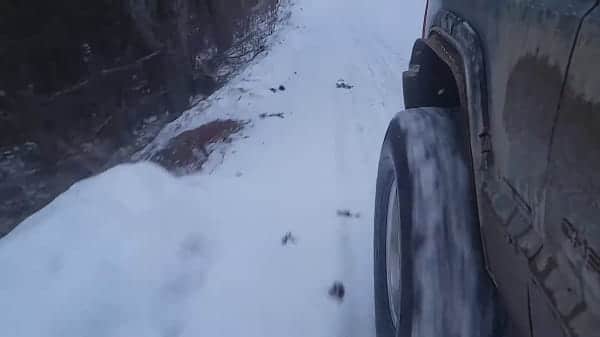 Although most mud-terrain tires look like they could easily cut through snow, that's usually not the case. So with the Hankook Dynapro MT2, how does it work in the snow?
Well, the Dynapro MT2 features sipes that create additional biting edges, unlike most mud-terrain tires, which provide improved snow traction.
I had a chance to test it on unpacked snow surfaces with a snow depth of about 2 inches. And the result was exactly as I expected.
The Dynapro MT2's handling is much better in unpacked snow, where the lugs can easily cut through, with grip and traction on the snow is very good.
However, packed snow is a whole different story, with much lower traction and worse handling.
Hence, if you need a tire for harsh wintry conditions, it's best to choose a proper winter/snow set.
The Dynapro MT2 features a reinforced casing designed for durability and on-road comfort.
According to our road test, the ride quality is quite good for a mud-terrain tire – you can still feel the thump when you hit larger bumps, but less than competing products.
However, the noise quality of the tire isn't nearly as good. The aggressive tread pattern with high-void elements inevitably results in a higher tread growl, which is audible even at lower speeds.
It becomes a real chore at highway speeds, though, where it surpasses the wind and engine noise.
Fortunately, the Dynapro MT2 doesn't produce vibrations on smooth roads – the steering wheel remains still, even on the highway.
You can see more Hankook Dynapro MT2 review here: Video created by My Backyard Yukon

Should I Buy the Hankook Dynapro MT2?
The Dynapro MT2 isn't without its faults, but the ones it has are mostly attributed to the type of tire it is.
Mud-terrain tires will always be noisier and have worse traction in rainy conditions, and that's something you should expect when purchasing such a tire.
Crucially, this is one of the best tires on the market for hardcore off-roading.
The casing is strong enough to withstand sharp rocks while also providing you with outstanding traction on every surface, including large rocks and deep mud.
Therefore, if you want a truly capable off-road tire, you should definitely put the Dynapro MT2 on your shortlist.
List of the Hankook Tire Reviews

I'm Ivo Gievski, the content writer for Tireer. We built our website with over 15 years of experience and extensive research in the automotive and technology sectors. My dedication to delivering high-quality content is unwavering, and I strive to continuously hone my skills to stay ahead of industry trends and provide readers with informative, engaging, and valuable insights.