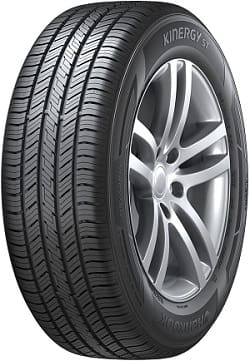 There are many products you buy that you can cheap out on and still get a good experience. However, tires aren't among those products – the more you pay, the higher performance you usually get.
That's because expensive tires have a higher-quality rubber compound, and more importantly, are researched and tested for years before they hit the market.
Meanwhile, cheap tires from pseudo-manufacturers, usually from China, feature low-quality compounds and aren't tested for safety and durability.
As a result, they are also unsafe to drive, especially in rainy conditions, where the braking distances and the handling are much worse than the premium competition. Hence, I will never recommend such tires.
However, there are tires that fall somewhere in between, coming from manufacturers like Kumho, Cooper Tire, General Tire, and Hankook. These brands promise well-researched and tested tires that will provide you with high levels of safety and long-lasting performance.
Hankook is especially good at producing such tires, with a few gems in its lineup that cost significantly less than the premium competition.
One such product is the Kinergy ST H735, a regular touring all-season tire designed for owners of passenger cars and crossovers.
It costs much less than the competition; for instance, in the popular 205/55R16 size, the Hankook Kinergy ST H735 costs $95.73, while the Michelin Defender T+H costs $141.99, and the Cooper CS5 Grand Touring costs $114.99 (on Tire Rack, at the time of writing).
Even Hankook's own Kinergy PT costs $107.77 for the same size, although that model is positioned slightly more upmarket.
So, without a doubt, the Hankook Kinergy ST H735 is a great value, but how does it compare to those same tires in real-world conditions? You are just in the right place to find out – we've prepared an elaborate Hankook Kinergy ST review, where we'll cover everything that might interest you. So, without further ado, let's dig in!
The Hankook Kinergy ST H735 is a standard touring all-season tire designed to work on older and modern passenger cars and some crossovers. It comes in many sizes, ranging from 13-inch to 18-inch wheel diameter.
With all these dimensions, Hankook covered a large portion of cars driving on roads today, including sub-compact cars, compact hatchbacks and sedans, compact crossovers, minivans, and even mid-size sedans.
Since the price is low, the Kinergy ST H735 is particularly suited to older Corollas, Civics, Fiestas, Camrys, Accords, etc. That said, owners of performance sedans and coupes, like the BMW 3-Series, Lexus IS, Audi A4, and Mercedes C-Class should look elsewhere.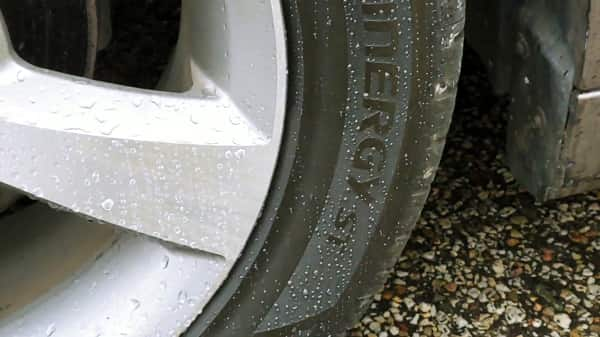 Hankook employed the industry-standard TWIs (tread wear indicators) in the grooves of the Kinergy ST H735, helping you monitor the tread depth more easily.
I would have loved indicators that provided more granular control, but you really can't expect that at this price; besides, only Continental offers indicators that provide a more granular control.
Regardless, the TWIs will show you when you need to change the tires but won't show you exactly how much tread depth you have left. These are narrow rubber bars that sit recessed into the grooves of the tire but are 2/32-inch higher than the bottom.
That's intentional because the minimum legal tread depth for an all-season tire is exactly 2/32-inch. Hence, when it comes to that point, the TWIs will be completely flush with the surface.
When you see this, you should immediately replace the tires or risk severely worsened hydroplaning resistance and rain traction.
Fortunately, the Kinergy ST H735 has an excellent treadlife, meaning you won't need to care about replacing it in the first 4-5 years.
The durability is especially impressive considering the price of the tire – only some premium products come close.
Besides, Hankook offers a 70,000-mile treadwear warranty on all sizes, which, again, is impressive for the price.
Features and Performance of the Hankook Kinergy ST H735
Looking at the tread pattern, it's evident that the Hankook Kinergy ST is a fairly regular all-season touring tire.
Notably, it looks like almost any competitor, with a symmetric pattern that allows easy rotation, enhancing durability.
However, that's not to say that Hankook didn't utilize some of the proprietary technologies that it also uses on its more advanced tires.
Let's see which are they and see if they make a difference in the real world, in our test drive.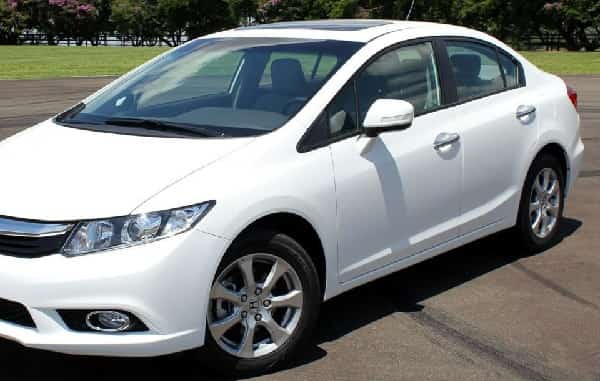 The Hankook Kinergy ST H735 features an abrasion-resistant tread compound, which usually means that it's less sticky.
Softer rubber compounds usually don't resist abrasion well but provide much better grip and traction on dry roads.
Still, this is normal for an all-season touring tire – each of its competitors focuses on durability rather than performance.
However, Hankook carefully designed the tread pattern with outboard grooves, center rib, and tie bars, all helping to stabilize the tread and improving dry-road traction.
To prove this statement, we tested the tires on the streets of Lewiston, Idaho. And the result is pretty good for the category and especially for the price.
The Kinergy ST H735 won't provide you with driving thrills, but that's not the point here – what's important is that it is completely safe for daily driving.
The longitudinal traction is pretty good, and the stopping distances are fairly short, both important for safety.
Meanwhile, the cornering grip is lower than its premium competitors, but it's not too bad, especially for the price.
Now, some competitors, like the Michelin Defender T+H and Continental TrueContact Tour, are better overall, but they also cost almost 50% more.
For the price, the Kinergy ST H735 is among the best passenger-car tires when it comes to performance on dry pavement.
2. Handling and Steering Feel
Steering feel isn't something that most drivers think of when purchasing tires, but it can make a big difference in how confident you feel behind the wheel.
The Kinergy ST H735 is not quite competitive with the best all-season touring tires here, which, of course, is expected for the price.
With about 5 miles that I have tested with this tire, the first thing that I feel as soon as I take the wheel is that the on-center feel is good, but the tire doesn't react very quickly to the driver's input.
Besides, the steering is not linear and doesn't encourage you to push harder through the corners. Not a big deal for most people, but important to note if you are a more aggressive driver.
3. Wet Grip, Traction, and Braking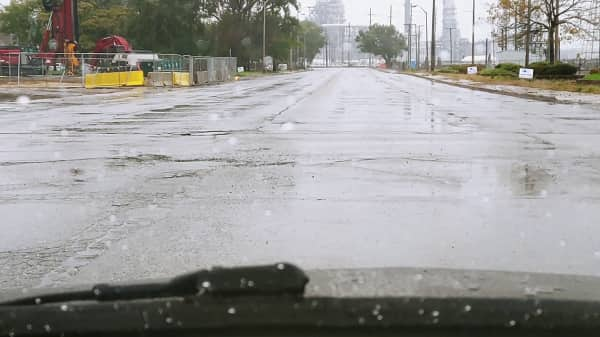 How does it perform on the wet pavement? Well, standard touring all-season tires are usually very good at channeling water, which helps immensely with hydroplaning resistance.
On that end, Hankook employed open shoulder slots and deep circumferential grooves, both of which have no issues channeling large amounts of water. As a result, you can drive through puddles of water without worrying about losing stability.
Furthermore, the tire features wide lateral notches with optimized sipes, which bring extra traction on damp and wet surfaces.
And my testing has proven just that, unlike most cheap touring tires, the Kinergy ST H735 has good longitudinal traction in rainy conditions and feels fairly stable in the corners.
The stopping distances are longer than the class leaders, but not by a significant margin.
Overall, considering the price, I was impressed with how the Kinergy ST H735 handled rainy conditions. It's completely safe at normal speeds and will keep your vehicle stable on the highway in rainy conditions.
So how does it handle snow and ice conditions? As we said above, the Kinergy ST H735 is an all-season tire, and naturally, buyers will expect it to work during the year, including snow.
However, like most all-season tires, it is designed only to work on light snow, but even then, you should drive cautiously.
That's my note for you. And I did get a chance to test it on light snow surfaces. But the longitudinal traction is only average, the stopping distances are fairly long, and the handling feels unpredictable.
Things get even worse in deep snow and become dangerous on ice. Hence, this tire shouldn't be your first choice for wintry conditions, and you should only use it in a pinch.
Hankook designed the tread with an optimized pitch sequence, resulting in a very quiet ride. Despite its lower price point, the Kinergy ST H735 is among the quietest tires in the category. You can hear the tread growl, sure, but it's unobtrusive and easily covered by the wind noise on the highway.
Moreover, the internal two-ply polyester casing construction aids with comfort, providing a very smooth ride quality. The Kinergy ST H735 soaks up smaller and larger undulations very well, leaving the cabin almost free of vibrations.
You can see more Hankook Kinergy ST H735 review here: Video created by DeLoreanTech

Should I Buy the Hankook Kinergy ST H735?
You probably noticed throughout the text that I often used the term "for the price," meaning the advantages and disadvantages I pointed out are relative to the cost.
The Hankook Kinergy ST H735 is one of the cheapest all-season touring tires coming from a premium manufacturer, but it doesn't cut too many corners to achieve a low cost. It is still a very safe daily driver, both on dry and wet roads; it provides a serene driving experience and lasts almost as long as its (much) more expensive peers.
Therefore, I think that you should definitely put the Kinergy ST H735 on your shortlist, especially if you are on a budget.
List of the Hankook Tire Reviews

I'm Ivo Gievski, the content writer for Tireer. We built our website with over 15 years of experience and extensive research in the automotive and technology sectors. My dedication to delivering high-quality content is unwavering, and I strive to continuously hone my skills to stay ahead of industry trends and provide readers with informative, engaging, and valuable insights.