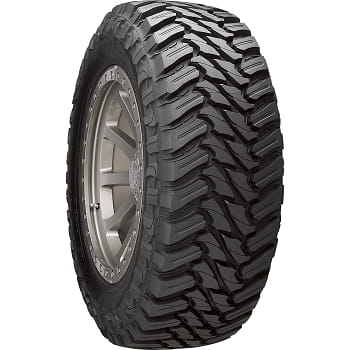 Entering the off-road community is something that people are increasingly interested in. However, if you want to be ready to tackle the most serious terrains and not rely on friends getting you out of trouble, you'll need to spend serious money.
Notably, you'll need a capable SUV or truck and then fettle an aftermarket lifting kit so that your truck doesn't scrape rocky terrains with the underbody. And then comes the most important puzzle piece – the tires.
Even the most capable trucks and SUVs won't be able to handle challenging off-road terrains with regular touring or highway tires. All-terrain tires can give you higher traction, but what you really want is maximum traction off-road tires, better known today as mud-terrain tires.
The thing is, though, mud-terrain tires are expensive, especially if you opt for larger sizes. For instance, if you own a lifted truck, you'll probably want 33-inch, 35-inch, or 37-inch tires to give you maximum traction on every surface but also durability.
That's where the Atturo Trail Blade M/T slots in; it is an affordable off-road tire that can provide you with the necessary traction while being easy on your wallet. Sounds great, right?
But things aren't always that simple with tires. Namely, the less you pay, the less you usually get.
Now, Atturo is a brand that is fairly well accepted among off-road enthusiasts, especially among budget seekers, but that doesn't mean a lot, as people can sometimes overestimate the abilities of the products they buy to justify the purchase.
So, is the Trail Blade M/T any good, especially for the price it's offered? I'll try to answer all your questions in my in-depth Atturo Trail Blade MT review, where I'll mostly cover the off-road abilities of the tire but also give you an opinion on how it handles daily driving.
The Atturo Trail Blade M/T is a mud-terrain tire designed primarily with off-roading in mind.
Hence, it comes in sizes ranging from 16-inch to 22-inch wheel diameter and includes 33-inch, 35-inch, and 37-inch options for real off-road aficionados.
Moreover, most of the models are LT-metric with a 3-ply casing. As a result, they'll work on full-size and heavy-duty trucks and support high loads.
As for maintenance indicators, Atturo went the industry-standard route, equipping the Trail Blade M/T with TWIs (tread wear indicators).
These indicators can only show you when your tires won't be legal for use on public roads anymore but won't show you how much tread depth you have left at any point.
For that, you'll need to use a tread depth gauge, which is frankly a device that every off-roader should have.
The reason is pretty simple; the TWIs can show you when the tread reaches 2/32-inch of depth or when the tire is legally worn out.
They are narrow rubber bars that sit recessed into the grooves of the tire but protrude 2/32-inch from the bottom. Hence, when the tread reaches that point, it will be flush with the rest of the surface.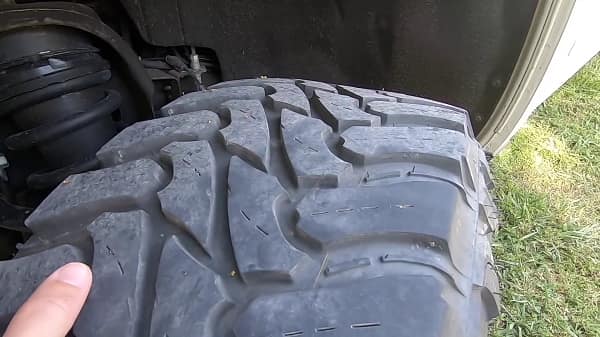 However, if you plan on doing some off-roady stuff (or tackle wintry conditions), you might want to replace your tires even sooner.
For instance, a tire with 3/32-inch of tread depth left might be legal on public roads, but it won't provide you with enough traction in mud.
Having that in mind, a cheap and handy tread depth gauge should always be in your truck.
This becomes even more important with the Trail Blade M/T, as it is not the most durable tire out there.
For starters, it doesn't come with any treadwear warranty, which is normal for the category, but crucially, many owners report accelerated tread wear.
I couldn't try this for myself, but looking at the tire after a few off-road sessions, I'd say it's average for treadlife.
That's what I expected since the Trail Blade M/T is an inexpensive tire that sells far below the class average.
So, in the end, not a big disadvantage, but definitely something to think about.
Features and Performance of the Atturo Trail Blade M/T
Looking at the features and tread design of the Trail Blade M/T, it's obvious that the tiremaker designed it with off-road traction in mind.
Notably, Atturo says that it implemented technologies it developed in off-road racing, which is a high selling point.
However, marketing speech is one thing, and real-life performance is another; so, let's comb through each feature of the Trail Blade M/T and see if it makes an actual difference.
1. Off-Road Traction and Durability
Atturo definitely likes brave marketing speech, claiming that the Trail Blade M/T has an "Unstoppable Biting Tread" that plows through mud, dirt and anything else you encounter on the trail.
Furthermore, the tire features "Menacing Style with High Level Grip and Extra Deep Tread" to provide enhanced traction, beveled center blocks and staggered shoulder blocks, 3-ply casing (LT-metric), and a "Wide Track Draining" design that helps eject rocks, dirt, mud, and water.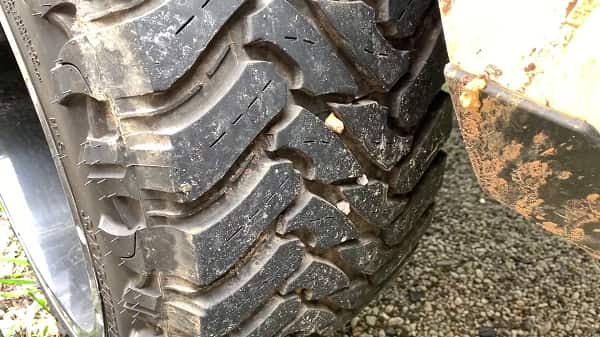 And while Atturo's description of the tire definitely sounds like it came from a Holywood movie, there is at least some merit to those claims.
Namely, the Trail Blade M/T provides outstanding traction on almost all surfaces you'll encounter; for instance, it works outstandingly well on hardpacked surfaces, without any hint of a loss of traction.
Deep mud traction is also exceptional, thanks to those "unstoppable" lugs.
Still, while the Trail Blade M/T works for rock crawling, it's not as good as some premium tires, like the BFGoodrich Mud-Terrain T/A KM3 and Toyo Open Country M/T.
So, if you are very serious about rock crawling, I'd suggest going the expensive route.
Also, the Trail Blade M/T isn't at its best on sandy terrain, even when deflated, but few mud-terrain tires really are.
Overall, though, this tire is a very capable off-road performer, especially for the price; I can't think of any other off-road tire that's this cheap and performs this well when you hit the trail.
Atturo doesn't state many features that help the Trail Blade M/T provide better traction and handling on dry pavement.
Still, with what we have tested with tire size 33×12.5R22 on my Chevy, the tire is a capable performer, providing stable handling, solid traction, and good braking.
Sure, it can't compare directly to the premium competitors, but considering the type of tire it is and the price, it's okay.
Crucially, the LT-metric sizes that come with 3-ply construction are excellent at handling heavier loads. Particularly, your truck will be stable on the highway, even with a full bed and/or a trailer attached.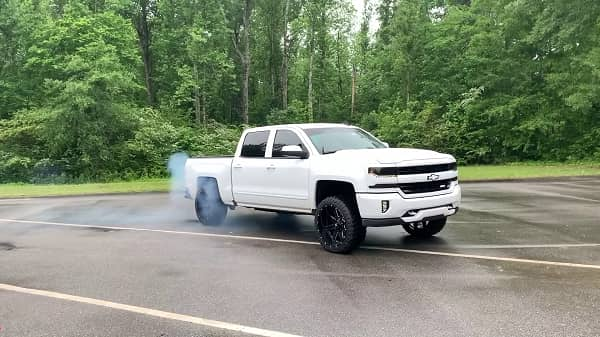 3. Handling and Steering Feel
Mud-terrain tires aren't particularly responsive, and the Trail Blade M/T is among the worst offenders here.
Notably, the tire doesn't react very quickly to your input, and it feels quite cumbersome to drive on a twisty road.
The steering also isn't linear, probably due to the aggressive tread pattern, but premium tires still succeed in providing linear steering while being aggressive.
4. Wet Grip, Traction, and Braking
Thanks to the wide and deep grooves, the Trail Blade M/T channels a lot of water from the surface. Thus, it has an outstanding hydroplaning resistance, even when you drive through very deep puddles of water.
However, that doesn't tell the whole story here; the overall wet traction is below average for the category.
Notably, the stopping distances are longer than what the premium competition is capable of, and you will even experience a loss of traction during hard acceleration.
Crucially, the Trail Blade M/T feels unstable through the corners when it rains, and you'll need to make a lot of corrections with the steering wheel.
Atturo says that it designed the beveled center tread blocks so that they reduce road noise. This might have helped, but the Trail Blade M/T is still a noisy tire, especially when you hit the highway.
It will down your engine and the wind noise, no doubt about it.
The ride quality is also average – the tire does produce a noticeable thump when you hit a pothole, accompanied by some harshness.
You can see more Atturo Trail Blade MT review here: Video created by lmfscrew

Should I Buy the Atturo Trail Blade M/T?
The Trail Blade M/T is not a perfect tire – far from it. It simply can't compare to its more expensive rivals on paved roads, especially when it rains or snows. It's also not the most durable mud-terrain tire out there, although still okay for the price.
However, if you are aware of the limitations and want a cheap tire that will do wonders on the trail, the Trail Blade M/T is an excellent choice.
List of the Atturo Tires Review

I'm Ivo Gievski, the content writer for Tireer. We built our website with over 15 years of experience and extensive research in the automotive and technology sectors. My dedication to delivering high-quality content is unwavering, and I strive to continuously hone my skills to stay ahead of industry trends and provide readers with informative, engaging, and valuable insights.