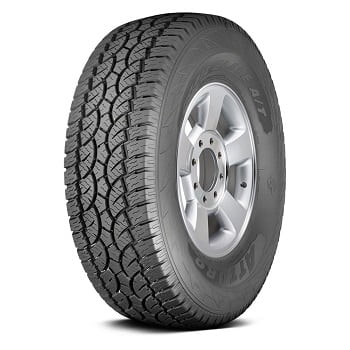 Nothing is better nowadays than exploring the wilderness, especially if you own an SUV or truck. Going into the wild is certainly fun, but it can also become expensive quite quickly.
Notably, you'll need to invest in camping or overlanding equipment, but more importantly, buy new tires.
You might think that the regular highway/touring all-season tires on your SUV/truck will do the job when you attack some off-road courses, and that might be true – to an extent.
When the surface becomes too slippery, a regular all-season tire won't cut the mustard; what you'll need is at least an all-terrain tire.
The thing is, though, the premium all-terrain tires available today are very expensive, forcing drivers to think twice if they need such rubber.
Fortunately, tiremakers like Atturo promise high levels of performance at a much lower price than the premium competition; the brand's most popular tire is the Trail Blade A/T, designed to provide campers and overlanders with better off-road traction than the existing highway/touring tires.
That said, this is not an aggressive all-terrain tire like, for example, the Toyo Open Country A/T3. Instead, it's designed to offer a balance between on-road and off-road traction.
Atturo does have a more aggressive all-terrain tire for people that want to venture farther in the wilderness, and it's called the Trail Blade X/T.
But is the Atturo Trail Blade A/T any good? That's a good question, especially since, in most cases, budget tires have some glaring disadvantages when compared to premium tires.
That's something I'd try to tackle in my Atturo Trail Blade AT review, where I'll cover every aspect of the tire and focus especially on the balance between on-road and off-road traction it offers. Enjoy!
The Atturo Trail Blade A/T is an all-terrain tire with a mild tread pattern, available in 26 sizes ranging from 15-inch to 20-inch diameter.
Moreover, the tire is available in regular and LT-metric sizes, with the latter having a tougher carcass to cope with heavier loads, like when hauling heavy cargo or towing a large trailer.
However, Atturo doesn't offer the Trail Blade A/T in 33-inch or 35-inch sizes, meaning owners of lifted trucks aren't covered. Still, this is not a tire for very harsh off-road conditions, so that shouldn't be an issue.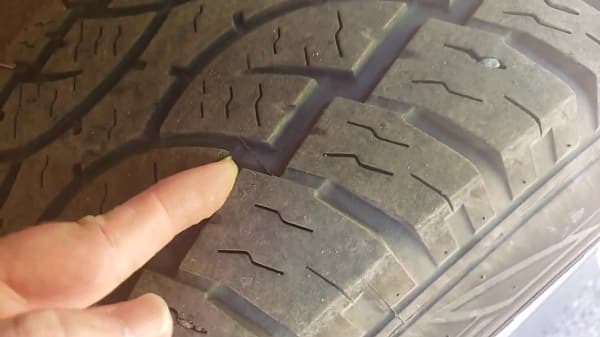 Atturo employed the industry-standard TWIs to help the driver monitor tread depth.
These are narrow rubber bars that sit recessed in the grooves of the tire but protrude 2/32-inch from the bottom. Hence, when the tread wears down to 2/32-inch deep, the TWIs will be completely flush with the surface.
The reason why Atturo chose that value is that it's the minimum legal tread depth in the USA.
Notably, the authorities chose this value because, in testing, it was shown that tires with less than 2/32-inch of tread depth weren't able to provide safe hydroplaning resistance.
Hence, when the TWIs are flush with the surface, you should immediately replace the tires.
That won't happen soon with the Trail Blade A/T, though. When new, the tire has a 15/32-inch of tread depth, which is among the best in the category.
Besides, owners of the tire report very good treadlife and Atturo spices things up with a 50,000-mile treadwear warranty for both regular and LT-metric sizes.
That's among the best in this price range, making the Trail Blade A/T one of the best value propositions in the category.
With that said, since we are talking about an all-terrain tire here, you might want to replace it sooner if you want good off-road traction.
Also, it's recommended to have at least 5/32-inch of tread depth if you plan on using these tires through the winter, as anything less than that and your vehicle won't be safe for driving on snow.
Features and Performance of the Atturo Trail Blade A/T
Atturo isn't new to producing off-road capable tires, and that shows in the Trail Blade A/T.
The tire is full of technology and has a fairly well-designed tread pattern. Is that enough to dethrone the class-leading tires, though?
Let's comb through each feature and see if it does enough to make the Trail Blade A/T competitive.
1. Off-Road Traction and Durability
The first glimpse of the tread pattern uncovers a fairly mild design that lacks the aggressiveness of some of the alternatives. Still, that's by design – Atturo didn't want to go 100% off-road here.
Notably, the tread features multiple sipes in the center blocks for increased traction on slippery surfaces and arched and segmented stone throwers that protect the tread from cuts and chips.
Atturo also cared to include rim protectors, so your rims don't get damaged.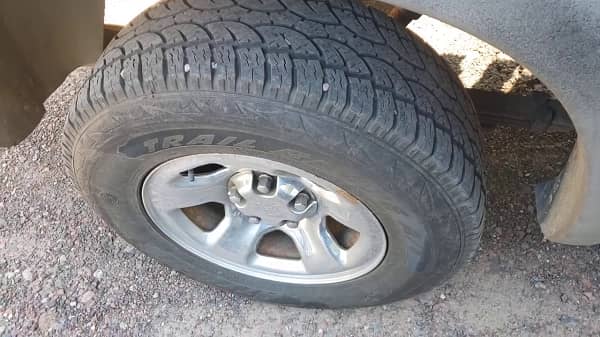 I had a chance ​to test the Atturo Trail Blade A/T on my 2019 RAM with tire size 265/70R17 on a gravel road, and just as I expected, the Trail Blade A/T is a fairly competent off-road tire.
Particularly, it works very well on hardpacked surfaces, such as dirt and gravel, where it provides excellent traction and stability.
You won't need to care about damaging the tire, as well, thanks to the stone ejectors and tough casing.
When deflated, the tire also works very well in sand, where again, it provides good traction.
However, that's where the superlatives stop. The Trail Blade A/T isn't capable of providing usable mud traction, and it doesn't work that well over larger rocks.
Still, most mild all-terrain tires suffer in these conditions, so this is not a big deal
The Trail Blade A/T features large shoulder blocks for improved handling and steering response. As a result, the tire is fairly capable on paved roads, providing safe and reliable performance.
Notably, the longitudinal traction is excellent, meaning you'll get excellent acceleration traction and short stopping distances.
Moreover, the cornering grip is comparable to other budget all-terrain tires, although, in fairness, the Trail Blade A/T is the cheapest in that group.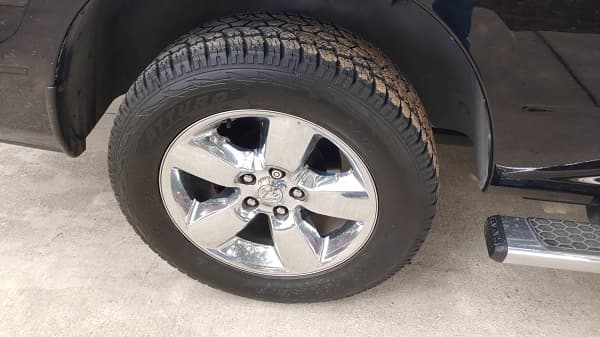 I was also impressed with the LT-metric sizes, which provide excellent stability with a large trailer attached, thanks to the stiffer 3-ply construction.
Overall, you shouldn't have issues with how the Trail Blade A/T handles paved roads, as it is completely safe, even when you drive faster.
3. Handling and Steering Feel
Like most all-terrain tires, the Trail Blade A/T isn't overly responsive to your steering input.
Still, this is something that most drivers won't notice, as SUVs and trucks aren't that responsive anyway.
Fortunately, the steering is fairly linear, although I wasn't impressed by the feeling it provided. That said, this is something that most all-terrain tires suffer from, so it's not a big issue.
4. Wet Grip, Traction, and Braking
The Trail Blade A/T packs some serious firepower to fight the rain; features such as the four-channel circumferential grooves, lateral channels, and deep tread pattern certainly help with distributing water and minimizing hydroplaning.
However, that doesn't tell the whole story. Sure, the Trail Blade A/T is capable of driving through puddles of water without losing stability, very rarely do I lose grip and traction in the rain, but it's not that good when you try to brake or turn.
Namely, the longitudinal traction is lower than the premium competition, and the cornering grip is pretty average.
Overall, the Trail Blade A/T is still safe in rainy conditions, but you should definitely be more careful and drive more slowly.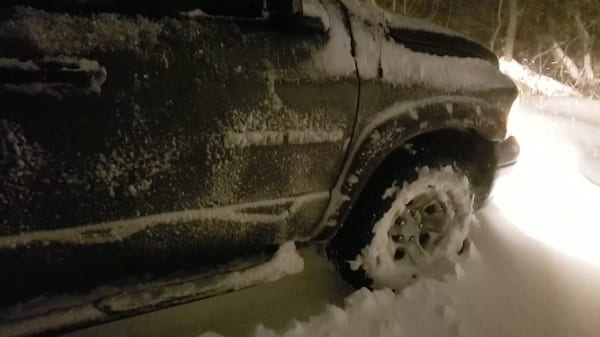 The Atturo Trail Blade A/T comes with the 3PMSF symbol (Three-Peak Mountain Snowflake), which means that it was tested for higher longitudinal traction (accelerating and braking) on snow.
I live in Illinois, so it's easy to test this tire in the snow when winter comes. Indeed, the traction this tire provides on snow-covered roads is excellent, at least as far as all-season tires go.
And, unlike most tires in this category, the Trail Blade A/T works well both on packed and unpacked snow.
However, much like any other all-season tire, the ice traction is pretty bad. Hence, if you live in areas with very harsh wintry conditions, I'd still recommend going for a proper winter/snow tire.
All-terrain tires have become very comfortable lately, with some premium models, like the Continental TerrainContact A/T, offering a quiet and smooth ride.
The Atturo Trail Blade A/T is pretty good when it comes to noise, as the tread growl is not very noticeable, even on the highway.
However, the ride quality isn't very smooth – there is a noticeable thump when you hit a larger bump, accompanied by harshness.
I've felt worse, that's for sure, but still, something you should be aware of.
You can see more Atturo Trail Blade AT review here: Video created by Frank V.

Should I Buy the Atturo Trail Blade A/T?
Although far from perfect, the Trail Blade A/T is a perfectly good all-terrain tire for the price. It works quite well on paved and unpaved roads, doesn't become noisy on the highway, and has excellent treadlife.
I would've liked higher wet traction and grip, but for the price, you won't do much better. Hence, if you are on a budget, you should definitely consider the Atturo Trail Blade A/T.
List of the Atturo Tires Review