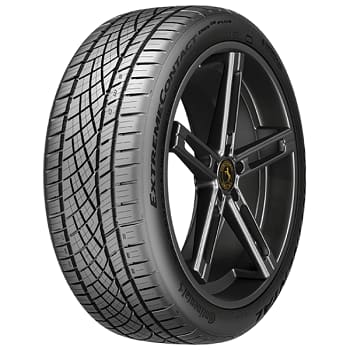 Owning a performance car certainly has its traits, and having fun behind the wheel is certainly the biggest one.
However, there are some disadvantages, like spending too much money on gas, maintenance, and expensive tires, which you would replace every two years or so.
Now, you can drive more slowly to save gas and maintain your car yourself to save on maintenance, but both of those actions aren't really what most people want.
Fortunately, you can easily save on tires – just replace your ultra-high-performance summer set with an ultra-high-performance all-season one, like the Continental ExtremeContact DWS 06 Plus we are reviewing here. Sounds simple, right?
Okay, there are a few caveats, of course. For starters, you'd lose some cornering grip and longitudinal traction/braking, both on dry and wet roads, and the steering response won't be the same.
However, you'll also gain in many areas. UHP all-season tires work much better at lower temperatures and even provide you with some snow traction. The biggest advantage of these tires, though, is durability – they last twice as long as their summer counterparts.
But let's get back to the ExtremeContact DWS 06 Plus, as it is a refreshed model for 2021. ​Its predecessor, without the Plus moniker, was already an excellent tire and also one of my favorites.
That's because it was good across the board, meaning it combined performance, comfort, and durability with aplomb.
Still, Continental didn't rest on its laurels and revamped the tire, making it better in every category. That sounds like a hefty promise to me, which is why I decided to put the ExtremeContact DWS 06 Plus through the paces and see if it leaves up to it in my in-depth review.
The Continental ExtremeContact DWS06 Plus is an ultra-high-performance all-season tire designed for sports coupes, sedans, and crossovers.
It comes in numerous popular sizes, ranging from 16-inch to 22-inch wheel diameter, hence covering a large portion of vehicles driving on roads today.
The tire is unique among its peers when it comes to the tread wear indicators. Sure, it features the industry-standard TWIs, but they can only show you when you need to replace the tire since it won't be legal to use it anymore.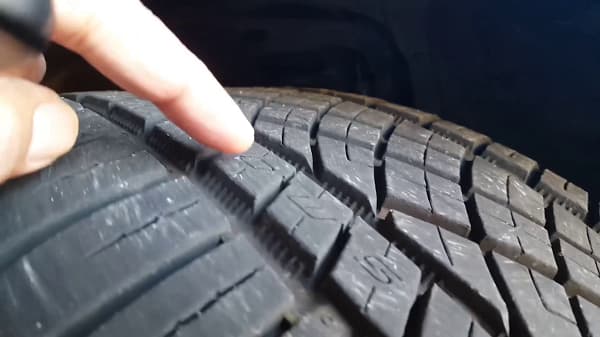 Continental went a bit further and utilized its DWS Tuned Performance Indicators.
Notably, they are three letters imprinted on the tread, which can show you when your tire is not safe for snow anymore (letter S not visible), not safe for rainy weather (letter W not visible), and finally, not safe for dry conditions (letter D not visible).
This way, you will have a much better understanding of the tread depth remaining on your tires.
But that's not all – the German tiremaker also employed Alignment Verification System, which shows you if the wheels aren't aligned properly. This is also crucial for keeping your tires running longer, and it's a feature that most competitors lack.
Finally, the ExtremeContact DWS 06 Plus rounds off the perfect durability score with a 50,000-mile treadwear warranty, which is among the best in the category.
Owners of the previous model also reported excellent treadlife, so I have no reason to believe the new model won't be durable.
Features and Performance of the Continental ExtremeContact DWS06 Plus
Continental is always at the forefront of tire innovation, and the ExtremeContact DWS06 Plus shows why. The tire has many built-in advanced technologies, all working towards making it the best UHP all-season tire.
Do they succeed in doing that, though? Let's find out while combing through each feature and technology in our Continental ExtremeContact DWS06 Plus review.
In the new ExtremeContact DWS 06 Plus, Continental employed its proprietary SPORTPLUS+ Technology in the tread compound, aiming to improve road holding on dry and wet surfaces.
Meanwhile, the asymmetric tread pattern features macro-blocks and chamfered blocks, both improving responsiveness and dry surface traction.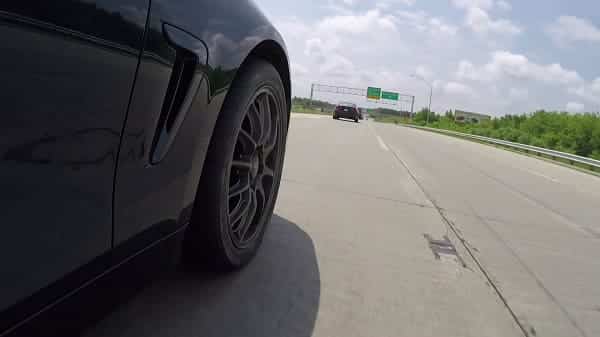 So, what is the result of all this? Well, in all honesty, the ExtremeContact DWS 06 Plus can't compete with the Pirelli P Zero All Season Plus and Goodyear Eagle Exhilarate in overall grip and lags slightly behind in braking compared to the Michelin Pilot Sport All Season 4.
However, you can only measure these differences on the track – in real traffic, Continental's UHP all-season offering is as good as the best.
There is ample cornering grip for spirited driving down a windy road and very good acceleration traction, both making the driving experience pretty fun.
Oh, and the stopping distances are shorter than you'd ever need for safe driving.
Overall, the ExtremeContact DWS 06 Plus is a very good dry tire for driving on public roads, even on some more powerful sports cars.
You shouldn't be relying on it for track days, though, just like with any other UHP all-season tire.
2. Handling and Steering Feel
UHP all-season tires aren't as responsive as their summer counterparts. Hence, if you really care about the experience, they might not be for you.
That said, the ExtremeContact DWS 06 Plus bridges the gap even further, providing you with a lot of fun behind the wheel.
Particularly, Continental did a great job at improving the responsiveness of the new model. The predecessor already reacted plenty quickly, but the "Plus" takes things up a notch.
And it does that in a linear way, important for those small corrections mid-corner. You can also place your car just where you want since the ExtremeContact DWS 06 Plus is very precise.
Not everything is positive, though. Enthusiast drivers will find a lack of feel from the road, which is very noticeable when one of the front wheels loses traction. In this regard, any UHP summer tire will be much better.
3. Wet Grip, Traction, and Braking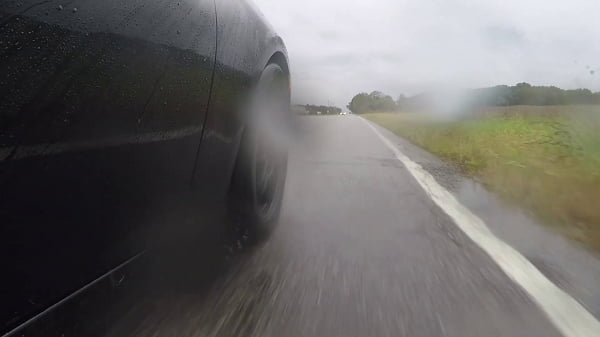 Continental made the biggest strides in wet traction with this model. The ExtremeContact DWS 06 Plus features high-angle and generous circumferential grooves for better water evacuation, along with 3D sipes and X-Sipes.
As a result, it's the best UHP all-season tire for rainy weather at the moment.
I was particularly impressed by the handling, which feels very stable. And even when you push your car hard, the tires exhibit slight understeer, which is easy to correct.
There is also ample longitudinal traction, meaning you can accelerate out of a corner easily, while the stopping distances are the shortest in the category. Finally, the hydroplaning resistance is top-notch.
Overall, if you want a UHP all-season tire and live in an area where it rains frequently, the ExtremeContact DWS 06 Plus is the best choice right now.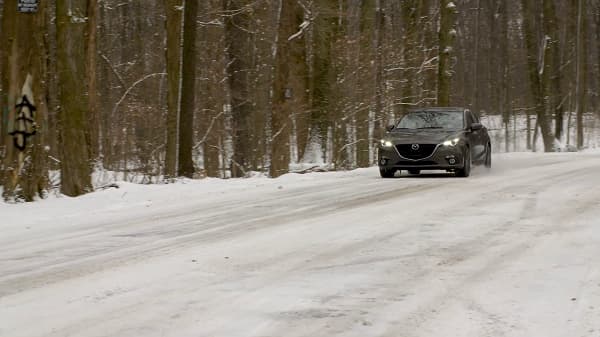 The ExtremeContact DWS 06 Plus features Continental's proprietary Traction Grooves, which work together with the sipes to increase snow traction.
Indeed, the tire is quite good over light snow, provided you don't push it too hard since we are talking about a performance tire here.
Particularly, it feels composed through the corners, pushing wide when you enter a corner too fast, and it provides good acceleration traction and braking.
However, ice traction is almost non-existent. Hence, those that experience inclement winter weather frequently should go for a set of proper snow tires.
An area where all performance tires suffer is comfort and especially ride quality.
Continental used a high-strength, triple action, hybrid cap ply with a flexible cord to mitigate that, creating one of the most comfortable UHP all-season tires in the process.
Notably, the ride quality is taut, like you would expect from a performance tire, but never harsh.
What this means is that you'll feel the thump when you hit a pothole, but it won't be accompanied by vibrations. This behavior is what people actually connect with smooth ride quality rather than the soft one.
Oh, and the ExtremeContact DWS 06 Plus also doesn't produce secondary motion, again beneficial for a smooth ride.
On top of that, this is one of the quietest UHP all-season tires out there. Sure, the tread growl is there, but it's not overly obtrusive, and the wind noise will most probably overcome it at highway speeds.
You can see more Continental ExtremeContact DWS06 Plus review here: Video created by Campus Automotive Inc

Should I Buy the Continental ExtremeContact DWS06 Plus?
The Continental ExtremeContact DWS06 Plus is an easy tire to recommend. It combines excellent overall traction and grip with outstanding comfort, which is not something I can say for most UHP all-season tires.
Hence, if you are thinking of buying a set of such tires, you should definitely put this model on your shortlist.
What vehicles will the Continental ExtremeContact DWS06 Plus tire be suitable for?
Below is a list of some popular vehicles, however this is not a complete list.
Acura RLX, TL, RL, TLX, CL, ILX, RSX, CSX, MDX
Aston Martin V8 Vantage
Audi allroad, A6, A5, A4, A3, S4, TT Quattro, A8 Quattro
BMW M3, M4, 530e, 535d, 535i, 540i, 550i, 328i, 740i, 750i, Z3, Z4, X3
Buick LaCrosse, Regal, Skylark, Lucerne, Park Avenue Ultra, Allure
Cadillac CT4, CT5, ATS, CTS, DTS, Seville, DeVille
Chevrolet Malibu, Corvette, SS, Cruze, Beretta, Cavalier, Cobalt, Sonic, Impala, Monte Carlo SS, Bolt, Volt
Dodge Viper, Dart, Daytona, Stratus SE, Avenger, Conquest, Stealth
Ferrari California, 328 GTB, 599 GTB, 612 Scaglietti, Mondial
Ford Focus, Escape, Mustang, Freestar, Crown Victoria, Transit, Fiesta
Honda Fit, Accord, Civic, S2000, Insight, Prelude
Hyundai Accent, Sonata, Azera, Genesis, Elantra, Ioniq, Tiburon
Infiniti M45, Q50, Q60
Kia Rio, Cadenza, K5 GT, Forte, Rondo, Optima, Soul, Amanti, Sportage, Spectra, Niro
Lincoln MKZ
Maserati GranTurismo, Quattroporte
Mazda 3, 5, 626, RX-7, Millenia, MX-5 Miata
Mercedes-Benz CLK63, CL65, E300, E400, E450, E500, CLS450, C250, C280, C300
Mini Cooper
Nissan 370Z, 240SX, Maxima, Sentra, Leaf, Versa, Altima
Pontiac G5, G8, Grand Am, Sunfire, Vibe, Pursuit, GTO, Aztek, Bonneville
Subaru Impreza, BRZ Premium, Legacy, Outback, Forester
Tesla S
Toyota Corolla, Matrix, Supra, Prius, Celica GTS, Yaris, Avalon, Camry
Volkswagen Touareg, Arteon, Beetle, Golf, Jetta, Passat, GTI, Rabbit, CC, Eos, Tiguan, Phaeton
Volvo C30, C70, S40, S60, S70, S80, S90, V50, V60, V70
List of the Continental Tire Reviews

I'm Ivo Gievski, the content writer for Tireer. We built our website with over 15 years of experience and extensive research in the automotive and technology sectors. My dedication to delivering high-quality content is unwavering, and I strive to continuously hone my skills to stay ahead of industry trends and provide readers with informative, engaging, and valuable insights.