Car enthusiasts frown at the thought of an all-season tire on their sports cars, but the benefits of these tires are obvious.
You not only get solid dry and wet traction, but you won't need to replace them in the winter, and on top of that, you get a much better treadlife than any summer tire.
And is there a better company to change your mind than Michelin?
The French tiremaker says it ensured its UHP all-season tire, the Pilot Sport All Season 4, deserves the performance moniker while also delivering year-round traction.
Does it really deliver, though? Let's find out in my in-depth Michelin Pilot Sport All Season 4 review!
The Michelin Pilot Sport All Season 4 comes in various sizes, ranging from 16-inch to 22-inch wheel diameter, and covers a wide range of vehicles, including compact and mid-size cars, sports sedans and coupes, crossovers, SUVs, and even some supercars.
Like most tiremakers, Michelin didn't think it's important to put better maintenance indicators than the regular TWIs (tread wear indicators).
These can only show you when to change the tires, i.e. when the tread depth reaches 2/32 inches.
Fortunately, the Pilot Sport All Season 4 lasts long for a performance tire, I'm very happy with the tire wear when I only have 4,500 miles on these tires and it has worn well, so you won't need to care about the indicators anytime soon.
Michelin also provides a 45,000-mile treadwear warranty, which, although not class-leading, is still excellent for the category.
Features and Performance of the Michelin Pilot Sport All Season 4
The Pilot Sport All Season 4 is Michelin's latest ultra-high-performance all-season tire, and predictably, it is packed with advanced tech features and has a carefully-designed tread pattern.
Let's have a closer look at all those features and see if they make a real difference in the real world.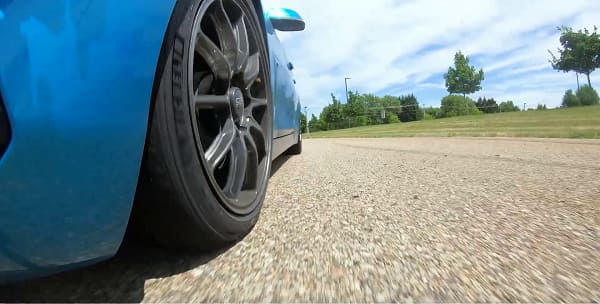 "Real" enthusiasts aren't particularly enamored by the thought of installing all-season tires on their vehicles, despite the ultra-high-performance moniker.
However, Michelin promises that its newest such tire will provide its owner with an excellent overall driving experience, and it has the technology to back that out.
For starters, the Pilot Sport All Season 4 is made from an advanced tread compound and an innovative asymmetric tread pattern with large reinforced shoulder blocks, all working together to high levels of excellent lateral grip and longitudinal traction.
In addition, Michelin employed the tire with its proprietary Dynamic Response Technology, which evens the contact patch to help during hard cornering, while also ensuring the tire lasts longer.
The real question is, though, how does this tire compare to its summer peer, the ultra-popular Pilot Sport 4/4S?
Of course, it's not better than its hot-weather brother, but you'd be surprised at how close it gets.
Notably, the longitudinal traction is much closer than I expected, so there wasn't any wheel slip to worry about, and the braking is excellent as well.
And my testing has proven just that, the Pilot Sport All Season 4 does suffer slightly more in the corners, but even then, it provides you with more than enough lateral grip for spirited driving on a public road.
Driving on a track is a different thing, though, and in that case, I'd recommend going for the Pilot Sport 4/4S or any other ultra-high-performance summer tire.
Compared to its closest rivals, though, the Pilot Sport All Season 4 shines. The lateral grip is among the highest in the category, and the tire feels very agile and surefooted through the corners.
I was also impressed with the high-speed stability and the overall sophisticated driving experience.
Damn, if I wouldn't know I was driving on all-seasons, I would've thought it's a set of some budget ultra-high-performance summer tires.
Just, in this case, you also get excellent wet and good snow traction (more on that later).
2. Handling and Steering Feel
Right from the get-go, the Pilot Sport All Season 4 is among the most responsive tires around, a stark contrast to most tires in its category.
Some might find the steering too light, as it can make the front end twitchy, but I got used to it after a few hundred miles.
More importantly, the fast steering is accompanied by a lot of feel from the road, which is crucial in a performance tire.
I also liked the on-center feel and straight-line tracking, though you'll need to get used to making smaller corrections with the steering wheel.
Overall, I think that enthusiasts will love how the Pilot Sport All Season 4 feels, as it closely resembles a proper summer performance tire and works really well with the current crop of light sports cars, like the Mazda MX-5 Miata and Toyota GR86/Subaru BRZ twins.
3. Wet Grip, Traction, and Braking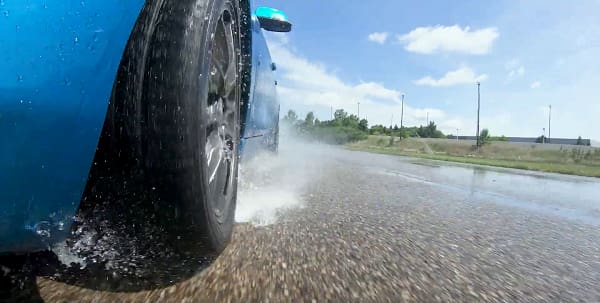 Michelin's tires have always impressed with their wet traction and grip, and it's easy to see why.
The French tiremaker equipped the Pilot Sport All Season 4 with its Extreme Silica Compound, which is designed to tackle wet pavement in warmer and colder conditions.
Moreover, the tire features wide circumferential grooves and large rain grooves on the sides for better water evacuation and distinctive 360 Degree Variable Sipes, which further improve wet traction, while also creating biting edges for better performance on snow.
All of these technologies resulted in a very capable rain tire. The Pilot Sport All Season 4 won't beat the exceptional Pilot Sport 4S summer tire in rainy conditions, but it comes very close, and the difference won't be discernible in the real world.
More importantly, it compares favorably to its closest rivals, scoring excellent results in all measurable tests.
Notably, the tire accelerates better in the rain than most of its rivals and provides some of the shortest stopping distances.
The lateral grip is also near the top of the category, making the Pilot Sport All Season 4 one of the most capable rain tires in its category overall.
It's not all roses, though, as the subjective feeling leaves something to be desired.
Namely, the tire can feel twitchy in a corner because of the overly fast steering and issue that you'll need time to get used to. Being gentle with the steering input certainly helps!
4. Is it Good for Winter?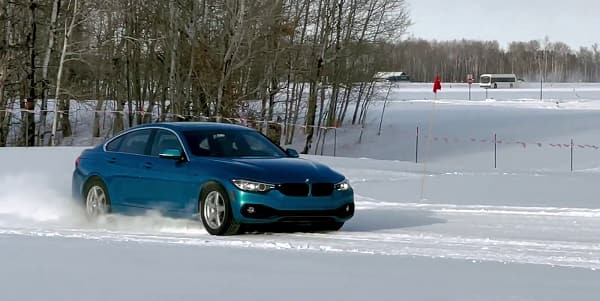 Ultra-high-performance all-season tires might not offer the same lateral grip and longitudinal traction as their summer peers, but they can be used on snow.
Still, my experience has shown that most of these models are only capable of tackling light snow and at very low speeds.
To overcome this issue, Michelin equipped the Pilot Sport All Season 4 with its Helio Technology with sunflower oil, which keeps the rubber pliable at very low temperatures, hence increasing grip and traction.
Indeed, according to my snow road test, this is a solid performance on snow in absolute terms and the best relative to its category.
You'll definitely be able to steer your vehicle on light snow at moderate speeds and keep it in the lane with ease.
The acceleration traction is also surprisingly good, and the stopping distances are the shortest in the category.
Still, you won't want to deal with deep and unpacked snow with these tires, especially not ice-covered roads.
So, if you live in areas with harsh wintry conditions, I still recommend going for a set of proper winter tires.
Michelin doesn't mention comfort in its marketing materials, though that is still very important to buyers, especially those that will install these tires on a daily driver.
Unfortunately, the Pilot Sport All Season 4 isn't the most comfortable ultra-high-performance all-season tire around, especially when it comes to the ride.
Due to the stiffer sidewalls, the passengers will feel more from the road, especially when you go over larger road imperfections.
In addition, the tread growl is easily noticeable, both over smooth and rough tarmac, though not particularly loud.
Still, it is an issue, especially when compared to other ultra-high-performance all-season tires, such as the Continental ExtremeContact DWS06.
You can see more Michelin Pilot Sport All Season 4 review here: Video created by Tyre Reviews

Should I Buy the Michelin Pilot Sport All Season 4?
The Pilot Sport All Season 4 is an excellent tire, but that shouldn't surprise you, as Michelin's products are always near the top of their respective categories.
Some drivers (and especially passengers) might find it a bit harsh and noisy, and it is expensive, but even then, it's among the most balanced ultra-high-performance all-season tires around.
It works excellently on a dry and wet tarmac while also providing solid snow traction.
Add to that its fun-to-drive nature and the excellent treadlife, and you get one of the best UHP all-season tires around.
List of the Michelin Tires Review

I'm Ivo Gievski, the content writer for Tireer. We built our website with over 15 years of experience and extensive research in the automotive and technology sectors. My dedication to delivering high-quality content is unwavering, and I strive to continuously hone my skills to stay ahead of industry trends and provide readers with informative, engaging, and valuable insights.