If you go into a tire shop and ask the seller to recommend you the best of the best, chances are it will be some Michelin model.
The French tiremaker produces arguably the best tires in the business, with an excellent overall performance from almost every product.
The Premier A/S is the brand's premium grand-touring all-season offering and, not surprisingly, one of the most expensive tires in its category.
It also won many comparisons against other tires through the years, particularly in dry and wet traction/grip.
However, it's also pretty old by now, launched in 2014. In the meantime, both Continental and Bridgestone launched new grand-touring all-season tires, along with several other brands – so does the Premier A/S have what it takes to compete at the highest level?
Let's uncover everything in my in-depth Michelin Premier A/S review!
The Premier A/S is available in numerous sizes, ranging from 15-inch to 19-inch wheel diameter.
Hence, it covers different vehicles, including compact and mid-size cars, compact crossovers, and sporty coupes.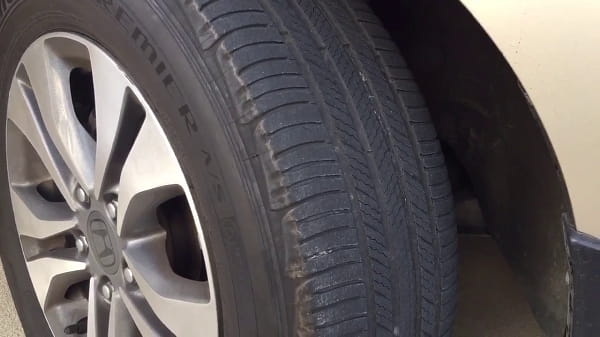 Michelin employed the industry-standard TWIs (tread wear indicators) in the tire, which can show the driver when the tread depth reaches 2/32-inch.
That's the minimum legal tread depth because it's considered that anything less than that and your tires will be dangerous to drive in rainy conditions.
Fortunately, multiple tests have shown that the Premier A/S is a very durable tire, with treadlife that competes with the class leaders.
The tire is also designed to perform at a very high level when worn down, something that you don't usually see from other tires.
Still, Michelin provides a 60,000-mile treadwear warranty, which sounds fine in isolation, but is nowhere near the class-leading Bridgestone Turanza QuietTrack's 80,000 miles.
Even some cheaper tires, like the Yokohama AVID Ascend GT (65,000 miles), have longer treadwear warranties.
Features and Performance of the Michelin Premier A/S
The Premier A/S is Michelin's high-end grand-touring all-season tire, meaning it combines the brand's best technologies.
Let's have a closer look at each one of them and see if they made a difference in the real world.
The Premier A/S is made from an extreme silica compound enhanced with sunflower oil to increase traction in cold temperatures without sacrificing hot-weather drivability.
Moreover, the continuous center rib provides better straight-line tracking on the highway while also improving responsiveness and steering feel.
So, what's the result of all those Michelin-exclusive technologies?
Well, when Michelin launched the Premier A/S, it was easily the best grand-touring all-season tire on a twisty road – it moved the bar of what such a tire can do.
However, the competition has caught up recently, and the Premier A/S isn't head and shoulders above the competition anymore.
Not that this should matter, though, as Michelin's grand-touring all-season tire is still excellent on dry roads.
According to our dry road tests, it offers excellent longitudinal traction, meaning your vehicle will accelerate without too much wheel spin, and the stopping distances will be among the shortest in the category.
Furthermore, the tire drives really well through the corners, with a very high lateral grip for an all-season tire.
And even when you lose grip, the Premier A/S does that in a gradual manner, meaning it's easy for you to put your vehicle "back on track."
Overall, I was very satisfied with the driving experience on the Premier A/S, just like I've always been with this tire.
Sure, it still has its limitations and won't compete with a proper summer tire, but it definitely punches above its weight.
I could just imagine what Michelin will do with the next-gen grand-touring all-season tire!
2. Handling and Steering Feel
Grand-touring all-season tires aren't designed to provide the best driving experience and instead focus on making the ride more comfortable.
However, Michelin seems to have taken a hint or two from its Pilot Sport series of tires when it designed the Premier A/S, as the steering feel it provides is excellent for the category.
The tire immediately bites when you turn the wheel, and as a whole, the steering feels very fluid and linear.
As a result, driving down a twisty road is much more enjoyable than in other grand-touring all-season tires, particularly because the Premier A/S also provides some road feedback.
Despite its responsive nature, the tire provides excellent straight-line tracking. Thus, you can cover hundreds of miles on the highway without having trouble keeping your vehicle in the lane.
Overall, an excellent experience for a grand-touring tire.
3. Wet Grip, Traction, and Braking
Michelin has always been at the forefront when it comes to performance in rainy conditions, and that remains true with the Premier A/S.
The tire features four circumferential grooves and multiple sipes, all improving the hydroplaning resistance and overall wet traction/grip.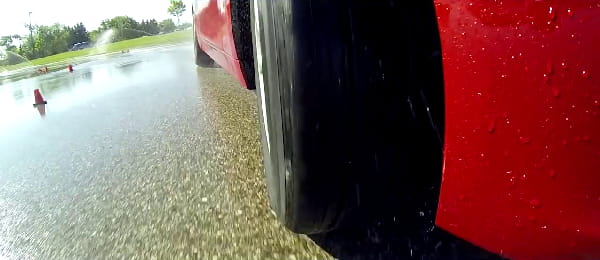 I can affirm that the Premier A/S is among the most capable rain tires in its category.
It was actually the best-in-class product when new, but the competition has overtaken it recently, particularly the Yokohama AVID Ascend GT and Continental PureContact LS.
Still, the differences are marginal, and Michelin's tire still provides excellent overall rain traction and grip.
According to our wet road test, the longitudinal traction is excellent, so your tires won't slip during acceleration easily, and the stopping distances will be among the shortest in the category.
I also liked the tire's easy-to-drive nature in the rain because even when the tire loses grip, it does that predictably and without surprising the driver.
The lateral grip is also among the best in the category, so you probably won't ever even bring the Premier A/S to the limit.
The hydroplaning resistance is also excellent, though that's not a surprise – it's a Michelin tire, after all!
The French tiremaker is so far ahead of the curve that it also designs its tires to retain the excellent wet traction even when the tire wears down, thanks to the Expanding Rain Grooves around the tire's circumference and Emerging Grooves across the shoulders.
I had the chance to try high-mileage Premier A/S tires in rainy conditions multiple times and was impressed with the overall drivability.
So, overall, the Premier A/S might not be the class leader it once was, but it is still a very capable rain tire that will keep working as advertised for years to come!
4. Is it Good for Winter?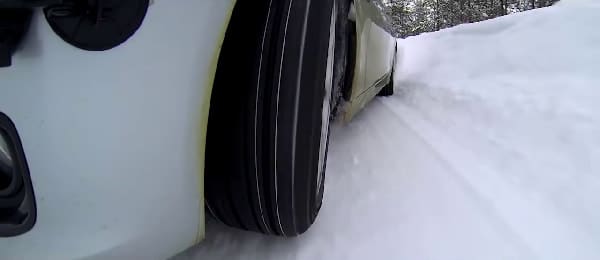 The Michelin Premier A/S is a regular all-season tire and doesn't carry the 3PMSF symbol like some of its "all-weather" rivals.
So, it is to be expected that it won't perform at the highest level on the snow, especially when it comes to longitudinal traction.
And my testing has proven just that – the Premier A/S needs 7-8 more feet to stop on snow than its closest rivals at 20 mph to 30 mph, which isn't insignificant, and the acceleration traction is lower as well.
Interestingly, the driving experience is positive – the tire behaves quite well through the corners and makes your vehicle controllable and stable.
Just make sure you drive more slowly, as the lateral grip is lower than on some newer grand-touring all-season tires, such as the Vredestein Quatrac Pro, Goodyear Assurance WeatherReady, Firestone WeatherGrip, and Continental PureContact LS.
Michelin has always been known for producing smooth and quiet tires, but this time, it seems like it focused on delivering a better driving experience.
Namely, the Premier A/S is not as quiet as most drivers would want a touring tire to be, producing an audible tread growl on a rough tarmac but also on the highway.
It's not noisy, yes, but it's definitely louder than its closest rivals, particularly the Bridgestone Turanza QuietTrack.
The ride is also not very soft, again playing against Michelin's motto of producing ever more comfortable tires.
In this case, though, I actually prefer this behavior, as the stiffer tire shell cancels smaller road imperfections with ease and goes over larger bumps without producing lots of vibrations.
As a result, the ride feels more controlled overall, without reverberations like in some softer grand-touring tires.
You can see more Michelin Premier A/S review here: Video created by Fly Bee

Michelin Premier A/S Tire Review after 45,000 miles
Should I Buy the Michelin Premier A/S?
The Premier A/S is still an excellent grand-touring all-season tire, but that's not a surprise, as every Michelin product is always among the class leaders.
However, being a Michelin, it's also very expensive, and this particular model is also older than most in its category, meaning many tires have overtaken it.
I still think it's a good buy because it balances everything well, especially when it comes to the driving experience on dry and wet roads.
Still, the 60,000-mile treadwear warranty is a limiting factor, particularly among budget-conscious drivers.
So, if that bothers you, the Continental PureContact LS (70,000 miles) and Bridgestone Turanza QuietTrack (80,000 miles) are both excellent options.
List of the Michelin Tires Review

I'm Ivo Gievski, the content writer for Tireer. We built our website with over 15 years of experience and extensive research in the automotive and technology sectors. My dedication to delivering high-quality content is unwavering, and I strive to continuously hone my skills to stay ahead of industry trends and provide readers with informative, engaging, and valuable insights.