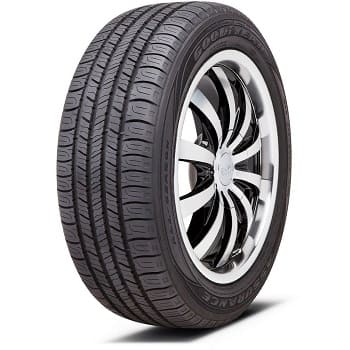 Searching for a set of new tires for your car? Chances are, you'll want all-season tires, as they promise year-round traction, superior treadlife, and competitive prices.
But, can a tire do everything right, without any compromises? Is there a "jack of all trades" tire?
To answer those questions, I reviewed one of the most popular passenger all-season tires in North America, the Goodyear Assurance All-Season.
It's a no-nonsense tire designed to provide its owner with solid year-round traction, a comfortable and quiet ride, and long treadlife. It's also competitively priced and has the Goodyear branding – what's not to like?
Nonetheless, like with most products in today's capitalistic world, perfection doesn't exist, and there will always be compromises. Still, premium tiremakers, like Goodyear, have the best engineers and most assets in trying to make their products as perfect as possible and overtake other competitors.
With that said, does the Assurance All-Season have compromises, and are they deal breakers? Let's have a closer look at each performance aspect of the tire in our Goodyear Assurance All Season review and answer all those lingering questions.
The Assurance All-Season is the brand's low-cost all-season tire offering designed for most passenger cars. As such, it comes in numerous sizes, ranging from 14-inch all the way up to 20-inch wheel diameter.
With all these dimensions, Goodyear covers a large portion of modern-day vehicles, including sub-compact cars, compact hatchbacks, sedans and crossovers, mid-size sedans and crossovers, minivans, SUVs, and even some premium sedans.
As for maintenance, Goodyear didn't use its Wear Gauge indicators from the long-lasting Assurance MaxLife tire and instead opted for the industry-standard tread wear bars (indicators).
I would've preferred the War Gauge indicators, as they can show you when the tread depth reaches 8/32, 6/32, 4/32, and the lowest 2/32 inches. Meanwhile, the regular indicators can only show you when the tread reaches a 2/32-inch depth.
Regardless, the Assurance All-Season has a good treadlife for the category, with most owners being satisfied with how long it lasts.
Goodyear offers a 65,000-mile treadwear warranty, which is good for the price but not class-leading; for instance, the Kumho Solus TA11 comes with a superior 75,000-mile treadwear warranty, while the Firestone Champion Fuel Fighter boasts a 70,000-mile warranty.
Features and Performance of the Goodyear Assurance All Season
The Goodyear Assurance All-Season is a run-of-the-mill passenger tire, so there is not a lot to discuss technology-wise. Still, Goodyear spent time developing the tread compound and pattern to maximize year-round traction while also making the tire more comfortable. Did the company succeed?
And I have tested on many different conditions and over many times to come up with the reviews in this article. Let's have a look at the tire's features and see if they made a difference in the real world!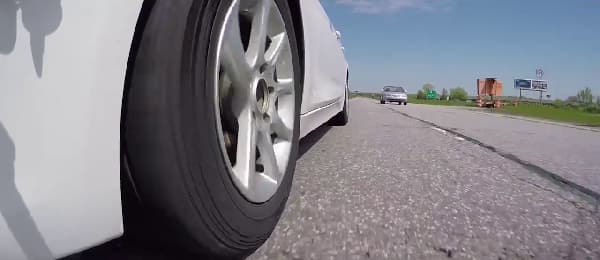 The Assurance All-Season features large stable shoulder blocks to increase lateral grip, similar to most tires in its category.
However, these don't often work in all-season tires simply because of the all-season tread compound that doesn't want to stick to the road well.
Nonetheless, Goodyear seems to have done a tremendous job here, as the Assurance All-Season is among the best cheap all-season tires to drive.
And my testing has proven just that, the longitudinal traction it provides is very good for the category, so you'll have no issues accelerating out of a corner.
Moreover, the stopping distances are among the shortest in its class, crucial for safer driving.
The Assurance All-Season also impresses in the corners. Push it hard, and it feels very balanced, without the edgy feeling most all-season tires provide.
Moreover, the lateral grip is very competitive with the best-in-class tires, and the on-limit handling is very good.
I also had zero issues with stability on the highway – the Assurance All-Season feels very stable and planted.
2. Handling and Steering Feel
Responsiveness is not something that the regular buyer cares about when purchasing new tires.
However, this qualitative category is still important, as it's something you'd need to live with every day, regardless of the speed.
Fortunately, the Assurance All-Season is a fairly responsive tire. It does feel a little dead on-center, but that's nothing unusual for the category.
More importantly, it then becomes responsive to the driver's input, and the steering feels very linear.
The straight-line tracking is also very impressive – great news for people that cover many highway miles each day!
3. Wet Grip, Traction, and Braking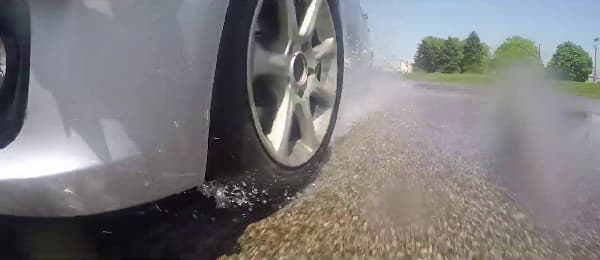 Much like every other tiremaker, Goodyear says it focuses on delivering the best possible wet traction.
To that end, the tire is equipped with wide tread grooves that help with water evacuation, along with lateral notches to distribute the water out of the tread's surface.
There is no word on the type of tread compound used, probably because the Assurance All-Season is the cheapest tire in the brand's portfolio (apart from the Walmart-exclusive Viva 3).
Unfortunately, despite the wet-friendly design, the tire struggles in rainy conditions.
Other passenger all-season tires, such as the General AltiMAX RT43, would provide much higher levels of grip and traction and at a slightly lower price.
Notably, the stopping distances on the Assurance All-Season will be much longer than with the competition, and I'm talking over 20 ft in a panic stop from 50-to 0 mph.
You will also struggle with acceleration if you own a more powerful premium vehicle, especially when accelerating out of a corner.
Furthermore, the Assurance All-Season isn't as capable in the corners as its rivals when the roads are wet. The lateral grip is lower than you'd expect from a premium tire, although at least it feels balanced and easy to drive.
Still, that's not enough to redeem this tire, as higher wet traction is much-needed, especially since most accidents happen during the rain.
4. Is it Good for Winter?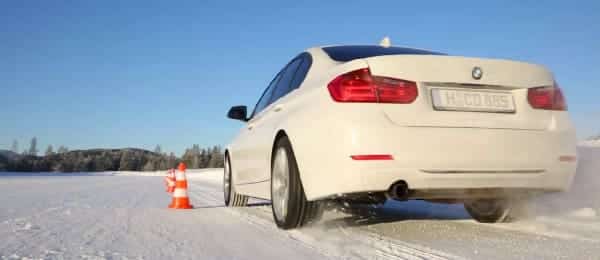 Goodyear equipped the Assurance All-Season with multiple biting edges, coming from the independent shoulder blocks with sipes inside.
In theory, these should provide enhanced traction in inclement weather, but the tread compound also plays a big role, especially when the temperature falls below zero.
Although Goodyear doesn't advertise the Assurance All-Season as a tire capable of very harsh wintry conditions, in reality, it's pretty good.
Sure, a set of winter tires will be much better – there is no question about it! However, relative to its category, the tire performs very well.
Notably, it provides very good longitudinal traction, meaning you'll have no trouble accelerating and braking.
Moreover, the tire turns quite well into a corner thanks to the good lateral grip, and then it's very easy to control mid-corner.
Other all-season tires in the same sizes can also provide similar results, but the Assurance All-Season is definitely among the top five tires, and all are closely matched.
However, Goodyear's product works better on ice than its rivals, although only marginally.
Still, despite all of the praise, the Assurance All-Season isn't capable of tackling seriously harsh wintry conditions, as the performance quickly deteriorates in deep snow.
Passenger and touring all-season tires are designed to be quiet and comfortable, but many still suffer from increased noise and/or a harsh ride.
Goodyear didn't want to leave anything to chance here and optimized the tread pattern to minimize the noise, a move that really worked.
The Assurance All-Season is one of the quietest tires around, regardless of the category.
The tread growl is minimal and low-pitched, so it nicely blends with the engine and wind noise.
Hence, it's not at all tiring on longer journeys, even when you drive on the highway for hours.
Meanwhile, the ride is a bit firm, though never harsh. And thanks to the stiffer sidewalls, the tire is actually more composed over repetitive impacts, as it doesn't produce secondary movement that would unsettle the ride.
Overall, I was very pleased with how this tire rides over bumps and how quiet it is, and I think that your passengers will be very pleased, too.
You can see more Goodyear Assurance All Season review here: Video created by TireRack

Should I Buy the Goodyear Assurance All Season?
The Assurance All-Season is a tire that excels in most areas, but it suffers in perhaps the most important one – wet traction.
Like its winter-focused and more premium sibling, the Assurance Weather-Ready, the "All-Season" suffers from lower traction and grip in rainy conditions than the class-leading tires. For the price, Goodyear should've done better.
Still, if you can live with the limitations (drive a bit slower), there is a lot to like here.
The Assurance All-Season is one of the most comfortable tires I tried, drives well in the dry, and is surprisingly good over light snow.
Hence, if you are in the market for a new set of affordable all-season tires, give it a look!
List of the Goodyear Tires Review

I'm Ivo Gievski, the content writer for Tireer. We built our website with over 15 years of experience and extensive research in the automotive and technology sectors. My dedication to delivering high-quality content is unwavering, and I strive to continuously hone my skills to stay ahead of industry trends and provide readers with informative, engaging, and valuable insights.