General Tire has long been a favorite brand among drivers that didn't want to spend a fortune on tires. And although the American tire company consistently undercuts the premium competition from Bridgestone, Michelin, and Continental in price, it has always been competitive in overall performance.
The Altimax RT43 is the brand's bread-and-butter touring all-season offering, a tire that fits most passenger cars driving on roads today. It's also hugely popular among buyers, selling in the millions.
The combination of fair price and excellent treadwear warranty seems to resonate well with buyers, and it doesn't hurt that the tire is also manufactured in the USA.
However, the Altimax RT43 is also a bit old by now – General Tire launched it in 2013, meaning it's almost a decade old. That's a very long time for any technology, and especially tires – the newer the rubber compound and tread pattern, the better the tire performs (usually). Of course, there are exceptions to that "rule," but it's mostly true.
Nonetheless, the Altimax RT43 remained among the most accomplished grand-touring all-season tires in various comparisons and tests throughout its life, almost always earning the value award.
Is that still true, though? Many tiremakers launched new products recently, all with improved tread compounds and new designs, so it will be interesting to see how the Altimax RT43 fares against those.
In my General Altimax RT43 review, I'll cover every aspect of the tire in-depth and focus especially on safety and durability. If you don't have much time, here is a TL;DR of the pros and cons of the tire (though I recommend reading further to see how the Altimax RT43 compares against the premium competition).
The Altimax RT43 is General's most important tire, and hence it comes in so many sizes that it's hard not to find one that fits your vehicle.
Particularly, the tire is available in 13-inch to 20-inch wheel diameter, hence covering a large portion of passenger vehicles rolling on public roads today.
These include subcompact cars, compact cars, mid-size sedans, premium sports sedans, large executive vehicles, crossovers, minivans, and even some SUVs.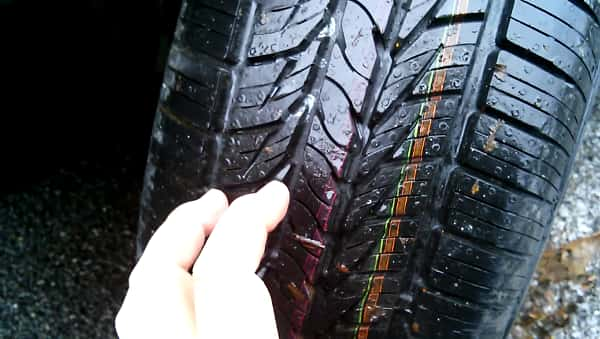 As for maintenance, General utilized its proprietary Replacement Tire Monitor technology. Namely, when you purchase the Altimax RT43, you'll see that there is an inscribed "Replacement Tire Monitor" on the circumferential rib.
However, before the tire reaches the minimum tread depth, you'll only read "Replace Tire." This is something that I'd love to see in more tires, as it's an easy way to show the driver of the treadlife left.
General also used the industry-standard tread wear indicators (TWIs). These are narrow rubber bars that sit recessed in the circumferential grooves of the tire, designed to show you when the tire reaches 2/32-inch tread depth.
This is important, as driving further will not be legal in most places, but crucially, unsafe in rainy conditions due to critically low hydroplaning resistance.
However, since the Altimax RT43 is an all-season tire, you'd normally use it through the winter. In that case, you'd need at least 5/32-inch tread depth to be safe, though I recommend even more than that.
So, it would've been great if General also included some indicators on the snow capabilities of the tire, not just the minimum tread depth.
On the flip side, the tire is equipped with Visual Alignment Indicators, showing you if the tires don't wear evenly, and indicating a problem with the suspension.
Fortunately, you won't need to look at these indicators frequently; the Altimax RT43 is already proven as a durable tire, with many owners praising the tread life. It's all thanks to the StabiliTREAD Technology, which reduces tread stress for improved tread life.
General also offers a 75,000-mile treadwear warranty on T-rated sizes and a 65,000-mile treadwear warranty on H-rated and V-rated sizes, both outstanding for the category and especially for the price.
So, if cost is your only concern, the Altimax RT43 is easily one of the best all-season tires on the market.
Features and Performance of the General Altimax RT43
Although old by now, the Altimax RT43 has a few aces up its sleeve to combat the newer competition.
Since it's the brand's most important model, General implemented many advanced features in this tire, aiming to provide high levels of comfort and safety.
Did it succeed? Let's comb through each feature through our tests and see if it made a difference in the real world.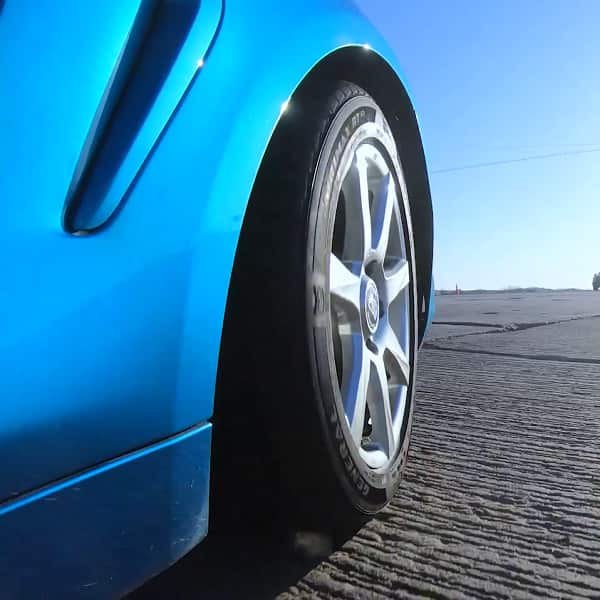 Like most touring all-season tires, the Altimax RT43 features a solid center rib, aiming to improve cornering and stability. The tread compound also has high silica content, which should result in higher grip and traction without sacrificing durability.
As a result, according to our dry road test, this is a very capable tire in dry conditions. Notably, it beats all competitors that are priced similarly, providing higher cornering grip, better acceleration traction, and shorter stopping distances.
Of course, premium tires like the Continental PureContact LS and Michelin Premier A/S are better, but they are also much more expensive.
Overall, the Altimax RT43 is a very safe tire in dry conditions, closely matching the best in the category. For the price and the age of the model, it performs extraordinarily well!
2. Handling and Steering Feel
The Altimax RT43 might provide good traction and grip for a touring all-season tire, but that doesn't make it very fun to drive.
On the opposite, the steering feels vague and doesn't respond to the driver's input quickly. It's also not very linear, which further deteriorates the driving experience.
Hence, I wouldn't recommend it to drivers of sports sedans like the BMW 3 Series, Lexus IS, Audi A4, Cadillac ATS, and Mercedes C-Class.
However, most other drivers probably won't be bothered by this. So, if you never thought of responsiveness as a quality of your vehicle, you shouldn't reject the Altimax RT43 based on this.
3. Wet Grip, Traction, and Braking
The fact that the Altimax RT43 beats its closest competitors on dry tarmac is impressive, but its wet traction is even more so.
General utilized its proprietary Anti-Slip Sipe Design technology here, increasing the number of biting edges for enhanced traction on snow.
The tire also features four circumferential grooves, enough to dissipate water and minimize hydroplaning, which is not an issue here.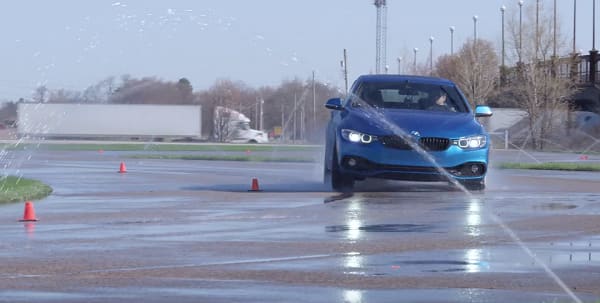 According to our wet road test, the Altimax RT43 is particularly impressive in the corners, where it handles with poise and stability that few other similarly-priced products can match.
It also doesn't surprise the driver with any sudden loss of traction, doing it in a very linear way.
The braking distances are also consistently shorter than similarly-priced rivals, and the acceleration traction is better, too.
Now, I must say that the Altimax RT43 is still a class below the Continental PureContact LS in rainy conditions, but that's not a fair comparison price-wise. And since Continental owns General Tire, it wouldn't be giving its value brand the best technology.
Crucially, though, for the majority of drivers, the Altimax RT43 is the best rain tire in its price range.
4. Is it Good for Winter?
As if the excellent rain traction and grip weren't enough, the Altimax RT43 continues to impress with how it handles snowy conditions.
A quick disclaimer here – this is an all-season tire, meaning it is designed only for use on light snow; for very harsh wintry conditions, you'd still want a set of all-weather or winter tires.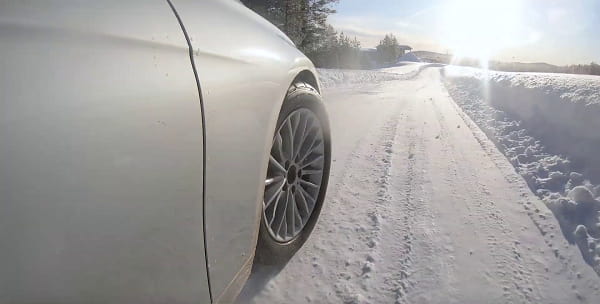 Compared to its similarly-priced rivals, though, the Altimax RT43 is the best light-snow tire; it provides good acceleration traction, short stopping distances, and behaves well in the corners.
However, it doesn't handle icy roads quite as well (though not many all-season tires do).
General says that it focused on delivering a quiet and comfortable ride when it designed the Altimax RT43, or that's at least what the marketing materials say.
Notably, the tire features sound wave suppression technology to reduce noise and a Twin Cushion Silica Tread Compound to absorb road vibrations.
Now, as far as quietness goes, there is a noticeable tread growl, both on smooth and rough tarmac, but still not overly intrusive. However, although soft, the ride feels a bit rough on the edges.
Namely, when you hit a rough patch, the Altimax RT43 produces more high-frequency vibrations and doesn't settle quickly after. It doesn't feel as sophisticated as its rivals if you want.
You can see more General Altimax RT43 review here: Video created by Michael C

Should I Buy the General Altimax RT43?
Even eight years after it was first launched, the Altimax RT43 is among the most accomplished touring/grand-touring all-season tires.
It provides excellent performance across the board, with good dry, wet, and snow traction; it is also not very noisy and has an excellent tread life.
Crucially, it won't cost a kidney to equip your vehicle with a set of four tires! So, if you are in the market for new all-season tires, you should definitely put the Altimax RT43 on your shortlist.
List of the General Tires Review

I'm Ivo Gievski, the content writer for Tireer. We built our website with over 15 years of experience and extensive research in the automotive and technology sectors. My dedication to delivering high-quality content is unwavering, and I strive to continuously hone my skills to stay ahead of industry trends and provide readers with informative, engaging, and valuable insights.