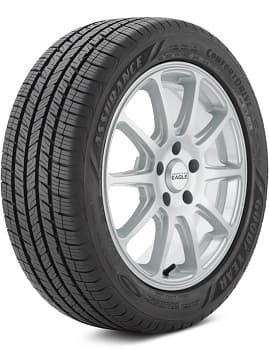 Increasing oil prices and stringer emission control forced automakers to find ways to improve the fuel economy of their models. Apart from developing advanced powertrains and employing lighter materials, automakers also started putting low-rolling-resistance all-season tires.
Now, these tires can improve the fuel economy of any vehicle quite a bit, but not without sacrificing traction.
Fortunately, premium tiremakers are employing clever new technologies to ensure higher traction and subsequently make the tires safer.
Goodyear, one of the largest tire manufacturers in the world, promises that its newly-launched Assurance ComfortDrive tire provides the driver with good year-round traction while also improving the fuel economy.
However, the Assurance ComfortDrive is a grand-touring all-season tire, meaning it should do other things well.
Particularly, buyers are increasingly aware of ride comfort and noise, and that's another area that fuel-efficient tires usually suffer at. But Goodyear also thought of that when designing this tire and even put "comfort" in the name.
This, of course, brings us to the question – is the Assurance ComfortDrive any good? You'll have the answer to the question in my Goodyear Assurance ComfortDrive review down below, after my practical experience with this tire, where I'll tell you how the tire performs in various weather conditions, how comfortable it is, how long it lasts, and compare it to its closest rivals. Let's dig in!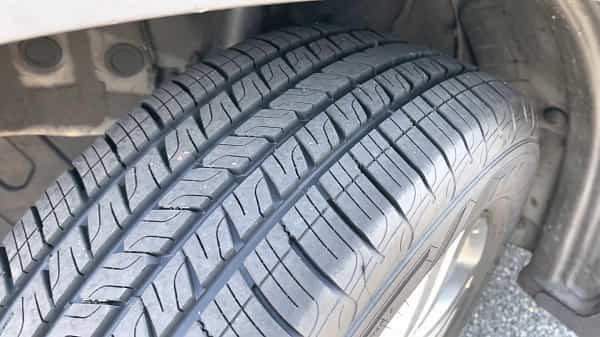 Since the Assurance ComfortDrive is a grand-touring all-season tire, it's meant to cover most passenger vehicles rolling on roads today, including compact cars and crossovers, mid-size sedans, and crossovers/SUVs, large and executive sedans, and even some sports coupes.
Notably, it comes in sizes ranging from 16-inch to 20-inch wheel diameter, so the chances you'll find a suitable size are pretty high.
As far as maintenance indicators go, Goodyear utilized the old TWIs (tread wear indicators). These are narrow rubber bars that sit recessed in the grooves of the tire but protrude 2/32-inch from the bottom.
Hence, when the rest of the tread reaches the minimum legal 2/32-inch depth, they will be flush with the surface of the tire.
Unfortunately, Goodyear didn't use the Wear Gauge indicators from the Assurance MaxLife. It's a shame because the Wear Gauge indicators can show the driver exactly how much tread depth is left in 8/32, 6/32, 4/32, and 2/32 increments.
With the regular TWIs, you'll only know when it is time to replace the tires or when they are near replacement. Meanwhile, you can't tell if the tread is deep enough for safe snow traction, for example.
On top of that, the Assurance ComfortDrive is a solid performer when it comes to treadlife but nowhere near the class-leading Bridgestone Turanza QuietTrack.
So far, after about 8,500 miles in my Kia Sorento, I'm satisfied with the treadlife.
Moreover, the Assurance ComfortDrive comes with a 60,000-mile treadwear warranty, which is not exactly competitive.
For instance, the Turanza QuietTrack comes with an 80,000-mile treadwear warranty, while the Continental PureContact LS and Pirelli P7 AS Plus 3 both feature a 70,000-mile warranty.
Experience with Goodyear Assurance ComfortDrive tires
The Assurance ComfortDrive is one of the newest tires in Goodyear's portfolio. Hence, it comes with the latest tech and design features, both in terms of tread compound and tread design.
Let's have a closer look at each feature of the tire and find out how it makes a difference in the real world, after my experiences.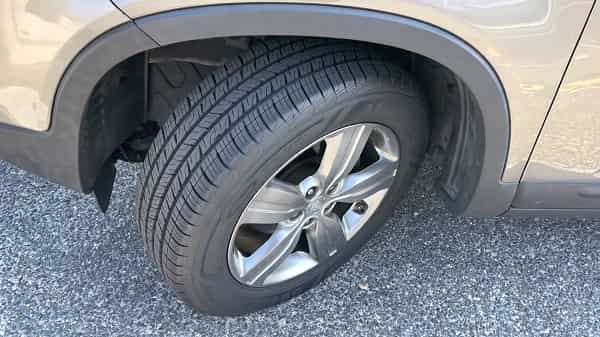 Goodyear employed a fairly advanced all-season tread compound with soybean oil, aiming to improve grip and traction while also providing low rolling resistance.
Moreover, the model features the brand's TreadLock Technology, which interlocks the tread blocks for increased dry grip and stability.
And rightly so, my experience with this tire proves it. From the first time I drove with this set of tires, I felt that this was one of the best grand-touring all-season tires in dry conditions, regardless of the temperature.
The tire grips the road very well – it almost feels like a sporty tire, despite the fact that it's comfort-focused.
The lateral grip is particularly impressive for an all-season tire, providing me with the means to attack corners are fairly high speeds.
Besides, the Assurance ComfortDrive is also very easy to control at the limit. Namely, the front tires on my Kia Sorento will understeer slightly if I put too much speed into a corner, and all you'd need to do is slow down and turn the steering wheel more into the corner.
I also had no issues with longitudinal traction – acceleration is brisk, and the stopping distance is very short, I found this distance to be even shorter than the Bridgestone Turanza QuietTrack tires that I have used before.
Finally, the highway stability is excellent, and the tire performs quite well during evasive maneuvers. Overall, I'm very pleased with this tire on a dry tarmac!
2. Handling and Steering Feel
Responsiveness and steering feel aren't qualities that are high on the list of demands of the average driver.
However, the way a tire communicates with the driver is still important, as it will make the whole driving experience more enjoyable and safer.
Unfortunately, the Assurance ComfortDrive isn't a very responsive tire. There is a clear delay after I turn the steering wheel, especially during high-speed driving, and the main culprit here is that the tire feels dead on-center.
After the front tires turn into the corner, the steering is fairly linear but still not very communicative.
Fortunately, the straight-line tracking is good on the highway, so longer journeys won't be tiring for the driver.
3. Wet Grip, Traction, and Braking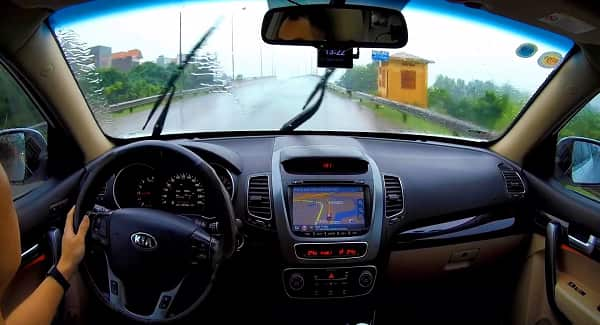 Goodyear spent a lot of effort making the Assurance ComfortDrive better in rainy conditions.
The tire comes with several design features to battle the wet, such as symmetrically-balanced AquaChannel Grooves and large lateral notches, both helping with water dissipation.
Moreover, the Assurance ComfortDrive also features Evolving Traction Grooves, which ensure that the hydroplaning resistance is still at safe levels as the tire wears down.
This is very important in my eyes, as many all-season and summer tires lack this feature and become less safe a year down the road.
I've had a lot of heavy rains after more than 8,000 miles with this tire, and I have no complaints about the tires when it rains heavily or encounters deep puddles.
There are times when I have to brake hard or make an emergency turn in slippery road conditions, but the tires still retain a very good grip, and the tire feels very balanced.
I feel very safe driving in the rain with this tire, thanks to the easy handling on slippery surfaces, even at the limit, which gives me a lot of confidence.
Braking is also very strong, and I found that, compared to the Bridgestone Turanza QuietTrack tires that I have used before, the braking distance of the Assurance ComfortDrive was still slightly longer when I applied the brake at the same speed.
However, the braking distance of Assurance ComfortDrive still ensures my safety when driving in the rain, on slippery roads. I still feel very confident using it in the rain.
Add to that the excellent hydroplaning resistance, which helps at higher speeds, and you have one of the most accomplished grand-touring all-season tires in rainy conditions.
4. Is it Good for Winter?
After the strong performance in rainy conditions, I was surprised at how bad the Assurance ComfortDrive was on deep snow.
Sure, the large sipes built into the tread blocks increase snow traction when compared to a summer tire, but that's still not enough to be competitive.
As a matter of fact, the Assurance ComfortDrive is far behind the class-leading all-season tires on snow, such as the superior Michelin CrossClimate 2 and Bridgestone Turanza QuietTrack that I have used before.
I only used the Assurance ComfortDrive a few times on the snow before I replaced it with a set of specialized winter tires (Blizzak WS90), so I have very little snow experience with this tire.
But with what I have experienced in areas with deep snow, I found that my vehicle won't accelerate as swiftly, and there will be a lot of wheel spin. On top of that, due to the lower traction, this tire won't provide you with good handling on deep snow.
However, the traction and handling on light snow surfaces are quite good. I also tested the ability to corner and brake on light snow surfaces, I found the cornering grip to be still very good, giving me the confidence I needed in case I couldn't have replaced the dedicated winter tires sooner.
Meanwhile, the braking distance on light snow is about 25% longer than with previous tires I've used, along with the ice traction being average, though in this case, most other all-season tires are bad.
All in all, this is not a tire for people that live in areas with harsh wintry conditions!
Goodyear equipped the tire with its ComfortFlex technology, which is designed to absorb impacts without sacrificing steering response. Now, we have already learned that the steering response is average, so what about comfort?
The tires have good impact absorption, and small bumps and imperfections on the road are almost imperceptible, which makes driving on longer journeys quite pleasurable, especially on the highway.
I'm really impressed with the tire comfort so far, even though I've driven over 8000 miles with it.
However, the Assurance ComfortDrive doesn't deal with potholes as well as I'd like – it produces a noisy thump. Moreover, driving on broken tarmac can cause reverberations that enter the cabin.
Meanwhile, the tread growl is barely noticeable at regular urban speeds and not an issue on the highway. Still, the Bridgestone Turanza QuietTrack is a quieter tire that I have used before.
What I want to assert here is, you will notice amazing quietness when you move on smooth pavement. And I am really satisfied with the quietness and extreme comfort that the tires bring.
You can see more Goodyear Assurance ComfortDrive review here: Video created by dannyjackhammers

Should I Buy the Goodyear Assurance ComfortDrive?
Goodyear made a lot of promises with the Assurance ComfortDrive but sadly didn't deliver on all of them. This is an excellent tire for people that live in warmer regions, as it provides excellent traction in wet and dry conditions.
However, the subpar deep snow traction and shorter treadwear warranty are significant disadvantages. Of course, you can still use them in light snow conditions
This is especially true after you compare the Assurance ComfortDrive to other premium tires, like the Continental PureContact LS, Bridgestone Turanza QuietTrack, and Michelin CrossClimate 2, all of which are comparable on wet and dry tarmac but work much better on snow. Oh, and the first two also come with longer treadwear warranties!
List of the Goodyear Tires Review