If you drive a passenger car today and need a new set of tires, tire dealers will most probably direct you toward touring or grand-touring (higher speed ratings) all-season tires. These tires provide good year-round traction, last for a heck of a long time, and drive very smoothly.
The Continental PureContact LS is a grand-touring all-season tire that belongs to the premium category, meaning it should work better than budget-oriented models in most categories. However, it also faces a stiff competition from the Bridgestone Turanza QuietTrack and the Michelin Premier A/S, both very highly-rated tires.
So, how does the Continental PureContact LS fare against its fierce competitors? Let's discuss this in our Continental PureContact LS review.
What vehicles will the Continental PureContact LS fit? According to Continental, the PureContact LS is a luxury all-season touring tire for passenger cars and crossovers. It comes in numerous sizes, ranging from 16-inch to 20-inch wheel diameter. Hence, Continental covers a large portion of vehicles on roads today, including compact cars, mid-size sedans, performance sedans, coupes, minivans, and crossovers.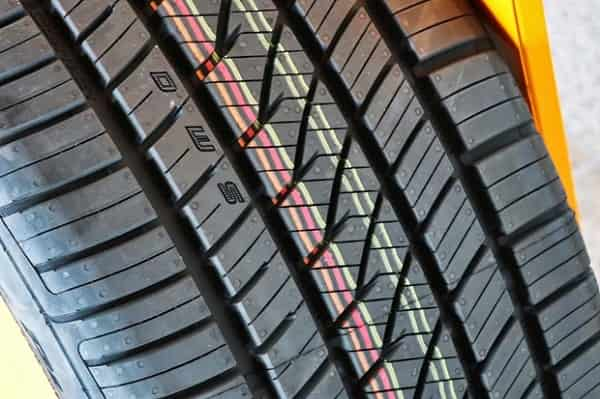 Continental employed the usual tread wear indicators in the PureContact LS. However, since these only show when you need to replace the tires, the German tire maker went even further and utilized a more granular solution – DWS letters on the tread blocks. Continental's maintenance indicators are much better than the TWIs, giving you a detailed control over the tire's treadlife.
Continental used QuickView indicators on the tire surface, so what are QuickView indicators? You can understand indicators in the tread visually inform drivers of the tire's level of performance in dry, wet, or snowy weather. The DWS QuickView indicators are truly an ingenious solution. Of the three letters, "D" is for dry, "W" is for wet, and "S" is for snow. Every letter has a different depth, with "D" being the deepest, "W" is in the middle, while "S" is the shallowest.
Therefore, when the tread wears down, the letter "S" will be the first one to fade. When the letter "S" is completely faded, it means that the tire won't be able to provide usable snow traction. However, the tire will still be safe for dry and wet roads.
Furthermore, when the letter "W" fades, it means that the tire won't provide you with safe traction in rainy conditions. Lastly, when the "D" letter fades, the tire won't be usable at all and you need to immediately replace it.
Fortunately, Continental provides a 70,000-mile treadwear warranty, which is among the best in the category.
Features and Performance of the Continental PureContact LS
Like usual, Continental employed everything it learned in the past few years in the new PureContact LS. There was a lot of R&D and tests made on this year, with an aim to beat the competition in most measurable categories. Let's go through each feature and see how it translates into real-world scenarios.
1. Handling and Steering Feel
The Continental PureContact LS has clearly been designed with the driver in mind. Namely, it's one of the most responsive grand-touring tires I've tested, with an excellent steering feel. Hence, I think it's the best solution for drivers of premium and sports sedans, who value the experience behind the wheel.
Continental achieved that excellent responsiveness using stable tread blocks in the shoulders and utilizing a single-ply polyester casing over dual steel belts, reinforced by two polyamide overlays. Now, most premium tires have the same features, but it seems Continental went with a tad stiffer sidewalls, which provide a sportier feel behind the wheel.
However, it's not all bells and whistles. The PureContact LS feels slightly dead on-center, which is good for driving on the highway, but not for attacking a series of bends.
Still, for the casual driver of a premium sports sedan, I think that there is no better tire to drive than Continental's latest grand-touring model. And, even if you don't own a premium vehicle, it's always nice to have a tire that communicates with you.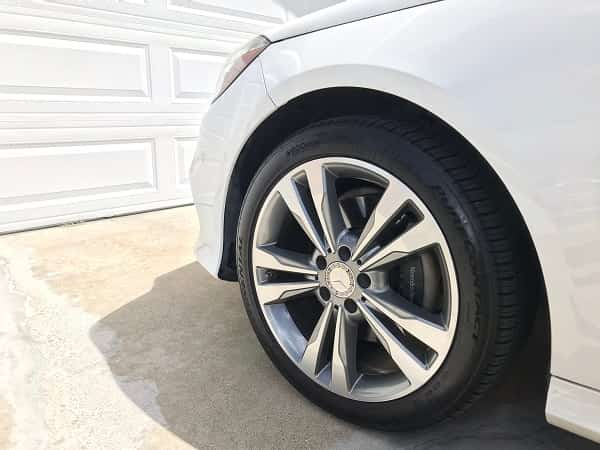 One thing that permeates through Continental's latest crop of all-season and summer tires is excellent cornering grip, and the PureContact LS is no exception. Currently, it is best in its category when it comes to cornering grip, primarily thanks to the temperature-activated functional polymers in the rubber compound. Furthermore, the asymmetric pattern with stable tread blocks further helps in improving the cornering grip.
Now, the PureContact LS is not a performance tire, so don't think about putting a set on your performance car. However, it does make a difference to driving on dry roads compared to other all-season tires. There is ample acceleration traction, even on some more powerful sedans and crossovers, and the stopping distances are among the shortest in the category. The most impressive thing is the cornering grip, though, further enhancing the driving experience.
Ultimately, if you want an experience on dry pavement closer to the one of a summer tire, this is the closest you can get. Sure, a grand-touring summer tire will be even better, but as far as all-season models go, the PureContact LS is the best. Combined with the responsive handling, this makes Continental's latest the most driver-oriented grand-touring all-season tire.
But, what about real-life wet road performance? Yes, you can be confident, because Continental has always paid attention on wet traction and in most categories, it leads the competition in that regard. The PureContact LS is no exception here. Thanks to the +Silane additives in the rubber compound and sweeping grooves in the pattern, the tire provides outstanding traction and grip in the rain.
For starters, the acceleration traction is among the best in the category, which is something that drivers usually notice first in the rain. With this tire, you won't lose traction when accelerating hard in the rain, at least not easily. Furthermore, the stopping distances are among the shortest in the category, which is very important safety-wise.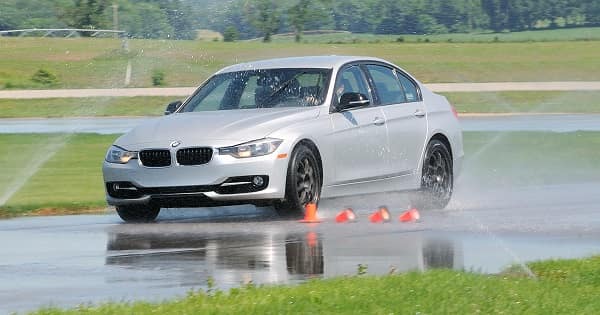 The PureContact LS is also very easy to drive in the wet and doesn't surprise you in any way. There ish only a hint of understeer when you enter a corner too fast, but no snap oversteer, which is something that every driver knows how to react to. Finally, the hydroplaning resistance is outstanding, meaning your vehicle won't lose contact with the road, even in the heaviest of rains.
Overall, the PureContact LS is among the best grand-touring all-season tires for driving in wet conditions.
All-season tires provide much better traction and grip on snow than summer tires, but they are still far from a proper winter tire. However, Continental thinks it narrowed the gap with the PureContact LS, thanks to the use of siped shoulders and intermediate tread blocks, creating biting edges for improved traction on snow and ice.
The result is somewhat of a mixed bag. The tire has best-in-class longitudinal traction on snow. Hence, it will accelerate faster than any other tire, and won't get stuck easily, but also it provides the shortest stopping distances. In that regard, it's safe to drive over light snow, but the problem is, you'll also need to turn sometimes.
When it comes to turning, the PureContact LS quickly loses the advantage it had with longitudinal traction over the competition. In the corners, the tire feels nervous and doesn't have the highest level of grip, making the drive a bit unpredictable. With this tire, you need to be careful in the corners when it snows.
Furthermore, the PureContact LS isn't exactly good on ice, both in longitudinal traction and cornering grip.
Which of course, brings me to my usual chat – winter tires are always the best solution for driving on snow and ice. Hence, if you live in areas with harsh wintry conditions, the PureContact LS won't be the best year-round choice.
Continental employed its Comfort Ride Technology in the PureContact LS, which incorporates an underlay beneath the tread that isolates the tread from the casing. This should help minimize vibrations, which not only make the ride quality suffer, but also create additional noise.
However, the result is again a mixed bag. The tire is capable of nullifying small imperfections, which you usually find on the highway, making long trips easier. However, it reacts very poorly to larger imperfections, like when you hit a pothole. Notably, there is more harshness than I would've liked, and also a louder thump than anticipated.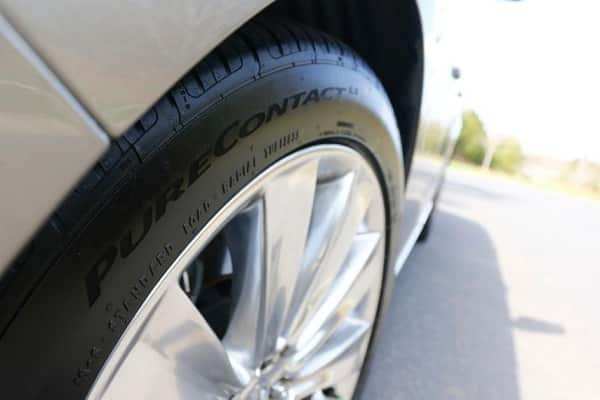 Besides, the PureContact LS isn't the quietest grand-touring all-season tire out there, which is a surprise given that Continental tires are usually good in this regard. Now, the PureContact LS isn't loud, but the tread growl is still noticeable, especially on rough patches.
Overall, the riding experience isn't bad and most passengers probably won't rebel, but still, there are better options if you want comfort, and the Bridgestone Turanza QuietTrack is one of those choices.
You can see more Continental PureContact LS review here: Video created by Frugal Tesla Guy

The Continental PureContact LS is truly an excellent tire, providing you with outstanding traction and grip on dry and wet surfaces, good traction on snow, and long treadlife. It's not perfect, though – the ride should be more comfortable and quieter.
Still, if you are ready to accept a slightly harsher ride, you'll get a best-in-class wet traction and braking, and Continental's excellent DWS QuickView maintenance indicators. Hence, you should definitely put it on your shortlist when searching for a new set of grand-touring all-season tires.
List of the Continental Tire Reviews

I'm Ivo Gievski, the content writer for Tireer. We built our website with over 15 years of experience and extensive research in the automotive and technology sectors. My dedication to delivering high-quality content is unwavering, and I strive to continuously hone my skills to stay ahead of industry trends and provide readers with informative, engaging, and valuable insights.