Touring all-season tires are by far the most popular type among customers, since they don't cost a lot of money, and last for a very long time. Besides, modern touring all-season tires provide good traction and grip on dry and wet surfaces, and a comfortable and quiet ride.
The Continental TrueContact Tour is the latest premium touring tire, meaning it should offer excellent performance across the board. Naturally, since it's a premium tire, it costs more than some budget offerings, which begs the question – is it worth it?
We have a detailed Continental TrueContact Tour review to answer that question, where we'll cover everything that's important about the tire, including grip and traction in all conditions, comfort and quietness, and longevity. Let's dig in!
Continental markets the TrueContact Tour as a long-lasting all-season touring tire for passenger cars and crossovers. The company offers its bread-and-butter model in many sizes, ranging from 15-inch to 19-inch wheel diameter. Hence, it covers a large portion of vehicles driving on the roads today, including compact cars, sedans, minivans, and crossovers.
Like any new Continental tire, the TrueContact Tour has incorporated the QuickView "DWS" indicators. These indicators are a much better solution than the usual TWIs (tread wear indicators), since they provide a more granular way of monitoring the tread depth.
The DWS QuickView indicators are truly an ingenious solution. Of the three letters, "D" is for dry, "W" is for wet, and "S" is for snow. Every letter has a different depth, with "D" being the deepest, "W" is in the middle, while "S" is the shallowest.
Hence, when the tread starts to wear down, the letter "S" will be the first one to fade, and when it's gone completely, it means you don't have reliable snow traction.
Meanwhile, when the letter "W" fades completely, the tire won't be capable of delivering safe rain traction, and finally, if the letter "D" fades, it means you should immediately replace the tires.
Fortunately, the TrueContact Tour comes with an outstanding 80,000-mile treadwear warranty for T- & H-speed rated sizes, and 70,000 miles for V-speed rated.
Features and Performance of the Continental TrueContact Tour
Continental utilized all of its proprietary technologies in the TrueContact Tour, aiming to beat its main rivals in delivering the safest and most comfortable touring all-season tire around. Let's dig deeper into all those features and then see if they make a difference in the real world.
1. Handling and Steering Feel
Responsiveness and steering feel are usually not very important in a touring tire, but they can significantly improve your faith in the tire. See, when a tire is responsive and communicates well with you, it gives you confidence and makes the drive easier.
Continental employed a single-ply polyester casing and low- to mid-apex to make the tire more responsive, and it largely succeeded. Sure, the TrueContact Tour isn't as responsive as a performance tire but compared to its closest rivals, it's among the best.
Notably, the steering feels light and responsive, and the tire communicates fairly well with the driver. The on-center feel is also very good, and the steering feels very linear.
Overall, I really liked how the TrueContact Tour felt behind the steering wheel, especially because it's a tire that doesn't have any business driving that well. Great job, Continental!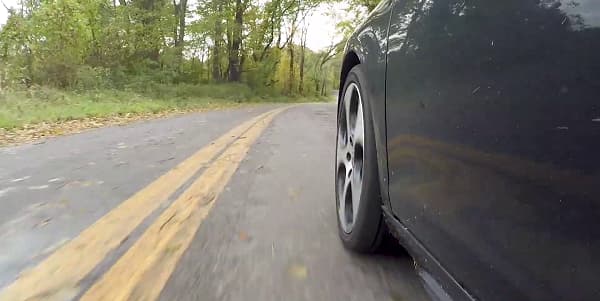 Test drive on dry pavement
The TrueContact Tour feels very good behind the wheel, but for a truly impressive performance, it needs high grip levels and longitudinal traction. Continental employed its usual rubber compound with +Silane additives, which aims to improve traction on dry and wet surfaces. So, did it succeed?
Well, when it comes to driving on dry pavement, the TrueContact Tour is slightly disappointing. It's still better than most budget touring all-season tires, but compared to other premium models, it falls slightly behind.
Particularly, the cornering grip is lower than I would've liked, meaning you can't push as hard through the corners as with other premium tires.
Besides, the TrueContact Tour can be a bit nervous at the limit, quickly losing grip and surprising the driver. That's unfortunate because the responsive nature of the tire actually encourages you to push more.
The longitudinal traction is also off the pace in the premium touring all-season category. You shouldn't have an issue with acceleration traction, which is fine for the category, but the braking distances are longer than I anticipated.
Overall, I was slightly disappointed with the TrueContact Tour, but that's because I always expect a lot from Continental's products. The tire is still very safe for on-road driving, particularly for the target audience. The only area where I would like to see improvement is braking – shorter braking distances always equal a safer ride.
In my decade-long experience with testing cars and tires, I learned that Continental tires are among the best for rainy conditions.
The German tiremaker obviously doesn't want to hand over its advantage in wet traction and grip, and apart from the tread compound with +Silane additives, it employed a specially-designed pattern that channels water out of the tread for improved hydroplaning resistance.
The result is a very safe tire for driving in wet conditions, both in light and heavy rain. For starters, the hydroplaning resistance is excellent, even when you hit a puddle of water at higher speeds. Hence, your vehicle won't lose stability on the highway in rainy conditions, something that most tires aren't capable of.
Furthermore, the TrueContact Tour feels very stable during cornering in wet conditions. The grip is excellent, and the handling feels linear and balanced.
Besides, the tire doesn't surprise you in any way – even when it loses traction, it does that by producing easy-to-correct understeer.
Finally, the TrueContact Tour has by far the shortest braking distances on wet pavement in the touring all-season category, which is crucial for a safe ride.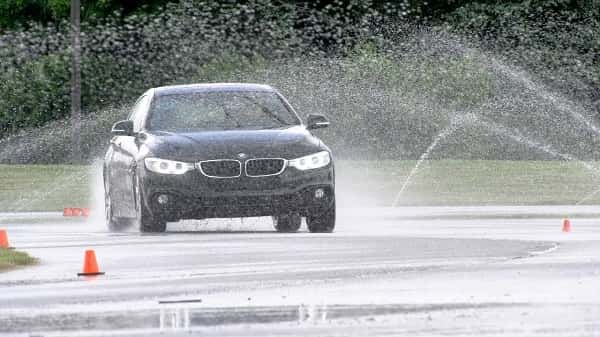 Test drive on wet pavement
Overall, it's evident that Continental focused more on wet traction with the TrueContact Tour. That's good because the grip and traction on dry roads are already suitable for a regular daily drive, and there is no need to chase best-in-class honors. At the end of the day, you should opt for performance tires for a higher cornering grip on the track.
Meanwhile, most traffic accidents usually happen in rainy conditions, making the TrueContact Tour one of the safest touring all-season tires on the market today.
Continental utilized temperature-activated functional polymers to increase grip and traction in freezing conditions, along with siped intermediate blocks and lateral notches to create more biting edges, which helps increase snow traction.
The end result is good for an all-season tire, but far from spectacular. Namely, the tire has usable longitudinal traction and surefooted handling, but only if you drive very carefully and in light snow.
The braking distances are okay at best, while deep snow is not suitable for TrueContact Tour – there is simply not enough traction. Furthermore, the tire performs slightly better in slush, but sadly doesn't work on ice.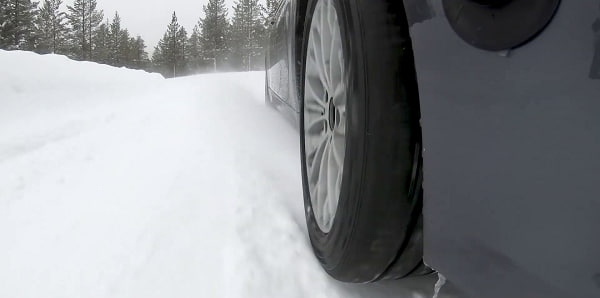 Therefore, if you live in areas with very harsh wintry conditions, the TrueContact Tour won't be your best friend. The tire is fine for light snow, but otherwise it struggles in demanding situations, like deep snow and ice. For those conditions, you should get a winter tire.
Continental employed its Comfort Ride Technology in the TrueContact Tour, which incorporates an underlay beneath the tread designed to limit the amount of noise and vibrations entering the cabin.
In most Continental tires we've tested, the technology worked quite well, but not everywhere – the PureContact LS should've been more comfortable. So, how does the TrueContact Tour fare?
For starters, the sidewall isn't very soft, which makes the ride somewhat stiffer. However, in this case, that's actually good. Namely, when you hit a bump with the TrueContact Tour, it produces a deep thump, but it doesn't produce a lot of vibrations. Hence, it feels more sophisticated than other touring all-season tires. Besides, after it hits the bump, the tire quickly settles down, making the overall ride quality very good indeed.
And if that wasn't impressive enough, the TrueContact Tour is among the quietest touring tires out there. On smooth surfaces, you can't even hear the tires – the wind noise on most vehicles will be a bigger issue. The tire continues to impress on rough pavement, where it only produces a slight tread noise, with every competitor we tested being louder.
Overall, if you care about a smooth and quiet ride, the TrueContact Tour is perhaps the best touring all-season tire. It irons out bumps with a sophistication that many tires lack, and you can't even hear it during a daily drive. Therefore, it is highly recommended for drivers covering a lot of miles annually.
You can see more Continental TrueContact Tour review here: Video created by Campus Automotive Inc

Should I buy the Continental TrueContact Tour? – That is the question of many drivers. The Continental TrueContact Tour isn't a tire without its faults. Namely, I expected better grip and traction on dry tarmac, an area where its direct competitors are clearly better.
However, the TrueContact Tour completely turns things around in wet conditions, where it feels more stable and stops better than any other competitor. It's also very quiet and comfortable, and should last you for at least five years.
Hence, given that the shortcomings on the dry tarmac are only measurable on the track, I have no hesitation to recommend the TrueContact Tour to anyone searching for a capable ​all-round tire.
List of the Continental Tire Reviews

I'm Ivo Gievski, the content writer for Tireer. We built our website with over 15 years of experience and extensive research in the automotive and technology sectors. My dedication to delivering high-quality content is unwavering, and I strive to continuously hone my skills to stay ahead of industry trends and provide readers with informative, engaging, and valuable insights.