Although safety should always be the number one priority when purchasing new tires, buyers are still mostly attracted by value. And when it comes to tires, value is the ratio between the price and treadlife.
In other words, the longer a tire lasts, the less frequently you'd need to replace it; hence you'd get higher value from it.
The Pirelli P4 Four Seasons Plus isn't a particularly cheap tire, but that's understandable since it comes from a premium manufacturer. It does promise exceptional longevity, though – Pirelli provides a 90,000-mile treadwear warranty on every size.
Still, should you buy it? To answer that question, I covered every aspect of the tire in my in-depth Pirelli P4 Four Seasons Plus review; make sure you don't miss the specifics, as they are crucial here. Let's dig in!
The Pirelli P4 Four Seasons Plus is a touring all-season tire designed to fit compact cars, mid-size sedans, minivans, crossovers, and even some coupes.
It comes in 23 sizes, ranging from 14-inch to 17-inch wheel diameter, so it's designed for the economy versions of those vehicles.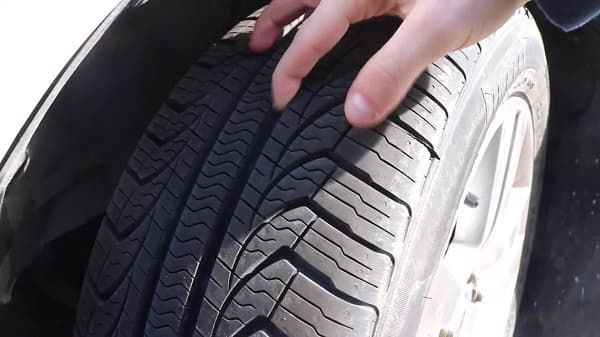 Like most tiremakers, Pirelli utilized the industry-standard TWIs (tread wear indicators) to provide the driver with means to monitor the tread depth.
However, these can only show you when you need to replace the tires, and I'm not a big fan of them.
Notably, the Continental TrueContact Tour features the brand's QuickView indicators, which provide a more granular way of showing you the tread depth left.
The TWIs are narrow rubber bars that sit recessed in the circumferential grooves of the tire. You can easily notice them, as they are protruding from the bottom of the openings.
Specifically, the TWIs are 2/32-inch higher from the bottom. Hence, when the tread of your tire reaches 2/32-inch depth, the indicators will be flush with the surface.
When that happens, you should immediately replace the tire, as it won't be able to provide you with safe wet traction anymore.
And if you plan on using them in the winter, make sure they have at least 5/32-inch of tread depth; you'd need a tread depth gauge for that, or you can ask your tire technician.
Fortunately, the P4 Four Seasons Plus is the most durable tire on the market when it comes to treadlife, so you won't need to check your tread depth, probably ever.
Pirelli also provides a class-leading treadwear warranty of 90,000 miles, which, when you think about it, is mind-blowing.
Features and Performance of the Pirelli P4 Four Seasons Plus
The P4 Four Seasons Plus is Pirelli's cheapest tire, and as such, it's mostly focused on buyers searching for high value for money.
In particular, Pirelli worked on delivering excellent durability and fuel economy while also providing good year-round traction.
Did it succeed, though? Let's comb through the features and see if they make a difference in the real world.
Since the Pirelli P4 Four Seasons Plus is a regular passenger touring tire, I wasn't expecting much when I attacked the first few corners.
To my surprise, though, the tire delivers a quite good grip, and traction – much better than its moniker would suggest.
Sure, it's not sporty, but for the category, it works completely fine. The cornering grip is sufficient for almost every driver, and the stopping distances are fairly short.
Furthermore, the tire holds itself well at higher speeds, providing the driver with stability and excellent straight-line tracking.
Currently, few touring all-season tires work better on dry roads than the P4 Four Seasons Plus. It seems like Pirelli has mastered the drivability with its P Zero and Cinturato family of tires, and it's good to see it tinkering down to its least expensive tire.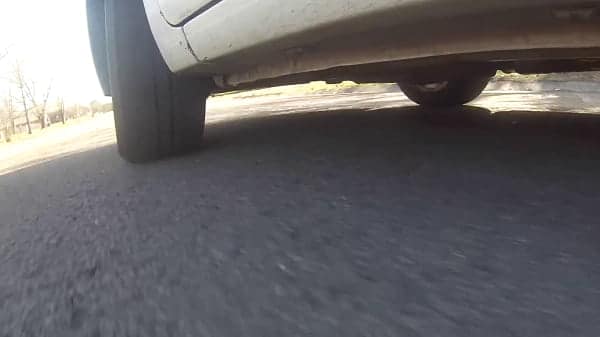 2. Handling and Steering Feel
Steering feel isn't something that most drivers think about when purchasing new tires, but it can really make or break the driving experience.
In this case, it kinda "makes" the driving experience. The responsiveness is good for a touring tire, and the steering feels linear through the corner.
There is not much feel through the wheel, but that's the case with every other touring tire I've experienced, so it's not a big deal.
What's more important is that the P4 Four Seasons Plus is precise and lets you place the wheels where you want.
3. Wet Grip, Traction, and Braking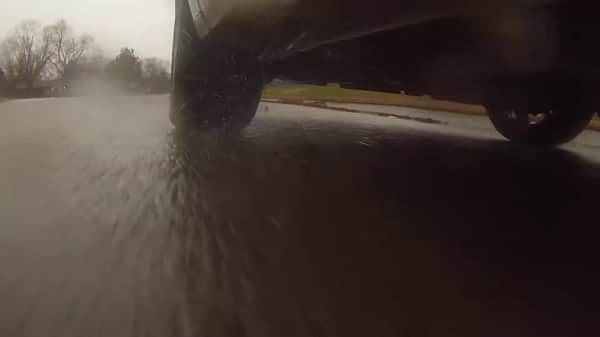 Pirelli utilized an advanced silica-rich tread compound for the P4 Four Seasons Plus, aiming to reduce the rolling resistance while also improving traction in rainy and snowy conditions.
Furthermore, the tire features two central circumferential grooves and a lot of variable-angle lateral grooves, all helping with water evacuation and reducing the risk of hydroplaning.
So, the result must be a very capable rain tire, right? Well, not so much. See, in the quest for lowering the rolling resistance and improving treadlife, Pirelli seems to have forgotten about rainy conditions.
The P4 Four Seasons Plus isn't unsafe for driving on wet tarmac, but it's far from the class-leading tires, such as the Continental TrueContact Tour, Michelin Defender T+H, and the Hankook Kinergy PT. It seems like the four circumferential grooves on those tires do make a difference.
Notably, the cornering grip is lower than the main competition, and this is something you can easily feel on public roads. Push your vehicle through the corners, and the back end will immediately lose traction, creating understeer. The longitudinal traction is also sub-par, meaning the driven wheels will slip if you accelerate hard.
However, the single worse performance of the P4 Four Seasons Plus is the wet braking. It needs from 2-30 feet more to stop from 60-0 mph in rainy conditions, which is simply unacceptable.
I know that the Italian tiremaker wanted to score on the buyer's appetite for super-durable tires but won't support them doing that if it's at the expense of wet traction.
Car accidents mostly happen when it rains, and we need safer, not less-safe, tires.
4. How Does it Work on Snow and Ice?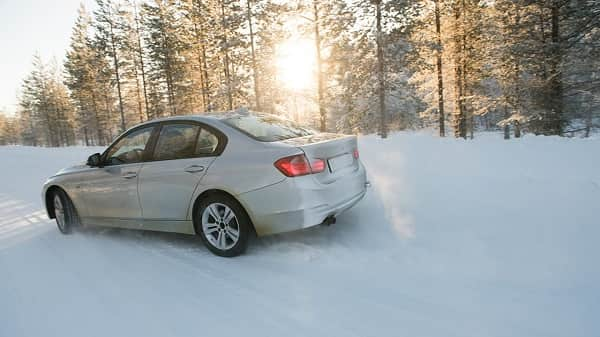 Regular all-season tires aren't designed for harsh wintry conditions, yet drivers still think they are.
I partly blame tiremakers for not communicating this properly, but also many tire review publications that don't understand what is an all-season tire in the first place.
Hence, you shouldn't expect miracles from the P4 Four Seasons Plus on deep snow and ice.
Still, Pirelli's touring all-season tire is actually better than most competitors on light snow, which surprised me a bit since it isn't that good on wet tarmac.
Notably, it provides usable traction, handles cornering well, and stops sooner than most all-season tires.
Regardless of that, if you live in an area with very harsh wintry conditions, you should really be going with a proper set of winter tires.
Or, if you live in areas with milder winters but still snowy ones, I recommend going for all-weather tires. These are a winter-focused version of all-season tires that sacrifice dry for snow traction.
People often associate ride comfort with softness, and understandably so.
However, soft suspension and tires can create an unsettled ride on choppy surfaces, making you feel the vibrations from the road.
In my eyes, a tire with good ride quality should provide a composed ride, meaning it should eat smaller and larger imperfections without producing harshness and vibrations.
Pirelli used an optimized casing profile on the P4 Four Seasons Plus, aiming to provide a mix of ride quality, responsiveness, and durability.
And it did just that – this is one of the most comfortable tires around, with the qualities that I just described.
With this touring all-season tire, you get a very composed ride on every type of surface, with little to no harshness and vibrations. It's currently among the most comfortable tires on the market.
However, the P4 Four Seasons Plus isn't as good in terms of noise. It's not loud, even at highway speeds, but you can definitely hear the tread growl as it cuts through the wind noise easily.
Now, many competitors I've tried are even worse, but there is no hiding the fact that some are also better.
Overall, though, Pirelli's touring all-season tire provides a refined driving experience and is a great companion on long trips.
You can see more Pirelli P4 Four Seasons Plus review here: Video created by PirelliNorthAmerica

Should I Buy the Pirelli P4 Four Seasons Plus?
The Pirelli P4 Four Seasons Plus and its 90,000-mile treadwear warranty are a very enticing option.
I mean, you are still buying a tire from a reputable premium manufacturer, right? Yes, you are, but this time, the Italian tiremaker didn't do its job properly.
In the quest to create the most durable tire in the category, Pirelli forgot about the basics. In my book, every tire, except for track-focused summer tires, should work flawlessly on wet tarmac.
The P4 Four Seasons Plus isn't bad in that regard, but for how much money you pay, it should've been much better. Put simply, the competition is leaps and bounds better.
It's a shame because the P4 Four Seasons Plus is otherwise a very likable tire. It rides very well over any type of surface, handles dry roads very well, and even works over light snow. Still, that's not enough for a recommendation from my side.
What vehicles will the Pirelli P4 Four Seasons Plus tire be suitable for?
Below is a list of some popular vehicles, however this is not a complete list.
Acura ILX, TSX, RDX, RSX, TLX, TL, EL, CL
Audi A3, A4, A6, A8, TT, Audi 100
BMW 128i, 325Ci, 328i, 330i, 530i, 535i, X1
Buick Regal, Verano, LaCrosse, Allure, Reatta, Skylark, Rendezvous
Chevrolet Monte Carlo, Cobalt, Bolt, Sonic, Cruze, Malibu, Impala, Camaro, Orlando
Chrysler PT Cruiser, Concorde, Sebring, 200, Laser, Daytona, LeBaron
Dodge Avenger, Dart, Intrepid, Shadow, Stratus, Daytona, Caliber
Ford Focus, Fusion, Transit, Escort, EcoSport, Taurus, Mustang, Crown Victoria
Honda S2000, Civic, Accord, Odyssey, HR-V
Hyundai Elantra, Sonata, Genesis, Accent
Infiniti G25, G35, G37, I30, Q45, Q50
Kia Spectra, Forte, Soul, Optima, Magentis, Niro, Rondo
Lincoln MKZ, Zephyr, Town Car, Continental
Mazda 3, Mazda5, Mazda 6, Mazda Millenia, MX-6, CX-3, MPV, RX-7
Mercedes-Benz E300, CL500, Metris, S500, C240, C280
Mini Cooper Countryman, Clubman
Mitsubishi Eclipse, Gallant, Lancer, Diamante
Nissan Cube, Leaf, Sentra, Maxima, Altima, Rogue, Versa, 350Z
Scion tC Spec, xB
Subaru Crosstrek, Legacy, Matrix, Forester, Outback, Impreza
Toyota Matrix, Corolla, Camry, Sienna, Prius, Solara, Avalon
Volkswagen EuroVan, Beetle, Jetta, Golf, Passat, Arteon SE
Volvo S60, S70, S80, V40, V60, V70
List of the Pirelli Tires Review

I'm Ivo Gievski, the content writer for Tireer. We built our website with over 15 years of experience and extensive research in the automotive and technology sectors. My dedication to delivering high-quality content is unwavering, and I strive to continuously hone my skills to stay ahead of industry trends and provide readers with informative, engaging, and valuable insights.