All-season touring tires are by far the most popular type in North America because they offer a blend of durability, comfort, and year-round traction.
However, you can also say that they are "jack of all trades, master of none" tires, and you'd be right.
Still, for the majority of North American drivers, a "master of none" tire is good enough.
The thing is, most all-season touring tires aren't even "jack of all trades" and suffer in major categories. This begs the question – will paying more give you a tire that works well across the board?
Let's find that out in my in-depth Michelin Defender T+H review, after my tests!
The Defender T+H is available in numerous sizes, ranging from 15-inch to 18-inch wheel diameter.
With the dimensions on offer, Michelin covers a large variety of cars, including compact hatchbacks/sedans, mid-size sedans, coupes, minivans, and even some crossovers.
Unfortunately, Michelin didn't equip the Defender T+H with a modern take on the industry-standard TWIs (tread wear indicators).
Some manufacturers, like Cooper and Continental, provide the owner with a much more granular way of monitoring tread depth.
Meanwhile, the Defender T+H can only show you when you need to replace it, i.e., when the tread depth reaches 2/32 inches.
On the bright side, you won't need to monitor these tires regularly, as the treadlife is among the best in the category (in Michelin's in-house tests, it's the best).
In my real test, I used these tires 8000 miles before I did this review, and from my observations of tire wear, they don't disappoint me in this regard, based on wear so far.
The manufacturer also provides an 80,000-mile treadwear warranty, which is exceptional, though not class-leading anymore – the Goodyear Assurance MaxLife and Yokohama Avid Ascend LX come with an 85,000-mile warranty.
Features and Performance of the Michelin Defender T+H
The Michelin Defender T+H is the brand's most durable tire, thanks to the brand's MaxTouch Construction technology that evenly distributes the forces for even wear and long-lasting dependability.
However, Michelin also made sure the tire performs well in a variety of conditions – not surprising given its pedigree.
So, let's have a look at all those features and see if they made a difference in the real world.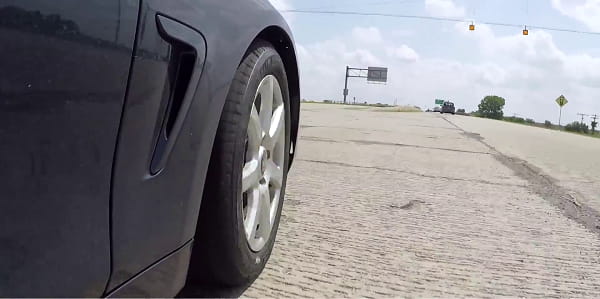 All-season touring tires aren't designed with dry grip and traction in mind; instead, manufacturers consciously sacrifice dry grip to improve the tire in other areas, like, for example, treadlife.
Nonetheless, this is Michelin we are talking about here – the French tiremaker knows a thing or two about developing tires that work excellently in various conditions.
Hence, Michelin equipped the Defender T+H with its IntelliSipe technology that features interlocking sipes, which ensure the tread remains rigid and stable, crucial for improving dry handling.
As a result, this is a very capable dry tire, something I didn't believe I would say about an all-season touring tire. But, if there was one, it would've always been a Michelin.
And my testing has proven just that, the Defender T+H has excellent longitudinal traction, meaning you'll never have issues with wheel slippage when accelerating.
This also means that the braking distances will be very short – among the shortest in the category.
Even more impressively, the Defender T+H is quite stable in the corners, providing surefooted handling that's unusual for an all-season touring tire. The highway stability is also top-notch, just like you'd expect from a Michelin tire.
Now, it's always important to stress out that the Defender T+H isn't a performance tire.
So, even though I praised it for its overall dry performance, it was relative to its category; this tire is better than most of its competitors in every measurable metric, but of course, won't hold a candle to its all-season performance peers, like the Michelin Pilot Sport All Season 4, or any performance tire for that matter.
Therefore, if you own a faster car, like a performance sedan or coupe, I'd recommend going for a set of performance tires.
2. Handling and Steering Feel
Although the Defender T+H was designed with comfort and durability in mind, it's still a fairly responsive tire relative to its category.
I was actually impressed by how communicative it was, a treat that's unusual for an all-season touring tire.
It also reacted quickly to the steering input and did it in a very linear and organic way.
However, it's not all roses, as the straight-line tracking and on-center feel aren't particularly good. You'll need to constantly make minor corrections with the steering wheel to keep your vehicle in line on the highway, which is certainly not desirable.
Still, I can think of a dozen all-season touring tires that are worse in this regard and only a few that are better, making it less of a big deal than it is.
Besides, if you want a good on-center feel, you would need to upgrade to performance tires.
3. Wet Grip, Traction, and Braking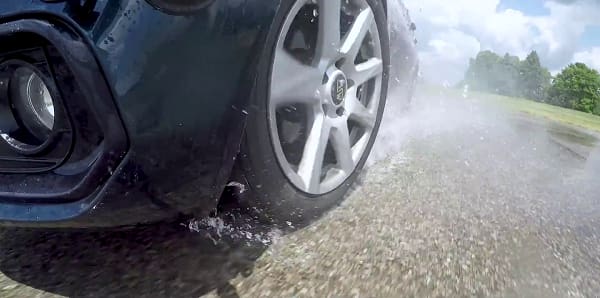 Michelin tires have always impressed with wet traction, and the Defender T+H is not an exception to that rule.
This is not surprising, as the manufacturer equipped it with an advanced all-season tread compound with high-silica content, which helps the tire stick to the road better in rainy conditions.
Furthermore, the tread pattern features four circumferential grooves and lateral notches to reduce the risk of hydroplaning. As a result, I didn't find any hydroplaning issues – the tire cuts through big puddles of water with ease and keeps your vehicle stable, even at higher speeds.
As for the overall wet traction, it is among the best in the category.
Just like in dry weather, you won't experience wheel slip during hard acceleration, and the braking distances will be among the shortest in the category.
What impressed me even more, is the way the Defender T+H handles through the corners.
Most all-season touring tires, I tried to feel a bit unstable during hard cornering in the rain, but not the Defender T+H, which feels surefooted and easy to control.
The tire is also great at quick obstacle avoidance, making it one of the safest all-season touring tires in rainy conditions.
4. Is it Good for Winter?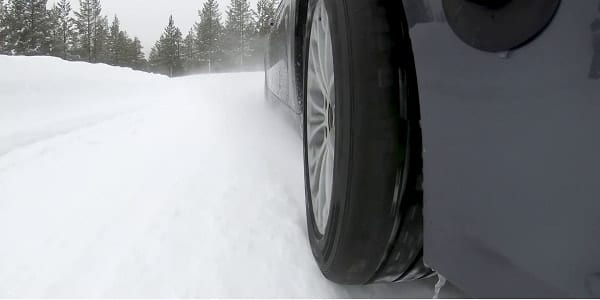 All-season touring tires are designed to offer some traction over light snow, but they are still miles behind proper winter tires in wintry conditions.
So, even though the Defender T+H has all the necessary bits to provide you with solid traction over light snow, I'd recommend a set of winter tires for people that live in areas with harsh winters.
Still, the Defender T+H has zig-zag sipes across many independent tread blocks, providing it with biting edges.
And according to our snow road test, the light-snow traction is among the best in the category, i.e., you won't get stuck.
The braking distances are also reasonably short relative to the category. I was also able to keep the vehicle in the driving lane easily, although while driving slower than I would with a set of winter tires.
Like with any other all-season touring tire, the Defender T+H struggles in deep unpacked snow and won't provide you with good traction on ice-covered roads.
One of the main characteristics of a good touring tire is low noise and smooth ride quality. Michelin knew this and utilized its Comfort Control Technology to ensure the tire deals with bumps well and doesn't produce a lot of noise.
And my testing has proven just that, the Defender T+H is a very comfortable tire, thanks to its softer nature.
It deals with smaller and larger imperfections very well, without producing lots of vibrations or the harshness associated with some cheaper touring all-season tires.
However, due to its softer nature, the tire loses composure over repetitive impacts, as it doesn't settle down quickly after the impact. A minor issue but noticeable if you search for it.
You can also find the tread growl if you search for it, but in most cases, the engine and wind noise will exceed Defender T+H's noise.
Overall, I'd say that this is one of the quietest tires in its category, an impressive feat considering it performs so well in all other areas.
You can see more Michelin Defender T+H review here: Video created by Tire Rack

Should I Buy the Michelin Defender T+H?
Surprise surprise – Michelin again did a great job with one of its tires. After a decade of testing various tires, I'm yet to find a Michelin product that doesn't work as advertised.
The Defender T+H is an excellent tire every way you look at it, and I'm sure it will satisfy the needs of most drivers out there.
It works well in dry and rainy conditions, it provides solid traction over light snow, it is reasonably smooth, and it is among the longest-lasting tires in the industry.
The only problem is that it's also one of the most expensive all-season touring tires around, meaning not all drivers can afford a set.
Still, if you have the budget, I'd say you should put the Defender T+H on your shortlist!
List of the Michelin Tires Review

I'm Ivo Gievski, the content writer for Tireer. We built our website with over 15 years of experience and extensive research in the automotive and technology sectors. My dedication to delivering high-quality content is unwavering, and I strive to continuously hone my skills to stay ahead of industry trends and provide readers with informative, engaging, and valuable insights.