Kumho isn't a brand that's very popular among off-road enthusiasts, but the Korean company does everything in its power to change that.
A great example of its latest push into the all-terrain category is the Road Venture AT51, an all-terrain tire with a fairly aggressive tread pattern and tough construction.
The tire is quite attractive on the outside and won't look out of place on SUVs like the Jeep Wrangler and Ford Bronco.
It's also not very expensive when compared to other premium offerings. But is it any good? Let's find out in our detailed Kumho Road Venture AT51 review!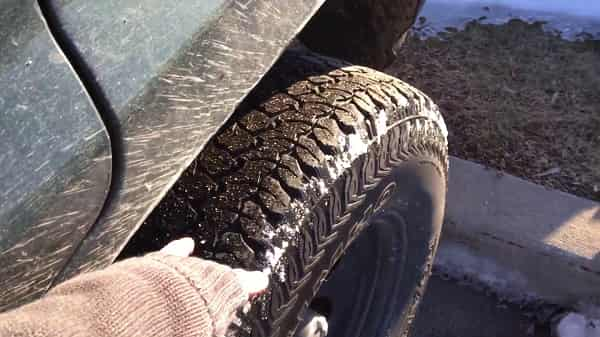 The Kumho Road Venture AT51 is an all-season all-terrain tire designed for owners of SUVs and trucks that want elevated off-road traction without sacrificing on-road comfort and performance much. It is available in numerous sizes, ranging from 15-inch to 20-inch wheel diameter.
The tire is also available in 30-inch, 32-inch, 33-inch, and 35-inch versions, meaning owners of lifted trucks will also find a suitable size.
Lastly, the Road Venture AT51 is available in regular sizes for lighter-duty SUVs and trucks and LT-metric sizes for heavy-duty SUVs and trucks.
Kumho employed the regular TWIs (tread wear indicators) in the tread grooves of the Road Venture AT51. These narrow rubber bars help the owner monitor the tread left on the tire and are an industry standard.
However, they don't offer granular control and only tell you when you need to replace the tires. Some manufacturers, like Continental, offer more granular control over the tread depth, which is, of course, preferable.
I would love to see such indicators in more all-terrain tires; for example, maybe manufacturers can employ letters that tell when the tire is not usable in mud, dirt, or gravel?
Meanwhile, the TWIs are mostly related to on-road safety and have nothing to do with off-roading. They sit 2/32-inch higher than the bottom of the grooves of the tire, meaning they will be flush with the rest of the tread when it's 2/32-inch.
At that point, it is considered that the tire isn't safe for driving on wet roads and needs an immediate replacement. It's also not legal to drive with less than 2/32-inch tread depth in some places.
Naturally, since the Road Venture AT51 is an all-terrain tire, you might want to replace it sooner if you want to retain the off-road traction, particularly for slippery terrains.
Fortunately, Kumho designed a very durable tire here. Most owners report excellent treadlife, both when driving on the highway and for off-roading. Kumho also provides a 55,000-mile treadwear warranty, but only on Euro and P-metric sizes.
Meanwhile, LT-metric dimensions don't get any warranty, which is a shame, especially since most of the competitors come with one.
For instance, the super-popular BF Goodrich All-Terrain T/A KO2 comes with a 50,000-mile treadwear warranty on all sizes, while the Continental TerrainContact A/T and Michelin LTX A/T2 come with a 60,000-mile warranty on all sizes.
Features and Performance of the Kumho Road Venture AT51
Looking at the Road Venture AT51's tread pattern, it's obvious that Kumho took its time designing the tire. The tread pattern looks fairly aggressive, with specially designed shoulders for increased off-road traction and improved stone retention.
The tire looks quite attractive, especially on lifted trucks and off-roaders like the Jeep Wrangler, Ford Bronco, and Toyota Tacoma.
Kumho rates the Road Venture AT51 as a 70% road and 30% off-road tire, meaning it's more aggressive than the Continental TerrainContact A/T and Michelin LTX A/T2 but less aggressive than tires like the BF Goodrich All-Terrain T/A KO2.
Still, we think that the aggressiveness Kumho chose is great for most people, especially overlanders and campers.
However, the real question is – does the Road Venture AT51 perform as advertised? Let's have a look at its features and see if they make a difference in the real world.
1. Off-Road Traction and Durability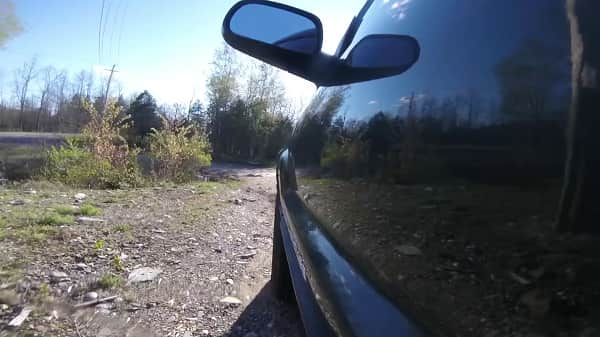 Kumho utilized full-depth circumferential zig-zag grooves on the Road Venture AT51, along with multiple lateral grooves and sipes.
All of these provide better traction on uneven terrains, like dirt, gravel, mud, and turf, but also help on wet tarmac.
Furthermore, the tire features a dual-pitch center block for improved off-road traction and enhanced stiffness.
There are also stone-ejector bars on board, along with a robust belt design (high-stiffness cap ply and bead wrapping) and cut-and-chip-resistant tread for added toughness and durability.
It's about technology, what about reality? The car we tested was the 2000 Jeep Grand Cherokee Laredo. We spent a sunny weekend morning testing the tires on a trail on the outskirts of the city.
And we found that the Kumho Road Venture AT51 is currently among the most capable all-terrain tires for off-roading. It provides outstanding traction on hardpacked surfaces, such as gravel and dirt, with stable cornering and excellent braking. Besides, you won't need to worry about damaging the tire.
Unlike some mild all-terrain tires, though, the Road Venture AT51 provides traction on turf and over large rocks, and it even works in shallow mud. Deep mud will be an issue, sure, but that's the case with most, if not every, all-terrain tire out there.
Overall, I was very impressed with the off-road abilities of the tire. It provides ample traction on most surfaces that you regularly encounter, while the tough casing takes care of the durability part.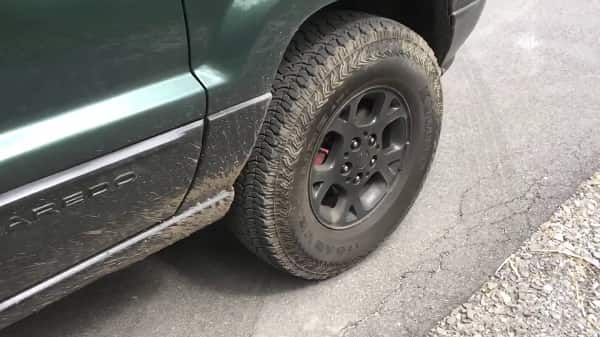 What about on dry tarmac? Well, Kumho didn't only focus on off-roading – it also made sure the tire works well on paved roads.
Hence, it utilized a dual silica tread compound with excellent heat dispersal properties, improving grip and traction in all weather conditions.
And my testing has proven just that, the Road Venture AT51 drives fairly well on the dry tarmac. The longitudinal traction is excellent, with good acceleration and short braking distances.
Even more importantly, it corners very well, with a good grip throughout.
All of this is especially impressive when you consider that the tread pattern is fairly aggressive, with a large void area.
Of course, mild all-terrain tires like the Continental TerrainContact A/T and Michelin LTX A/T2 will be better on paved roads but at the expense of much worse off-road traction.
3. Handling and Steering Feel
Steering response and feel are not usually important to owners of trucks and SUVs.
However, they can make a difference and are connected to safety since they boost the driver's confidence.
The Road Venture AT51 features Kumho's ESCOT Casing Technology, which should help with steering response.
And in this case, it does make a difference. As far as more aggressive all-terrain tires go, this one is among the most direct, with a good on-center feel and linear responsiveness.
Sure, a highway tire will be much more responsive, but that's the case with any other all-terrain rubber.
4. Wet Grip, Traction, and Braking
When it comes to wet performance, Kumho employed full-depth circumferential grooves, aiming to counter hydroplaning.
The tire also has a large void area and very deep grooves overall, further helping with hydroplaning resistance.
At the end of the day, heavy rain came as we were on our way back home. The rain came at the right time so I was able to test the grip and traction of the tires on wet road surfaces.
According to our wet road test, the Road Venture AT51 won't lose contact with the road, even when you drive through puddles of water.
Moreover, this helps for off-roading, particularly when you need to cross some stream.
However, this doesn't tell the whole story. Although it resists hydroplaning very well, the tire doesn't provide very high levels of traction.
Even worse, the stopping distances are longer, and the cornering grip is lower than on most competitors. Push it too hard, and the tires quickly go into oversteer, which is not something you'd want.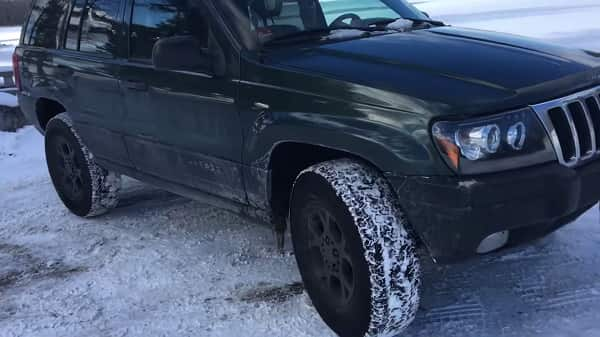 Is it suitable for driving on snow and ice? For drivers who often live in snowy areas, they will always be interested in this.
Well, the Kumho Road Venture AT51 meets the 3PMSF (Three-Peak Mountain Snow Flake) standard, meaning it provides better longitudinal traction on snow than regular M+S tires.
However, this only applies to acceleration traction and doesn't cover braking or cornering.
I had the opportunity to test the tires in the snow when I went to Moscow, Idaho. I encountered a light snow surface for about 20 miles during the journey.
And fortunately, the tires provide good overall performance on light snow, with very good traction and very short braking distance.
Nonetheless, when I was about 10 miles away from my destination, I encountered some sections of the road with heavier snow, I didn't go down to measure the depth directly, but with the tire tracks left, I guess the snow depth is about 4 to 5 inches.
As I drive through these roads, the traction on packed snow quickly deteriorates, I had to slow down so I could handle it better.
Icy surfaces are a no-go for the Road Venture AT51 due to a serious lack of traction.
This, of course, means that you should purchase a set of winter tires if you live in areas with harsh wintry conditions. These tires work much better on packed snow and ice and are generally better in chilly weather.
Kumho used jointless bead bundles and a two-ply polyester cord body, which should make a big difference in ride quality.
And, indeed, the Road Venture AT51 rides well over bumps. It's not overly soft, but that's okay since soft tires usually produce too many secondary movements.
Particularly, it drives over undulations with authority, producing fewer vibrations than other all-terrain tires.
This also helps with noise. The Road Venture AT51 isn't as quiet as a highway tire, but it isn't very noisy, either.
Considering the tread pattern, I was pleasantly surprised with the amount of tread growl on the highway.
You can see more Kumho Road Venture AT51 review here: Video created by On The Dirt

Should I Buy the Kumho Road Venture AT51?
The Kumho Road Venture AT51 is almost a perfect all-terrain tire – it works well on the tarmac and for off-roading.
It's especially good for the latter, where it provides traction levels on par with the best tires in its category.
The traction and grip in wet conditions are less than stellar, although I wouldn't say bad.
Hence, I have no qualms recommending the Road Venture AT51 for SUV or truck owners that want a truly capable all-terrain tire.
List of the Kumho Tire Reviews

I'm Ivo Gievski, the content writer for Tireer. We built our website with over 15 years of experience and extensive research in the automotive and technology sectors. My dedication to delivering high-quality content is unwavering, and I strive to continuously hone my skills to stay ahead of industry trends and provide readers with informative, engaging, and valuable insights.