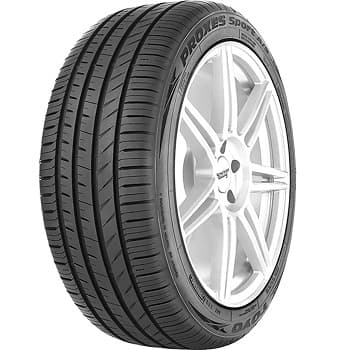 So, you own a performance car, but you are fed up with how often you replace your summer performance tires?
Trust me; I've also been there. Now, don't get me wrong, a summer tread compound will always provide you with the best possible grip and traction and will extract the best from your sports car. But do you really need all that cornering grip for regular daily drives?
This is where ultra-high-performance all-season tires come into play. At first, you might be thinking – hey, but they are designed for people that want a dependable year-round solution, and you'd be right.
However, I reckon these tires are also great for enthusiasts that want a long-lasting solution that won't break the bank without sacrificing too much in terms of performance, at least for driving on public roads.
In other words, you won't need to use the Proxes Sport A/S in the winter to get the most out of them.
The Toyo Proxes Sport A/S is exactly the tire that promises all of those things. The Japanese tiremaker, which by the way, is very popular within the enthusiast community, focused on delivering its signature driving experience while also providing durability and year-round traction.
Besides, like with most of its products, Toyo offers the Proxes Sport A/S at a lower price point than the premium competition from Bridgestone, Michelin, Goodyear, and Continental.
But is the Proxes Sport A/S really the answer to your needs? Well, like with most things in life, nothing is perfect for everyone.
Still, Toyo's ultra-high-performance all-season tire does have a lot of strengths, making it a viable option.
What are those strengths, you ask? Well, to find out, you'll need to read through my full Toyo Proxes Sport A/S review, where I'll cover every aspect of the tire. So, without further ado, let's shred some rubber!
According to Toyo, the Proxes Sport A/S is an ultra-high-performance all-season tire designed for excellent dry and wet braking. The tire comes in numerous popular sizes, ranging from 16-inch to 22-inch wheel diameter.
Hence, it covers most sporty compact cars and mid-size sedans, but also performance and executive sedans and performance crossovers/SUVs.
The Proxes Sport A/S sits above the Extensa H/P II in Toyo's portfolio, with the latter branded as a high-performance all-season tire.
Toyo is actually one of the few manufacturers that offers both high-performance and ultra-high-performance tires with all-season tread compounds, meaning it's serious about delivering year-round performance.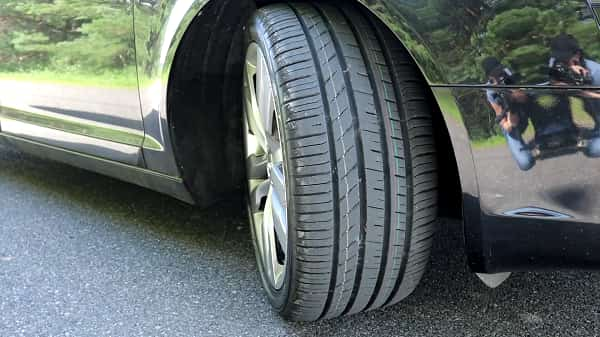 Toyo also puts a lot of importance on durability, which includes helping the driver monitor the tread depth left. Particularly, the tiremaker implemented Alignment Wear Indicators, which can show if the tire wears irregularly.
These indicators are important on performance vehicles because drivers often put a lot of stress on the suspension by spirited driving, which can cause irregular tire wear.
On top of that, the Proxes Sport A/S also comes with the industry-standard TWIs (tread wear indicators), which are also crucial for monitoring how much tread is left on the tire.
The TWIs are narrow rubber bars that sit recessed into the tread of the tire. They sit precisely 2/32-inch higher than the bottom of the grooves, meaning when the tread depth comes to that number, the bars will be flush with the surface.
This is very important for road safety since it's directly related to wet traction. Without sufficient tread depth, the tire can't disperse enough water, which can destabilize your vehicle and make the stopping distances much longer.
It's also not legal in some places to drive with tires that have less than 2/32-inch of tread depth left.
However, since the Proxes Sport A/S is an all-season tire, you should replace it long before it comes to that point if you plan on using it during the winter.
As a general rule of thumb, you should attack the winter with a 5/32-inch tread depth left.
Fortunately, you won't need to think about these issues in the first 2-3 years of owning the tire since it has an excellent treadlife.
Although it's a new model, owners don't report accelerated tread wear and are generally satisfied with the durability.
Besides, Toyo offers a 50,000-mile treadwear warranty for V- and -W-speed-rated models and a 40,000-mile treadwear warranty for Y-rated models.
Features and Performance of the Toyo Proxes Sport A/S
The Proxes Sport A/S is the newest tire from Toyo, and subsequently, it features some of the latest technologies from the brand.
The tread pattern is also all-new for 2020, looking modern and sporty. With that said, let's comb through each feature individually and see if it makes a difference in the real world.
1. Handling and Steering Feel
One of the most important aspects of any performance tire is how it feels behind the steering wheel. To that end, Toyo employed a stiffer sidewall and a fairly large contact area for an all-season tire.
As a result, the Proxes Sport A/S is a very responsive tire, on par with the leaders in the category.
Notably, the front tires feel alert and change direction quickly, doing it in a very linear way.
I was also surprised by the amount of feedback I received through the steering wheel, especially when the car was mid-corner. This behavior is important when you drive at the limit, as you can react more quickly to those inputs.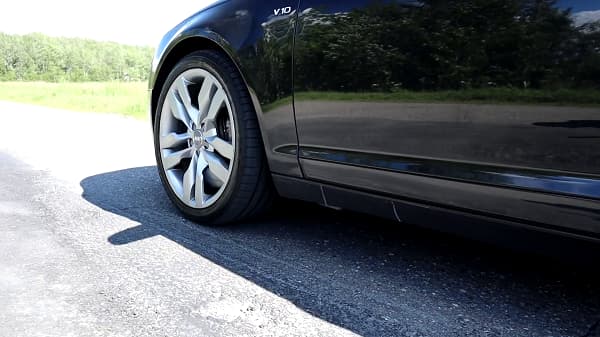 The Proxes Sport A/S features an all-new Dynamic Taper Design, which Toyo says improves cornering grip and longitudinal traction without hurting fuel economy.
In addition, the tiremaker has improved the rib design, creating a more even contact pressure for improved braking and handling and even higher lateral grip.
Consequently, the Proxes Sport A/S is quite a grippy tire, especially when you consider it has an all-season compound.
You can enter corners at fairly high speeds and not care about losing grip, and then accelerate out of the curve hard without losing traction.
The stopping distances are also among the shortest in the category.
That said, a set of ultra-high-performance summer tires will still run circles around the Proxes Sport A/S on the track. Hence, if you do that with your vehicle, this is not the tire to get.
3. Wet Grip, Traction, and Braking
Toyo says it used a specialized silica compound with Nano Balance Technology, which provides enhanced traction in wet conditions.
This is actually the biggest improvement over the predecessor, and how does it manifest in the real world? Well, the Proxes Sport A/S is a very capable rain tire with outstanding longitudinal traction (acceleration and braking) and excellent hydroplaning resistance.
Furthermore, the tire feels planted in the corners during light and heavy rain. And even when you lose traction, the Proxes Sport A/S exhibits safe understeer that's easy to correct by letting off the gas pedal.
Overall, a very impressive wet result for Toyo's latest ultra-high performance all-season tire. It competes with the category leaders, such as the Michelin Pilot Sport All Season 4 and Continental DWS06, very closely while also being much less expensive.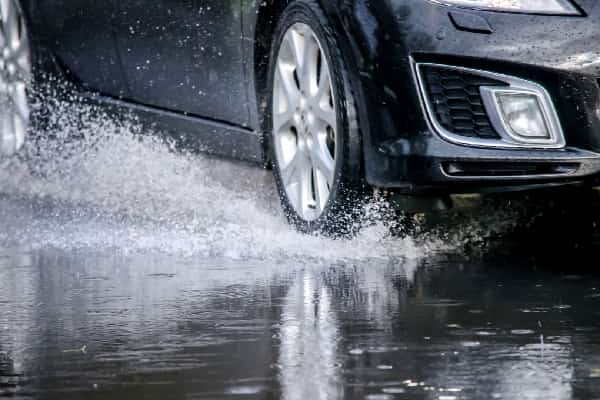 What are you expecting from this tire in winter conditions with snow and ice? Curiously, Toyo doesn't mention anything about snow and ice traction on its website.
However, the Proxes Sport A/S has some additional siping on the outer shoulder blocks, which creates more biting edges that you'd get on a summer tire.
The result isn't impressive, though. Sure, you'll get much more snow traction than your summer performance tire, but still not sufficient for public roads.
Particularly, the Proxes Sport A/S exhibits longer stopping distances and handles poorly during cornering. It's even worse on ice, where the lack of acceleration traction is immediately apparent.
As a whole, I don't recommend this tire for people that live in areas with harsh wintry conditions. It might get you through very light snow, but nothing more than that.
One particular area where all-season performance tires are usually better than their summer counterparts is comfort.
However, that's not the case with the Proxes Sport A/S. The ride quality is busy, especially on rough roads, and you can clearly hear the tread growl at higher speeds.
Still, these are faults that enthusiasts are often prepared to live with in order to get a better driving experience.
You can see more Toyo Proxes Sport A/S review here: Video created by ross ishima

Should I Buy the Toyo Proxes Sport A/S?
The Proxes Sport A/S is the newest performance tire in Toyo's portfolio, and that shows in my tests. Apart from the subpar snow traction and lesser comfort, it's one of the most accomplished ultra-high-performance all-season tires at the moment.
Specifically, it has enough grip and traction for spirited driving on public roads, both in dry and wet conditions and feels very responsive behind the wheel.
Add to that the fair price and excellent treadlife, and you have a winner. You should definitely put it on your shortlist.
List of the Toyo Tires Review

I'm Ivo Gievski, the content writer for Tireer. We built our website with over 15 years of experience and extensive research in the automotive and technology sectors. My dedication to delivering high-quality content is unwavering, and I strive to continuously hone my skills to stay ahead of industry trends and provide readers with informative, engaging, and valuable insights.