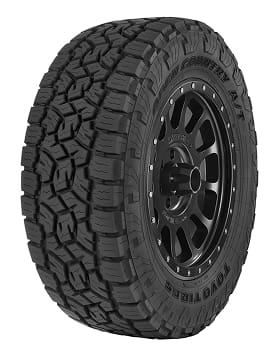 Overlanding seems to be the next big thing in the automotive world, specifically after the pandemic started.
People were mostly confined to their homes in the pandemic, and the only escape was the wilderness. And that's okay since we learned a valuable lesson – that we are one with nature.
However, nature isn't exactly hospitable to humans. To survive, you'll surely need a capable off-road SUV or truck, along with a tent to sleep in and a place where you can prepare some food.
Still, many fresh overlanders forget about the tires – I've seen too many SUVs with regular highway tires stranded far from civilization.
You really shouldn't be going far into the outback without a proper set of all-terrain tires, like the Toyo Open Country AT3 we'll cover here. These tires will provide you with much more traction on slippery surfaces, such as dirt, gravel, turf, mud, and rocks, and can help you get out of trouble.
Sure, you'll lose some on-road abilities, but you probably will never notice them at regular driving speeds.
The thing is, though, not every all-terrain tire is created equal. Some have a mild tread pattern, which brings only small improvements in off-road traction, and others have a more aggressive tread compound, which is closer to a real off-road or mud tire.
The Toyo Open Country AT3 leans more toward the latter, with an aggressive design that doesn't look out of place on a Jeep Wrangler or Ford Bronco.
Since it's a Toyo product, it's also not very expensive. It's actually much cheaper than the famous BF Goodrich All-Terrain T/A KO2, making it a tempting buy. But is it any good? That's precisely what we are going to uncover in our detailed Toyo Open Country AT3 review.
The Toyo Open Country AT3 is an all-terrain tire designed to offer a safe and quiet on-road ride and high traction on uneven and slippery terrains.
The tire is available in many sizes, ranging from 15-inch to 22-inch wheel diameter. Toyo also offers P-metric and LT-metric dimensions, and even in flotation sizes for desert dwellers.
Hence, the Open Country AT3 will fit most SUVs, like the Jeep Wrangler, Ford Bronco, Toyota 4Runner, and Land Cruiser, and also trucks, like the Ford F-150/Ranger, Jeep Gladiator, Chevy Colorado/Silverado, Toyota Tacoma/Tundra, etc.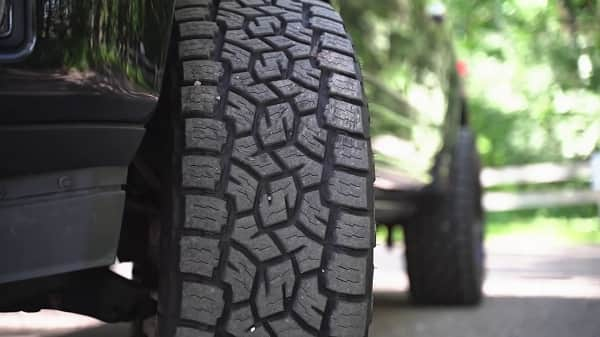 Toyo equipped the Open Country AT3 with the industry-standard TWIs (tread wear indicators) inside the tread grooves. These narrow rubber bars help the driver monitor the tread depth, which is crucial for safety on wet and snowy roads.
For an all-season all-terrain tire like the Open Country AT3, the minimum legal tread depth is 2/32-inch. When the tire reaches that point, the TWIs will be flush with the rest of the tread.
At this point, you should immediately replace the tires or risk severely reduced wet traction.
However, since we are talking about an all-terrain tire here, you might want to replace the tires even sooner since the off-road traction will already be reduced to very low levels. Thus, if you are serious about off-roading, you should definitely replace your tires sooner.
Fortunately, the Open Country AT3 is among the most durable all-terrain tires out there. Owners report excellent treadlife, with almost no wear in the first 10,000 miles.
Moreover, Toyo provides a 65,000-mile treadwear warranty on P-metric sizes and a 50,000-mile warranty on LT-metric sizes. Both are excellent for an all-terrain tire, especially at this price point.
Features and Performance of the Toyo Open Country AT3
Toyo packed a plethora of features in the Open Country AT3, aiming to provide its customers with a safe, reliable, and capable all-terrain tire. But do they bring anything quantifiable to the table? Let's comb through each feature and find out!
1. Off-Road Traction and Durability
Just by looking at the images, it's easy to see that Toyo wanted to appeal to off-road enthusiasts. The Open Country AT3 has an aggressive tread pattern with staggered shoulder lugs for enhanced off-road traction, evenly distributed void area, and stone ejecting blocks.
The tire is also made from a cut-and-chip-resistant rubber compound, which is important for a tire that will spend its time in the wild.
What is the result? Well, the result of all these features is excellent traction on almost every surface you encounter.
The tire fares excellently on hardpacked surfaces, such as dirt and gravel; in those conditions, the traction is excellent, and the handling feels very secure.
Furthermore, there is enough traction to get you out of trouble over larger rocks, and the flotation sizes are great for driving on sand.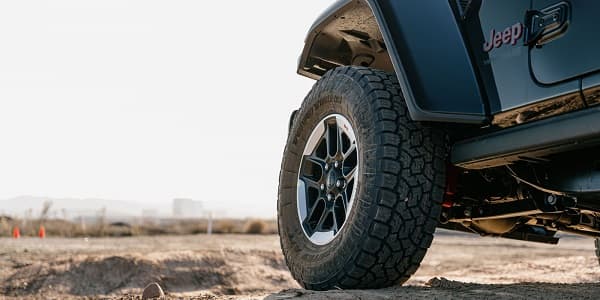 However, the Open Country AT3 isn't a specialized off-road tire, and it does show its limitations in deep mud. It's still better than most mild all-terrain tires but worse than proper off-road or mud-terrain tires.
Still, for the majority of people, Toyo's latest all-terrain offering is super capable, with traction levels that compete with the class leaders, such as the BF Goodrich T/A KO2.
And on top of that, owners report that the casing is very tough and hard to puncture. Add to that the tread pattern's stone ejection and self-cleaning abilities, and you have one of the most capable tires for overlanding and camping.
Toyo didn't only focus on delivering higher off-road traction with the Open Country AT3 – it also worked on improving on-road dynamics.
Notably, it engineered the pattern so that it increases the block rigidity, which improves cornering grip and longitudinal traction.
As a result, the Open Country AT3 is a very capable performer on the pavement. The cornering grip is comparable to its premium peers, and the stopping distances are very short.
You also won't lose traction when accelerating, even when you only have 2WD engaged.
Moreover, the tire provides excellent stability on the highway, while the LT-metric sizes are great for towing large trailers and hauling heavy cargo.
Overall, I was very pleased with the way the tire handles daily driving situations.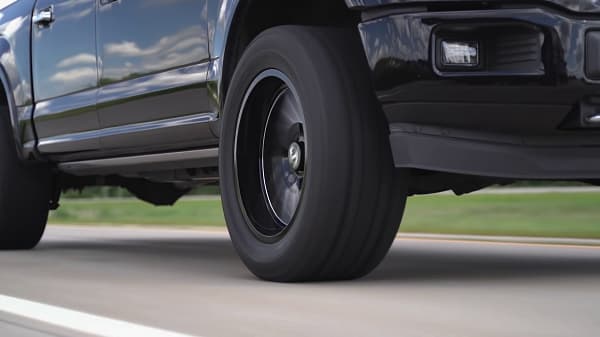 3. Handling and Steering Feel
Steering response and feel aren't qualities that are usually sought-after in this category.
However, a tire that communicates well with the driver instills confidence, which is positive for safety.
Unfortunately, the Open Country AT3 is not a very responsive tire and not a very communicative one.
Still, if you want a more responsive all-terrain tire, you'd need to go for some milder options, like the Continental TerrainContact A/T, which is much worse for off-roading. In other words, I think that most drivers can live with this small compromise.
4. Wet Grip, Traction, and Braking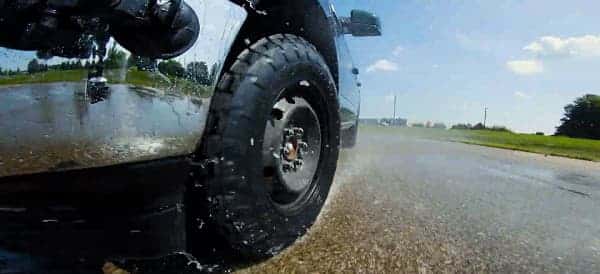 Toyo says that the biggest improvement in the new model compared to the old one is wet traction and handling.
The Japanese company used a new tread compound to increase traction on damp roads and a carefully designed pattern for increase water evacuation.
As a result, the Open Country AT3 is a very capable rain tire. The hydroplaning resistance is excellent, there is sufficient grip through the corners, and the stopping distances aren't very long. The results are not class-leading, but very good, nonetheless.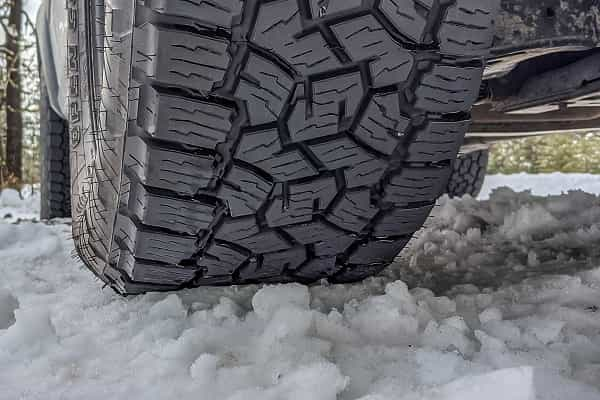 The bold tread pattern of the Open Country AT3 also features 3D Multi-Wave sipes, which increase the number of biting edges for better snow traction.
As a result, Toyo's all-terrain tire was awarded the 3PMSF symbol (Three-Peak Mountain Snowflake), signifying higher longitudinal traction than regular M+S tires.
And, indeed, the Open Country AT3 is very capable on snow, with high levels of traction and good braking. It also handles cornering well, especially on unpacked snow.
Nonetheless, ice is still a problem, so if you live in areas with very polar-like wintry conditions, you might want to go for a proper winter tire.
Despite choosing an off-road-focused tread pattern, Toyo carefully designed the blocks and void area to minimize noise.
Thus, the Open Country AT3 is among the quietest all-terrain tires with more aggressive tread patterns. There is noise, sure, but it's not obtrusive, even on the highway.
Meanwhile, the ride quality is good but not exceptional. Namely, there is a clear thump when you hit a larger pothole, and the tire doesn't handle secondary motion very well.
Still, this is nitpicking – on most roads, the Open Country AT3 rides perfectly fine.
You can see more Toyo Open Country AT3 review here: Video created by TrailBuilt Off-Road

Should I Buy the Toyo Open Country AT3?
With its excellent off-road abilities, safe on-road performance, and super-durable tread compound, the Open Country AT3 is easily one of the best all-terrain tires you can buy right now and especially considering the price.
This is a tire with only a few small disadvantages, and neither is a deal-breaker. Hence, I think you should put it on your shortlist.
List of the Toyo Tires Review

I'm Ivo Gievski, the content writer for Tireer. We built our website with over 15 years of experience and extensive research in the automotive and technology sectors. My dedication to delivering high-quality content is unwavering, and I strive to continuously hone my skills to stay ahead of industry trends and provide readers with informative, engaging, and valuable insights.