All-season tires are almost exclusively avoided by the enthusiast community due to lack of traction and grip on dry roads. However, things have changed lately. Namely, the premium tire makers have started producing ultra-high-performance all-season tires, which promise summer-like tire handling on dry roads, but also usable snow traction.
The Continental ExtremeContact DWS06 is among the most popular such tires, already finding its way onto many modern vehicles. The German tiremaker promises that this tire works excellently on every surface, including dry, wet, and snowy.
However, in most cases, the promises haven't turned out true. So, how does this model perform in the real world? That's exactly what we are going to find out in our Continental ExtremeContact DWS06 expert review.
What are the Specifications and Maintenance Indicators?
The Continental ExtremeContact DWS06 is an ultra-high-performance all-season tire available in sizes ranging from 16-inch to 22-inch wheel diameter. Hence, Continental covers a large portion of the vehicles driving on public roads today.
Specifically, the ExtremeContact DWS06 will fit compact cars, mid-size sedans, premium sedans, sports coupes, and even crossovers and SUVs. As always, though, it's best to check availability to make sure it's available for your vehicle.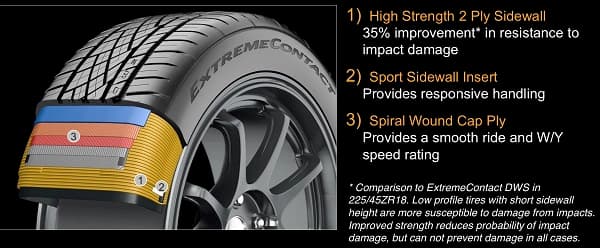 What sets the ExtremeContact DWS06 apart from the competition, though, are the DWS QuickView indicators. The tire possesses the industry-standard TWIs, which are narrow rubber bars that sit recessed into the tread of the tire.
However, the TWIs can only show you when the tread depth is at the lowest legal level for driving on wet roads (2/32 inch). That's bad because the tire won't provide usable snow traction much sooner than that, and the wet traction will only be passable at that time.
Continental's ingenious solution is three letters on the tread blocks of the tire – DWS. In this case, "D" is for dry, "W" is for wet, and "S" is for snow. Every letter has a different depth, with "D" being the deepest, "W" is in the middle, while "S" is the shallowest.
Therefore, when the tread wears down, the letter "S" will be the first one to fade. When you can not see that letter, it means that the tire won't be able to provide usable snow traction. However, it will still be okay to drive on dry and wet roads.
Then, when the "W" fades, it means that the wet traction will be below safe levels, and finally, when the letter "D" wears out, it means the tire isn't even capable of providing secure dry traction.
Fortunately, the ExtremeContact DWS06 comes with a 50,000-mile treadwear warranty, which means that it will take a while before those letters fade away.
Features and Performance of the Continental ExtremeContact DWS06
The ExtremeContact DWS06 packs some very advanced technology, but that's not surprising given the brand's reputation. We'll revisit each feature down below, along with our real-world impressions. Let's dig in!
1. Responsiveness, Steering Feel, and Handling
The first thing that drivers notice when installing new tires is how they feel behind the wheel. In this particular category, drivers want a more responsive reaction from the tires since it helps position the vehicle through the corners better.
Continental employed Chamfered Edges and outboard macro shoulder blocks on the tread pattern, enhancing stability and steering feel.
But does that translate into the real world? Well, the ExtremeContact DWS06 is not the most responsive ultra-high-performance all-season tire, but it comes close. In my eyes, it's as responsive as any driver would like, especially for driving on public roads.
What's even more impressive is that the handling feels linear, making this tire one of the most enjoyable to drive. The on-center feel is also excellent, and the feeling is natural, making driving on the highway a breeze.
Overall, there are more responsive ultra-high-performance all-season tires. However, if you aren't an overly aggressive driver, I think that you'll thoroughly enjoy the ExtremeContact DWS06 since it offers an outstanding balance between responsiveness and linearity.
Ultra-high-performance all-season tires offer a significant traction and grip advantage over their grand-touring counterparts. However, opting for a summer compound will give you much higher levels of grip. There is always a compromise with all-season tires, even those with a performance monicker.
Fortunately, Continental employed its SPORTPLUS+ Technology to give the ExtremeContact DWS06 the highest possible road-holding ability. The technology consists of a silica-enhanced rubber compound with +Saline additives, which improves road contact without damaging durability.
This translates beautifully in the real world. The ExtremeContact DWS06 isn't a class leader in overall cornering grip, but the difference between it and the Michelin Pilot Sport All Season 4 is only measurable with special equipment.
In other words, there is sufficient cornering grip for spirited driving on public roads. The ExtremeContact DWS06 has enough grip for a more aggressive entry into the corner, an excellent mid-corner grip, and superior acceleration traction when you exit the corner. Overall, an enjoyable experience.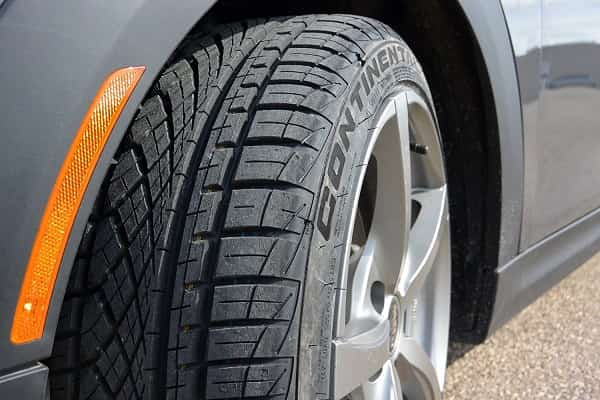 The braking distances are also among the shortest in the category, trailing only by a few inches compared to the class-leading tires.
Overall, I think that the ExtremeContact DWS06 won't disappoint any enthusiast driver. It is pretty responsive and grips the road well enough for an enjoyable drive. However, I wouldn't trust this tire for track days or autocross. For those looking for that kind of tire, a performance summer compound is a must.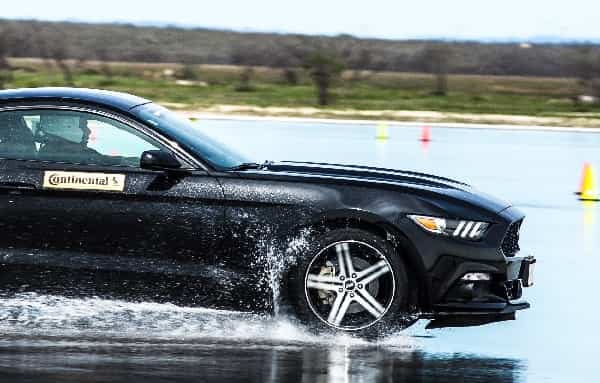 Continental is consistently producing some of the best wet tires on the market, and indeed it didn't want to give up its laurels with the ExtremeContact DWS06. Hence, it employed central independent blocks with x-sipes, separated by high-angle criss-cross grooves, and three circumferential grooves.
As a result, the tire possesses outstanding hydroplaning resistance and doesn't lose stability, even when driving at high speeds and through puddles of water. Moreover, the ExtremeContact DWS06 is a great all-rounder in wet conditions, providing the driver with a lot of traction for acceleration and braking and a usable grip.
Even if you go over the tire's abilities, you won't be surprised by sudden oversteer or massive understeer. The natural handling at the limit is almost always a characteristic of Continental's products, and the ExtremeContact DWS06 is no exception there.
Overall, it's one of the best ultra-high-performance all-season tires for driving in rainy conditions.
Ultra-high-performance all-season tires promise year-round traction, even over light snow, but few models actually deliver. Fortunately, the ExtremeContact DWS06 is among the few that work over light snow. Continental incorporated Traction Grooves, which dramatically enhance three-dimensional snow traction.
Now, sure, the ExtremeContact DWS06 won't compare favorably to a proper winter tire, especially in very harsh wintry conditions. However, you need to keep in mind that this is an all-season tire, meaning it's only meant for driving over light snow. Hence, if you live in areas with severe wintry conditions, you'll almost surely need a set of winter tires.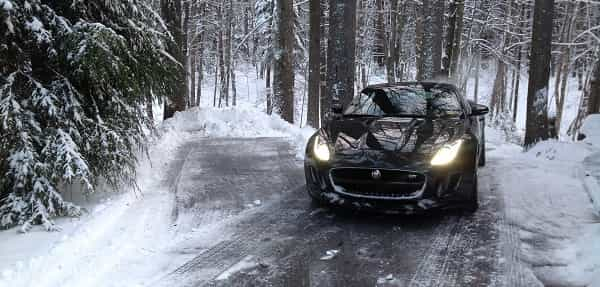 Nonetheless, as far as ultra-high-performance all-season tires go, this is one of the best over light snow. The tire accelerates without too much wheel spin and provides good braking overall. It also steers into a corner without a fuss, provided there is only an inch or two of snow. Deeper snow and ice will be a problem, though, just like with any other all-season tire.
Regardless, it's good to see that the technology continues to go forward. I've never tested a tire that felt so good on dry pavement and over light snow at the same time.
The Continental ExtremeContact DWS06 seems like the most balanced ultra-high-performance all-season tire on the market until we start talking about comfort.
See, the German tire maker didn't incorporate any technology to make the tire quieter, which shows in the real world. The tread growl is noticeable, especially on rough patches of the road. Some modern premium vehicles can mitigate the issue a bit, but still, the competition is better in this regard.
The ride quality also isn't particularly good, although it's not as bad as the noise the tire produces. In other words, it's firmer than what you'd get on a grand-touring tire, but not overly harsh. Still, that's the price that you often pay for responsiveness.
Overall, few drivers will complain about the ride quality – the sudden jolt when going over an expansion joint isn't particularly annoying. Nonetheless, the noise is an issue, especially if you want a serene driving experience.
You can see more Continental ExtremeContact DWS06 review here: Video created by Fitment Industries

At present, there is no other ultra-high-performance all-season tire that blends dry, wet, and snow traction as successfully as the ExtremeContact DWS06. With the things analyzed in our Continental ExtremeContact DWS06 review, the tire has some disadvantages, sure, mainly in the comfort department, but that shouldn't detract from the fact that this is a seriously good tire.
Hence, if you enjoy spirited driving yet want a reliable year-round solution, I wholeheartedly recommend the ExtremeContact DWS06. It might be expensive, but it's also durable, meaning it will save you money in the long run.
List of the Continental Tire Reviews

I'm Ivo Gievski, the content writer for Tireer. We built our website with over 15 years of experience and extensive research in the automotive and technology sectors. My dedication to delivering high-quality content is unwavering, and I strive to continuously hone my skills to stay ahead of industry trends and provide readers with informative, engaging, and valuable insights.