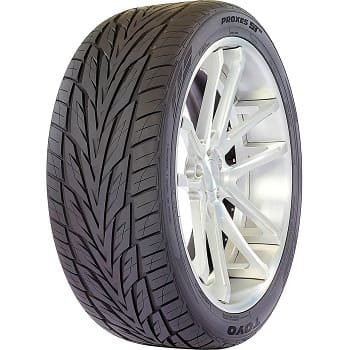 SUVs, trucks, and crossovers aren't exactly suited to high-performance driving, but car manufacturers don't seem to get that notice.
We live in a world where every premium manufacturer has an ultra-high-performance SUV or truck in the lineup, some with staggering acceleration and top-speed numbers. And crucially, people seem to love these vehicles!
Still, a performance car is as good as its tires, and the same holds true for fast SUVs and trucks. Only here it might be even more important, since these vehicles are also very heavy, which makes them less stable through a corner and unable to stop quickly.
Hence, if you own such a vehicle, you'll need some meaty rubber, like the Toyo Proxes ST III.
Now, this is not a summer performance tire, meaning you shouldn't expect the highest possible dry grip and traction.
Instead, the all-season Toyo Proxes ST III aims to provide the driver with enough grip for quick cornering, sharper steering, and generally better stability, and do all of that regardless of the temperature outside.
Does it succeed in doing that, though? To answer that question, I've prepared a detailed review of the Toyo Proxes ST III, where I'll cover every aspect of the tire that might be important to SUV or truck owners.
The Toyo Proxes ST III is a Street/Sport all-season tire for trucks and SUVs with high-performance engines.
Hence, it's a step up from regular touring or highway tires in terms of responsiveness, grip, and traction on dry and wet roads.
However, the tire isn't available in LT-metric tires, making it unusable for heavy-duty trucks, such as the Ford F-150 and Chevy Silverado.
Still, if you don't tow very large trailers or haul very heavy cargo, the Proxes ST III might work for you – just be sure to check that it has enough load capacity for your truck.
Meanwhile, you'll have no problem finding a suitable size. The Proxes ST III is available in many dimensions, ranging from 17-inch to 24-inch wheel diameter.
With all these sizes, Toyo has the most comprehensive offering on the market – most competitors range only from 20-inch to 24-inch wheel diameter.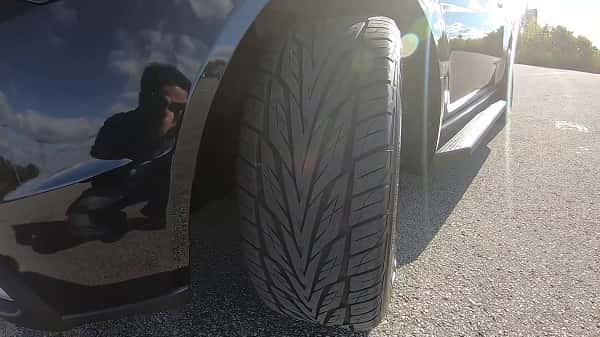 Besides, the Toyo Proxes ST III doesn't have a lot of competition on the market right now.
The Street/Sport all-season category is still in its infancy, with only a few tires competing, such as the Yokohama Parada Spec-X and the Pirelli Scorpion Zero All Season Plus.
Toyo's offering is significantly cheaper than these competitors and also available in more sizes.
The Japanese tiremaker didn't employ any special maintenance indicators in the tire, which is okay for the price. Instead, the Proxes ST III features the industry-standard TWIs (tread wear indicators), which the owner can use to monitor the tread depth.
The tread depth is crucial for delivering safe traction in rainy conditions since the tire can easily channel water out of the contact area.
Hence, in most places, it's not legal to drive with tires that have less than 2/32-inch tread depth, which is generally considered to be the lowest that could provide you with safe traction.
You can easily tell if your tire has reached that point by looking at the TWIs. These are narrow rubber bars that sit recessed in the grooves of the tire but protruding 2/32-inch from the bottom.
Therefore, when the tread depth reaches 2/32-inch, the TWIs will be completely flush with the tire.
Fortunately, you won't need to care about that in the first two to three years of owning since the Proxes ST III has an excellent treadlife.
It also comes with a 40,000-mile treadwear warranty, which is outstanding for the price this tire it's offered. The number is even more impressive when you see that most Street/Sport all-season tires come without any warranty.
Features and Performance of the Toyo Proxes ST III
Toyo used many things it learned from its award-winning Proxes high-performance summer tires when it designed the Proxes ST III.
Hence, the tire has a very attractive directional tread pattern, which won't look out of place on performance SUVs, such as the Porsche Cayenne and BMW X5.
Let's comb through each feature in our Toyo Proxes ST III review and see if it made a difference in the real world.
1. Handling and Steering Feel
Toyo utilized Arrowhead Tapers, which not only improve the looks of the tread pattern but also bring better straight-line tracking and responsiveness.
For an even higher steering response, the internal construction of the tire features a high-hardness bead filler and a jointless bead wire.
And is it successful? Well, the technologies Toyo employed really do make a difference in the real world. The Proxes ST III reacts quickly to the steering input, making the driving experience as fun as you would get with a summer performance tire.
Moreover, the steering is linear, and the on-center feel is great. Finally, the tire communicates the loss of traction through the steering wheel, which is another positive.
Overall, I think most drivers will be pleased with how the Proxes ST III drives down a twisty road.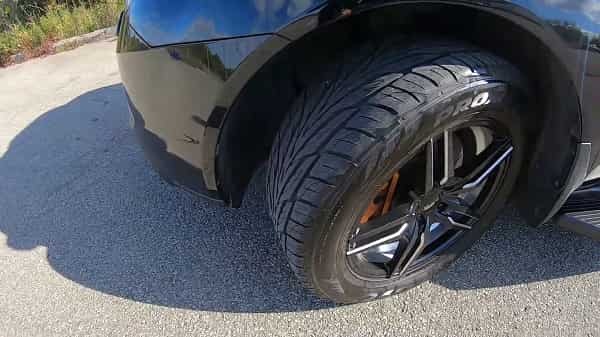 Toyo's attractive tread pattern includes directional shoulder blocks, which improve braking and cornering grip without producing much noise.
After 1 day of testing on the dry road to verify the tire's performance, we found that compared to the average touring or highway all-season tire, the Proxes ST III shows a significant improvement in cornering and braking.
Notably, the stopping distances are much shorter, especially when you stop from higher speeds.
Moreover, the Proxes ST III readily pulls forward during hard acceleration without losing traction easily.
Finally, you can enter a corner at higher speeds than usual and not worry about your vehicle start sliding.
However, although the Proxes ST III is a definitive improvement over touring and highway tires, it's not as sharp as the Pirelli Scorpion Zero All Season Plus.
Still, the differences aren't as big, and Pirelli's tire is much more expensive. In other words, for the price, you can't find a better performance all-season tire for the price.
3. Wet Grip, Traction, and Braking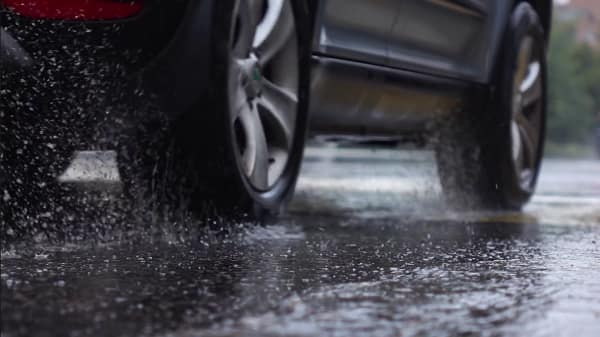 The directional tread pattern of the tire features lightning grooves for better water evacuation and an all-season compound designed to provide increased traction and grip on wet tarmac.
After the first 2 days of testing on dry roads, we were fortunate enough to have heavy rain in Idaho over the weekend. This rain helped us test tire performance.
It can be said that the Toyo Proxes ST III is a very capable wet tire. And my testing has proven just that, the longitudinal traction it offers is great, meaning it won't lose traction when you accelerate hard.
The stopping distances are also reasonably short, and the handling feels secure and planted. Even if you enter a corner too hard, the tires will start to understeer in a linear way, which is always preferred to oversteer, at least in the rain.
Furthermore, the hydroplaning resistance is excellent – the Proxes ST III won't become unstable even when you enter a deep puddle of water.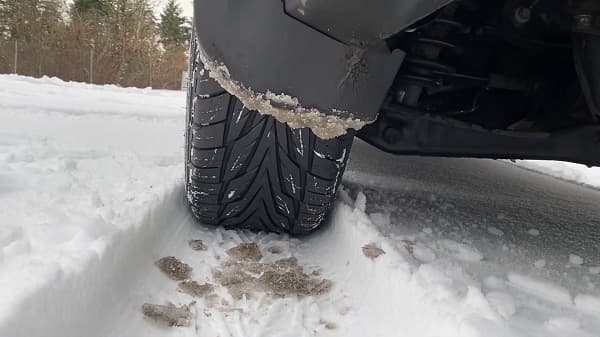 Street/Sport all-season tires offer vastly better traction on snow than summer tires, but they are still ages behind proper winter tires.
And we had the opportunity to test this tire in the snow after a snowstorm in Idaho late last year. And if you look at the driveway, we can see an amount of snow about five inches thick.
The first thing we noticed when testing on the snow was that the tire does offer some traction, but it's nearly not enough for a safe ride.
And the longitudinal traction is the smallest problem here. Almost every all-season tire today can provide you with enough acceleration traction so you don't get stuck in snow; however, not a lot of them will stop well or provide you with enough cornering grip.
When it comes to that, the Proxes ST III is not the best option out there – the braking distances are longer, and the handling isn't exactly planted. On top of that, the ice traction and braking are abysmal.
Still, these are issues that are common in this category and not only limited to Toyo's offering. Hence, if you want the safest ride on snow and ice, you should be looking at proper winter tires.
Toyo seems like it's on the top of the game when it comes to comfort lately; although it's focused on delivering sharper handling with higher cornering grip, the Proxes ST III is a very comfortable driving companion.
For instance, there is almost no tread growl that enters the cabin, even when you drive on rough patches, which is particularly impressive.
The ride quality is also very smooth, both on smooth and broken roads, and the tire doesn't produce secondary motion.
You can see more Toyo Proxes ST III review here: Video created by Ed Car DIY

Should I Buy the Toyo Proxes ST III?
The Toyo Proxes ST III isn't the best Street/Sport all-season tire out there, but that's okay since it's less expensive than the premium offerings.
Besides, the differences are very small and certainly not noticeable on public roads.
Hence, I wholeheartedly recommend it to any SUV or truck owner that doesn't encounter very harsh wintry conditions.
The tire will handle light snow just fine, but not much more than that. For everything else, it will definitely be up to the task!
What vehicles will the Toyo Proxes ST III tire be suitable for?
Below is a list of some popular vehicles, however this is not a complete list.
Cadillac Escalade, Cadillac Escalade EXT
Chevrolet Suburban, Tahoe
Dodge Durango, Nitro, Ram 1500
Ford Expedition, EcoSport, Escape, Edge
Hyundai Kona, Tucson
Honda Pilot, HR-V
Kia Seltos, Niro, Sportage
GMC Yukon
Infiniti QX56, FX35, FX45
Jeep Commander
Lexus LX 470, RX330
Mercedes-Benz ML320, Mercedes-Benz ML430
Nissan Murano, Pathfinder, Titan, Rogue
Toyota Land Cruiser, 4Runner, Tacoma X-Runner, Rush
Volvo XC70, Volvo XC90
BMW X5
Land Rover Range Rover
Porsche Cayenne
Volkswagen Touareg
List of the Toyo Tires Review

I'm Ivo Gievski, the content writer for Tireer. We built our website with over 15 years of experience and extensive research in the automotive and technology sectors. My dedication to delivering high-quality content is unwavering, and I strive to continuously hone my skills to stay ahead of industry trends and provide readers with informative, engaging, and valuable insights.