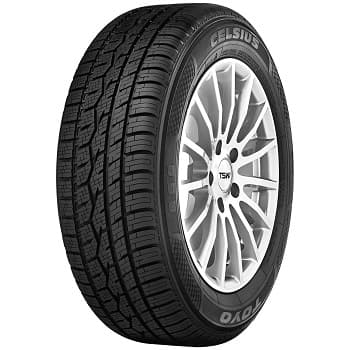 Many people think of all-season tires as the answer to their driving struggles. I mean, a tire that works throughout the year, lasts for 4-5 years, and isn't expensive to buy certainly sounds attractive, right?
Well, yes, but the thing is, all-season tires don't exactly work throughout the year. In most places, at least.
Particularly, most all-season tires that you'll find at your local tire store won't work in harsh wintry conditions. They will be fine for drivers that live in areas with mild winters, but nothing more than that.
So, what's the solution, then? Should you use your all-season tires for three seasons and then purchase an additional set of winter tires?
That's one of the solutions, sure, but I have another one. And I think you'll like it more since it only includes purchasing one set of tires.
Particularly, I'm talking about the Toyo Celsius, an all-weather tire designed to work better than regular all-season models in harsh wintry conditions.
The Celsius is part of an emerging category of tires, competing with already established competitors, such as the Michelin CrossClimate 2, Vredestein Quatrac 5, Firestone WeatherGrip, and Goodyear Assurance WeatherReady.
All of these models bring something to the mix, be it higher dry grip (Michelin CrossClimate 2) or excellent snow and ice traction (Vredestein Quatrac 5).
So, how does the Toyo Celsius compare to its rivals? Well, it's not a question I can answer in a few words, which is why I prepared a detailed Toyo Celsius review. In it, you can learn everything there is to know about the tire, including how it works in the winter. So, without further ado, let's dig in!
According to Toyo, the Celsius is a tire that offers year-round versatility and winter-weather safety in one tire. The model comes in many popular sizes, ranging from 14-inch to 20-inch wheel diameter.
With all these sizes, Toyo covers a significant portion of the market, including subcompact and compact cars, mid-size sedans, executive sedans, performance sedans, and coupes, etc.
The Japanese tiremaker also offers the Celsius CUV, a largely similar tire available with larger sidewalls (16-inch to 20-inch wheel diameter), hence aiming at compact and mid-size SUVs and crossovers.
Most of the things I say in this review will be true for that tire as well, but not everything will be the same, particularly tied to the responsiveness and driving experience.
Price-wise, the Toyo Celsius is cheaper than the Michelin CrossClimate 2, though it's on a similar level with the Firestone WeatherGrip and Vredestein Quatrac 5.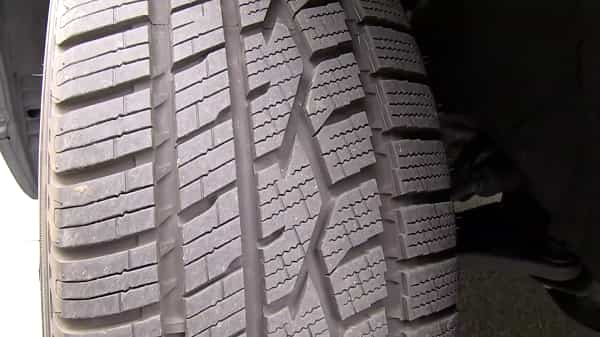 Toyo didn't care to employ some special indicators to help you with monitoring tread depth, though. Instead, the Celsius comes with the regular TWIs (tread wear indicators), which are narrow rubber bars that sit recessed in the grooves of the tire.
The TWIs are 2/32-inch higher than the bottom of the tread, which coincidentally is the lowest legal tread depth for all-season tires. Hence, when the Toyo Celsius reaches that point, the tread wear indicators will be flush with the rest of the tread.
At that point, you should immediately replace the tire. It's not only illegal in most places, but you also risk your safety, like a tire without sufficient tread depth doesn't have good hydroplaning resistance.
However, since the Toyo Celsius is designed to work in harsher wintry conditions, you might want to change the tires even sooner.
Notably, the minimum legal tread depth on winter tires is 5/32-inch, so make sure that you have at least that much rubber before the winter. You can use a simple and cheap probe to check the tread depth regularly.
Fortunately, the Toyo Celsius is a very long-lasting tire, so you won't need to care about TWIs or probes in the first 2-3 years of owning it.
Owners are very satisfied with the tread life, and Toyo proves that with a class-leading 60,000-mile treadwear warranty.
Features and Performance of the Toyo Celsius
The Toyo Celsius has multiple features and technologies implemented to provide the driver with usable traction through all weather conditions.
However, most of the design decisions Toyo made are in close correlation with winter tires, evident by the aggressive tread pattern with multiple sipes across the tread blocks.
With that said, let's comb through each feature and see if it makes a difference in the real world, after our driving experiences.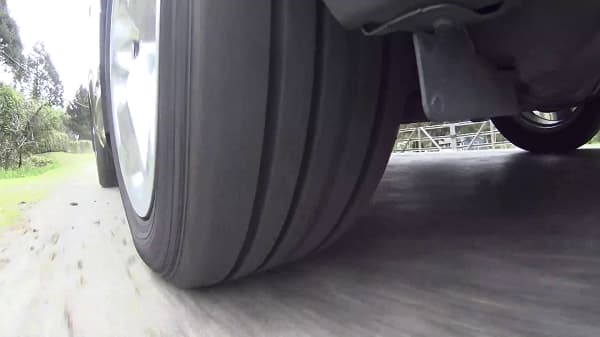 Toyo used lower sipe density on the outboard tread blocks, aiming to improve cornering grip and traction on dry roads.
However, there is no hiding the fact that the Toyo Celsius doesn't have a large contact area – it's closer to a winter tire when it comes to the tread pattern.
So, how does this affect dry handling? Well, you certainly won't be enjoying a drive on a curvy road.
And my testing on the dry road has proven just that, the cornering grip is lower than what you'd find on most regular all-season tires, meaning you'll need to drive more carefully. It's better than a winter tire, though.
It's the same story with the longitudinal traction – the Celsius will slip during hard acceleration more readily, and the stopping distances won't be very short.
Still, the Toyo Celsius will suffice for daily driving, especially if you are not a very aggressive driver.
For regular driving, the traction and grip are totally fine, particularly when you consider that you are getting a true winter-capable tire.
2. Handling and Steering Feel
This is an area where I didn't expect much, and that turned out to be true. The Toyo Celsius isn't a particularly engaging tire to drive, even in sizes with smaller sidewalls.
Notably, it's not very responsive and takes time to react, although it does that in a linear way. It also doesn't provide information from the road, crucial if you want to attack every corner.
Nonetheless, we already established that the Celsius isn't a performance tire, and I think most people will be fine with it not being very sharp to drive.
Still, if you want a sharper experience, the Michelin CrossClimate 2 is a much better bet.
3. Wet Grip, Traction, and Braking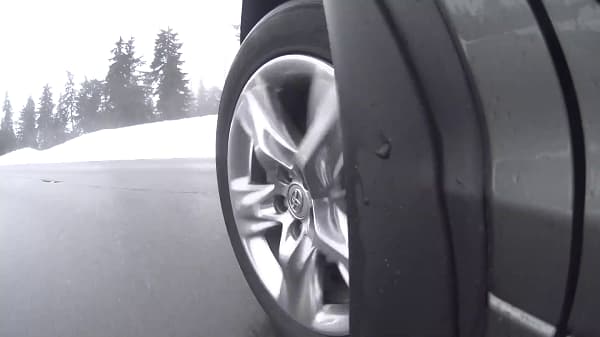 The Toyo Celsius features slush grooves, which do a great job at minimizing hydroplaning. As a result, you won't have to worry about losing stability when you hit a large puddle of water, even at higher speeds.
However, that doesn't tell the whole story, as grip and traction levels are even more important when it comes to safety.
Some tires that have excellent hydroplaning resistance suffer from handling and braking, but thankfully, that's not the case with the Toyo Celsius.
It's not class-leading, sure, but Toyo's all-weather tire is still very good for the category, both in terms of stability and braking.
According to our wet road test, the Toyo Celsius feels planted in the corners and provides short stopping distances. It also works well in slush, which is important for the category.
Overall, you shouldn't have issues with how this tire handles wet conditions.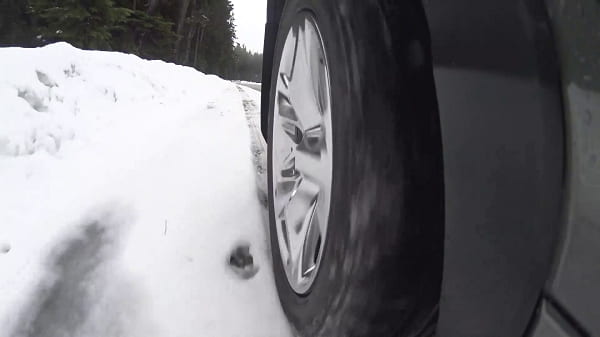 The Celsius has quite a few features that help it tackle wintry conditions. These include snow claws that help with deep snow traction, higher sipe density on the inside of the tread, and multi-wave sipes to create more biting edges.
As a result, this is among the best all-weather tires for the winter. To validate that, we went to a distance of about 2 miles with about 3 inches of deep snow to test the grip and traction of the tires.
And according to our snow road test, it provides excellent traction and braking on light snow, beating its all-season counterparts by a considerable margin. The handling also feels surefooted and doesn't surprise the driver in any way.
After 2 days, we continued to test on another road with 9 inches of snow. The tire continues to impress in deep snow, with good traction, braking, and handling.
Finally, the ice traction it provides is clearly better than on regular all-season tires, although not on the level of proper winter tires.
Overall, most drivers will be pleased with the way the Toyo Celsius tackles the winter. However, it's still not a replacement for a set of winter tires, especially if you live in northern areas with very harsh wintry conditions.
Toyo didn't employ any particular technology to cut road noise. Add to that an aggressive tread pattern with a lot of sipes, and it's a recipe for a tread growl.
As a result, you can clearly hear the road, especially at higher speeds. If you care about noise, a set of touring/grand touring all-season tires will fare much better.
However, the Toyo Celsius is very comfortable over bumps, with a smooth ride and minimal secondary motion.
You can see more Toyo Celsius review here: Video created by Toyo Tires Canada

Should I Buy the Toyo Celsius?
The Toyo Celsius is a tire that blends dry, wet, and snow traction quite well, especially for drivers with a more defensive style.
Hence, I have no trouble recommending it to anyone looking for a true all-weather tire that works throughout the year.
However, the Celsius won't be for you if you value cornering grip and responsiveness or if you own a performance car. In that case, the Michelin CrossClimate 2 will be a better option.
List of the Toyo Tires Review

I'm Ivo Gievski, the content writer for Tireer. We built our website with over 15 years of experience and extensive research in the automotive and technology sectors. My dedication to delivering high-quality content is unwavering, and I strive to continuously hone my skills to stay ahead of industry trends and provide readers with informative, engaging, and valuable insights.