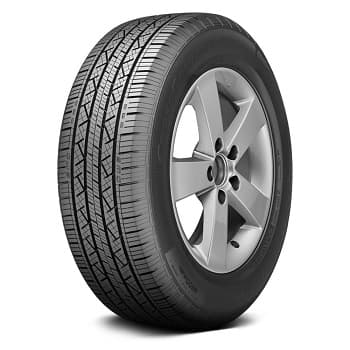 Continental has and continues to make tires for all sorts of vehicles. With over 150 years in the business, you better believe they are doing something right.
The Continental CrossContact LX25 is a great tire for all-season driving and is Continental's most popular tire.
Each Continental CrossContact LX25 tire also comes with EcoPlus Technology built into the tire that adapts the tread pattern for the road condition.
Additionally, the tires are very fuel-efficient, which in turn help reduce CO2 emissions and are engineered to give you a great driving experience.
The tires offer superb traction in wet, dry, and snowy conditions. Drivers can enjoy the safety of their tires for extended periods thanks to a warranty that is second to none in the industry.
Additionally, the EcoPlus technology adapts to various road conditions to maximize grip.
As a bonus, you will find Intended Multipurpose Tire (IMP) Technology. This is a special type of tread pattern that Continental Tire uses in most of its tires. IMP Technology allows for better contact with the optimizes the performance of the tire depending on the road.
This Continental CrossContact LX25 review goes into detail about every aspect of the legendary tire. From the pros and cons to its specifications and maintenance indicators.
We want to be informed and confident when equipping your vehicle with new tires, and this review should definitely help you with that.
Each Continental CrossContact LX25 tire also comes with EcoPlus Technology built into the tire that adapts the tread pattern for the specific road condition.
The incorporated Ecoplus+ technology in these tires makes it extremely efficient at dealing with damage caused as well as perform great in wet, dry, and snowy conditions.
A special tread compound helps keep the tires running smoothly and efficiently for extended periods.
Steering and response on highway speeds inspire confidence thanks to the tire's wide track.
Continental CrossContact LX25 tires are made to be used on SUVs, light trucks, and crossovers that need to travel long distances, both in the city and on the highway.
The tread design of the Continental CrossContact LX25 tires makes them responsive on all terrains that they're used on.
Many manufacturers, including Continental, will use maintenance indicators to let you know when the tires are getting close to the end of their life cycle.
These maintenance indicators are usually can include a logo, or a letter.
For the Crosscontact LX25, it is stamped with a D, W, and S which stands for "Dry, Wet, and Snow". We prefer this over traditional symbols because they can be difficult to see and interpret.
The maintenance indicator is located in the tire tread at 2/32″ of tread depth which is useful for easy identification.
The construction of the LX25 is made up of a polyester cord body wrapped around two steel belts. It is one of the main reasons why the tires have such a great warranty.
The polyester cord body acts as a durable performance base for the tire without having to sacrifice long-term performance through shortcuts like other tires.
Treadlife Warranty on the Continental CrossContact LX25 consists of 6 years or a 70,000-mile treadwear warranty for H- & T-Speed rated models, whichever comes first and a 65,000-mile treadwear warranty for V-Speed rated models.
Both uniformity and manufacturers road hazard warranty consist of 1 year or 2/32".
Features and Performance of the Continental CrossContact LX25
The CrossContact LX25 has solid traction, even in difficult road conditions.
A long-lasting tread life means low maintenance reduced cost. These tires are a favorite for everyone from businesses to the general public.
Overall the CrossContact lx25 is a well-rounded tire that can handle everything from short commutes to cross-country road trips.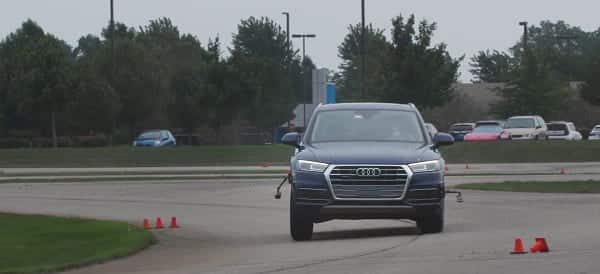 Performance in dry conditions is overall good. They are known to have a little bit of wheel slip in hard cornering, but that can be expected from cross-zones and multi-tread tires in general.
All-season tires like the Continental CrossContact LX25 are engineered to work exceptionally well in dry, everyday conditions.
Being an all-season tire, the team at Continental has poured their decades of experience into making the LX25.
It makes sure you get a perfect all-around tire but is mainly focused on trouble-free on dry tarmac conditions.
Wet conditions are another story though. While they don't have excellent wet weather capabilities, the LX25 performs acceptably well in the rain.
This is due to their cross-zone design and extra grooves in the tire that acts as much-needed water drainage. It does require some attention if you want to keep the tires from hydroplaning.
Occasionally you will get a small amount of spray up onto the fender, but any experienced driver should not have a problem controlling the vehicle under these circumstances.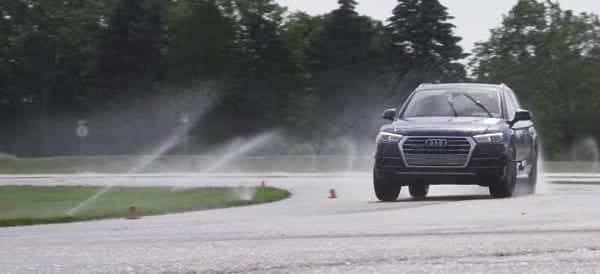 3. Handling and Steering Feel
Handling and steering feel are pretty much what you would expect from an all-season tire. They provide a nice smooth ride and easy steering response, given their purpose. They are no racing tires but can hold their own around corners at moderate speeds.
The design is pretty much the standard as far as cross-zones go. But they do have a unique tread pattern when compared to other competitors.
Continental uses a deeper side groove that extends across the tire width as opposed to its competitors for increased handling.
While they are much better than summer tires in the snow, they only have an M+S rating. If you get a lot of snow where you live, you'll want to find another set for the winter months.
Overall, the tire handles well given its intended purpose, light-snow traction is good indeed, and the braking distances are shorter than I thought they would be.
The CrossContact LX25 is meant for fuel economy during long highway commutes, and not heavy snow use.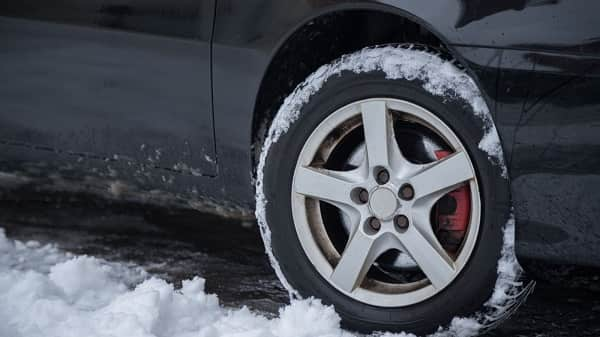 5. Is it Suitable for Off-road Driving?
The tires are quiet compared to other its competitors. Extra sidewall cushioning is one of the features that only superior, Continental tires can offer.
The comfort comes from a combination of high-quality tread compounds and comfort cords around the sidewalls at specific intervals. Even when going off-road in light mud, the tires feel planted and inspire confidence.
If you're looking for a comfortable tire that can handle light off-roading, Continental CrossContant LX25 is a great choice. The indicators look like small dashes throughout the tread pattern.
For example, a 6-hour highway trip with these tires will make it seem like a walk-in-the-park. If comfort is a high priority when buying a set of tires, then these are the tires to go for.
The Continental tires have a unique blend of comfortable compounds and sidewall reinforcements that brings sound down to a minimum. Many other sets of tires would cause noise pollution, similar to that of nails on the pavement.
Road noise is kept down to a minimum, even at 62mph on the highway. Tires with stiff sidewalls tend to absorb unwanted sound, but that extra stiffness also brings down comfort levels.
The Continental's tread compound is made from silica and rubber combination, which lowers rolling resistance and noise level.
Wear does vary depending on driving style and conditions though, so mileage will be different for everyone. Some people get more life out of their tires than others do.
You can see more Continental Crosscontact LX25 review here: Video created by Adventuring Today

These tires are best suited for people who want to buy a safe set of tires that can provide comfort without compromising performance when driving at high speeds.
A disadvantage of the Continental Crosscontact LX25 is its price point. It is on the higher end, but you get what you pay for. For some, quality, warranty, and peace of mind do not have a price.
When buying an all-season tire, the intention is to have it perform well on almost any surface. Making purpose-built tires means that certain factors like comfort or wear would have to be sacrificed. Just like tools, you need to have the right one for the right job.
If you have enjoyed reading the Continental Crosscontact LX25 review be sure to have a look at our other products.
We pride ourselves in providing you with as much information as possible so that when it comes time to buy new tires, you know exactly which one to choose.
List of the Continental Tire Reviews

I'm Ivo Gievski, the content writer for Tireer. We built our website with over 15 years of experience and extensive research in the automotive and technology sectors. My dedication to delivering high-quality content is unwavering, and I strive to continuously hone my skills to stay ahead of industry trends and provide readers with informative, engaging, and valuable insights.