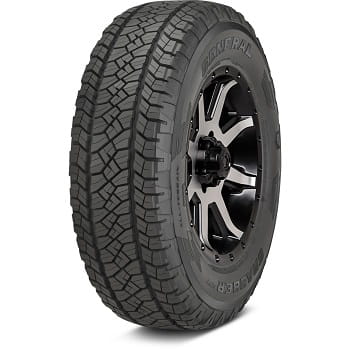 General Tire is one of the most popular brands among truck and SUV drivers. Its portfolio consists of various tire types, including highway all-season tires, mild and aggressive all-terrain tires, and even mud tires.
The tiremaker positions its tires slightly below the premium competition, but it still focuses on delivering high levels of performance, comfort, and durability.
The Grabber APT is General's bread and butter all-terrain all-season tire, designed for owners of trucks and SUVs that want some additional off-road traction without sacrificing on-road performance and comfort.
General has another all-terrain tire in its range, the Grabber A/TX, featuring a more aggressive tread compound for better off-road traction but at the expense of some on-road performance and comfort.
Hence, the Grabber APT should be the better tire for most truck and SUV drivers, even those that sometimes venture off the beaten track. For that reason, Nissan even chose this tire as an OEM on its Titan truck, though General offers sizes for various other trucks and SUVs.
The real question is – how does the Grabber APT compare to its rivals? That's an interesting question because General's parent company, Continental, also has a mild all-terrain tire in the TerrainContact A/T, and in my testing, it's the class-leading product in terms of dry, wet, and snow traction and grip.
In other words, it's an almost faultless tire. However, it's also expensive – it costs 10% more than the Grabber APT on average.
Confused? Not to worry, as in my in-depth General Grabber APT review, I'll cover every aspect of the tire and tell you how it compares to its cousin, but also other mild all-terrain all-season tires. Enjoy!
The General Grabber APT is available in numerous LT-metric and P-metric sizes, ranging from 16-inch wheel diameter to 20-inch wheel diameter.
The manufacturer doesn't offer flotation sizes, but that's understandable for a mild all-terrain tire since owners of lifted trucks will need a more aggressive compound and tread pattern, anyway.
Also, all sizes are rated with the 3PMSF (Three-Peak Mountain Snowflake) symbol, except LT275/65R18 and P275/70R18, which are rated with M+S.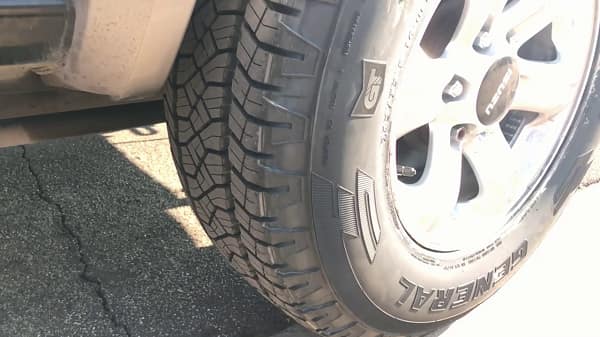 As for monitoring tread depth, General uses its Replacement Tire Monitor in some models, which will show you when you need to replace the tires with the words "replace tire" on the tread.
Unfortunately, the Grabber APT doesn't feature that technology, rather relying on the industry-standard tread wear indicators (TWI).
The TWIs are narrow rubber bars that sit recessed in the tire, specifically at the bottom of the grooves. These indicators are positioned 2/32-inch (1.6 mm) higher than the base, so you can easily spot them.
Hence, when the tread depth reaches 2/32-inch, they will be flush with the rest of the tire's surface.
At that point, it is highly recommended that you replace your tires, as it's generally accepted that tires with less than 2/32-inch of tread depth won't provide good hydroplaning resistance.
Nonetheless, since this is an all-season tire, it's important to note that you should have at least 5/32-inch of tread depth for safe traction on snow.
Unfortunately, the tire doesn't have any indicators to show you that; instead, you'll need to use a tire depth gauge or ask your tire technician.
You won't need to do that often, though, as the Grabber APT is a tire with a good treadlife. Owners of the tire are very satisfied with how it wears with time, and General offers a class-leading 60,000-mile treadwear warranty.
Still, it's important to note that some drivers that towed larger trailers reported higher wear, though they are still few and far between.
Features and Performance of the General Grabber APT
The General Grabber APT is an all-terrain tire with a mild tread pattern, similar to tires like the Continental TerrainContact A/T, Michelin LTX A/T 2, Bridgestone Dueler AT Revo 3, and the Pirelli Scorpion All Terrain Plus.
However, General did equip the tire with some off-road-centric technologies to make it more suitable for those applications while also focusing on delivering high levels of on-road comfort and traction.
Did it succeed? Let's go through each feature and see if it made a difference in the real world!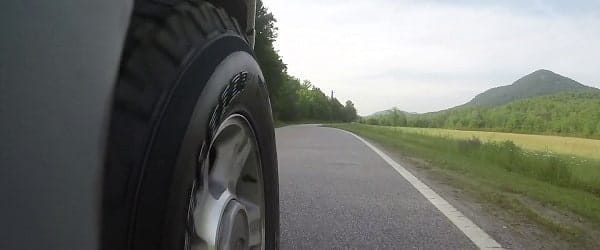 The Grabber APT is designed with General's StabiliTREAD Technology, which improves treadlife by making a larger footprint, but this also helps with stability and lateral grip.
According to our dry road test, as far as all-terrain models go, this is a very capable road tire. Notably, your truck won't be hunting for traction each time you accelerate harder, and it won't need a long distance to stop.
Moreover, the lateral grip is pretty good for the category, and the highway stability is excellent.
Still, if you want the best possible on-road performance from an all-terrain tire, Grabber APT's cousin, the Continental TerrainContact A/T, will be a better choice. It will cost more, though.
2. Handling and Steering Feel
The Grabber APT features strong outside shoulders for increased steering response and more direct handling. These seem to work – the tire reacts to the steering input relatively quickly, and it does that in a very linear way.
The on-center feel and straight-line tracking are also very good, meaning long driving sessions on the highway won't be tiring for the driver.
However, much like any other all-terrain tire, the Grabber APT doesn't provide too much feedback.
3. Wet Grip, Traction, and Braking
Continental is perhaps the brand with the best rain tires in the business, and the German tiremaker seems to have transferred some of its technology in its sub-brand, General Tire.
The American company also produces some excellent rain tires, and the Grabber APT is no exception.
Namely, the tire features staggered circumferential grooves and full-depth sipes, both working towards minimizing hydroplaning. As a result, the Grabber APT has excellent hydroplaning resistance, remaining stable at highway speeds in heavy rain.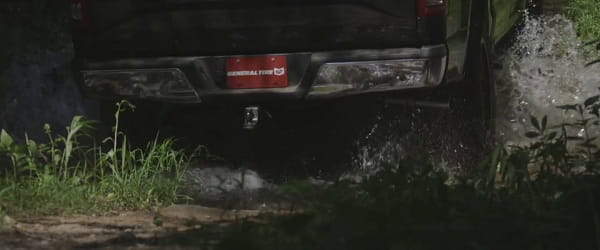 The drivability on wet roads is also good for the category; the Continental TerrainContact A/T is still better, but again, that's a more expensive tire.
For the price of the Grabber APT, you still get surefooted handling, solid acceleration traction, and short stopping distances. Nothing to complain about here, really.
4. Is it Good for Winter?
The General Grabber APT is branded with the 3PMSF (Three-Peak Mountain Snowflake) symbol, so it's natural to expect that it will perform well on light snow.
However, the 3PMSF symbol only means the tire is tested for higher longitudinal snow traction and doesn't cover lateral grip.
Even so, the tire handles light snow just fine. There is more longitudinal traction than M+S branded tires, meaning better acceleration and shorter stopping distances, but the handling is also more stable.
Overall, this is a very good tire for driving on light snow, especially considering the category.
However, much like its competitors, the Grabber APT doesn't handle well on icy roads, which is to be expected. So, if you often encounter icy surfaces, I'd recommend going for a set of winter tires.
5. Off-Road Traction and Durability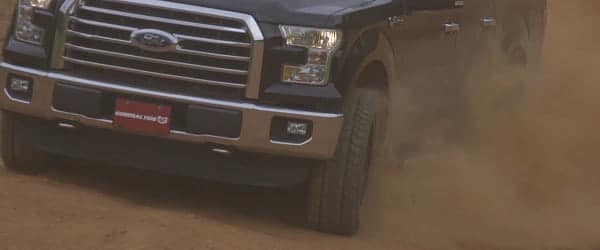 Although it's not an aggressive all-terrain tire, General still equipped the Grabber APT with its DURAGEN construction for added durability, which includes a cut-and-chip-resistant tread compound. Hence, you won't need to worry about punctures from sharp rocks.
Furthermore, the tire provides excellent traction on hardpacked surfaces (dirt and gravel), thanks to the traction notches and alternating shoulder scoops. On those surfaces, the Grabber APT is actually among the best tires out there.
However, this is not a tire for more serious off-road driving, like rock-crawling or going through deep mud. It will work better than a set of highway tires, sure, but nowhere near as good as some more aggressive all-terrain tires.
Fortunately, General has the Grabber A/TX for people that want better off-roading capability.
General equipped the Grabber APT with its ComfortBalance Technology, which includes an absorption layer under the tread to isolate the cabin from road imperfections.
As a result, the tire doesn't transmit too many vibrations, though it can struggle with large potholes.
Meanwhile, the counter-angled shoulder grooves dissipate the sound to make the ride quieter – the Grabber APT is among the most refined all-terrain tires in its category.
You can see more General Grabber APT review here: Video created by General Tire

Should I Buy the General Grabber APT?
The General Grabber APT isn't the best mild all-terrain tire – that award goes to its cousin, the Continental TerrainContact A/T.
However, the Grabber APT is appreciably cheaper, and for the amount you pay, it's one of the best products in its category.
Notably, it works very well on dry, wet, and snow-covered roads, providing the driver with ample traction and grip for safe driving.
It also works quite well on light off-road surfaces and seems to be very durable. Hence, if you have a truck or SUV, you should definitely put the Grabber APT on your shortlist!
List of the General Tires Review

I'm Ivo Gievski, the content writer for Tireer. We built our website with over 15 years of experience and extensive research in the automotive and technology sectors. My dedication to delivering high-quality content is unwavering, and I strive to continuously hone my skills to stay ahead of industry trends and provide readers with informative, engaging, and valuable insights.