Going off the beaten track has had a resurgence recently, with sales of off-road capable SUVs such as the Jeep Wrangler and Ford Bronco on a steep rise. This also created a higher demand for off-road capable tires, particularly all-terrain tires.
If you are really into off-roading, though, all-terrain tires won't cut it. Instead, you'll need maximum traction off-road tires, or known popularly as mud-terrain tires. These tires will provide you with the best possible off-road traction, though at the expense of on-road performance.
General promises that this won't be the case with the Grabber X3. The American tiremaker ensured that its mud-terrain tire retains the off-road abilities without sacrificing on-road traction much.
Did it succeed, though? This General Grabber X3 review is a compilation of our all-terrain testing. Let's have an in-depth look into how the General Grabber X3 handles on various terrains and surfaces and find out!
The General Grabber X3 is a maximum traction off-road tire designed for drivers of SUVs and trucks with 4WD systems and other off-road wizardries.
Vehicles like the Jeep Wrangler and Gladiator, Ford Bronco and Raptor, and Toyota 4Runner and Tacoma are some of the best examples.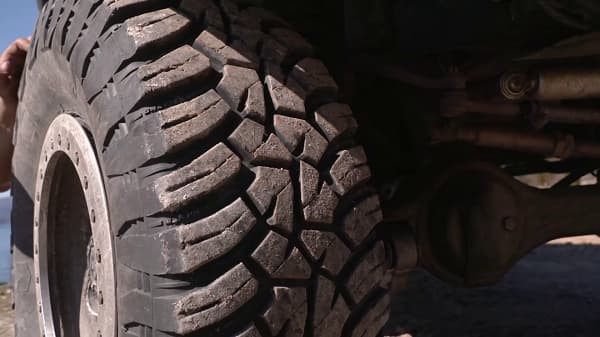 General offers the tire in numerous sizes, ranging from 15-inch to 22-inch wheel diameter.
Moreover, the tire is also available in 31-inch, 33-inch, 35-inch, and 37-inch sizes, so owners of lifted trucks and SUVs are also covered.
As for maintenance, General included the industry-standard tread wear indicators (TWIs), which will show you when your tires won't be legal to use due to reduced hydroplaning resistance.
The manufacturer doesn't offer any treadwear warranty, but that's par for the course in the category.
Features and Performance of the General Grabber X3
Unsurprisingly, General Tire mostly focused on delivering the highest possible off-road traction when it designed the Grabber X3.
However, the tiremaker also wanted to combine that with good on-road manners since owners will mostly use these tires on paved roads, anyway.
Does the Grabber X3 deliver, though? Let's go through each feature and find out if it makes a difference in the real world!
1. Off-Road Traction and Durability
Like any good maximum traction off-road tire, the Grabber X3 has a high-void symmetric tread pattern, aiming to improve traction on loose surfaces.
Furthermore, the tire features evacuation channels to clear mud from the tread and stone bumpers at the base of the grooves to improve stone and debris retention.
As a result, the Grabber X3 is among the best off-road tires, period. According to our off-road test, it provides outstanding traction on hardpacked surfaces, which are honestly not even a challenge for the tire.
While we are talking about hard surfaces, the tire also handles rock crawling quite well, especially since you can drive at very low pressures.
However, the Grabber X3 is at its best in mud, where it provides consistently good traction and drivability.
Sure, most of its closest competitors also work well in mud, but that doesn't take away from the fact that General's off-road tire is exceptional. It also works very well on turf and sand (at lower pressures).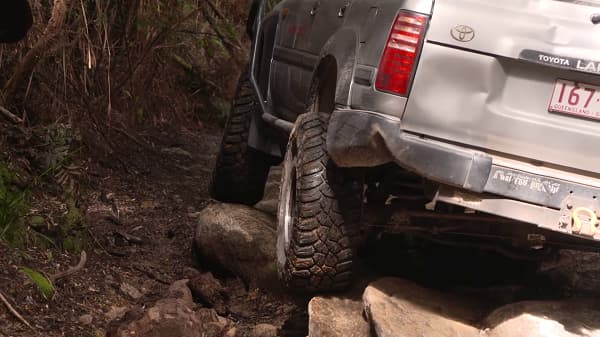 Okay, but what about durability? Well, General Tire took care of that by employing its DURAGEN technology, which combines a three-ply body casing with twin ultra-high strength steel belts.
The tire's design also features Sidewall Protection Lugs and Deflection Ribs, both keeping it from getting punctures.
As a result, the Grabber X3 is among the most durable off-road tires out there. Sure, you can still chip some material from the tread blocks, but only when you drive over very sharp rocks. For casual off-roading, though, you shouldn't have any issue with durability.
We've put a little over 20,000 miles on this tire and rotate every 5000 miles, but we don't see any visible wear. How about you?
Maximum traction off-road tires aren't designed to provide high G-forces in the corners. However, road safety is still crucial, even with a tire such as the Grabber X3.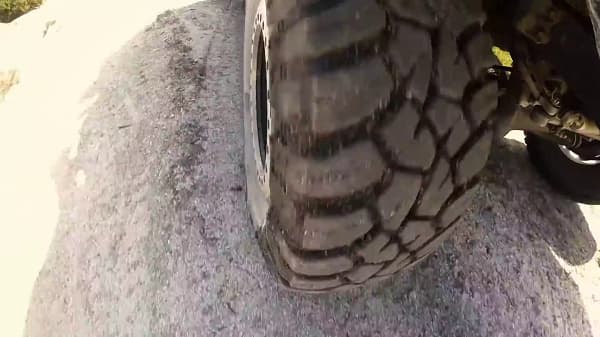 So, how does it handle everyday driving? Honestly, I was impressed with the level of traction on offer. Sure, if you come from a set of highway tires, you'll immediately notice the lower amount of traction, but relative to the category, the Grabber X3 is the best tire.
Notably, the acceleration traction is good enough for a brisk getaway on the traffic light, and the stopping distances are the shortest in the category.
Furthermore, the Grabber X3 handles quite well in the corners, losing grip much later than its rivals. And even when it loses grip, it does that in a linear way and doesn't surprise the driver with a snap oversteer.
Overall, General did a great job with the Grabber X3 for daily driving. The tire provides more than enough grip and traction for a safe drive, which is the only thing you should care about when it comes to performance on dry tarmac, really.
3. Handling and Steering Feel
The Grabber X3 might provide safe traction and grip on dry roads, but it's far off the pace when it comes to responsiveness.
Notably, the steering doesn't feel direct and precise, making it hard to position your truck/SUV where you really want it. The front tires also don't react quickly to the steering input, making things even worse.
However, these anomalies are only an issue if you drive quickly on a twisty road, which you probably won't do. So, not a big deal, but I still felt it's important to note.
4. Wet Grip, Traction, and Braking
Maximum traction off-road tires are usually great at minimizing hydroplaning, thanks to the large and deep grooves that are able to channel water more efficiently.
In addition, the Grabber X3 is equipped with a single sipe in every tread block, which further helps with water evacuation.
However, in my experience thus far, the tread compound plays an equal role to the pattern when it comes to wet handling and braking. Particularly, the stickier the rubber is, the better the tire will hold on wet pavement.
Fortunately, the Grabber X3 is among the best, if not the best wet performer in its category. According to our wet road test, it provides excellent longitudinal traction, meaning your back tires won't slip when accelerating, and the stopping distances are the shortest in the category.
Furthermore, Genera's off-road tire impresses with how it handles; the front tires bite much more readily than what you'd expect from such a tire, and the rear remains stable when you accelerate out of a corner.
Notably, the Grabber X3 is better than its rivals both in terms of longitudinal traction (acceleration and braking) and cornering grip.
However, I must make a quick disclaimer here – the Grabber X3 is great relative to its category, but it's still not as good in rainy conditions as a regular highway all-season tire. So, I recommend driving more slowly and concentrating on the road more when it rains.
5. Is it Good for Winter?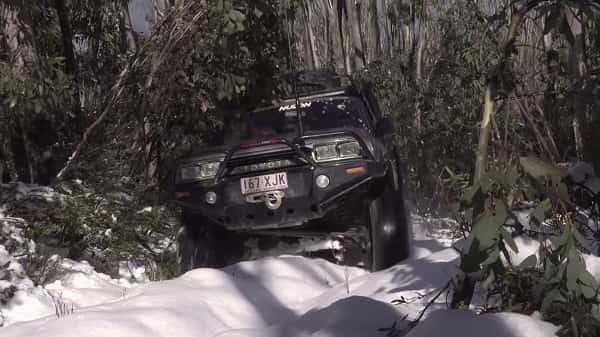 Like most mud-terrain tires, the Grabber X3 easily churns through unpacked snow. That's great for off-roading, as when you go off the beaten track in the winter, you'll drive over snow that wasn't previously packed by other vehicles. And in those situations, there is ample traction on offer, and the drivability is great.
Nevertheless, the Grabber X3 isn't great on packed snow – the one that you'll encounter on public roads. There is still some traction, but it's nowhere near as good as what you'd get from a highway all-season tire. The traction on ice is also dangerously low.
The reason for both of these shortcomings is that the Grabber X3 doesn't have smaller zig-zag sipes on the tread blocks, which would've created the necessary biting edges. On the flip side, not many off-road tires are good on packed snow and ice.
Mud-terrain or maximum traction off-road tires are notorious for being loud.
However, things have changed recently, as tiremakers employed specially-designed tread patterns to minimize noise. General, for example, utilized a multi-pitch tread block design, aiming to minimize the tread growl.
That clearly worked – the Grabber X3 is less noisy than most of its competitors. You'll still hear it at lower speeds, but it balances out with the wind noise at higher speeds.
On top of that, the Grabber X3 is very comfortable for an off-road tire – the ride is good both on smooth and rough tarmac.
You can see more General Grabber X3 review here: Video created by General Tire Australia

Should I Buy the General Grabber X3?
The General Grabber X3 is a tire with only a few compromises – it works amazingly well on every type of terrain, including hardpacked surfaces, rocks, mud, and sand, while also delivering best-in-class traction and grip on dry and wet surfaces.
Hence, I highly recommend this tire to every truck or SUV owner that wants a reliable off-road tire that will work well for daily driving.
List of the General Tires Review

I'm Ivo Gievski, the content writer for Tireer. We built our website with over 15 years of experience and extensive research in the automotive and technology sectors. My dedication to delivering high-quality content is unwavering, and I strive to continuously hone my skills to stay ahead of industry trends and provide readers with informative, engaging, and valuable insights.