The Grabber A/TX is one of the most popular tires among off-roaders, campers, and overlanders, promising excellent off-road traction and durability without sacrificing on-road dynamics.
However, its competition has become pretty good lately – models like the Cooper Discoverer A/T3 LT and Toyo Open Country A/T III stormed the market with new features and hi-tech solutions.
So, does the Grabber A/TX have what it takes to beat its competitors? Let's find out in my General Grabber ATX review, where we'll cover every aspect of the tire in detail after our tests in different terrain conditions.
The Grabber A/TX is available in numerous P-metric and LT-metric sizes, ranging from 14-inch to 20-inch wheel diameter.
General also offers 27-inch, 30-inch, 31-inch, 33-inch, 35-inch, and 37-inch flotation sizes, so owners of lifted trucks and serious off-road machines are also covered.
The tire features the industry-standard tread wear indicators, which can show you when the tread reaches 2/32-inch depth. It is generally considered that this is the minimum for safe driving on wet surfaces; hence it's not legal to use the tires further than that in most places.
Still, if you plan to attack some serious trails or drive in harsh wintry conditions, I'd recommend replacing the tire when it reaches 5/32-inch tread depth. You can either consult your tire technician for that or use a tread depth gauge tool.
Fortunately, the Grabber A/TX is among the most durable all-terrain all-season tires out there; owners are very satisfied with the treadlife, and General offers an unbeatable 60,000-mile treadwear warranty on P-metric sizes and a 50,000-mile treadwear warranty on LT-metric and flotation sizes.
Features and Performance of the General Grabber ATX
The Grabber A/TX is an all-terrain all-season tire with a slightly more aggressive compound and pattern, meaning it's designed for people that want better off-roading capability than regular all-terrain tires offer.
It also comes with the 3PMSF (Three-Peak Mountain Snowflake) symbol, meaning it was tested for higher longitudinal traction on snow than regular M+S tires.
With that said, let's have a look at all of its features and see if they make a difference in the real world.
1. Off-Road Traction and Durability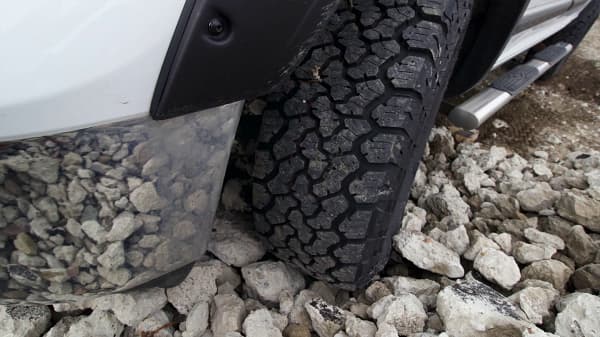 The Grabber A/TX has a lot going on when it comes to off-roading. Particularly, it features a specially-designed all-terrain tread pattern with deep grooves and a tough Duragen cut-and-chip-resistant rubber compound.
Inside the pattern, there are stone bumpers between the alternating shoulder blocks for ejecting rocks and Sidewall Protection Lugs to protect against sidewall punctures.
General also included multi-angle tread blocks for maximum traction on loose terrain, with smaller traction notches and sipes to increase the biting edges.
As a result of all this, the Grabber A/TX is a very capable off-road tire. It performs outstandingly well on hardpacked surfaces, such as dirt and gravel, where it provides high levels of traction and good lateral stability.
The tire also works on larger rocks, though it's not fit for serious rock crawling, just like every other all-terrain tire.
Furthermore, I was surprised by the level of traction in mud. Sure, a maximum traction off-road tire will be better in these conditions, but as far as all-terrain tires go, the Grabber A/TX is among the most capable.
Lastly, I had the feeling like the tire had enough robustness to endure long off-road sessions without any puncture, and most owners had the same experience. With us, after more than 20,000 miles, and rotating every 5000 miles, the tires have worn evenly to 13/32″. How about you?
The rubber compound also seems to resist cuts and chips quite well – the tread blocks seem intact, even after driving on very abrasive rocky surfaces.
Performance driving on twisty roads isn't something that most all-terrain tires are designed for.
However, some models still perform better than others, and often significantly so. Unfortunately, the Grabber A/TX is one of those tires that lag behind.
For instance, the grip levels when you corner hard are much lower than what you'd find on the Cooper Discoverer A/T3 LT and even further behind the Continental TerrainContact A/T (though this is a more road-focused tire).
Moreover, the stopping distances are much longer than those same tires but also longer than other closely-matched competitors.
On the bright side, the Grabber A/TX does feel very stable on the highway, even with a trailer attached. Still, considering the fact that the traction and grip are lower, you'll need to drive slightly more carefully than you would with the aforementioned rivals.
Now, I know you think that you'll never test the limits in an all-terrain tire, but higher grip and traction are still important for those situations when you need to brake hard or avoid an obstacle. And when it comes to that, there are better options in the category.
3. Handling and Steering Feel
All-terrain tires aren't designed to be very responsive, though some tiremakers try to inject some sportiness in their models.
General didn't care about that, obviously, rather focusing on delivering a tire that is easy to handle on straight and twisty roads.
Namely, the Grabber A/TX doesn't react quickly to the steering input, feeling somewhat rubbery, but it does that in a very linear way.
The on-center feel and straight-line are also good – you'll have no problems keeping the truck/SUV centered in the lane, even in very windy conditions.
Overall, the tire is pretty good for the category steering-wise, as it combines good highway cruising capability with fluid handling on twisty roads.
4. Wet Grip, Traction, and Braking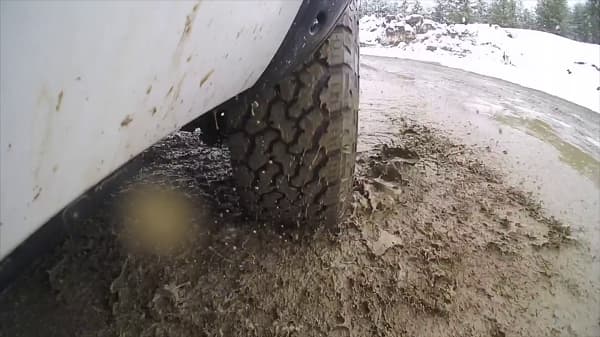 Like most all-terrain tires, the Grabber A/TX features wide and deep grooves and tread blocks equipped with traction notches and sipes, aiming to improve hydroplaning resistance and stability in wet conditions.
Indeed, according to our wet road test, the tire feels very stable when you drive through deep puddles of water, even at very high speeds.
Even more impressively, though, the Grabber A/TX continues to impress with its drivability in the rain.
Notably, it feels surefooted in the corners, with high levels of grip; and even when it loses grip, it does that in a linear way, without surprising the driver.
Furthermore, the Grabber A/TX stops in rainy conditions like no other aggressive all-terrain tire – the braking distances are the shortest among its peers.
As a cherry on top, it doesn't lose traction when you accelerate quickly out of a corner, even if your truck's bed isn't full.
As a whole, I was quite impressed with how the Grabber A/TX handles wet tarmac, as it feels very safe behind the wheel, but it also beats its competitors when you measure its performance with test equipment.
5. Is it Good for Winter?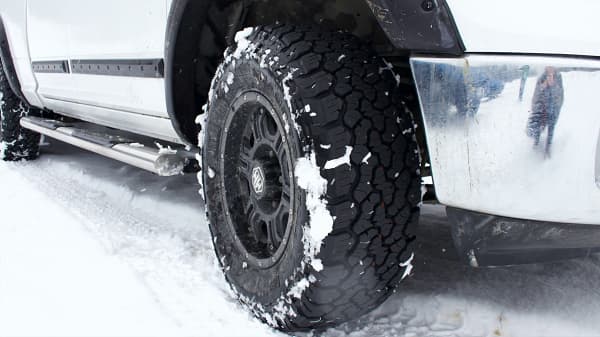 The General Grabber A/TX features multiple tread blocks, each equipped with small sipes, aiming to increase traction on light snow.
However, you can also attach optional metal studs on the tire to also enhance traction and stability on deep-packed snow and ice, something that's quite unusual for the category.
Now, I couldn't test the tire with the optional studs, although I reckon it will be excellent on snowy and ice-covered roads. But even without the studs, the Grabber A/TX is a usable snow tire.
The acceleration traction is excellent for the category, and I had no issues keeping the truck planted through the corners. The braking distances are also among the shortest in the category.
Nonetheless, without any studs, the tire wasn't able to provide enough traction on ice, where it struggled with acceleration, braking, and turning. Still, that's par-for-the-course in this category.
General utilized its proprietary Comfort Balance Technology in the Grabber A/TX, which features an absorption layer under the tread and an acoustic tread pattern, both aiming at minimizing noise and improving the ride quality.
However, despite all the efforts, the Grabber A/TX still feels stiff over bumps. Fortunately, this is par for the course for the category, and in my view, a stiffer tire is actually better on most surfaces.
Notably, the Grabber A/TX rounds off smaller imperfections without transmitting vibrations into the cabin, making it very comfortable on the highway.
It does stumble on broken pavement, though, where you and the passengers will definitely be served with a bit more harshness.
Likewise, the General's all-terrain tire isn't particularly quiet, as there is a noticeable tread hum, especially at higher speeds. However, the sound it generates is in the lower frequencies, meaning it won't be tiresome on longer journeys.
Overall, the Grabber A/TX isn't a particularly comfortable tire, but it's also not an uncomfortable one. Considering the category, I'll give it a pass here.
You can see more General Grabber ATX review here: Video created by 4WD Magazine

Should I Buy the General Grabber ATX?
The General Grabber A/TX isn't a tire without compromises, but in my eyes, it's still one of the most accomplished all-terrain tires.
Notably, it works quite well off the beaten track while also providing very good wet and snow traction. It might not be as good on dry roads, but that's not as big of a deal in this category, at least in my opinion.
Hence, I have no qualms to recommend it to anyone searching for a high-quality all-terrain tire.
List of the General Tires Review

I'm Ivo Gievski, the content writer for Tireer. We built our website with over 15 years of experience and extensive research in the automotive and technology sectors. My dedication to delivering high-quality content is unwavering, and I strive to continuously hone my skills to stay ahead of industry trends and provide readers with informative, engaging, and valuable insights.