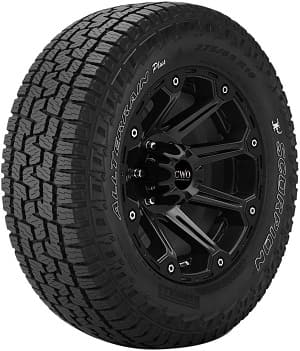 With the rising popularity of overlanding as a way of life, SUVs and trucks are becoming an increasingly popular proposition.
However, although there are many capable off-roaders available to buy, not a lot of them come with good tires from the get-go.
Notably, most trucks and SUVs come with highway all-season tires, which are not exactly capable of off-roading.
In order to get the most out of these vehicles, you'll need a set of all-terrain tires; these offer more traction on uneven and slippery surfaces without sacrificing road comfort.
You could even go for some serious mud-terrain tires, but let's leave those to the real off-road enthusiasts.
The Scorpion All Terrain Plus is a tire that aims to provide its master with higher traction for that off-roading bits while retaining the responsive and grippy feel that Pirelli tires are known for.
Since its launch in 2018, the tire became an instant hit on the market, with many buyers falling for the aggressive design and the aura that the Italian brand brings.
However, the all-terrain market is crowded with great tires today, with almost every tiremaker competing in the sector. Hence, the Pirelli Scorpion All Terrain Plus will need to be really great to shine among its peers, something that I'll put to the test in this in-depth review.
However, please note that not every all-terrain tire is equal. Some are designed more for on-road and less for off-road driving, while others are more geared toward off-roading.
The Pirelli Scorpion All Terrain Plus, meanwhile, sits somewhere in the middle, trying to hit that sweet spot. Does it, though? Let's find out in our Pirelli Scorpion All Terrain Plus review!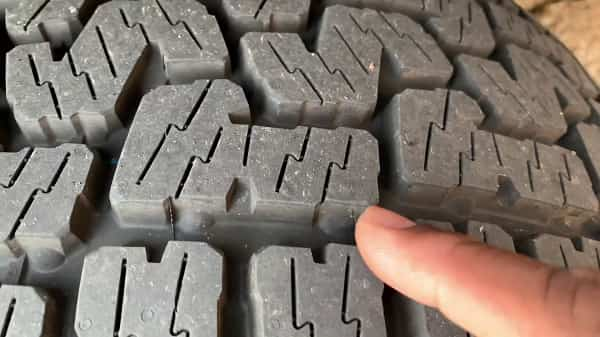 The Pirelli Scorpion All Terrain Plus comes in multiple sizes, ranging from 16-inch to 20-inch wheel diameter. It also comes in LT-metric dimensions for the larger trucks, although 33-inch and 35-inch options are missing.
Besides, the competitors are offering many more popular sizing options, starting from 15-inch wheel diameter and up to 22-inch wheel diameter.
As for maintenance, the tire comes with the industry-standard TWIs (tread wear indicators). Pirelli didn't care to include a more granular solution, which in my eyes, is important for an all-terrain tire.
Even so, most competitors are also strangely missing intelligent wear indicators.
The TWIs are narrow rubber bars that sit into the grooves of the tire. When the tread depth reaches 2/32-inch, the TWIs will be completely flush with the rest of the tread.
At this point, you should replace the tires immediately since the tread won't be able to evacuate water out of the tread, and this will be unsafe in rainy conditions.
However, being an all-terrain tire, the Scorpion All Terrain Plus will lose its off-road abilities even sooner, so be sure to measure the tread depth with a gauge if you are into off-roading.
Also, make sure there is at least a 5/32-inch tread depth when you drive on snow.
Fortunately, the Scorpion All Terrain Plus is a fairly durable tire – owners are satisfied with the tread life, and it comes with a 50,000-mile treadwear warranty on all sizes.
Features and Performance of the Pirelli Scorpion All Terrain Plus
Being an on-/off-road all-terrain tire, the Scorpion All Terrain Plus packs quite a few features and technologies. How is reality?
Let's have a look at all of them and see if they make a difference in the real world.
Pirelli is known for producing high-performance tires – its P Zero lineup is not only hugely popular among enthusiasts, but it's also the tire of choice in Formula 1.
All-terrain tires are a different breed, but that doesn't mean dry grip and traction are any less important here since they are crucial for safety.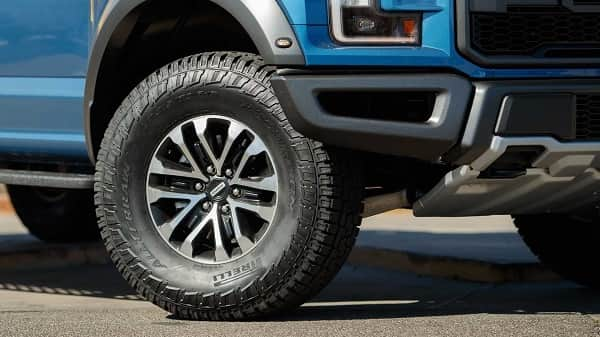 To that end, Pirelli utilized a symmetric high-void pattern that was specifically designed to provide maximum traction and grip on dry roads.
As a result, the Scorpion All Terrain Plus is among the best all-terrain tires on dry surfaces, at least those with slightly more aggressive tread patterns.
For instance, the Continental TerrainContact A/T provides even more grip, but it sacrifices off-road traction to get there.
Overall, I was very pleased with how the Scorpion All Terrain Plus handled daily driving. The longitudinal traction is excellent, meaning your back tires won't squeal under hard acceleration, while the stopping distances are fairly short.
Furthermore, the tires provide stable cornering without any sudden movement, understeering when pushed too hard, which regular drivers prefer.
The highway stability is also on point, while the LT-metric sizes provide safe road trips with a large trailer attached or heavy cargo in the bed.
2. Handling and Steering Feel
Buyers don't put too much thought into steering feel when purchasing all-terrain tires, and I can't blame them.
Still, it's good to know that the Scorpion All Terrain Plus doesn't feel as cumbersome as other all-terrain tires.
Particularly, the steering is responsive and linear, both initially and mid-corner. There is not much feel from the road, but I can't think of any other all-terrain tire that communicates well with the driver.
All in all, a pleasant enough experience for street and highway driving, and I think that most drivers won't find anything at fault here.
3. How Does it Perform on Off-road?
Pirelli made significant improvements to the off-road bits of the Scorpion All Terrain Plus compared to its predecessor.
The tread pattern is all-new, featuring a high-void area with deep grooves and independent tread blocks, all improving traction on loose surfaces.
Furthermore, the tire features Pirelli's New Generation compound that is resistant to cuts and chips. This is a crucial off-road feature, as it ensures durability when you use the tire on hardpacked or rocky surfaces for prolonged periods.
Meanwhile, the conical stone ejectors will make sure that no stone is left in the tread grooves, ensuring long-lasting performance.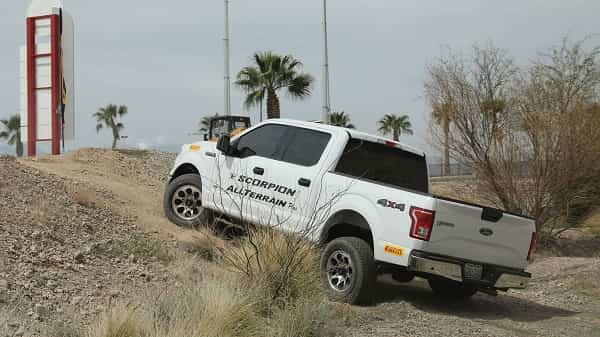 Now, all of that sounds great, but how does it translate into the real world? Well, as far as all-terrain tires go, the Scorpion All Terrain Plus is among the best off-roaders out there.
It is particularly good for driving on hardpacked surfaces, where the stone ejectors and deep grooves provide exceptional traction and durability. In other words, you won't get stuck or damage the tire easily.
The Scorpion All Terrain Plus is also good for turf, both dry and wet, and works fairly well on sand, provided you drive at lower pressures.
However, there are limitations to how much you can push this tire. Notably, rock crawling isn't its forte, and there is not much traction in deep mud. Still, even on those surfaces, it fares better than most mild all-terrain tires.
Besides, if you want to go rock-crawling or drive into the deep mud, you should choose specialized off-road tires.
4. Wet Grip, Traction, and Braking
Like most tiremakers nowadays, Pirelli implemented wide lateral notches and open shoulders to successfully evacuate water out of the tread.
The Scorpion All Terrain Plus also has a high-void area, which further helps with the matter. As a result, the hydroplaning resistance is excellent, meaning your truck or SUV won't lose stability in heavy rain.
The tire also provides excellent acceleration traction and very short braking distances for the category.
However, the most impressive thing about the Scorpion All Terrain Plus is how it handles the rain, feeling surefooted and stable through the corners.
In that regard, it's close to the best mild all-terrain tires, which is very high praise.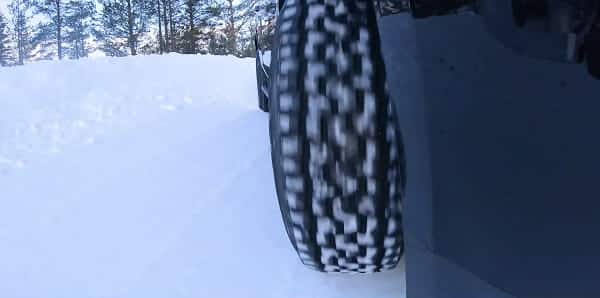 The Scorpion All Terrain Plus has the 3PMSF (Three-Peak Mountain Snowflake) emblem, meaning it's tested for higher longitudinal traction on snow.
However, this only covers acceleration and not handling or braking.
Even so, the tire is pretty good on snow overall. The multiple block edges and in-block sipes bite into packed and unpacked snow, improving acceleration, braking, and cornering.
A set of winter tires will do much better, but as far as all-terrains go, the Scorpion All Terrain Plus is pretty good.
Although the tread pattern is quite aggressive, Pirelli made sure it doesn't produce too much noise. And, indeed, the Scorpion All Terrain Plus is fairly quiet for such a tire, producing only a slight tread growl that's not intrusive in any way, even at higher speeds.
The ride quality isn't as smooth, though. Smaller imperfections aren't an issue but hit a larger bump, and the Scorpion All Terrain Plus will immediately show its presence.
Notably, it feels stiff over rough patches or repetitive bumps, with unwanted secondary movement — still, not a big issue considering the category.
You can see more Pirelli Scorpion All Terrain Plus review here: Video created by Twan Ballard

Should I Buy the Pirelli Scorpion All Terrain Plus?
The Pirelli Scorpion All Terrain Plus is one of the few tires that can take you to the off-road course in style yet deliver when you hit the hard stuff. It's also very well-made and durable and certainly looks the part.
Hence, I highly recommend it to any SUV or truck owner that wants a reliable companion for overlanding or camping adventures!
What vehicles will the Pirelli Scorpion All Terrain Plus tire be suitable for?
Below is a list of some popular vehicles, however this is not a complete list.
Acura SLX
Cadillac Escalade, XT4 Luxury
Chevrolet Silverado, Trailblazer, Avalanche, Blazer, Suburban, Express, Scottsdale, Tahoe, Colorado, Equinox, Traverse
Dodge Ram, Dakota, Durango, Sprinter, Grand Caravan, Journey
Ford Explorer, F-150, F-250, F-350, E-250, E-350, Bronco, Ranger, Expedition, Excursion, Escape
GMC Sierra, Savana, Yukon, Acadia, Envoy, Canyon, Terrain
Honda Passport, Pilot, Ridgeline, CR-V, Accord, Crosstour
Hummer H3, H3T
Isuzu Ascender, Amigo, Rodeo, Trooper, VehiCROSS
Jeep Cherokee, Grand Cherokee, Wrangler, Gladiator, Liberty, Commander
Kia Sorento, Borrego
Land Rover Discovery, Land Rover Range Rover
Mazda CX-5, Tribute, B3000, B4000
Mercury Mariner, Mountaineer
Nissan Pathfinder, Titan, Armada, Frontier, Xterra, Rogue, NV1500, NV2500
Ram Dakota, C/V, 1500, 2500, 3500
Toyota Tundra, Tacoma, Sequoia, FJ Cruiser, Highlander, 4Runner, RAV4
Volkswagen Routan
List of the Pirelli Tires Review

I'm Ivo Gievski, the content writer for Tireer. We built our website with over 15 years of experience and extensive research in the automotive and technology sectors. My dedication to delivering high-quality content is unwavering, and I strive to continuously hone my skills to stay ahead of industry trends and provide readers with informative, engaging, and valuable insights.