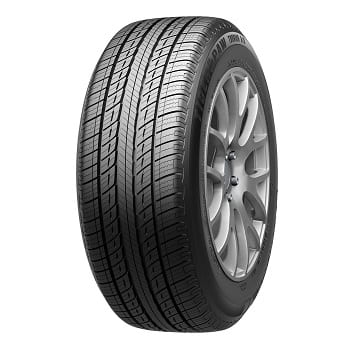 Young folks might not be familiar with the name, but Tiger Paw was one of the most popular tires back when muscle cars were a thing. Notably, the first-gen Pontiac GTO used Uniroyal Tiger Paw tires as an OEM install, and it was even referred to as "The Tiger." At that time, Uniroyal was owned by the United States Rubber Company, which was one of the three largest tire manufacturers in the 60s.
Today, though, only the Tiger Paw name remains, but Uniroyal has almost nothing to do with that company. Instead, it is Michelin that owns the brand and uses it for its budget offerings in USA and Canada. However, if you are from Europe, the Uniroyal you'll buy won't have anything to do with the North American brand; there, it is owned by Continental AG, and its range is vastly different.
The most popular tire in Uniroyal's range today is the Tiger Paw Touring A/S – an all-season touring offering designed for regular passenger cars. The modern Tiger Paw isn't a performance tire, though, and you won't find it on any modern muscle car.
Gone are the days when Uniroyal was competitive in the highest tire segments – today, the brand focuses on offering good overall performance for the least amount of money. Of course, this resonates quite well with the average tire buyer in North America, who wants maximum performance and durability on a budget.
However, the touring all-season category today is flooded with excellent tires at low price points; models like the General AltiMAX RT43, Cooper CS5 Grand Touring, Kumho Solus TA11, and Yokohama AVID Ascend LX dominate the market of budget tires with premium-like performance and durability.
Now, the Tiger Paw Touring A/S is slightly less expensive than those tires, but does that mean it's also a lesser tire. I'll answer all of your questions in my in-depth Uniroyal Tiger Paw Touring A/S review, where I'll cover every aspect of the tire, including durability, performance, comfort, and price. Let's dig in!
The Uniroyal Tiger Paw Touring A/S comes in 85 different sizes, ranging from 14-inch to 20-inch wheel diameter. Hence, Uniroyal covers a vast range of cars driving on roads today, including sub-compact cars, compact cars, mid-size cars, minivans, compact and mid-size crossovers, and even some coupes.
Notably, Uniroyal offers one of the most comprehensive ranges in the category, meaning there will probably be a suitable dimension for your car in the range.
The Tiger Paw Touring A/S doesn't come with some special indicators to help you monitor tread depth. This is not a big disadvantage since most touring all-season tires are the same, although some models, like the Continental TrueContact Tour and General AltiMAX RT43, do provide a clearer visual indication of the tread depth left.
Still, the Tiger Paw Touring A/S at least comes with the industry-standard tread wear indicators (TWIs), which are narrow rubber bars that sit recessed in the circumferential grooves of the tire. These bars sit 2/32-inch (1.6 mm) higher than the bottom of the grooves, so when the tread reaches 2/32-inch of depth, the TWIs will be flush with the surface.
At that point, it is highly recommended that you immediately replace your tires. After numerous tests, it is generally considered that a tire with less than 2/32-inch tread depth won't be able to channel water successfully, thus creating hazardous hydroplaning when it rains.
Still, I'd recommend replacing these tires sooner, especially if you plan on using them through the winter. When it comes to snow, your tires should have at least 5/32-inch (4 mm) of tread depth left to provide safe traction. Unfortunately, you won't know when the Tiger Paw Touring A/S reaches 5/32-inch unless you use a tread depth gauge or ask your tire technician.
On the bright side, the Tiger Paw Touring A/S is among the most durable touring all-season tires out there. Apart from some rare cases of the tread separating from the tire, owners are very satisfied with how long these tires last.
On top of that, Uniroyal offers a 75,000-mile treadwear warranty on H-speed rated sizes and a 65,000-mile treadwear warranty on V-speed rated sizes, both exceptional for the price. So, if getting the most miles from your tires at the lowest price possible is what concerns you, the Tiger Paw Touring A/S is one of the best choices out there.
Features and Performance of the Uniroyal Tiger Paw Touring A/S
The Tiger Paw Touring A/S doesn't feature any groundbreaking technology, but it's not like I expected that at the price it's offered. The only proprietary feature Uniroyal employed in the tire is the Tru-Last technology, which focuses on, which optimizes the contact patch for longer tread life and even wear.
With that said, let's go more in-depth into the design of the tire and see how it handles daily driving situations through our tests on different types of terrain.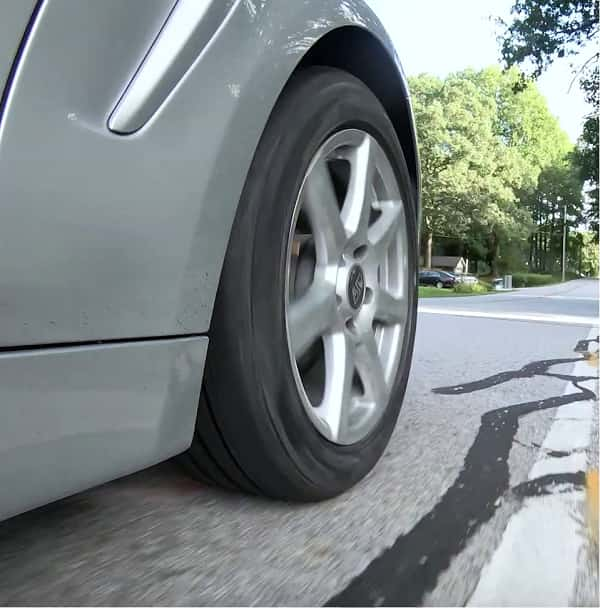 Like most touring all-season tires, the Tiger Paw Touring A/S features a continuous center rib for improved steering response and higher cornering grip. However, the higher sipe density compared to most touring all-season tires doesn't play well with performance in dry conditions, and the Tiger Paw Touring A/S doesn't come close to the class-leading tires in overall traction and grip.
According to our dry road test, the stopping distances are measurably longer than what you'd get on premium tires, but also from competing products from General and Cooper. Moreover, the handling is sub-par when compared to those tires, with lower lateral grip and lower acceleration traction when you exit a corner.
Nonetheless, although not perfect, the Tiger Paw Touring A/S is still good enough as a daily driver, especially for the price. Sure, a Michelin or Continental tire will provide you with higher grip and traction, which will help in some situations, but for most driving conditions, the Tiger Paw Touring A/S will be completely fine. Just make sure that you don't entrust it to provide you with exceptional driving dynamics if you own a sports sedan or coupe, and you'll be fine!
2. Handling and Steering Feel
Thanks to that continuous center rib, the Tiger Paw Touring A/S feels quite responsive for a touring tire. It's not razor-sharp like a performance tire, but still very good for the category.
The steering is also very linear, with a good on-center feel and excellent straight-line tracking. In other words, you'll enjoy this tire on longer journeys, as you'll be able to keep your vehicle in a straight line easily.
3. Wet Grip, Traction, and Braking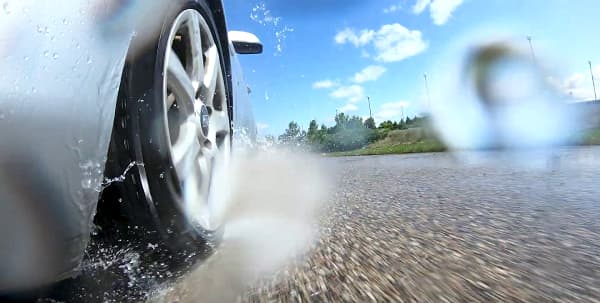 The Tiger Paw Touring A/S employs a symmetric pattern with full-depth sipes across every tread block and four circumferential grooves. As a result, the tire can easily dissipate a lot of water from the tread, improving the hydroplaning resistance significantly. Therefore, you won't lose stability in heavy rain, even when driving at higher speeds.
According to our wet road test, the tire continues to impress when you accelerate hard – the longitudinal traction is excellent. The stopping distances are pretty short, too, and your vehicle will feel surefooted in the corners.
Overall, this is an excellent rain tire for the category, providing its owner with safe traction and easy-to-drive nature.
4. Is it Good for Winter?
Unlike some other all-season tires, the Tiger Paw Touring A/S features zig-zag sipes in the outer tread blocks, alongside regular sipes in the inner tread blocks.
And according to our snow road test, it works quite well over light snow – the longitudinal traction is very good, meaning you'll get good acceleration and braking performance. You'll also be able to steer your car easily, without sudden movements.
However, deep snow and ice can become a problem for this tire – in those conditions, the tire simply refuses to cooperate with the driver. It also doesn't work on ice-covered roads, where the grip and traction are dangerously low.
Uniroyal says that the symmetric pattern of this tire is specifically designed to lower road noise, but I didn't experience that in my testing. The Tiger Paw Touring A/S is louder than most of its competitors, with a tread whine that easily penetrates the cabin.
Fortunately, the ride quality is excellent on smooth and broken pavement – the tire deals with smaller and larger imperfections with ease.
You can see more Uniroyal Tiger Paw Touring A/S review here: Video created by Joey Kerle

Should I Buy the Uniroyal Tiger Paw Touring A/S?
The Uniroyal Tiger Paw Touring A/S is one of the most affordable touring all-season tires from well-known manufacturers, making it very attractive for buyers.
It isn't a tire without faults, though – the noise performance should be better, and I would've liked an increase in dry traction and grip. Besides, the premium competition beats the Tiger Paw Touring A/S in almost every measurable category.
Still, you can't complain much at this price – for the money, this is one of the most accomplished all-season tires. Hence, if you are in the market for a budget-friendly all-season rubber, you should definitely give the Tiger Paw Touring A/S a look!
List of the Uniroyal Tires Review