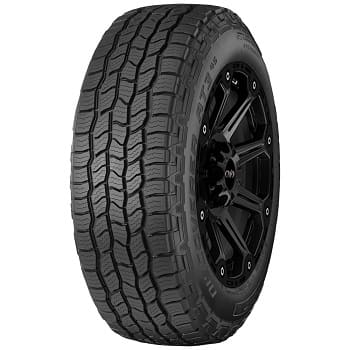 All-terrain tires are slowly taking over from highway tires, with owners of trucks and SUVs looking more and more interested in going off the beaten path. The demand has skyrocketed during the pandemic, as the lockdowns have forced people to spend more time in nature.
And as demand is surging, tire manufacturers are launching new tires at an increased pace. One company that has an especially thorough selection of off-road-capable tires, including quite a few all-terrain ones, is Cooper. Particularly, I'm talking about the Discoverer all-terrain range, which has the AT3 4S, AT3 XLT, and AT3 LT.
In this review, I'll be talking about the Cooper Discoverer AT3 4S, a tire that is the mildest among its "cousins." This means that this tire is more aimed at people that don't want to sacrifice on-road performance while offering higher off-road traction than comparable highway all-season tires.
So, it should be a great companion for campers and overlanders, but certainly not for real off-road enthusiasts.
However, the mild all-terrain category is getting stronger each year, with premium manufacturers like Continental, Bridgestone, and Michelin also launching their own models. So, how does the Discoverer AT3 4S compare to its rivals?
You can read our Cooper Discoverer AT3 4S review for an elaborate answer or just peek through the pros and cons as a TL;DR, after our tests on different types of terrain. So, let's dig in!
The Discoverer AT3 4S is available in numerous sizes, ranging from 15-inch to 22-inch wheel diameter. However, unlike most of its rivals, Cooper doesn't offer LT-metric sizes, so owners of full-size and heavy-duty trucks are out of luck.
If you want a Cooper tire in LT-metric size, you'll need to go for the largely similar AT3 LT or the more off-roady AT3 XLT.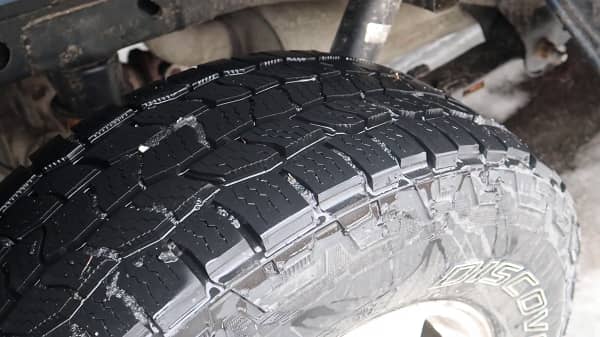 Cooper didn't equip the Discoverer AT3 4S with some proprietary maintenance indicators; instead, the tire comes with the industry-standard tread wear indicators.
These are narrow rubber bars that sit recessed into the grooves of the tire but protrude 2/32-inch from the bottom.
Hence, when the tread depth reaches 2/32-inch, they will be flush with the surface, at which point you should immediately replace the tires, as they won't be road legal.
The reason why authorities chose that particular depth is that testing showed that tires with less than 2/32-inch of tread depth would hydroplane even in light rain, which is a serious safety hazard.
However, if you plan on using your tires through the winter, you'll need to replace them even sooner; in that case, you'll need at least 5/32-inch for proper snow traction. The same goes for off-road traction – the more tread the tire has, the better performance you'll get.
Fortunately, the Discoverer AT3 4S is one of the most durable all-terrain tires out there. With the over 30,000 miles we've driven with this tire, the tire hasn't suffered any punctures, even though we off-roading and traveled fast on gravel.
In addition, the other owners also are very satisfied with the treadlife, and Cooper provides a 65,000-mile treadwear warranty – one of the best in the category.
Features and Performance of the Cooper Discoverer AT3 4S
Cooper incorporated quite a few proprietary technologies, aiming to make the Discoverer AT3 4S one of the best mild all-terrain tires out there.
This resulted in a tire that's one of the most expensive in its category, which isn't something we'd come to expect from the brand.
Still, if the outcome is a tire with excellent performance throughout, then it would be easy to justify the higher price. So, let's have a look at the features of the tire and see if they make a difference in the real world.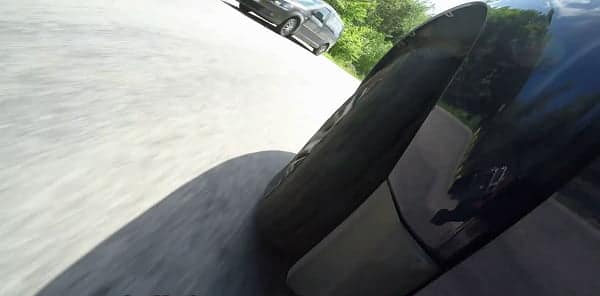 The Discoverer AT3 4S features a silica-infused all-season tread compound designed to offer year-round traction and a Secure-Grip all-terrain pattern for usable on-road and off-road traction.
However, this is more of a road tire than an off-road one – the tread pattern doesn't feature any large lugs or crazy-deep grooves.
And rightly so, according to our dry road test, the Discoverer AT3 4S is very capable in dry conditions. It's not class-leading – that award goes to the Continental TerrainContact A/T, but it comes very close.
Notably, it feels very surefooted through the corners, the grip levels are pretty high for the category, and there is ample traction for acceleration and braking.
However, while certainly impressive for the category, the Discoverer AT3 4S isn't as good as a proper highway all-season tire on dry roads.
Meanwhile, I was impressed by the highway stability, although only when you don't tow; since this tire doesn't come in LT-metric sizes, you won't be able to tow very large trailers. Fortunately, Cooper has the Discoverer AT3 LT for those scenarios.
2. Handling and Steering Feel
Since the Discoverer AT3 4S is primarily a road tire, one would expect it to be responsive, right? Unfortunately, Cooper's mild all-terrain tire feels quite sloppy compared to its rivals.
Notably, the steering isn't overly responsive or direct, making it harder to place your SUV where you want. On a more positive note, the straight-line tracking is pretty good, so you won't be having issues on long highway sessions.
3. Off-Road Traction and Durability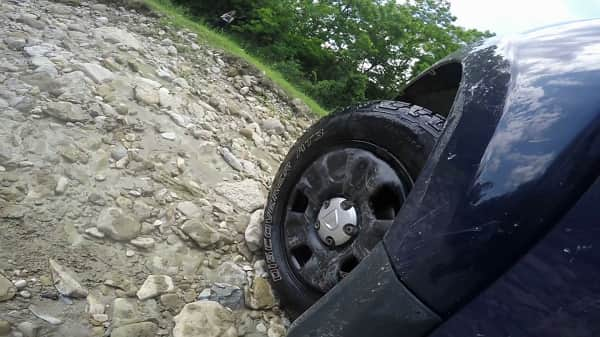 Unlike the Discoverer AT3 LT, this tire doesn't have any protection against cuts, chips, and punctures.
So, I would be very cautious when driving on abrasive terrains. This also makes the tire almost unusable for rock crawling, as the sharp edges could easily damage the tread.
Cooper did employ some off-roady bits on the tread pattern, though. Namely, the Discoverer AT3 4S features a 5-rib all-terrain pattern for improved off-road drivability, part of the Adaptive-Traction Technology.
As a result, there is ample traction on hardpacked surfaces, such as dirt and gravel. I was also impressed with the cornering on these surfaces – you can drive faster and have some fun.
Still, this is not the best option for real off-road enthusiasts, as it doesn't provide particularly good traction in mud or over large rocks. Wet turf could also be an issue, though the Discoverer AT3 4S redeems itself in the sand – provided you lower the tire's pressure a bit.
Relative to its category, the Discoverer AT3 4S is among the best off-road tires, easily beating the Continental TerrainContact A/T. Still, if you want a better off-road experience, I'd suggest going for the more aggressive Discoverer AT3 XLT.
4. Wet Grip, Traction, and Braking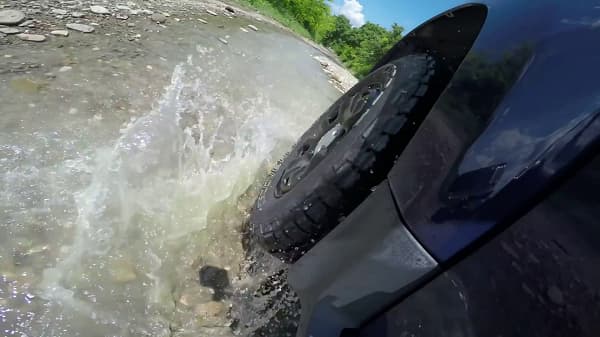 The Discoverer AT3 4S features the brand's Aqua Vac Channels, designed to dissipate water and resist hydroplaning.
That's right, according to our wet road test, the hydroplaning resistance on this tire is excellent, even during very heavy rain.
However, things aren't as impressive in other areas. Notably, the tire exhibits understeer when entering a corner – the front tires simply won't grip immediately.
Also, the rear end doesn't feel very stable when you step on the gas out of a corner and might surprise you with an oversteer. The grip levels are actually very good for the category, but the behavior of the tire leaves a lot to be desired.
Fortunately, the stopping distances are among the shortest in the category, trailing only behind the class-leading Continental TerrainContact A/T.
5. Is it Good for Winter?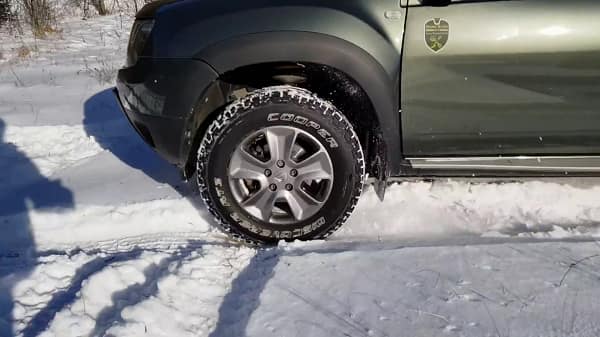 The Discoverer AT3 4S is one of the few all-terrain tires with the 3PMSF symbol, which signifies higher longitudinal traction (acceleration and braking) on snow than regular M+S tires.
Cooper achieved that by using its patented Snow-Groove Technology for higher traction. The tire also features Micro-Gauge ZigZag sipes, which create additional biting edges on snow.
So how will it perform in the snow? Well, according to our snow road test, this is one of the best all-terrain tires on snow right now, with excellent acceleration traction and snow braking.
It's also impressive during cornering, where it feels very surefooted and easy to drive. In that regard, it's close to the excellent Bridgestone Dueler A/T Revo 3.
The Discoverer AT3 4S has quite a soft ride, making long highway sessions a breeze. However, this means there is also reverberation after your hit a larger pothole. In that sense, the competitors feel more composed.
Meanwhile, the tire remains noise-free on smooth roads, even at highway speeds, and the tread growl it produces on rough tarmac isn't intrusive. Overall, a very comfortable experience.
You can see more Cooper Discoverer AT3 4S review here: Video created by Duster Trails

Should I Buy the Cooper Discoverer AT3 4S?
The Discoverer AT3 4S isn't a tire without its faults, but then again, no other mild all-terrain tire is.
For instance, the Continental TerrainContact A/T is better on dry and wet surfaces but trails significantly behind its Cooper rival on snow.
Meanwhile, the Bridgestone Dueler A/T Revo 3 is slightly better on snow but can become noisy on the highway.
With that said, if you are in the search for a dependable mild all-terrain tire, you should definitely put the Discoverer AT3 4S on your shortlist. Just make sure that you can live with the (slight) disadvantages and you'll be fine.
List of the Cooper Tires Review

I'm Ivo Gievski, the content writer for Tireer. We built our website with over 15 years of experience and extensive research in the automotive and technology sectors. My dedication to delivering high-quality content is unwavering, and I strive to continuously hone my skills to stay ahead of industry trends and provide readers with informative, engaging, and valuable insights.