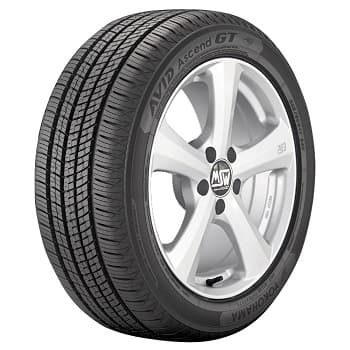 Drivers of regular passenger vehicles, such as compact cars and sedans, have the widest variety of tires to choose from.
Want more grip and traction? Then a summer performance tire is the way to go. Want more durability and comfort? In that case, a touring or grand-touring tire is the way to go.
And if you want your tires to work throughout the year, then you should go for an all-season tread compound.
The Yokohama AVID Ascend GT that I'll cover in this detailed review is of the grand-touring all-season variety.
Hence, it's designed to provide a comfortable ride, surefooted handling in all weather conditions, and long treadlife. In that sense, it's similar to touring all-season tires, although designed to work at higher speeds and provide generally better traction.
Still, it's worse than performance tires in that regard, both all-season and summer.
The real question, though, is how good it is? The grand-touring category is already flooded with great premium tires, and most of them are great in almost all measurable categories.
Tires like the Michelin Premier A/S, Bridgestone Turanza QuietTrack, and Continental PureContact LS are hard to beat, although they do cost a pretty penny.
So, can the AVID Ascend GT compete with them while costing less? Let's find out in our Yokohama AVID Ascend GT review!
The AVID Ascend GT comes in numerous sizes, ranging from 15-inch to 20-inch wheel diameter. Thus, Yokohama covered a large portion of vehicle types driving on public roads today, including compact sedans and hatchbacks, mid-size sedans, performance sedans, executive and luxury sedans, and even some crossovers.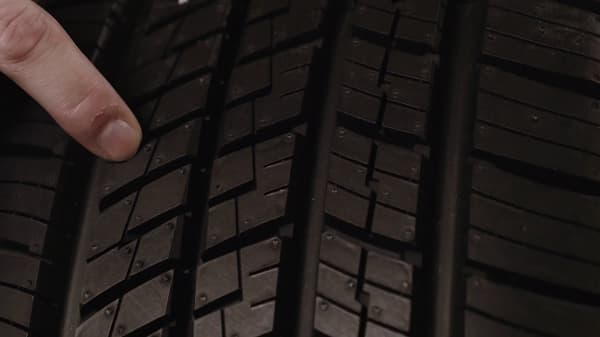 Yokohama employed the industry-standard TWIs (tread wear indicators) to help the driver monitor the tread life. These indicators are required by law, although they don't provide you with a granular way of monitoring the tread depth.
Instead, they only show you when the tire reaches 2/32-inch of tread depth, which is deemed insufficient for providing good hydroplaning resistance.
The TWIs are narrow rubber bars that sit into the circumferential grooves, and when the tread depth reaches 2.32-inch, they will be flush with the surface.
You should immediately replace the tires at that point since they won't be safe for driving in rainy weather. However, we recommend changing them even sooner for winter driving.
Fortunately, the AVID Ascend GT is a very durable tire, so you won't need to care about checking the TWIs anytime soon.
Owners report excellent treadlife, and Yokohama offers a 65,000-mile treadwear warranty, which is pretty good for the price.
Features and Performance of the Yokohama AVID Ascend GT
The AVID Ascend GT is one of Yokohama's most important tires since it covers a large portion of vehicles driving on roads today.
Hence, the Japanese tiremaker employed some of the best technologies it had in the rubber compound and tread design. Did that help, though? Let's have a look.
Yokohama designed the AVID Ascend GT's tread pattern to deliver a stable contact patch, aiming to increase traction and cornering grip on dry surfaces.
However, the tire features quite a lot of grooves and sipes, which usually have a negative effect on dry handling and braking.
As a result, the AVID Ascend GT is not among the class leaders when it comes to performance in dry conditions.
However, this is not something that should worry you since the differences are only measurable on the track.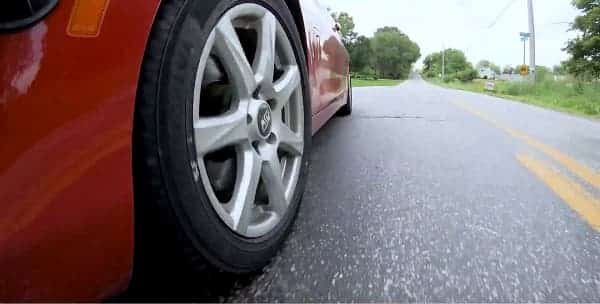 Crucially, the tire is very safe on public roads, providing stable handling, without any surprising snap oversteer or understeer.
The stopping distances are also reasonably short, and there is enough acceleration traction for more powerful vehicles.
Overall, the AVID Ascend GT is a capable dry tire for daily driving, although not one that will blow you away. Therefore, if you are a spirited enthusiast driver, you should look elsewhere.
2. Handling and Steering Feel
The AVID Ascend GT is a grand touring all-season tire, meaning it's not designed for a rewarding driving experience.
Even so, some of its competitors do offer responsive and direct steering, making the driving experience much more engaging.
Yokohama's tire isn't as good as the best in the category, though. The steering isn't very responsive and feels imprecise at first, creating a disconnection between the driver and the road. Curiously, though, the AVID Ascend GT feels much better mid-corner.
Still, I won't recommend this tire to spirited drivers that want to attack every corner. The grip and traction are good for a grand-touring tire, sure, but the overall experience doesn't excite.
The Michelin Premier A/S and BFGoodrich Advantage Control are much better options if you want a more rewarding driving experience.
3. Wet Grip, Traction, and Braking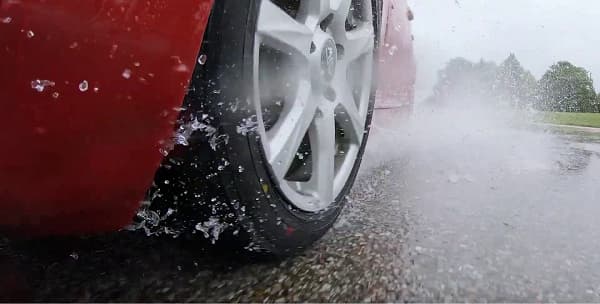 Yokohama utilized its latest TriBlend tread compound with low-Tg polymer and high silica content, aiming to improve traction in wet and snowy conditions.
The tire also features an asymmetric groove arrangement, helping it to disperse water more easily and further improve traction and grip in slippery conditions.
So, has that helped the AVID Ascend GT achieve great results in our wet tests? Well, it's certainly up there with the best grand-touring all-season tires.
One area where I'd like to see improvement is braking on wet surfaces – the stopping distances are slightly longer than the class leaders. However, in every other area, the GT is excellent.
For starters, the hydroplaning resistance is great, even during very heavy rain. The handling also impresses, with the AVID Ascend GT feeling surefooted in the rain and very stable.
Even when you lose traction, the tire does that in a linear way and with the more desired understeer. On top of that, you can accelerate swiftly out of a corner without worrying about losing traction, particularly important on rear-wheel-drive vehicles.
Overall, I was impressed by how the Yokohama AVID Ascend GT handles wet conditions. Although it needs a few feet more to stop, it's still far from bad, and the surefooted handling has no match in the price range.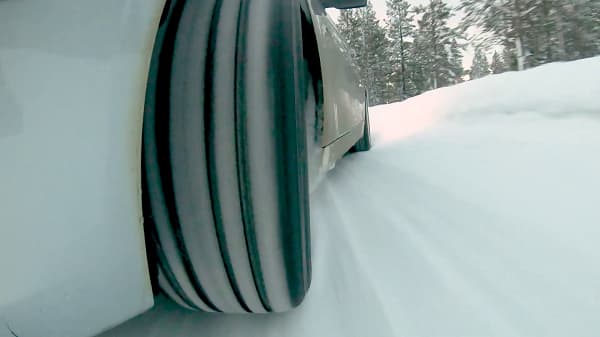 Although many tiremakers try different sorts of things to improve snow traction in their all-season tires, the results (almost) always leave us wanting more.
Here, the TriBlend compound tries to keep the tire pliable in freezing temperatures, while almost all grooves feature Triple 3D sipes for additional biting edges.
As a result, the AVID Ascend GT is among the best all-season tires for wintry conditions. You will get usable traction on light snow, the handling will feel stable and surefooted, and the stopping distances won't be too long.
You shouldn't drive very fast, though, as this is not a winter tire. Still, if you drive carefully, you should be fine.
The same can't be said for icy surfaces and very deep snow. Nonetheless, these surfaces are an issue for most all-season tires, so it's not a big disadvantage for the AVID Ascend GT.
Besides, if you live in areas where it snows frequently, you should really invest in proper winter tires.
Apart from focusing on wet and snow traction, Yokohama's engineers also used several techniques to reduce noise.
These include a Multi-Pitch Tread Design and Adaptive Shoulder, which should reduce tread growl, even when the tire is worn out.
As a result, this is one of the quietest tires around, period. The tread growl is almost imperceptible and quickly goes into the background since it's quieter than the wind noise on most vehicles.
The AVID Ascend GT remains to be quiet at higher speeds, even when you drive over rough patches.
But that's not all, folks! Apart from being whisper-quiet, the AVID Ascend GT is also a very comfortable tire. It smooths out bumps with ease, both smaller and larger, and doesn't produce unwanted secondary motion.
Overall, the AVID Ascend GT is among the quietest and smoothest grand-touring all-season tires right now.
Hence, if you care about comfort, this is the one to get – especially since it doesn't cost as much as other premium tires.
You can see more Yokohama AVID Ascend GT review here: Video created by Tire Rack

Should I Buy the Yokohama AVID Ascend GT?
Yokohama has always been great at producing tires that compete with models from premium brands, such as Michelin, Bridgestone, Continental, Goodyear, and Pirelli.
However, the Japanese brand always charges less than its counterparts, meaning its tires are quite the bargain, and the AVID Ascend GT is the perfect example of that.
This is a tire with only a few disadvantages, and in my opinion, they are not a big deal.
More importantly, it provides a safe ride in most conditions and does that while caressing the passengers with a smooth and quiet ride. Hence, you should definitely give it a look.
What vehicles will the Yokohama AVID Ascend GT tire be suitable for?
Below is a list of some popular vehicles, however this is not a complete list.
Acura RL, RLX, TL, TLX, TSX, CL, ILX, RDX
BMW X3, X4, Z4, Z8, 330i, 328i, 528i, 540i, 840i
Audi A3, A4, A6, A8, Allroad, S8, TT Quattro, Q5
Buick Regal, Allure CX, LaCrosse, Verano, Envision
Cadillac ATS, CTS, XLR, Allante, Catera
Chevrolet Equinox, Impala, Malibu, Monte Carlo, Camaro, Cobalt, Cruze, Epica, Orlando
Chrysler 300, Chrysler 200, Concorde, LHS, Pacifica, Town & Country, Crossfire, Sebring
Dodge Charger, Challenger, Magnum, Avenger, Intrepid, Grand Caravan, Journey, Dart, Stealth, Stratus
Ford Escape, Mustang, Bronco, Taurus, Focus, EcoSport, Fusion
GMC Terrain
Honda CR-V, HR-V, Crosstour, Accord, Odyssey, Civic, Prelude
Kia Forte, Spectra, Optima, Magentis, Niro, Rondo, Soul, Seltos, Cadenza
Lexus NX200t, NX300, LS430, RX350, RX450h, LS500, IS250, IS300, IS350, RC300, RC350
Mazda 6, CX-5, CX-7, Mazda 3, MX-5, RX-8
Mercedes-Benz A250, E300, S430, S500, S600, Metris, GLC300, B250
Mini Cooper
Nissan Rogue, Maxima, Sentra, Altima, 370Z
Subaru Outback, Crosstrek, Forester, Legacy, Impreza
Toyota Yaris, RAV4, Venza LE, Highlander, Corolla, C-HR, Camry, Prius, Solara, Avalon
Volkswagen Arteon SE, Routan, Beetle, GTI, Golf, Jetta, Passat, R32
Volvo XC40, XC60, XC70, XC90, C70, S60, S80, S90, V70, V60
List of the Yokohama Tires Review

I'm Ivo Gievski, the content writer for Tireer. We built our website with over 15 years of experience and extensive research in the automotive and technology sectors. My dedication to delivering high-quality content is unwavering, and I strive to continuously hone my skills to stay ahead of industry trends and provide readers with informative, engaging, and valuable insights.