Going off the beaten track has become almost a necessity during lockdowns; instead of staying locked at home, you can spend the night under the night sky.
However, you'd need some things to do that, like a truck or SUV, a high-quality tent, and off-road capable tires.
We are here to help with the tires, particularly by reviewing the Yokohama Geolandar X-AT. It's an all-terrain tire designed precisely for people that want to explore the wilderness, with an aggressive tread pattern and tough and durable casing.
Is it any good, though? Let's have a look at our Yokohama Geolandar X-AT review!
The Yokohama Geolandar X-AT is an all-terrain tire designed for drivers of trucks and SUVs that want elevated off-road traction.
It comes in 27 different LT-metric sizes, ranging from 15-inch to 22-inch wheel diameter. 31-inch, 33-inch, 35-inch, and 37-inch options are also available.
The Japanese tiremaker utilized the industry-standard TWIs (tread wear indicators), which show the driver when the tread depth reaches 2/32-inch.
At that point, the tires should be immediately replaced, as wet traction and grip will be too low.
Fortunately, you won't be thinking about replacing the Geolandar X-AT soon. It comes with a 45,000-mile treadwear warranty, which is among the longest for an all-terrain tire with real off-road credentials, and owners are very satisfied with how long it lasts.
Features and Performance of the Yokohama Geolandar X-AT
The Geolandar X-AT is an aggressive all-terrain tire, meaning it has a tread pattern with larger blocks and deeper grooves.
Yokohama isn't shy to admit that – go over to its website, and you'll see that most of the features of the tire are geared toward off-roading. Do they really improve traction, though? Let's dig in!
1. Off-Road Traction and Durability
Even people that aren't very knowledgeable about tires will immediately notice the aggressive off-road tread pattern of the Geolandar X-AT. It's obvious that Yokohama focused mostly on off-roading here, although the X-AT is still graded as an all-terrain tire.
For starters, the tire is made from Yokohama's HD-2 off-road compound with triple polymer blends, which provides long treadlife and cut and chip resistance.
Furthermore, the aggressive center blocks have an angular offset that provides increased traction on slippery surfaces but also increases the strength of the tire.
Then, the outer combination grooves provide additional traction over large rocks, while the dynamic shoulder blocks create more biting edges for increased mud traction and better stone ejection.
To top it all off, Yokohama also made sure the Geolandar X-AT will last many off-road sessions.
Notably, it features the brand's Geo-Shield Technology, which packs multiple sidewall plies, a high-turnup carcass, and a full nylon cap.
Moreover, the dual sidewall protectors guard against impacts and punctures while also increasing traction in mud.
Thanks to the sturdy construction, Yokohama promises exceptional durability and puncture resistance.
This is something that off-roaders expect from their tires, but it's not standard in the all-terrain category.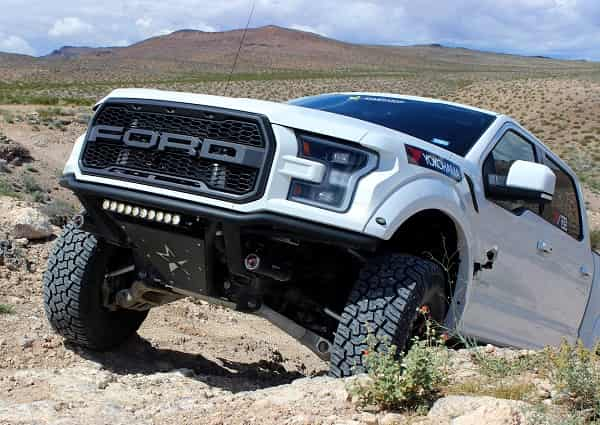 Okay, enough with the marketing talk; how does the Geolandar X-AT handle real-life situations? Well, as far as all-terrain tires go, this is one of the best around.
Hardpacked surfaces are a joke for this tire – it provides outstanding traction and grip, while the stone retention works perfectly.
On the latter, the tire ejects the stones so vigorously that you will hear them in the cabin, although not as strong enough to damage the body of your truck.
Still, most all-terrain tires work perfectly on hardpacked surfaces. So, in order to stand out, the Geolandar X-AT must do everything else right.
And, indeed, it does. Namely, I was very satisfied with how much traction there is in shallow mud, as most all-terrain tires struggle there. There is still some traction in deep mud, although a proper mud-terrain tire will work much better there.
The tier also performs very well for rock crawling, providing enough traction and toughness. You also won't get stuck on turf, dry or wet.
Finally, since the carcass is very tough, you can deflate the Geolandar X-AT to very low pressures for increased traction on sand but also every other off-road surface.
Overall, I was impressed with how the tire handled off-roading. It isn't as good as a proper off-road mud-terrain tire, but for an all-terrain one, it's one of the best around.
The Geolandar X-AT features quite an aggressive tread pattern, so I didn't expect much in terms of grip and traction in dry conditions.
Indeed, the tire doesn't have the handling edge of a highway tire or even a mild all-terrain tire, such as the Continental TerrainContact A/T.
Nonetheless, I think that most buyers will be okay with that, especially considering the more extensive off-road abilities.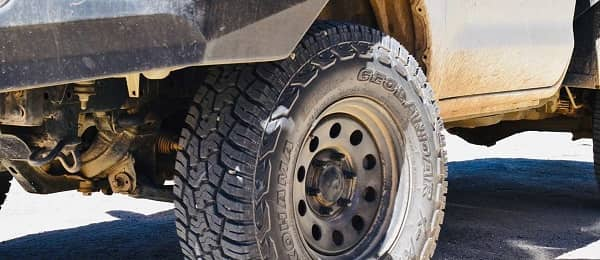 Specifically, most drivers will be completely satisfied with their performance on public roads.
Traction is sufficient even for the most powerful trucks, while the stopping distances are shorter than you would expect.
Throw your truck/SUV into a corner, and the grip levels will be completely satisfying for such a tire – no real issue there.
Since many truck and SUV owners also tow large trailers or haul heavy cargo, stability while loaded to the teeth is also crucial for such a tire.
Fortunately, the Geolandar X-AT provides excellent stability with a large trailer attached. Besides, it is available in load range E configurations, so it's ready for everything you throw at it.
All in all, the Geolandar X-AT can take you to the unpaved road in complete safety, provided the road is dry.
3. Handling and Steering Feel
Those large tread blocks and significant sidewall certainly don't allow for very responsive handling. This is a trait of most aggressive all-terrain tires, but I feel it's a bit more exaggerated here.
Notably, the front tires react slowly to your input, making turning into corners a slightly cumbersome experience. The steering is also not very linear and doesn't instill confidence.
Fortunately, the straight-line tracking is good, so long highway driving sessions won't be tiring for the driver.
4. Wet Grip, Traction, and Braking
Most aggressive all-terrain tires struggle in rainy conditions, especially when it comes to cornering.
Yokohama used sipes and narrow grooves in each block to improve the tire's wet grip and traction and minimize hydroplaning.
Now, hydroplaning is certainly not an issue – the large and deep grooves can dissipate a lot of water, so you don't have to worry about losing stability in deep puddles of water. However, that's where praising stops.
The Geolandar X-AT doesn't have very good longitudinal traction and will slip during hard acceleration.
The stopping distances are also fairly long, even for the category, while the cornering grip is lower than what you'd get on most competitors. You really need to drive more slowly in rainy conditions.
All in all, I am not very impressed with how this tire handles rainy weather. It's not unsafe like some cheap all-terrain tires, but that doesn't justify the average performance.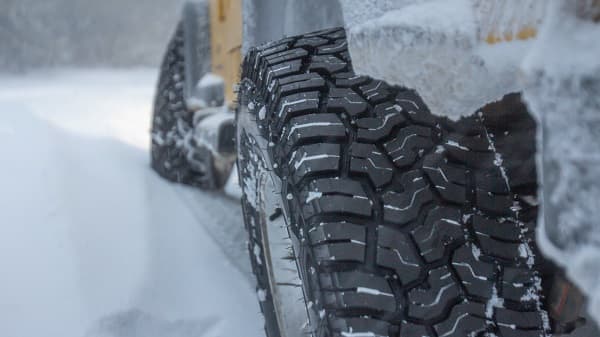 Like most all-terrain tires with large tread blocks, the Geolandar X-AT provides excellent traction on unpacked snow, which you most often find while off-roading. That's because the blocks can easily cut through the snow and create the necessary biting edges.
However, it's evident that the all-season tread compound doesn't work very well in cold conditions, as the traction on packed snow is much lower.
It's still usable but far from what you'd get from a set of proper winter tires. And don't even think about driving on icy surfaces since the traction is dangerously low.
Yokohama utilized ZigZag grooves in the tread pattern, aiming to disrupt the airflow between the tread blocks and improve the sound quality. The tire also features a Five Pitch Block Variation, which further enhances the noise characteristics.
As a result, this is one of the quietest aggressive all-terrain tires. You can hear them, but they won't be as noticeable as most of its competitors.
The ride quality is also pretty good for such a tire – you'll hear the occasional thump, but it's nothing too serious.
You can see more Yokohama Geolandar X-AT review here: Video created by Truck Camper

Should I Buy the Yokohama Geolandar X-AT?
The Yokohama Geolandar X-AT is a good all-terrain tire for off-roaders, overlanders, and campers.
It works very well off the beaten track, regardless of the surface, and has an extremely durable casing that won't leave you stranded anywhere.
However, to truly shine, it needs a higher grip and traction in rainy conditions.
In my eyes, this is a trait that every modern tire should have, as most accidents happen on wet roads. The Geolandar X-AT isn't unsafe, sure, but it needs to be better for a wholehearted recommendation.
List of the Yokohama Tires Review

I'm Ivo Gievski, the content writer for Tireer. We built our website with over 15 years of experience and extensive research in the automotive and technology sectors. My dedication to delivering high-quality content is unwavering, and I strive to continuously hone my skills to stay ahead of industry trends and provide readers with informative, engaging, and valuable insights.