Off-roading is becoming more popular during the pandemic, with people visiting remote places to avoid lockdowns.
However, you'll need a few (expensive) things to go off-roading, such as a capable SUV or truck and a set of maximum traction off-road tires.
Since tires are our specialty, we'll talk about them in this review. Particularly, a set of Yokohama Geolandar M/T G003 tires, which promise to be among the best in their respective category.
But, can Yokohama compete with BFGoodrich, Firestone, Goodyear, and Toyo? Let's find out in our Yokohama Geolandar MT G003 review!
The Yokohama Geolandar MT is available in many popular sizes, ranging from 15-inch to 22-inch wheel diameter.
All sizes are LT-metric, meaning they can be used for towing and hauling. Yokohama also offers 31-inch, 33-inch, 35-inch, and 37-inch sizes for those crazy aftermarket off-road builds.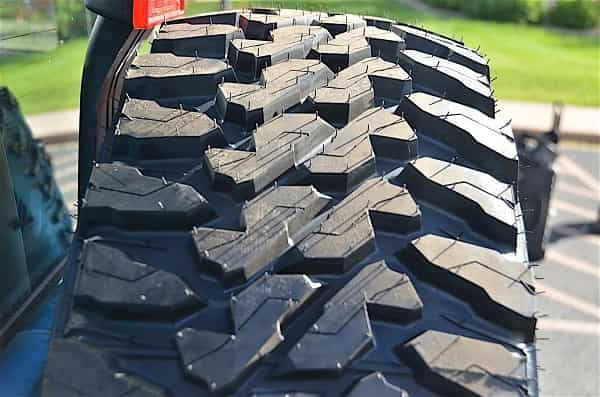 However, the Japanese tiremaker didn't include some exclusive wear indicators to help you monitor the tread depth.
Instead, the tire features the industry-standard TWIs (tread wear indicators) inside the tread grooves, which are narrow rubber bars that help you monitor the tread depth, which is crucial for safety on wet and snowy roads.
These bars are elevated 2/32-inch from the bottom of the grooves, so when the tread reaches that point, they will be flush with the surface.
At this point, you should immediately replace the tires since they won't be able to disperse water well and won't provide you with usable wet traction.
Still, since the Geolandar M/T is an off-road tire, you might want to check the tread depth more often, as the deeper the grooves are, the more traction you'll get.
To do that, we recommend getting a cheap and simple tread depth gauge or using the penny test to measure tire tread depth.
When it comes to treadlife, the Yokohama Geolandar M/T G003 shouldn't wear quickly, thanks to Yokohama's high-density triple-polymer compound.
I couldn't test that, but I can see that owners are very satisfied with the wear characteristics of the tire. Still, I would've like to see the company covering those claims with a treadwear warranty.
Features and Performance of the Yokohama Geolandar M/T G003
Yokohama focused on delivering the best possible off-road traction with the Geolandar M/T but also on minimizing on-road noise.
To achieve that, it employed hi-tech solutions and carefully designed tread patterns. How is reality? Let's give every feature a look and see if it makes a difference in the real world.
1. Off-Road Traction and Durability
Yokohama employed several technologies in the Yokohama Geolandar M/T, aiming to achieve off-road greatness. All of those fall under the GEO-SHIELD package and cover the casing and the tread.
For starters, the Triple Polymer Blend compound ensures resistance from cuts and chips while also improving on-road handling and off-road traction.
Furthermore, the tire features a large void area on the tread, guaranteeing high traction in mud and over larger rocks.
Besides, the tread can clean itself from smaller stones, important for durability.
The internal construction is also in a class of its own. It consists of three polyester body plies wrapped around a very tough hexagonal bead.
The Yokohama Geolandar M/T G003 also packs a full-width nylon cap to further stabilize the tire and a Sidewall Armor that ensures it is protected from punctures.
Oh, and the over-the-shoulder tread blocks provide higher traction in very deep mud.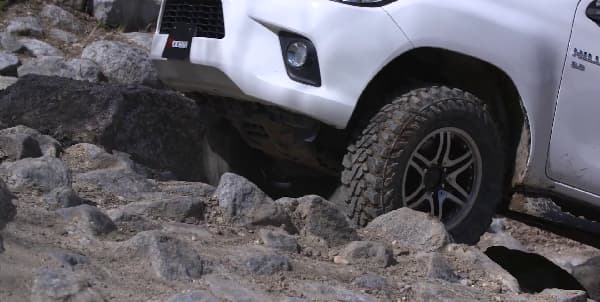 Okay, so the Yokohama Geolandar M/T is impressive on paper, but how does it handle real-world off-roading?
Let's start with the basics: hardpacked surfaces. It comes as no surprise, but it handles dirt and gravel with aplomb, providing you with ample traction, stability, and durability.
Still, if you only tackle hardpacked surfaces, a pair of all-terrain tires might be a better solution.
However, if you want a more capable off-road tire for everything else, then you should have a look at the Yokohama Geolandar M/T.
When the off-road terrain gets wet, you can rely on this monster of a tire, and it won't break a sweat. It delivers outstanding traction in shallow and deep mud, and it also works on wet turf (although it might destroy it).
The Yokohama Geolandar M/T G003 even works like a charm for rock crawling, provided you have beaded wheels so you can drive at lower PSI's.
And of all of that wasn't enough to impress you, wait until you hear about how tough this tire is. The casing is supremely strong, and you can't puncture it easily, and I didn't experience any chipping on the tread after long off-road sessions.
Overall, the Yokohama Geolandar M/T is an off-road beast.
In my eyes, it's one of the best maximum traction off-road tires for drivers of SUVs such as the Jeep Wrangler, Ford Bronco, and Toyota 4Runner, and especially if you have tuned them with lifting kits and aftermarket suspension.
Mud-terrain or maximum traction off-road tires sacrifice on-road traction and grip for increased traction on uneven terrains, and the Geolandar M/T is no exception.
Hence, Yokohama doesn't even boast about some improvements in that area, instead only talking about the noise performance on the tire (more on that later).
Now, the Geolandar M/T is not unsafe for daily driving but is far from the performance you get from highway tires and even all-terrain tires.
Particularly, the longitudinal traction is only average, so expect some wheel spin when you accelerate hard and without the AWD system engaged.
The stopping distances will also be longer, and the cornering grip won't be there when you need it.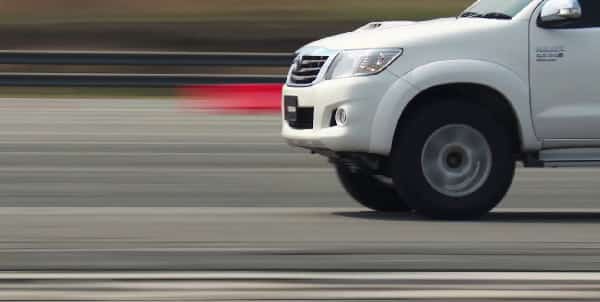 The thing is, though, most off-road tires suffer from these deficiencies; some are slightly better than the Geolandar M/T, but many are also worse.
Besides, you really shouldn't be driving very fast with off-road tires on public roads.
3. Handling and Steering Feel
The Yokohama Geolandar M/T G003 has sturdy sidewalls, but it is also a very heavy tire. Hence, it's not the easiest to throw around a corner and doesn't feel very responsive.
However, it's good considering the category – I've tried many off-road tires that are much worse when it comes to drivability.
4. Wet Grip, Traction, and Braking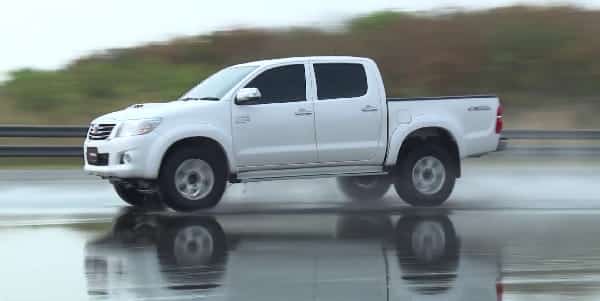 Thanks to the high void area, the Geolandar M/T can disperse a large amount of water.
As a result, it has an outstanding hydroplaning resistance in heavy rain conditions – much better, in fact, than some on-road-focused tires.
However, that doesn't tell the whole story, as traction and grip aren't always directly correlated to hydroplaning. Instead, they have more to do with how sticky the tire is.
And, surprisingly, the Geolandar M/T remained grippy on wet roads. Sure, not as much as a set of highway tires, but definitely better than its alternatives.
Notably, the longitudinal traction on wet surfaces is very good for an off-road tire, and the stopping distances aren't overly long. Your SUV will also feel planted in the corners, provided you don't drive like a maniac.
So, overall, the Geolandar M/T is very safe in rainy conditions.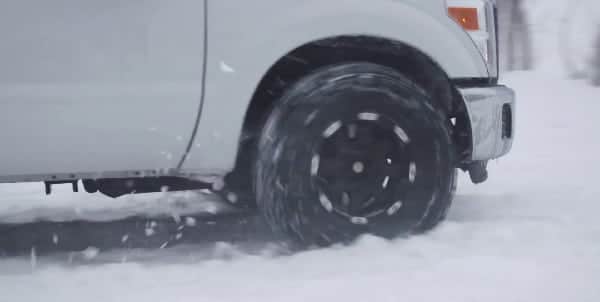 Well, how does it perform in snow and ice conditions? Again, thanks to the large void area and huge lugs, the Geolandar M/T can dig into unpacked snow quite easily.
As a result, your SUV won't get stuck, even if the snow is deep, and the stopping distances will be short. The cornering is also planted, even when you drive at higher than usual speeds.
However, this changes when you hit-packed snow or ice. In these circumstances, the Geolandar M/T won't be able to provide you with enough traction and becomes unstable in the corners.
Thus, if you live in areas with very harsh wintry conditions, it's always a good idea to invest in winter tires since they are by far the best solution for snow and ice.
Off-road tires are notorious for the noise they produce, which comes from that aggressive tread pattern.
However, Yokohama paid a lot of attention to the issue when it designed the Geolandar M/T.
Notably, the tire has an advanced pitch variation, which reduces the tread growl coming from the tire.
Thanks to Yokohama's advanced design, the Geolandar M/T is really quieter than most off-road tires.
Sure, it's not as quiet as regular on-road tires, but much better than its closest competitors. Most importantly, it's not tiring on long highway cruises.
Besides, the ride quality is pretty smooth considering the category, absorbing most bumps with ease.
Overall, I was quite impressed at how comfortable the Geolandar M/T is, especially considering its off-road prowess.
You can see more Yokohama Geolandar MT G003 review here: Video created by Campus Automotive Inc

Should I Buy the Yokohama Geolandar MT G003?
Not many off-road tires can provide you with exceptional off-road traction while also remaining civilized on public roads.
The Yokohama Geolandar MT G003 is among the ones that can, and it gets an easy recommendation from me. Yes, it has some disadvantages, but they are pretty minor for the target audience.
Thus, if you want a capable off-road/mud-terrain tire, you should definitely give it a look.
What vehicles will the Yokohama Geolandar MT G003 tire be suitable for?
Below is a list of some popular vehicles, however this is not a complete list.
Cadillac XT4, Commercial Chassis, Fleetwood, Brougham, DeVille
Chevrolet Equinox, Blazer, C10, C1500, C2500, C3500, K1500, K2500, K3500, V3500, S10, Silverado, Express, Colorado, Tahoe, Suburban 1500, Corvette, Astro, Avalanche
Chrysler Town & Country
Dodge Grand Caravan, Journey, Ram, Nitro, Sprinter, Dakota, Durango, Raider, Ramcharger, D150, D250, D350
Ford Escape, Bronco, E-150, E-250, E-350, Explorer, F-150, F-250, F-350, Ranger, Excursion, Expedition
GMC Terrain, Sierra, Yukon, Suburban, Canyon, Jimmy, Sonoma, Safari
Hummer H3
Honda CR-V, Crosstour, Accord
Jeep Cherokee, Grand Cherokee, Wrangler, Liberty, CJ5, CJ7, Scrambler, Comanche, Gladiator
Isuzu Rodeo, Hombre, Trooper, Amigo S
Mazda CX-5, Navajo, B2600, B3000, B4000
Mercury Mariner, Mountaineer
Mitsubishi Montero
Nissan Rogue, Frontier, Pickup, Pathfinder, D21, Titan, Xterra, Armada
Subaru Outback
Suzuki Grand Vitara, Equator
Land Rover Range Rover, Discovery, Defender 90
Toyota Highlander, RAV4, T100, Land Cruiser, Tacoma, FJ Cruiser, 4Runner, Tundra
List of the Yokohama Tires Review

I'm Ivo Gievski, the content writer for Tireer. We built our website with over 15 years of experience and extensive research in the automotive and technology sectors. My dedication to delivering high-quality content is unwavering, and I strive to continuously hone my skills to stay ahead of industry trends and provide readers with informative, engaging, and valuable insights.