The ongoing pandemic, and especially the lockdowns, have wreaked havoc in our lives, but it also taught us to value the wilderness and open spaces more.
To that end, sales of SUVs and trucks are on the rise, and so is the demand for off-road-capable tires.
The Yokohama Geolandar A/T G015 is a tire that has seen great popularity since it launched four years ago.
It's a mild all-terrain tire that promises excellent on-road dynamics and comfort while also elevating off-road traction.
In my eyes, this is just what most SUV and truck owners need, but does the tire deliver on its promises? Let's find out in my in-depth Yokohama Geolandar A/T G015 review!
The Yokohama Geolandar A/T G015 is a mild all-terrain tire that comes in various P-metric and LT-metric sizes, ranging from 15-inch to 22-inch wheel diameter.
With the dimensions it offers, the Japanese tiremaker covers a large portion of older and modern SUVs and pickup trucks.
However, the tire isn't available in 33-inch, 35-inch, or 37-inch options for those with lifted SUVs or trucks.
Like most manufacturers, Yokohama only employed the industry-standard TWIs (tread wear indicators) inside the tread grooves.
These are narrow rubber bars that help you monitor the tread depth, crucial for safety on wet and snowy roads.
For all-season tires, the minimum recommended tread depth is 2/32. Since the TWIs are elevated 2/32-inch from the bottom of the grooves when the tread reaches that depth, they will be flush with the surface.
When this happens, you should immediately replace the tires since they won't be able to provide you with safe wet traction.
Still, I recommend replacing all-terrain tires even sooner, especially if you go off-roading, which requires more tread depth. You should also refrain from using your tires on snow with less than 5/32-inch of tread depth.
Fortunately, you won't be thinking about these things soon since the Geolandar A/T G015 is among the most durable all-terrain tires out there.
Not only it has excellent treadlife, with many satisfied customers, but it's also good at resisting cuts, chips, and punctures when you go off-roading.
To top it all off, Yokohama offers a 60,000-mile treadwear warranty for P-metric and a 50,000-mile treadwear warranty for LT-metric sizes, both among the best in the category.
Features and Performance of the Yokohama Geolandar A/T G015
Yokohama launched the Geolandar A/T G015 four years ago, pioneering a few all-new technologies. The aim was to create an excellent on-road tire that's also good enough for off-roading, although not the most demanding type.
So, did Yokohama succeed in doing that? Let's comb through each feature and see how it affects real-world performance to find out!
Since the Geolandar A/T G015 isn't an aggressive all-terrain tire, it is to be expected that it will perform well on dry roads. And indeed, the on-road performance is quite good for the category.
Notably, there is ample traction – I couldn't get the wheels to spin even when driving only with the rear axle.
Furthermore, the stopping distances are as short as you can get from an all-terrain tire, which is very important for road safety.
The tire also handles very well through the corners. Sure, it won't provide you with a performance-level grip, but it is more than good enough for safe daily driving.
Besides, your truck will feel surefooted through the corners without any sudden loss of traction.
You also won't need to worry about highway driving since the Geolandar A/T G015 provides excellent directional stability. The LT-metric sizes are also very stable when your bed is loaded or you tow a larger trailer.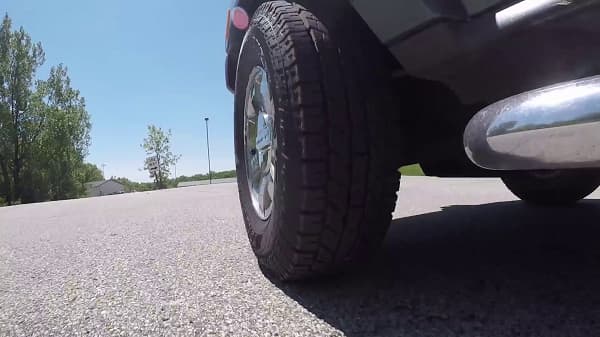 2. Handling and Steering Feel
All-terrain tires aren't usually designed with responsiveness in mind.
However, the Geolandar A/T G015 is surprisingly good to drive, with a linear and direct steering. It's not very responsive, sure, but it's still better than most all-terrain tires on the market right now.
Also, you won't feel much from the road and won't know what the wheels are doing, but we already lost that when trucks and SUVs migrated to electric power steering. So, not a big deal.
3. Off-Road Traction and Durability
The Geolandar A/T G015 is a mild all-terrain tire, meaning it isn't designed for serious off-road use, unlike the BFGoodrich All-Terrain T/A KO2.
Still, Yokohama tried to extract as much traction from the tread pattern as possible, employing an advanced design that improves traction without sacrificing on-road performance.
There is also a big focus on durability – the Endurocore construction ensures long-lasting performance and resistance from cuts and chips.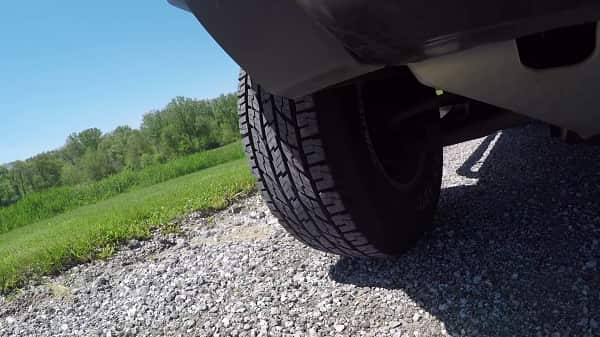 Okay, but what about the real-life performance? Well, if you only run into hardpacked surfaces, such as dirt and gravel, the Geolandar A/T G015 will be perfect for you.
It provides plenty of traction, so you never get stuck, and it turns quite well into a corner. What's more, the compound seems very durable and doesn't get easily chipped or punctured.
Moving on to larger rocks, the Geolandar A/T G015 starts to show its limitations. There is still enough traction to get you out of trouble, but not as much as on some more aggressive all-terrain tires.
Things get even worse when things get wet, and especially if the surface is muddy. Specifically, the tire lacks traction in deep mud and could get stuck easily. Wet turf is also a problem, although not a dry one.
Still, the tire should be good enough for most people, and especially campers and overlanders. Enthusiast off-roaders, though, should look elsewhere.
4. Wet Grip, Traction, and Braking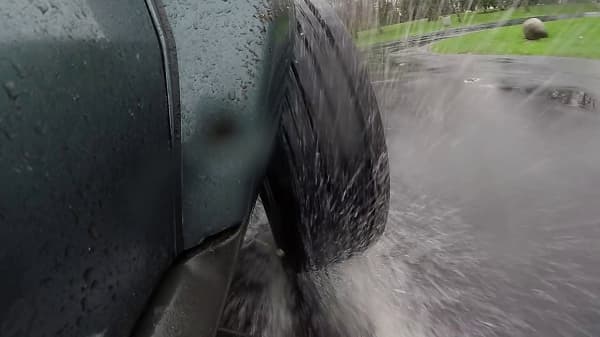 All-terrain tires are usually great at displacing water from the tread, but that doesn't often translate to great performance in rainy conditions.
To that end, Yokohama used its all-new Triple Polymer Enduro tread compound, designed to stay flexible in colder, rainy conditions.
Furthermore, the symmetric tread pattern features deep circumferential grooves for increased water evacuation and reduced hydroplaning.
As a result, the Yokohama Geolandar A/T G015 is among the best all-terrain tires in the rain. For starters, the longitudinal traction is excellent, with only a little wheel spin on more powerful trucks.
The stopping distances are also shorter than on most all-terrain tires, especially in very heavy rain.
The Geolandar A/T G015 also has outstanding hydroplaning resistance, so you don't have to worry about losing stability at higher speeds.
Finally, the handling on wet pavement is very surefooted, without sudden loss of traction. And when you lose traction, the tire exhibits understeer, which is preferred for safety.
In general, if you live in areas where it rains frequently, the Geolandar A/T G015 is among the best all-terrain tires available right now.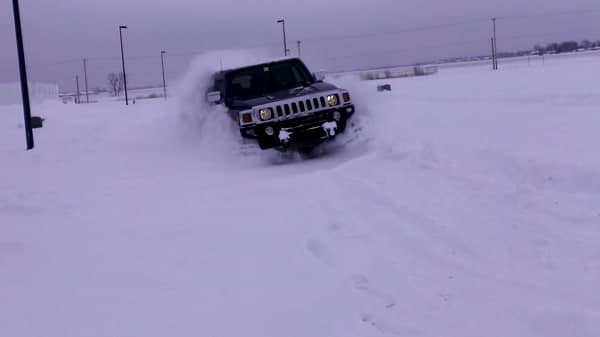 Yokohama focused on delivering higher snow traction in this generation. To that end, it employed 3D sipes across the aggressive tread pattern, hence earning the 3PMSF rating along the way.
Now, the 3PMSF rating only means that the tire has higher longitudinal traction, but in my tests, the tire also proved capable during cornering.
Notably, it didn't sway a lot from side to side and felt surefooted. The stopping distances were also reasonably short for an all-season tread compound, and there was ample traction to get you out of trouble, even in deeper snow.
Ice, however, is a big bite to swallow for an all-season tire, and that includes the Geolandar A/T G015. The tire is good within its category but still not good enough to recommend for very harsh wintry conditions.
The Geolandar A/T G015 is very quiet for an all-terrain tire. Sure, there is some tread growl, but it's not obtrusive, even on the highway.
It's also normal for the category, and I can also think of several highway tires that are as noisy, which is a very high compliment for Yokohama's all-terrain offering.
Yokohama also did a great job with the ride. The Geolandar A/T G015 isn't as soft as other all-terrain tires, but that's actually good.
Namely, the tire absorbs the smaller vibrations quite easily, and there is no secondary movement, which often destroys the ride quality on softer tires.
Again, it performs closely to a highway tire when it comes to comfort.
Overall, this is one of the best all-terrain tires for long road trips; it absorbs bumps with ease and doesn't produce too much noise.
You can see more Yokohama Geolandar A/T G015 review here: Video created by Tyre Review

Should I Buy the Yokohama Geolandar A/T G015?
The Yokohama Geolandar A/T G015 is not perfect, just like any other tire selling on the market right now.
Namely, if you are an SUV or truck owner that goes camping from time to time, this is one of the best tires on the market.
It combines excellent on-road dynamics and comfort with solid off-road capability, which is what most people need.
However, if you are an avid off-road enthusiast driver that explores the most remote places, this tire isn't for you since it lacks proper off-road traction.
What vehicles will the Yokohama Geolandar A/T G015 tire be suitable for?
Below is a list of some popular vehicles, however this is not a complete list.
Acura RDX
Audi Q3, Q7, Audi e-tron
Buick Rainier, LeSabre, Regal, Park Avenue, Terraza
Chevrolet Captiva Sport, Equinox, Tracker, Venture, Trailblazer, Silverado, Avalanche, Suburban, Tahoe, Colorado, Blazer, C1500, K1500
Dodge Challenger, Charger, Caravan, Grand Caravan, Journey, Magnum, Ram, Dakota, Durango, Raider, Ramcharger, Mini Ram, Nitro
Land Rover, Land Rover Range Rover
Ford F-150, F-250, F-350, E-150, Taurus, Police, LTD, Crown Victoria, Windstar, Explorer, Escape, Bronco, Mustang, Freestyle, Expedition, Ranger
GMC Terrain, Savana 1500, Acadia, Envoy, Sierra, Yukon, Canyon, Jimmy, Sonoma
Honda Pilot, Ridgeline, CR-V, Crosstour, Accord, Passport
Hummer H1, H2
Jeep Cherokee, Commander, Grand Cherokee, Compass, Patriot, Renegade, Wrangler, Scrambler, Liberty
Kia Sportage, Sedona, Sorento
Nissan Quest, Pathfinder, Rogue, Frontier, Pickup, D21, Titan, Armada
Toyota RAV4, Sienna, Tacoma, Highlander, 4Runner, FJ Cruiser, Land Cruiser, T100
List of the Yokohama Tires Review

I'm Ivo Gievski, the content writer for Tireer. We built our website with over 15 years of experience and extensive research in the automotive and technology sectors. My dedication to delivering high-quality content is unwavering, and I strive to continuously hone my skills to stay ahead of industry trends and provide readers with informative, engaging, and valuable insights.