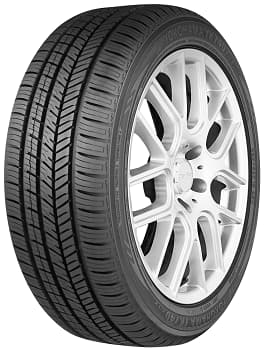 Looking for a new set of tires? If you own a passenger vehicle as a daily driver, you probably need a set of all-season touring/grand-touring tires.
These are specifically designed to provide you with safe year-round traction, long-lasting treadlife, and high levels of comfort. Sounds like the right set of tires for your vehicle? Then, read on!
In this review, I'll cover the Yokohama YK740 GTX, which is a fairly popular all-season grand-touring tire among North American buyers. You can purchase it only through Discount Tire, which limits availability, but it's also reasonably priced for a premium tire.
But what makes it stand out from the competition? Well, Yokohama markets the YK740 GTX as a performance all-season touring tire, meaning it should be more fun to drive.
The problem is, "performance" is an overused word in the touring category and is only there to make you feel that you get more for your money. For real gains in grip and traction, you'd still need to go for a set of high-performance tires – that's unavoidable.
So, does this tire meet its "performance" credentials? This is a question I don't have a short answer to, since like every tire you can buy, it comes with its pros and cons.
Fortunately, my Yokohama YK740 GTX review covers everything you need to know about the tire, including performance on dry, wet, and snowy roads, comfort and quietness, and durability. Let's dig in!
The YK740 GTX is an all-season grand touring tire that fits various types of vehicles, including compact cars, mid-size sedans, minivans, compact crossovers, and even sporty coupes.
It comes in many sizes, ranging from 15-inch to 20-inch wheel diameter, meaning there will probably be one that fits your vehicle.
The tire is also reasonably priced, especially when you compare it to other premium all-season grand touring tires, such as the Michelin Premier A/S, Bridgestone Turanza QuietTrack, and Continental PureContact LS.
Specifically, you can save up to $100 for a full set of tires, which isn't insignificant.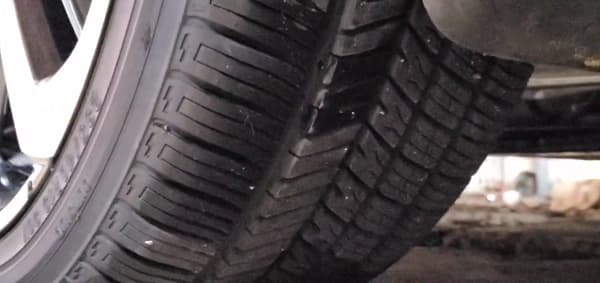 Like every other tire on the planet, the Yokohama YK740 GTX comes with the industry-standard TWIs (tread wear indicators). These indicators help the driver monitor the tread depth, although only indicating when it's time to change the tires.
Particularly, they are narrow rubber bars that sit recessed into the circumferential grooves of the tire. These bars are actually elevated 2/32-inch from the bottom, so when the tread reaches that depth, the TWIs will be flush with the surface. At this point, you should immediately replace the tires.
Why would you do that, you ask? Well, tires with less than 2/32-inch of tread depth are deemed incapable of providing safe traction on wet roads.
Hence, in most places, it's illegal to drive with tires that have less than 2/32-inch of tread depth, but crucially, it means you and your family won't be safe.
Furthermore, if you plan on driving through the winter with your YK740 GTX's, I recommend having at least 5/32-inch of tread depth left.
Unfortunately, this tire doesn't have any indicators to show you when the tread is worn down to that point, but you can ask your tire technician to tell you if your tires would last through the winter. Or you can purchase an inexpensive tread depth gauge.
Fortunately, you won't be thinking about replacing your set of YK740 GTX anytime soon. Owners are satisfied with the treadlife, reporting that the tire gets 40,000 to 50,000 miles.
Moreover, Yokohama provides a 60,000-mile treadwear warranty to keep your mind at peace.
However, when it comes to treadlife, the YK740 GTX can't compete with the class-leading premium all-season tires.
Particularly, the Bridgestone Turanza QuietTrack comes with an 80,000-mile treadwear warranty, which is 30% higher than the Yokohama's.
And although costing more, the Turanza might be a more cost-effective solution in the long run.
So, the YK740 GTX is not bad in terms of treadlife but also not exceptional. It's on you to decide if this is a deal-breaker!
Features and Performance of the Yokohama YK740 GTX
Yokohama promises a potent combination of all-season traction, quiet ride, long treadlife, and confident handling year-round for the YK740 GTX.
That's quite the bold claim for what is essentially a run-of-the-mill all-season tire, but let's give it the benefit of the doubt.
The Japanese tiremaker used many of its proprietary technologies to achieve all those claims, some of them similar to its high-performance tires.
Let's comb through them and see if they make a difference where it counts – in the real world.
Dry tarmac is a category where all-season tires fall significantly behind their summer counterparts, especially in terms of cornering grip and braking.
To counter that, Yokohama used an asymmetric groove arrangement and wide contact patch, enhancing road contact and grip.
Did that make a difference? Well, the YK740 GTX is certainly no slouch. It provides excellent longitudinal traction and feels very stable on the highway.
Moreover, the cornering grip is excellent for an all-season tire, and the stopping distances are pretty short.
Now, if I split hairs a bit, I'd say the Continental PureContact LS and Michelin Premier A/S are a level above the YK740 GTX in dry conditions, but they are also more expensive tires that appeal to different buyers.
Besides, the differences are only measurable on the track and in controlled scenarios. For daily driving, the YK740 GTX performs better than most drivers would ever need.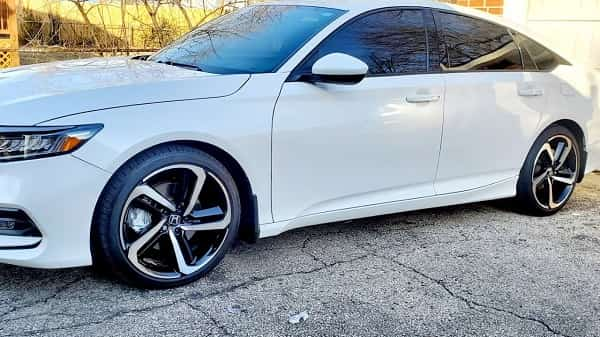 2. Handling and Steering Feel
Yokohama is a fairly popular brand among enthusiast drivers, known for providing a responsive drive at a budget price point.
The tiremaker transferred some of its know-how from the Advan series in the YK740 GTX.
Particularly, the tire features a comfortable side contour for more responsive handling, which should make the tire more fun to drive.
So, does it deliver? Well, the YK740 GTX is no performance tire, that's for sure, but it's fairly responsive for a touring one. Not only that, but it also reacts in a linear way, meaning it's as responsive mid-corner as it is initially.
Finally, you shouldn't have issues keeping your vehicle straight on the highway, as the YK740 GTX provides excellent straight-line tracking.
3. Wet Grip, Traction, and Braking
All-season tires aren't your best option for wet roads; summer tires perform better in rainy and hot weather, while winter tires are better for those cold rainy days.
However, all-season tires are the only options that work well in all temperatures while also delivering excellent hydroplaning resistance for those very rainy days.
The YK740 GTX features triple 3D sipes and an optimized groove arrangement to evacuate more water from the tread. As a result, it has excellent hydroplaning resistance, so you won't lose traction when driving in deep water.
Furthermore, the tire is very good at keeping your vehicle stable through the corners on damp tarmac. It doesn't surprise you with a sudden loss of traction like other budget tires, exhibiting easy-to-correct oversteer when you push too hard.
Finally, the stopping distances are fairly short, which is hugely important for safety.
Overall, the YK740 GTX is a pretty good wet tire, although still not good enough to dethrone the class-leading products. Still, there is no doubt it's completely safe for daily driving in rainy weather.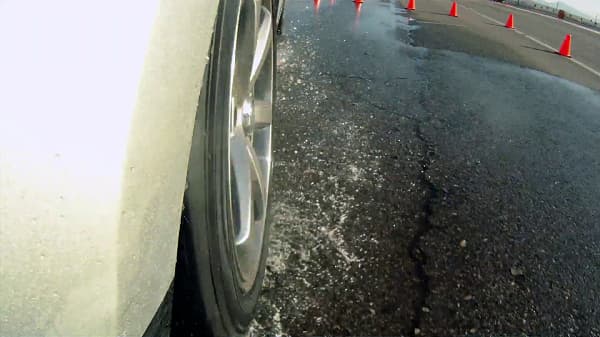 Before I even start telling you about the snow and ice traction, here is a quick disclaimer: all-season tires aren't designed for very harsh wintry conditions.
Hence, if you live in an area where it snows frequently and the temperature drops significantly, you shouldn't buy the YK740 GTX. At least not for winter driving.
However, as far as all-season tires go, the YK740 GTX is pretty good. It provides usable traction on packed and unpacked snow, as long as it's not too deep.
It also handles well through the corners and provides good stopping power. Still, like most all-season tires, it doesn't work in deep snow and suffers significantly on ice.
The YK740 GTX packs adaptive shoulder blocks and special pitch variation to limit tread growl. As a result, it isn't very noisy, but it's also not exactly quiet.
For instance, the Bridgestone Turanza QuietTrack is a much quieter tire if you are into that.
Meanwhile, the ride quality is excellent – the tire doesn't transmit a lot of vibrations in the cabin. The secondary movement when you hit a bump is also well-suppressed, and you won't hear the thump as much.
You can see more Yokohama YK740 GTX review here: Video created by Discount Tire

Should I Buy the Yokohama YK740 GTX?
The Yokohama YK740 GTX is a pretty good all-season grand-touring tire that you should definitely give a look at.
It works well on dry, wet, and snowy surfaces, lasts pretty long, and is fairly comfortable.
Crucially, it's cheaper than other premium offerings, making it an interesting buy for those on a budget.
List of the Yokohama Tires Review

I'm Ivo Gievski, the content writer for Tireer. We built our website with over 15 years of experience and extensive research in the automotive and technology sectors. My dedication to delivering high-quality content is unwavering, and I strive to continuously hone my skills to stay ahead of industry trends and provide readers with informative, engaging, and valuable insights.